Looking for the best DIY bedroom decor ideas around? When it comes to decorating your bedroom, thoughtful creative touches make all the difference in taking a room from OK to "Wow!" DIY your way into an amazing bedroom with these 100 crafts, wall decor ideas, furniture and bedding projects that will transform your bedroom into the one you've been dreaming of. Learn how to make things that cost hundreds of dollars in stores, ones that actually look better when you DIY them. Lately, Target, Walmart and other big chain stores have started selling replicas of some of our Pinterest favorites. Why on earth would you want to buy these? I guess someone does, but I am not about to spend my money on DIY replicas. No way! Complete with easy to follow step by step tutorials, these DIY bedroom ideas can be yours for a fraction of the cost. Make one or more this weekend and get your room looking the way it should, amazing.
DIY Bedroom Decor Ideas
1. DIY Duvet Cover Confetti-Style
This confetti style duvet cover is an easy project to make for your bedroom. Add a little fun to your bedding ensemble when you top it off with this. For cool DIY ideas for your room, look no further than this easy to make DIY duvet cover. Decorate your bed with a dreamy coverlet you made yourself! Perfect in any bedroom, from master bedroom to guest, this cute duvet would even look great in your kids room if you can keep it clean
2. Cozy Pom Pom Pillow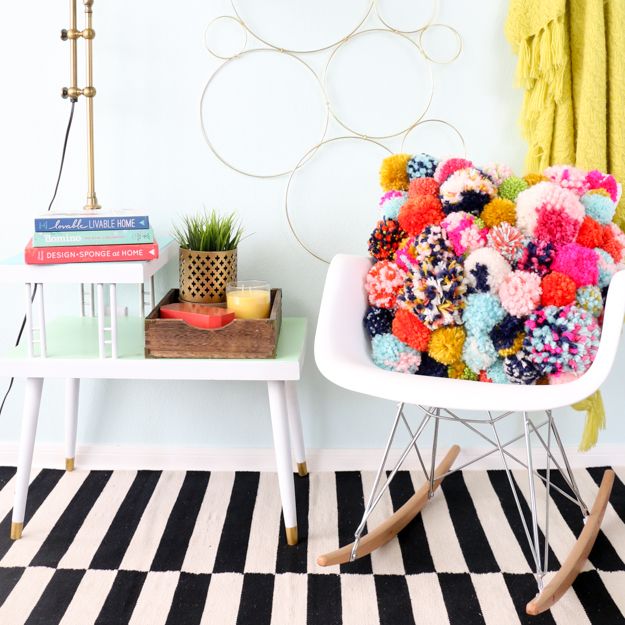 When it comes to creative DIY room ideas, I love things that add color. This pom pom pillow certainly does that, and it is fun to make, too. Throw one on a solid colored or even white chair to add a pop of color and creativity to the bedroom.
3. Jute Twinkle Light Shade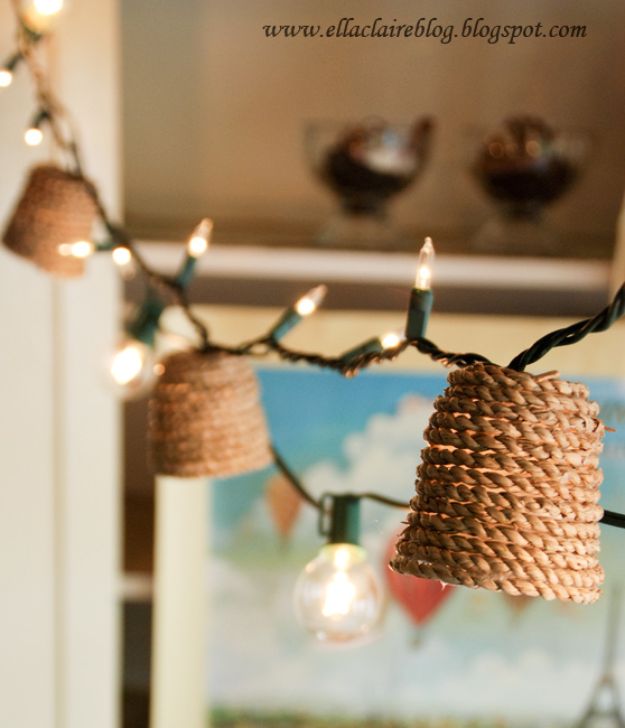 Add some creative DIY lighting for the bedroom with this project. All you need are some string lights and rope to decorate your bedroom with inexpensive lighting like this. Learn how to make your own with the easy to follow step by step tutorial. DYI bedroom decor need not cost a fortune and this crafty project proves it.
DIY Ideas for Your Room
4. DIY Bedside Bench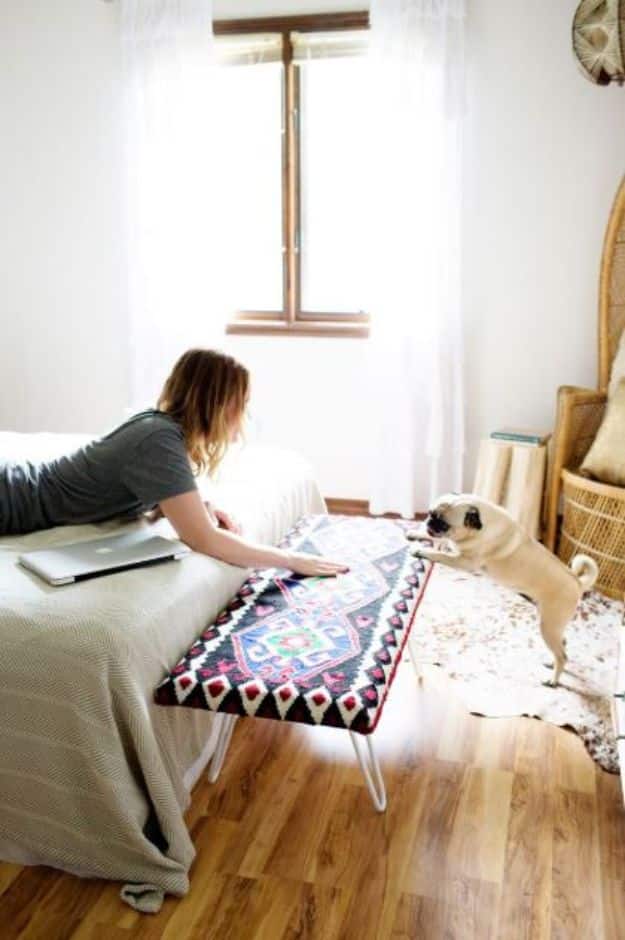 Turn a boring bedroom into something a little more interesting when you add a colorful DIY bench to the foot of the bed. Even if you love the look of all white bedding, this bench is sure to add a much needed pop of color to your room. This DIY bedroom decor idea comes with step by step instructions, so what you see is what you get.
5. Handmade Yarn Shag Rugs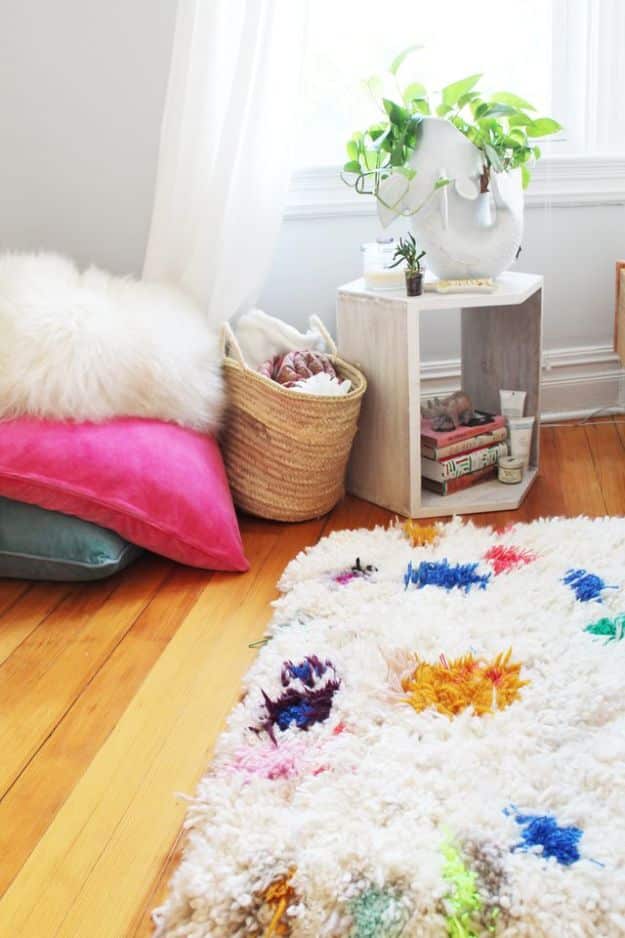 6. DIY Geometric Wall Decor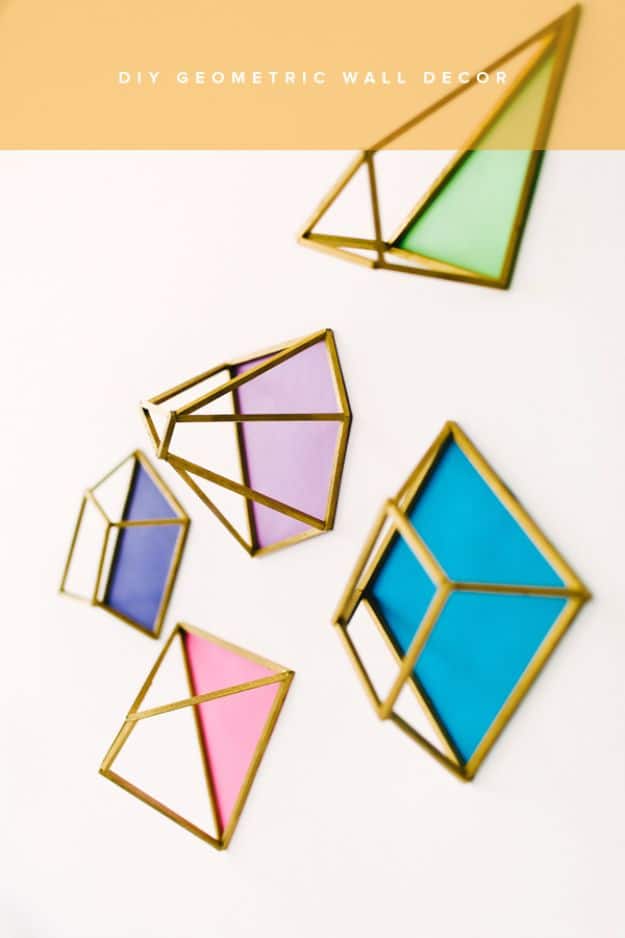 7. DIY Painted Rug Inspired by West Elm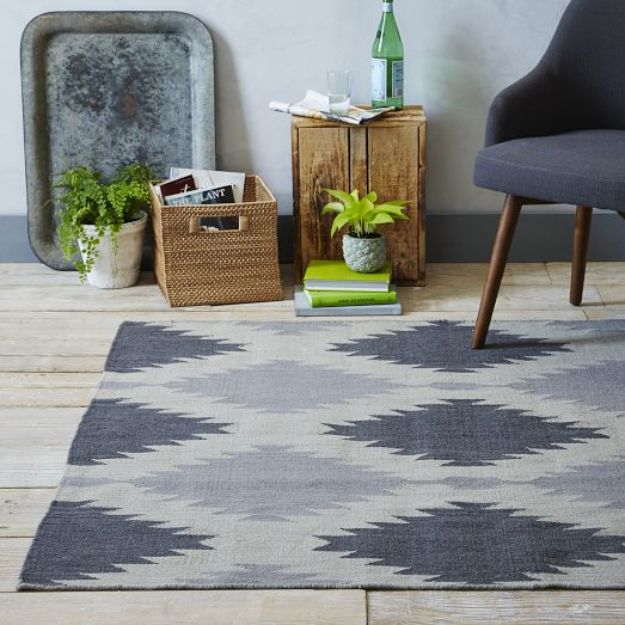 DIY Room Decor Ideas
8. Chevron Reclaimed Wood Bed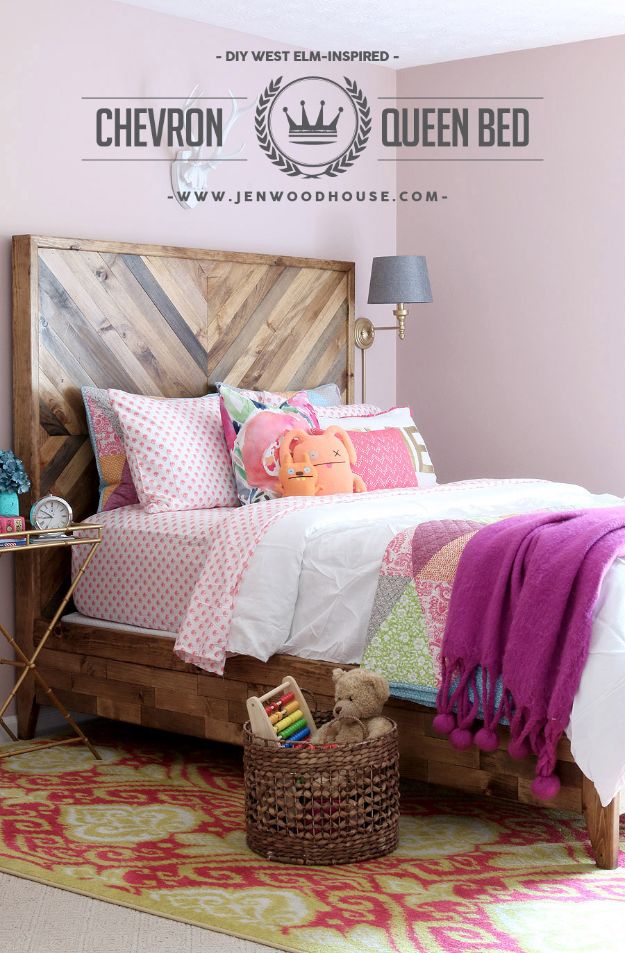 DIY Bedroom Ideas
9. Roman Numeral Clock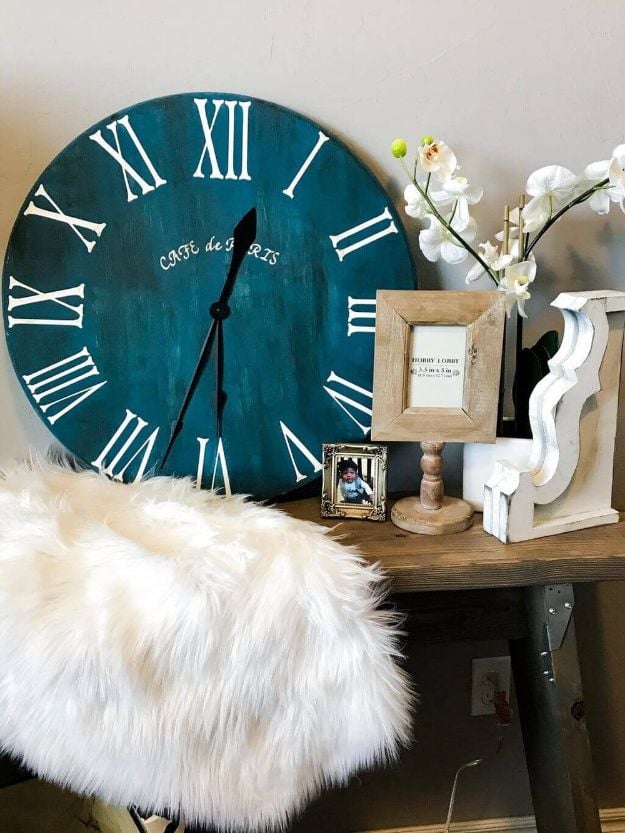 10. DIY Chic Hoops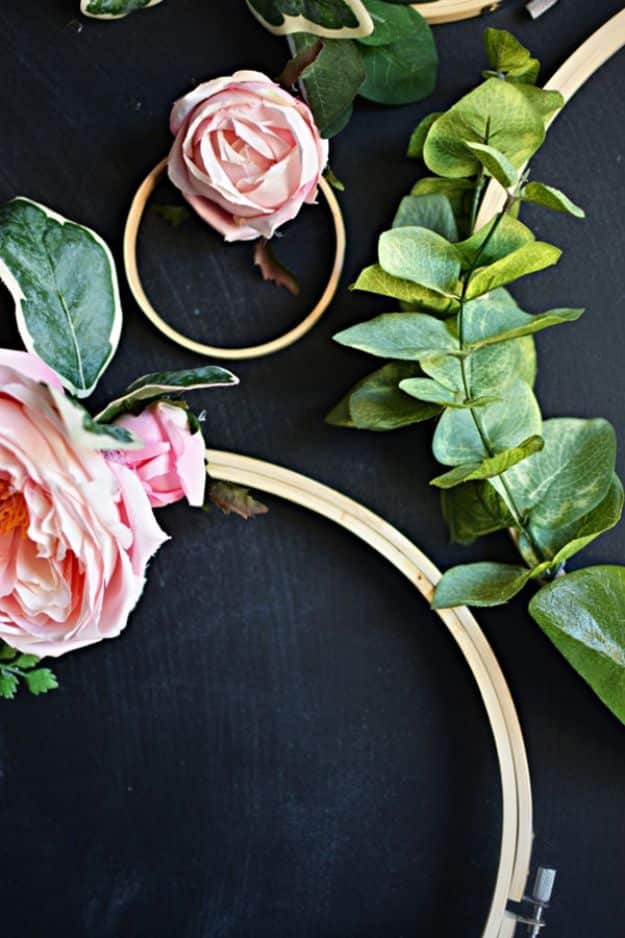 DIY Dorm Room Decor Ideas
11. Gem Stone Mirror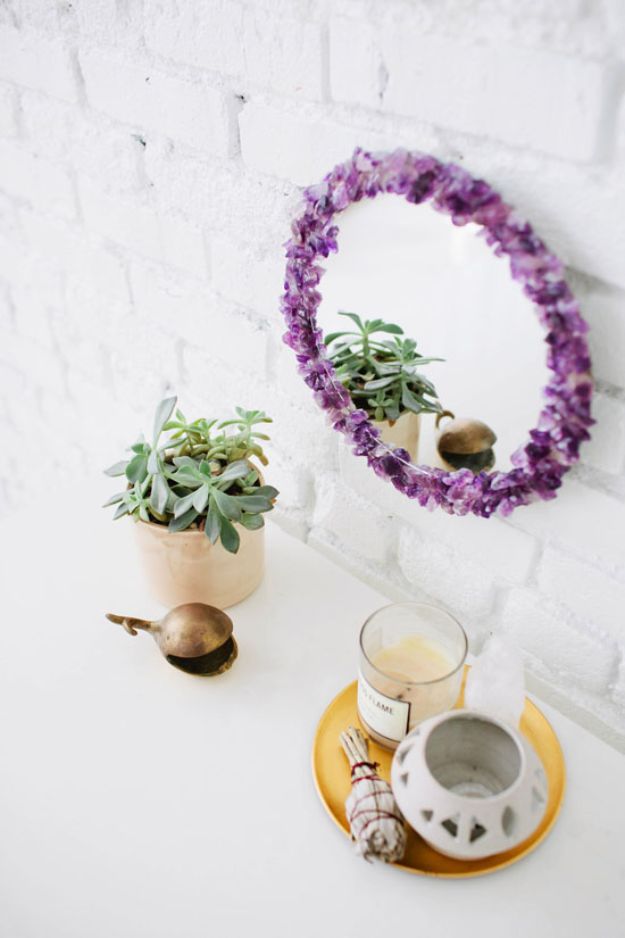 When it comes to decorating ideas for teen rooms or DIY dorm room decor ideas, this cute flower framed mirror should be at the top of your must make next list. Creative and can be made in the flower color of your choice so it accents the colors of your room perfectly, the supplies can be picked up for a few bucks at the dollar store. One of my absolute favorite dollar store crafts, this one looks anything but cheap. If you are looking for inexpensive DIY room decor that does not take hours to make, be sure to try this pretty mirror.
12. DIY Pouf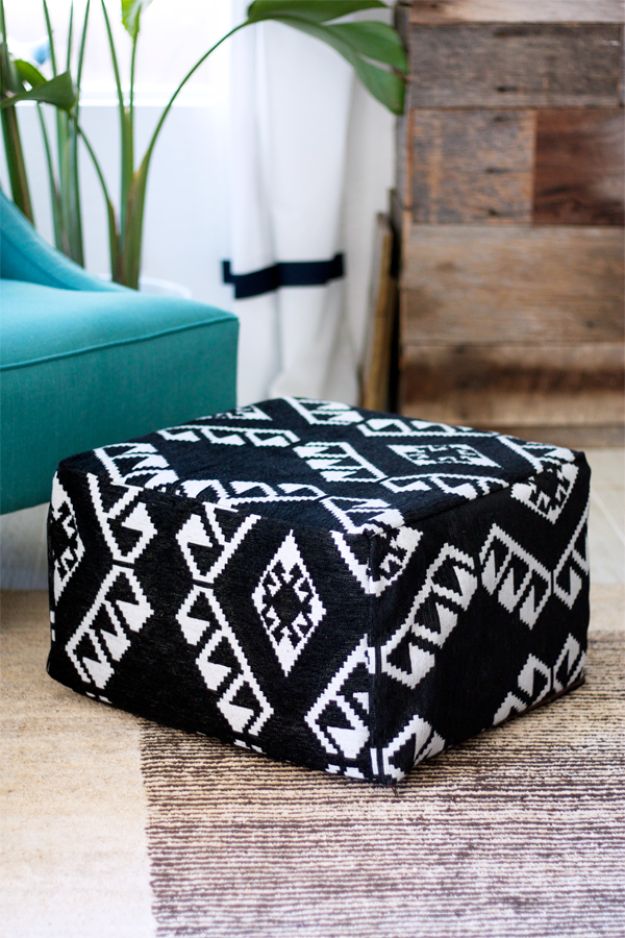 I think this DIY project idea would look great not only in the bedroom, but pretty much any room where you need extra seating. Learn how to make this DIY ottoman and craft a pouf that is super comfy. Perfect for adults or any teen girl or boy room, we love this look because it is polished without being overly fancy.
13. IKEA Hack Hygge Bench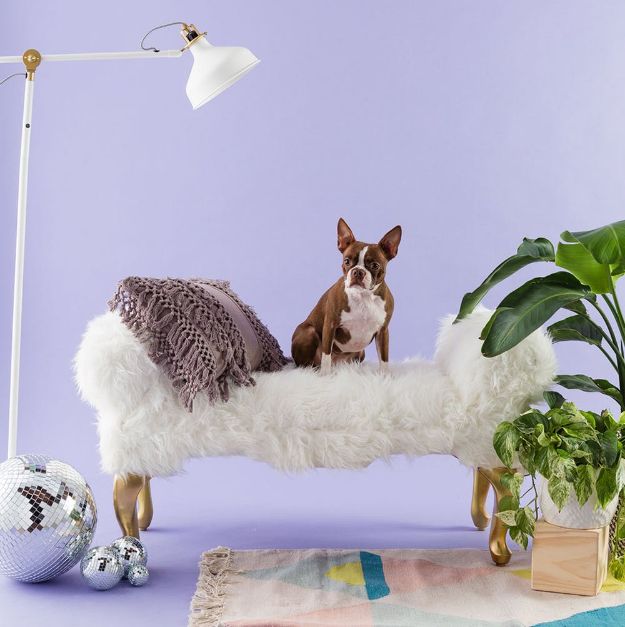 14. Key to my Heart Rustic Wood Sign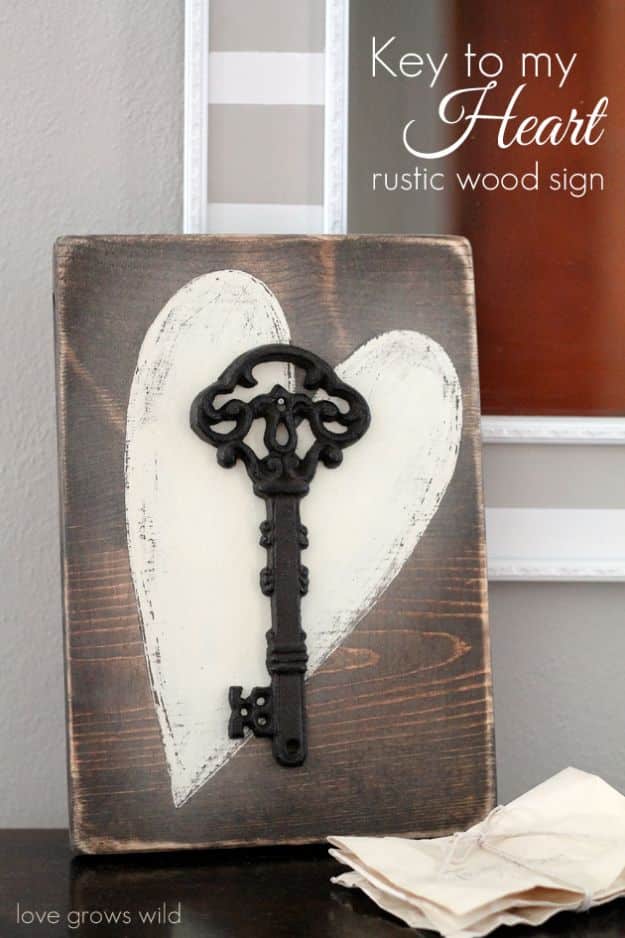 15. DIY Paper Fern Mobile