Throw a halloween party for less with these dollar store halloween party ideas. From party decorations to party favors and game ideas, there's a hundred creative DIY halloween ideas to choose from that won't break the bank.
Things You Can Get at Dollar Tree:
black & orange party supplies

utensils, plates, cups, table covers, bowls, napkins

candles
glass candleholders
streamers
balloons
serveware/drinkware
craft supplies
halloween decor
& much more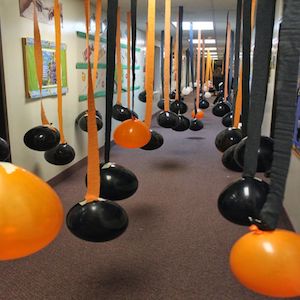 Orange and Black Balloon Streamers (source unknown)
orange & black balloons, orange & black streamers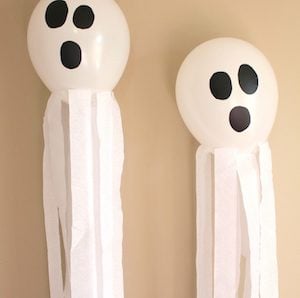 Ghost Balloons from A Girl and A Glue Gun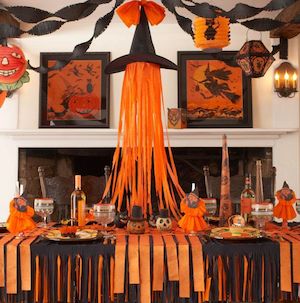 Streamer Halloween Party Decorations (source unknown)
orange & black streamers, witch hat, ribbons, paper lanterns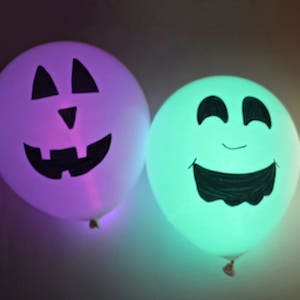 Light Up Halloween Balloons from She Knows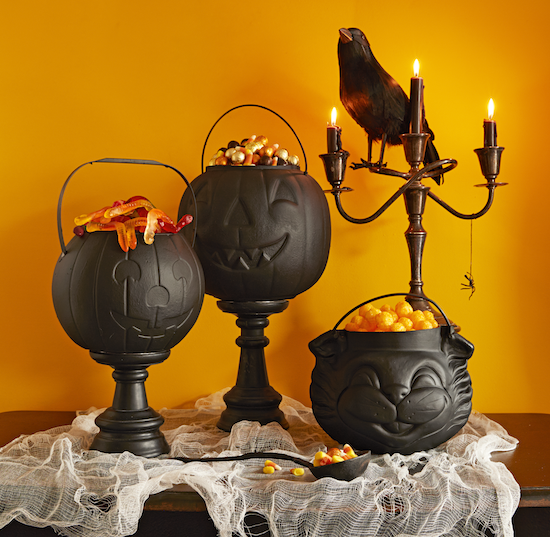 Pumpkin Cauldrons (source unknown)
pumpkin pails, black spray paint, creepy cloth
You can get all these things for $1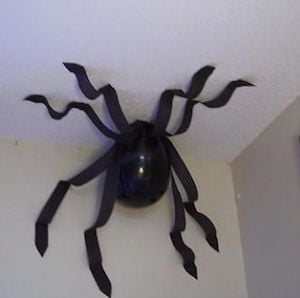 Giant Balloon Spider (source unknown)
large black balloon, black streamers, tape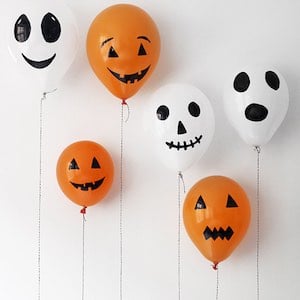 Halloween Balloons (source unknown)
white & orange balloons, black marker, black string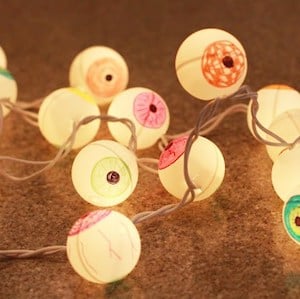 DIY Eyeball Lights from Landeelu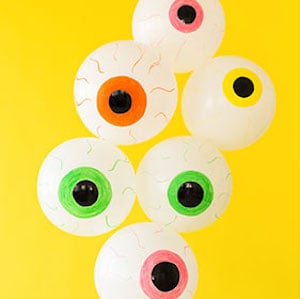 Eyeball Balloons from Balloon Time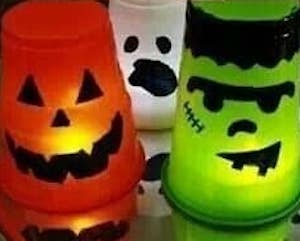 Halloween Cups (source unknown)
sharpie (or adhesive vinyl), plastic cups, glow sticks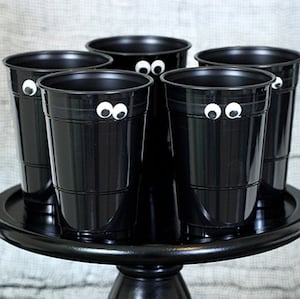 Spooky Halloween Party Cups from Cutefetti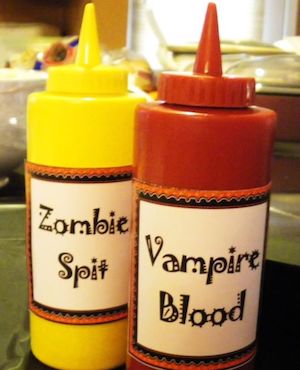 Spooky Condiment Bottles (source unknown)
$1 condiment bottles, printable stickers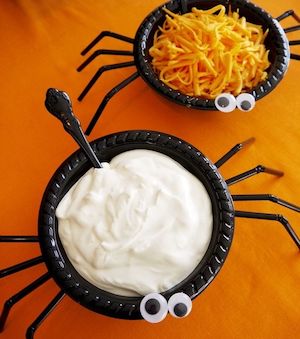 Spider Dip (source unknown)
black flexible straws, googly eyes, black party bowls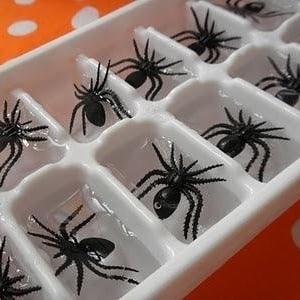 Spider Ice Cubes (source unknown)
ice cube trays, plastic spiders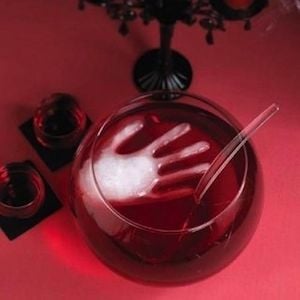 Frozen Hand Fruit Punch from Style at Home
All you need is gloves, rubber band and water!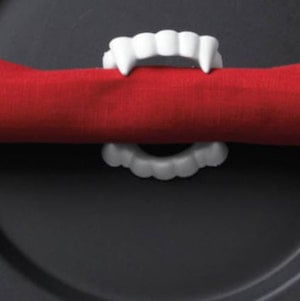 Fang Napkins from Food Network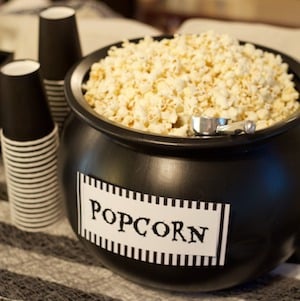 Cauldron of Snacks from Parties for Pennies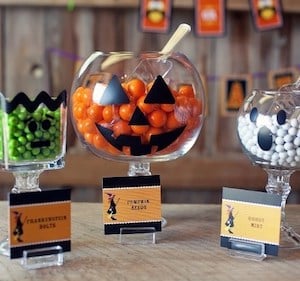 Monster Candy Jars from The Celebration Shoppe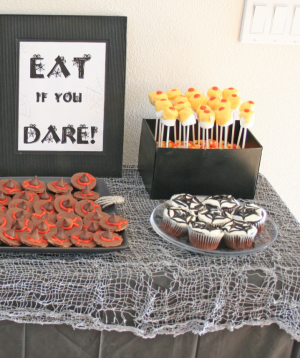 Creepy Cloth (Dollar Tree)
Add it to your table, halloween scene, lamp shades and curtains for a budget-friendly spooky touch!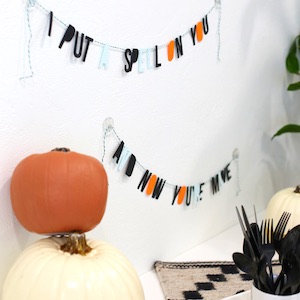 DIY Halloween Banner from Lovely Indeed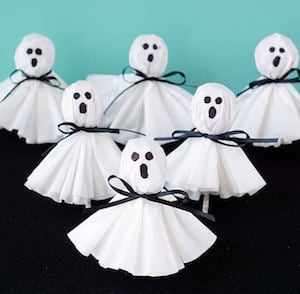 Ghost Lollipops from Happiness is Homemade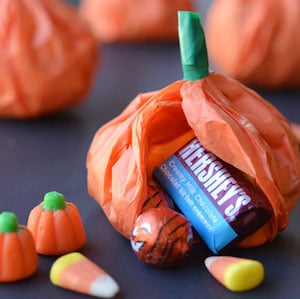 Tissue Paper Pumpkin Favors from One Little Project
Indoor Dollar Store Halloween Party Decorations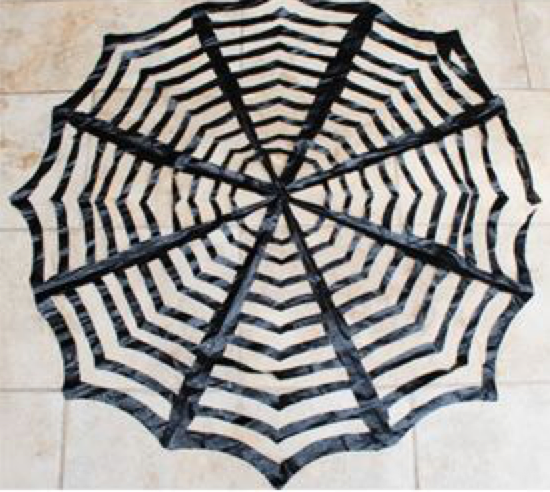 Trash Bag Spider Webs from Fast Forward Fun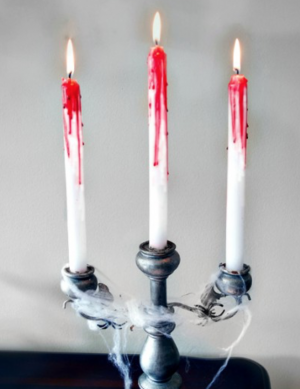 DIY Bleeding Candle (source unknown)
white taper candles, red taper candle
Just light the red candle and drip it over the top of the white candle.
Tip: If you don't have a candelabra, you can put the candles inside an empty wine bottle
and put a creepy printable label on the bottle.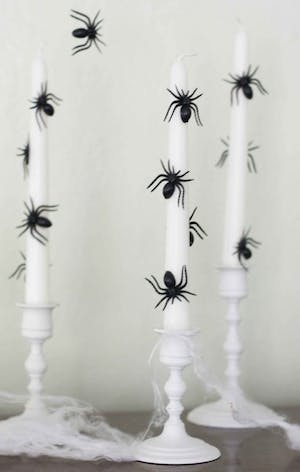 Spider Candles (source unknown)
$1 glass taper candleholders, white spray paint, spider webs with plastic spiders, $1 white taper candles, 2pk
You can get all of these items for $1 each.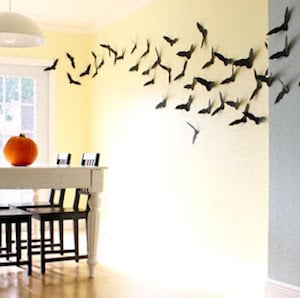 Black Bats from Made Every Day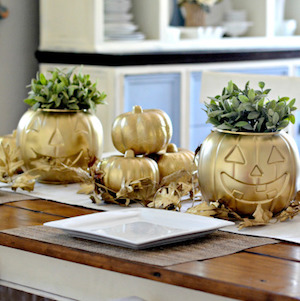 $1 Pumpkin Centerpiece from Hip 2 Save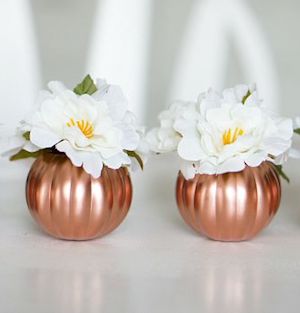 Copper Pumpkins Fall Centerpiece from Up to Date Interiors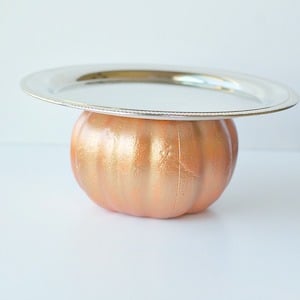 Pumpkin Serving Platter from Simple Crafty Fun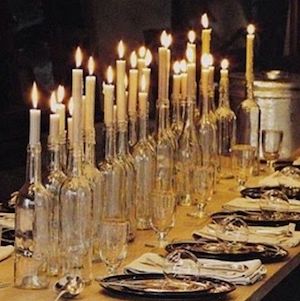 Halloween Candle Centerpiece (source unknown)
old wine bottles, white taper candles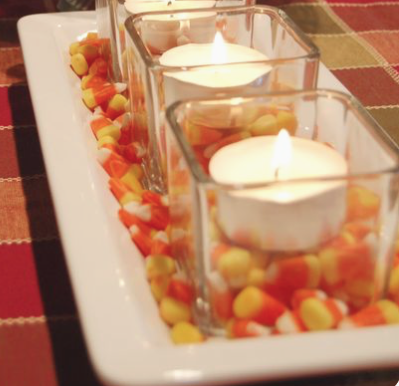 Candy Corn Candles (source unknown)
candy corn, $1 glass candleholder, tea light candles, candle tray
You can get everything but the candle tray at Dollar Tree.
You could find a similar tray at a thrift store for a couple dollars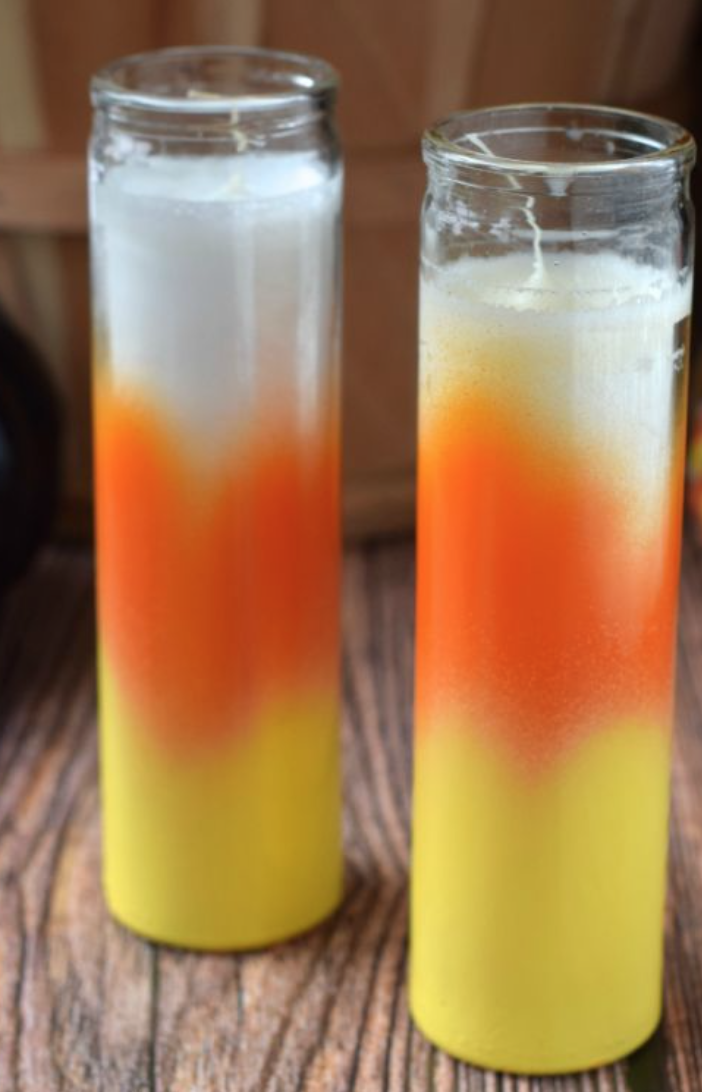 Candy Corn Candles from Wine & Glue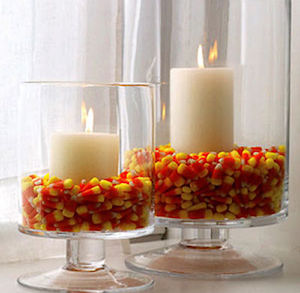 Candy Corn Candles (source unknown)
tall glass candleholders, pillar candles, candy corn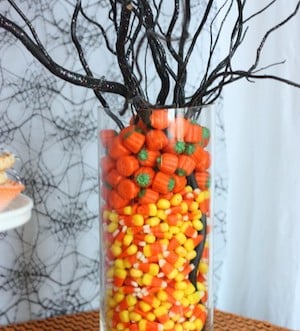 Candy Corn Centerpiece from Wants and Wishes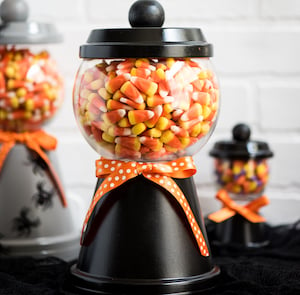 Halloween Candy Jar from A Pumpkin and A Princess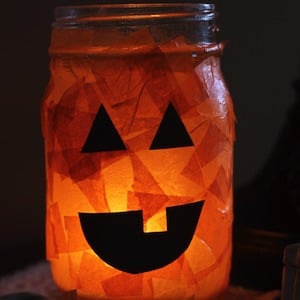 Halloween Mason Jar from Love and Marriage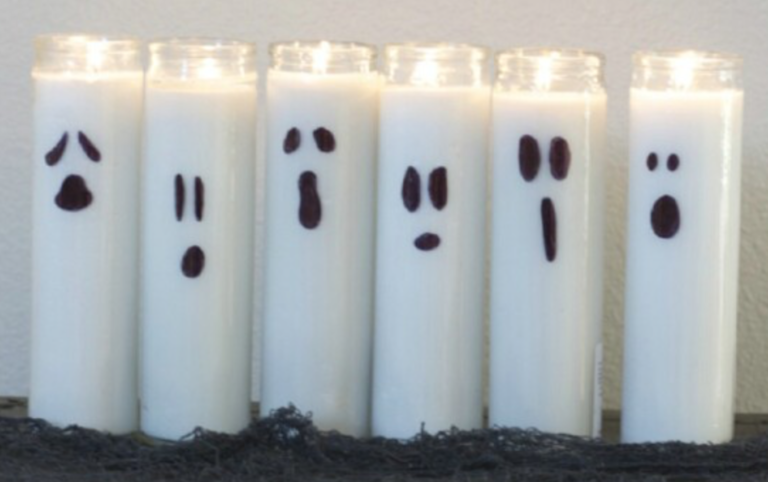 Ghost Candles from Thoughtfully Simple
Ghost Paper Bag Luminaries from Crayons and Collars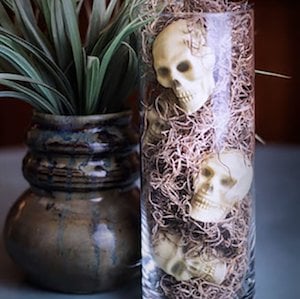 Vase of Skulls (#6) from DIY Projects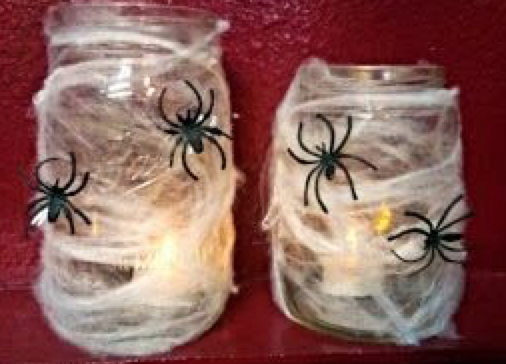 Spider Web Mason Jar (source unknown)
webs with spiders, battery operated tealight candle, mason jar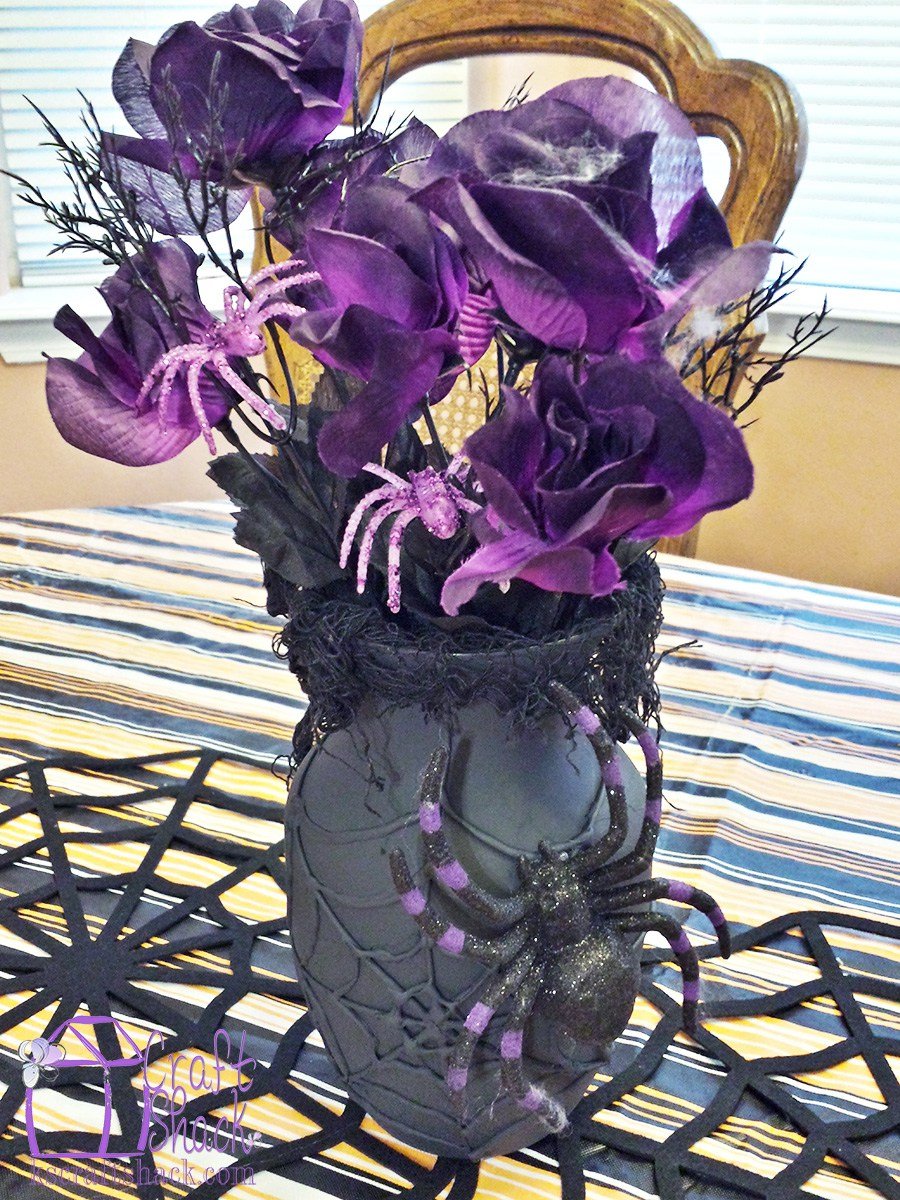 Spooky Halloween Vase from K's Craft Shack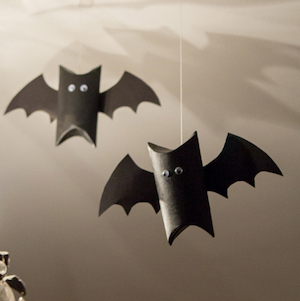 Toilet Paper Roll Bats from Practically Functional
Bathroom Dollar Store Halloween Party Decorations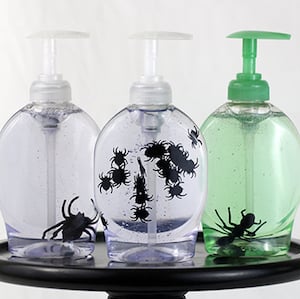 Halloween Hand Soap from Cutefetti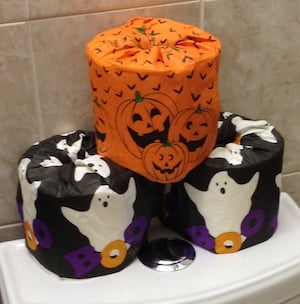 Toilet Paper Covers (source unknown)
Halloween napkins, toilet paper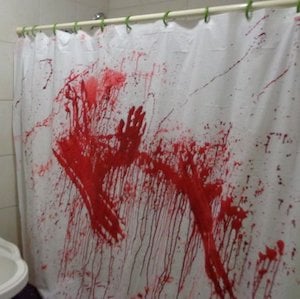 Murder Scene Bathroom (source unknown)
$1 shower curtain, pint of fake blood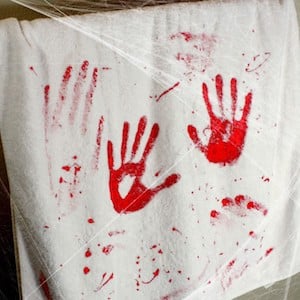 Bloody Bath Towel from Not So Idle Hands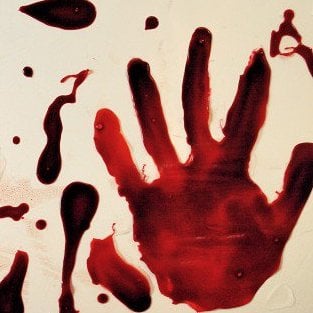 Bloody Handprint from Felt Magnet
Outdoor Dollar Store Halloween Party Decorations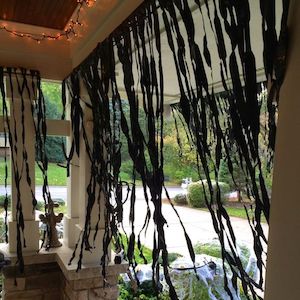 Creepy Black Curtained Porch from Pinterest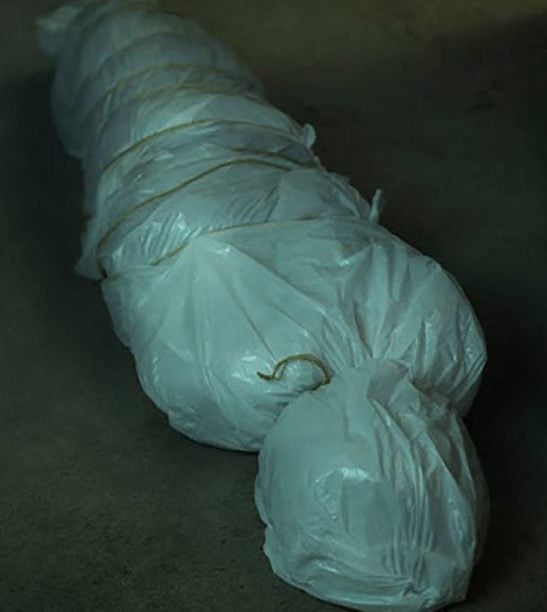 Body Bag (source unknown)
cheap white trash bags, twine
Create an outline of a body with trash and wrap it up in the trash bag and twine.
(Ex: use a milk jug for the head)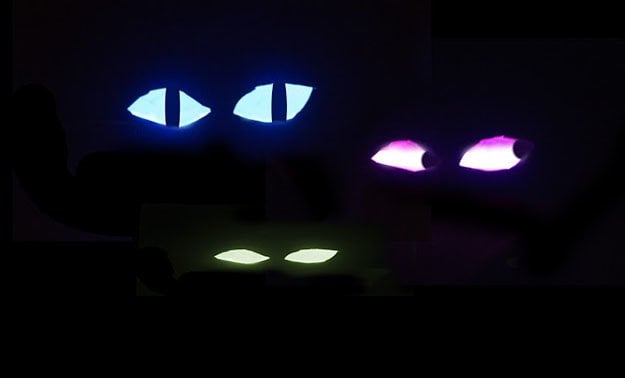 Spooky Eyes (source unknown)
Paper towel or toilet paper rolls, glow sticks
Cut paper towel roll in half. Cut out eye designs and put glow sticks inside.
Place in bushes for a scary effect!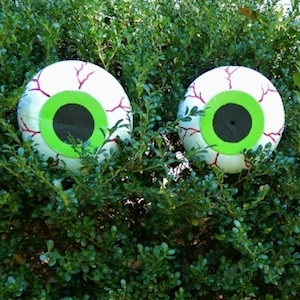 Spooky Bush Eyes from Kitchen Fun with My 3 Sons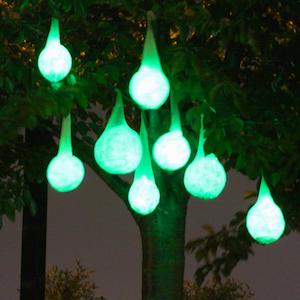 Glowing Halloween Light Pods from DIY Network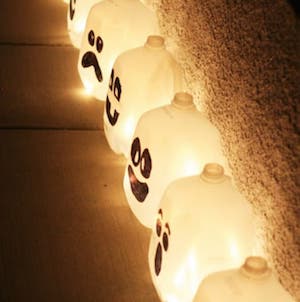 Ghost Jugs from Eighteen25
empty milk jugs, black permanent marker, craft knife, string clear lights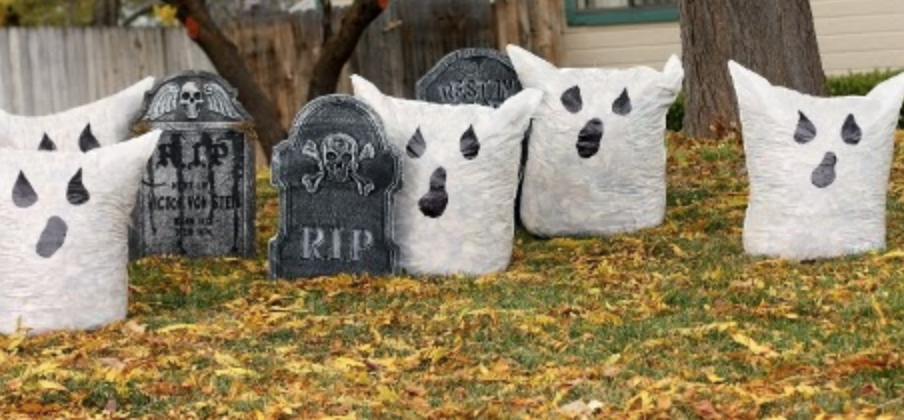 Ghost Leaf Bags (source unknown)
white trash bag, black permanent marker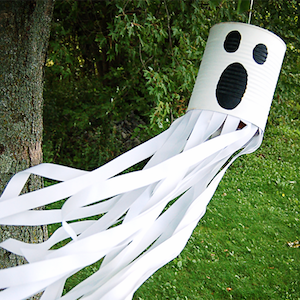 DIY Tin Can Ghost Windsock from Chicken Scratch NY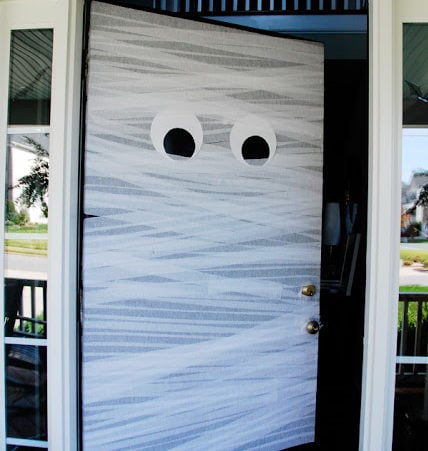 Mummy Door from Honey and Fitz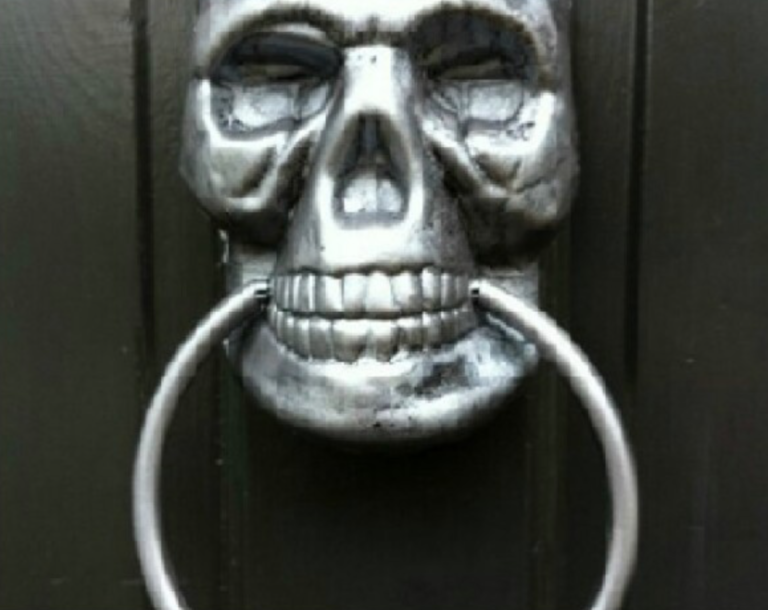 Metallic Skull Knocker from Momnivores Dilemma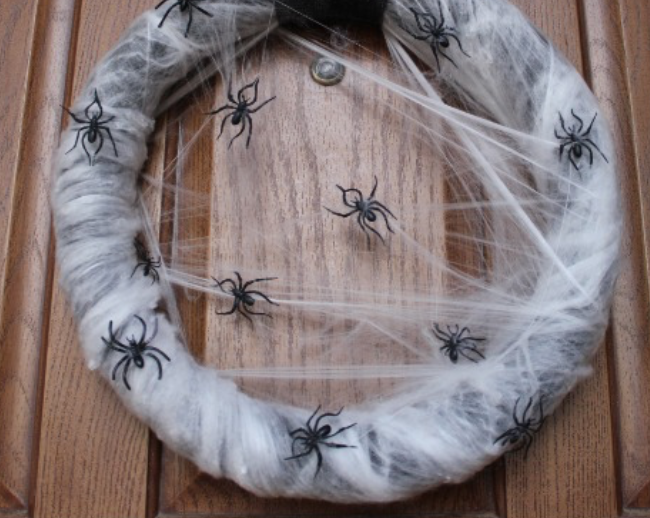 Spider Web Wreath from Mom Endeavors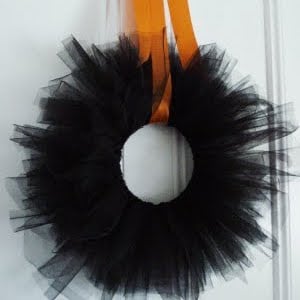 Tulle Halloween Wreath from Frugal Coupon Living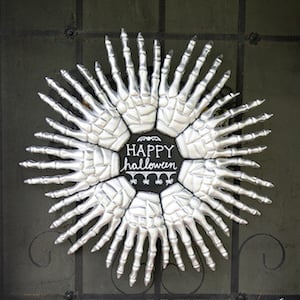 Skeleton Hands Halloween Wreath from Tried and True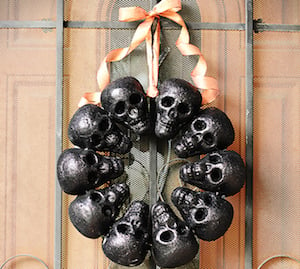 Halloween Skull Wreath from Tried and True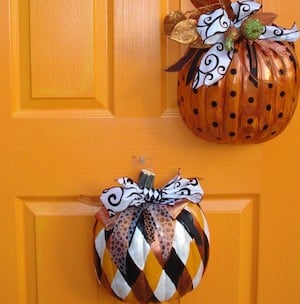 Pumpkin Door Decor from Everyday Celebrating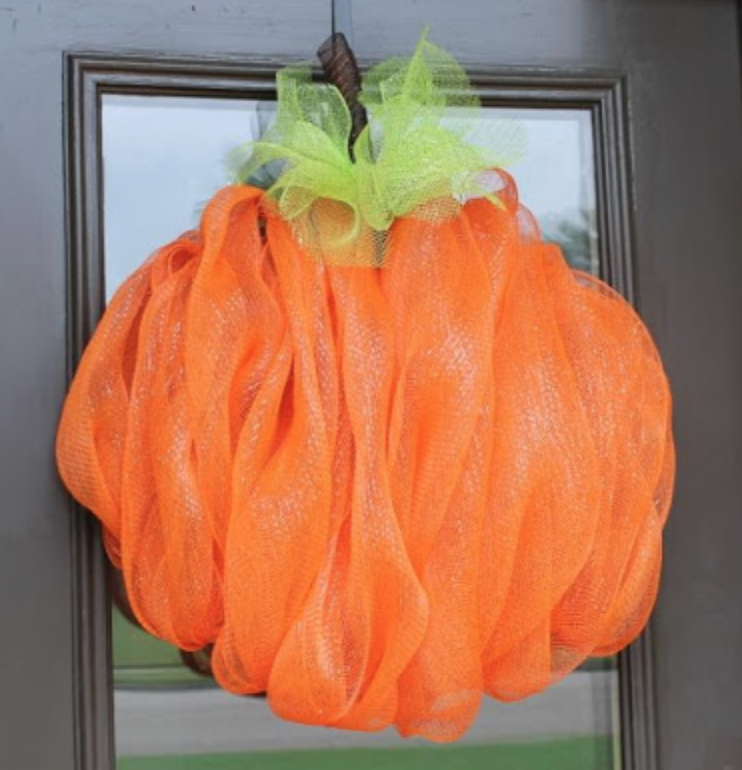 Mesh Pumpkin Wreath from Miss Kopy Kat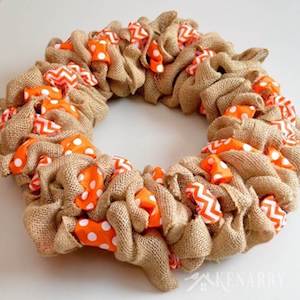 Burlap Wreath With Accent Ribbon from Kenarry
Dollar Store Halloween Party Games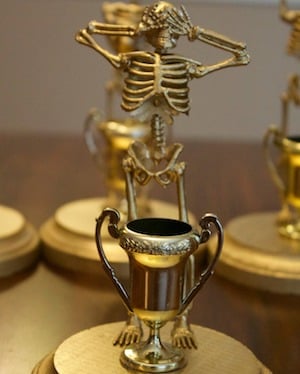 DIY Halloween Costume Content Trophy from Mom Luck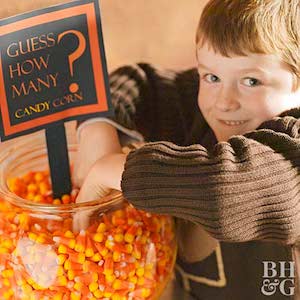 Candy Corn Guessing Game from Better Homes and Gardens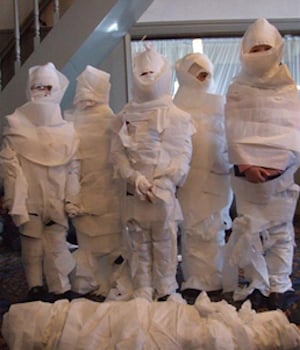 Mummy Wrapping Contest (source unknown)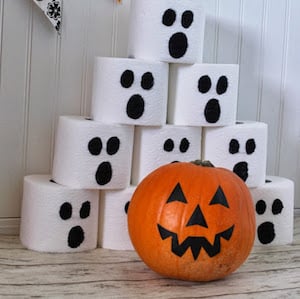 Pumpkin Bowling Using Toilet Paper from I Dig Pinterest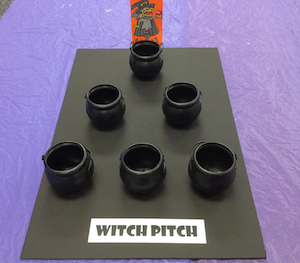 Dollar Store Witch Pitch from Campbell County Public Library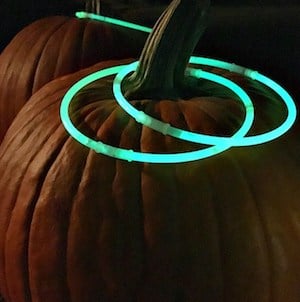 Pumpkin Ring Toss from Kid Friendly Things to Do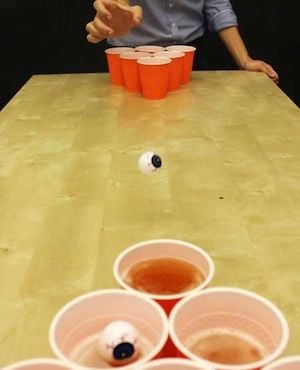 Eyeball Beer Pong (source unknown)
$1 eyeball ping pong balls, plastic cups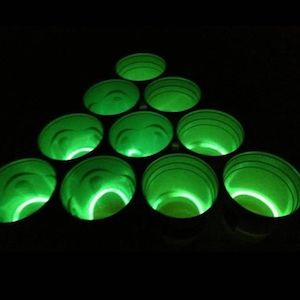 Glow in the Dark Beer Pong (source unknown)
glow in the dark brackets, plastic cups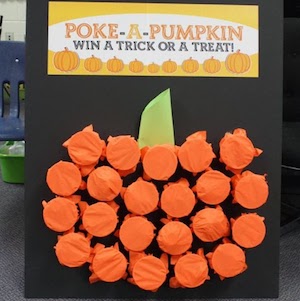 Poke A Pumpkin from Project Denneler