Transform free pallets into creative and beautiful furniture, decorations, planters and more! There are over 150 easy pallet projects here to give your home and garden a personal touch.
Before we dive into these projects, here is some helpful information:
You can get pallets FREE (or very cheap) from:
Craigslist or Facebook's Marketplace. A lot of the time people just put them on the curb for free for you to pick up.
Local businesses, distribution centers and stores (e.g Garden and Hardware Stores, Motorcycle Shops, Home Improvement Stores). You will see them sitting out back of stores, but always ask the manager before you take them because they could be rented pallets and need to be returned.
New Businesses – If you know a new business is opening in your area, that is a great time to find a lot of pallets too.
If you can't find any free wood pallets, you can buy them for under $10 (typically in the $5-$7 range, depending on the type and size you are looking for).
Materials You Will Need: 
 I won't re-list these items below to save space, but you will need some of these tools and supplies for all of these projects. If you are just planning on doing one or two projects, you can rent the more expensive tools (e.g. saws and sander) at a Home Depot or Lowes to save money or borrow from friends, family or neighbors.
Handy Tutorials for Pallet Projects:
While these DIY pallets projects are easy, some of them are time-consuming and may take more than a couple hours to complete.
Indoor Pallet Projects
Home Decor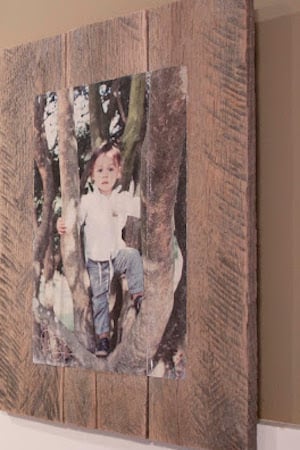 Pallet Photo Frames from Southern Revivals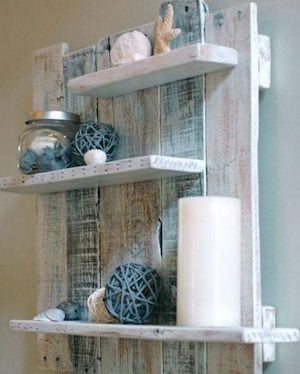 Wood Pallet Shelf from I See I Make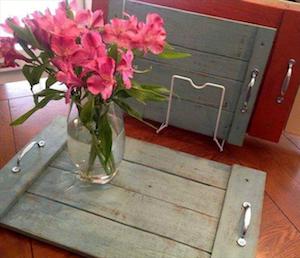 Pallet Trays (Source Unknown)
drawer handles + paint or stain + screws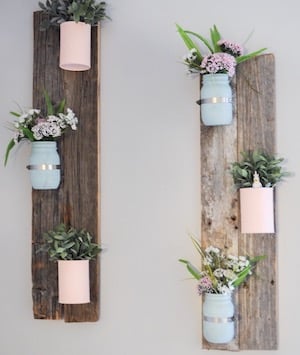 Wall Decor Pallets from Follow the Sprinkles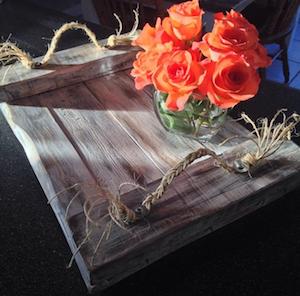 Pallet Tray with Rope Handles (Source Unknown)
rope + washers + screws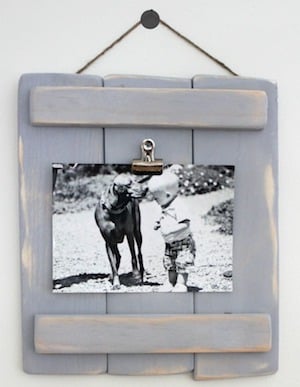 Pallet Plaque from Oh My Creative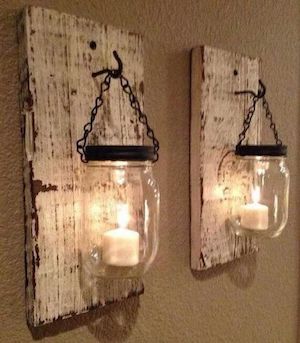 Mason Jar Candle Scone (Source Unknown)
white acrylic paint + small chain + hook + mason jars + votive candles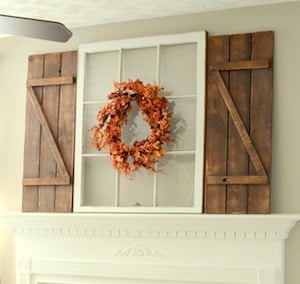 Pallet Barn Door Mantel from The Frugal Homemaker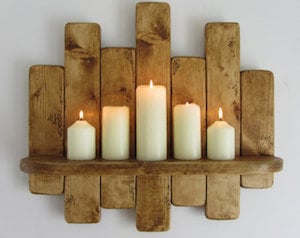 Candle Wall Shelf (Source Unknown)
All you need is various sized pillar candles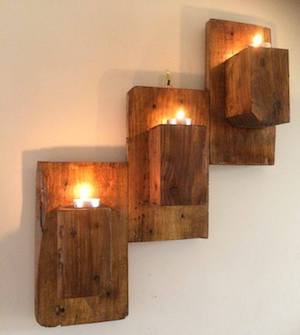 Wall Mounted Pallet Candle Holders from 101 Pallet Ideas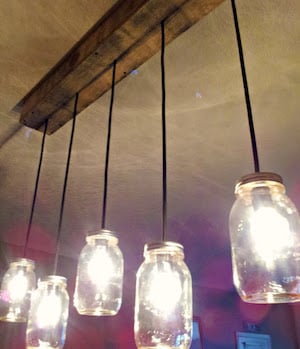 Hanging Mason Jar Lights from Twenty 8 Divine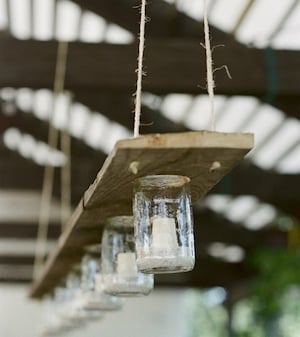 Hanging Mason Jar Candles II (Source Unknown)
mason jars + small pillar candles + rope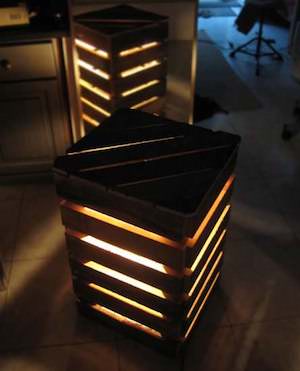 Pallet Cube Light (No tutorial)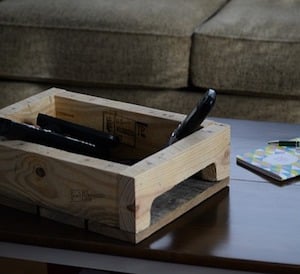 Coffee Table Tray from My Repurposed Life
Laundry Sign from Ana White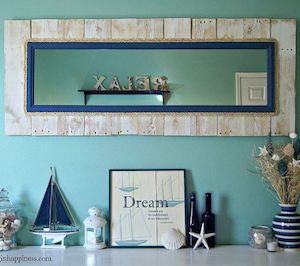 Coastal Pallet Mirror from Dwelling in Happiness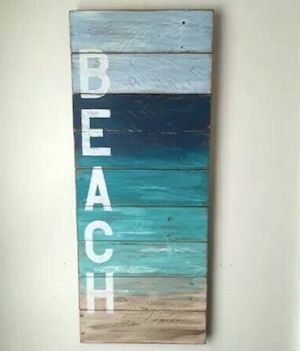 Beach Pallet Wall Art (Source Unknown)
stencils + white acrylic paint + shades of blue and tan paint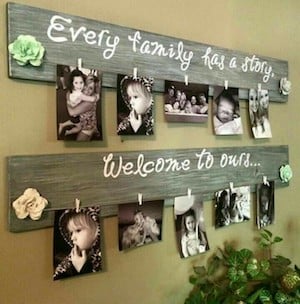 Pallet Photo Holder (Source Unknown)
mini clothespins + white paint marker (or stencils) + fabric (for flowers) + photos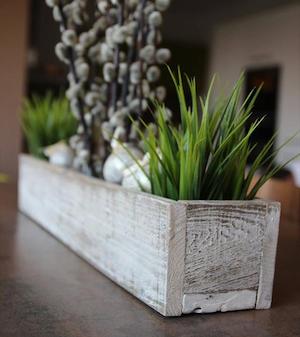 Pallet Centerpiece from 101 Pallets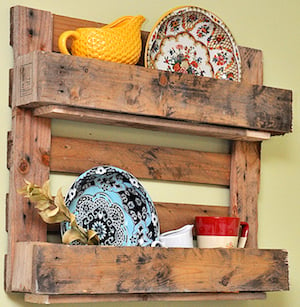 Decorative Wall Shelf from DIY Candy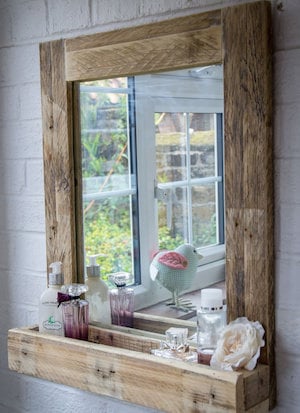 Pallet Wood Mirror (Source Unknown)
staining or paint + mirror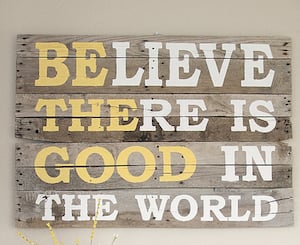 Pallet Wall Decor from Blooming Homestead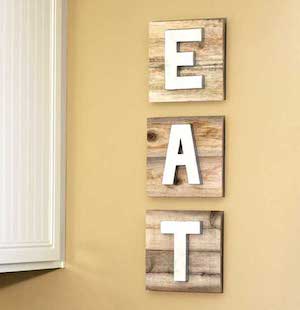 Kitchen Sign (Source Unknown)
wood letters + white acrylic paint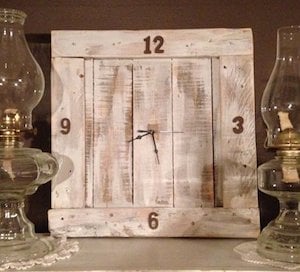 Pallet Wall Clock (Source Unknown)
clock parts (take apart a thrift store clock) + numbers + white paint
---
Furniture Pallet Projects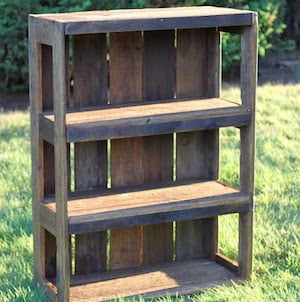 Pallet Bookshelf from Made it with Love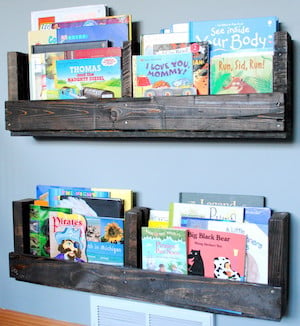 Pallet Floating Bookshelf from Jenna Burger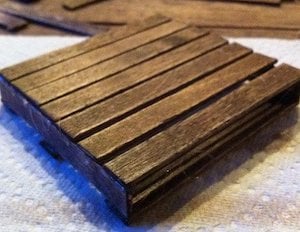 Mini Pallet Coaster For Your Pallet Coffee Table from Remove and Replace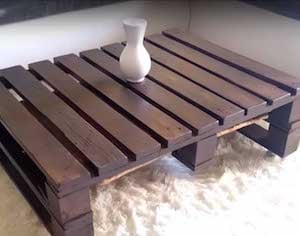 Pallet Coffee Table from DIY Projects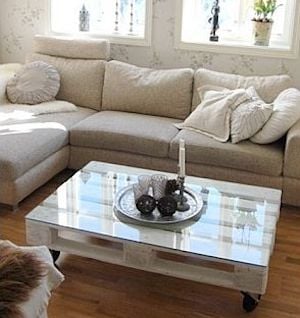 Modern Pallet Coffee Table (source unknown)
wheels + glass top + paint (optional)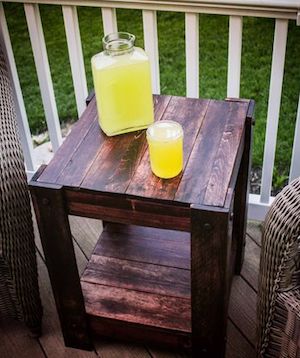 Pallet End Table from Instructables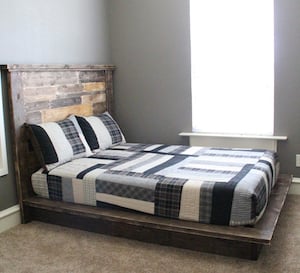 Easy Pallet Platform Bed from Shanty 2 Chic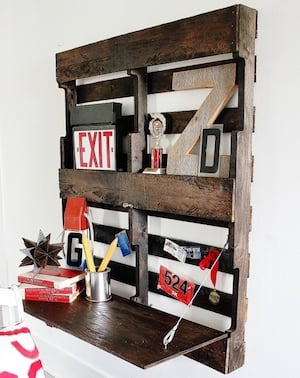 Fold-Up Pallet Desk from Thistlewood Farms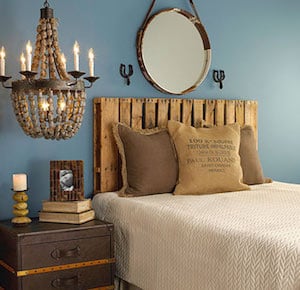 Pallet Headboard from BHG.com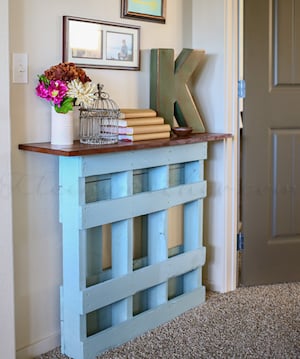 Console Table from Kleinworth Co.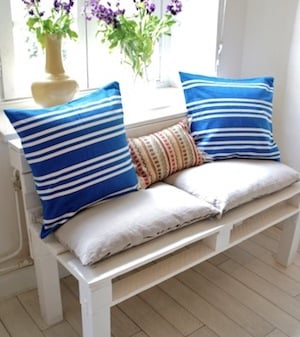 Pallet Sofa from Scrap Hacker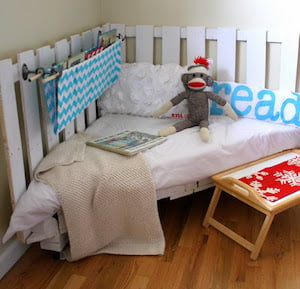 Reading Nook from Kojo Designs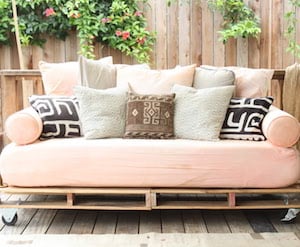 Pallet Daybed from Pretty Prudent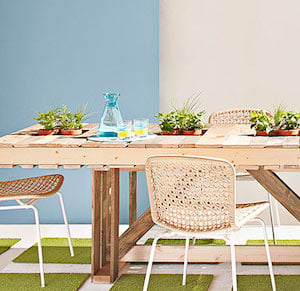 Pallet Dining Table from BHG.com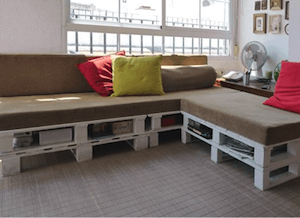 Large Pallet Sofa from Home Jelly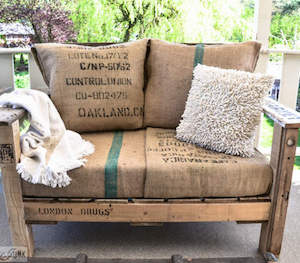 Pallet Chair from Funky Junk Interiors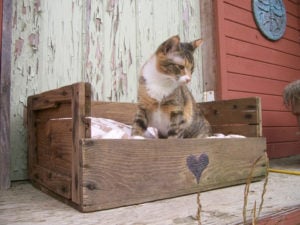 Pallet Cat Bed (Source Unknown)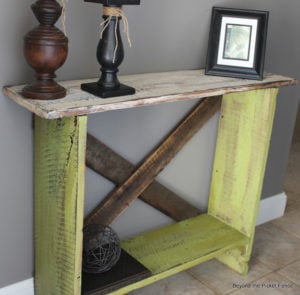 Sofa Table from Beyond The Picket Fence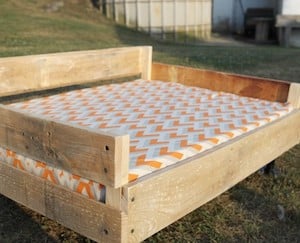 Pallet Dog Bed from The Charming Farmer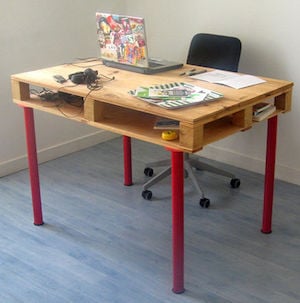 Pallet Desk from Instructables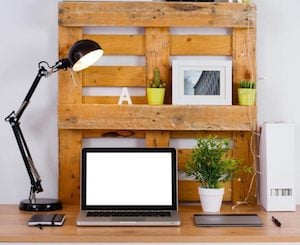 Desk Hutch Storage from Press Herald
---
Organization and Storage Pallet Projects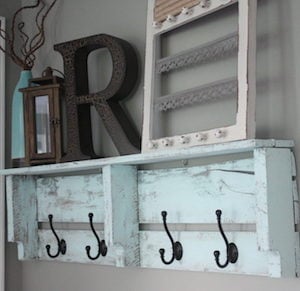 Pallet Coat Rack from Re-Fabbed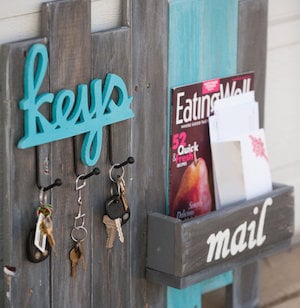 Entryway Pallet Organizer from Great DIYs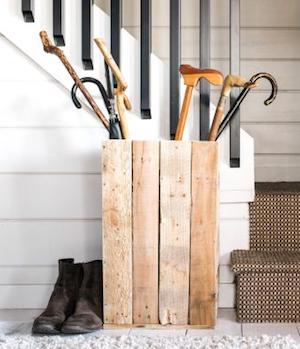 Upcycled Pallet Storage Container from DIY Network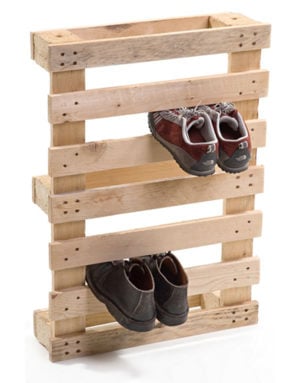 Shoe Rack (Source Unknown)
Kitchen Organization Pallet Projects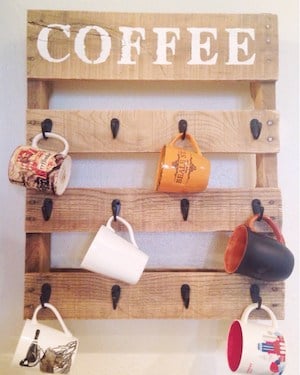 Coffee Cup Holder from One Little Bird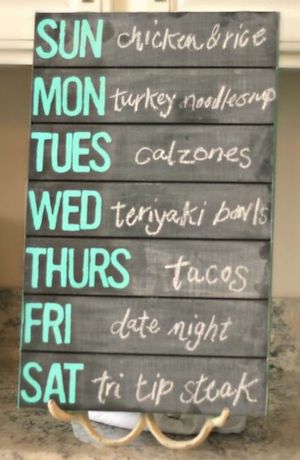 Menu Sign from The Wood Connection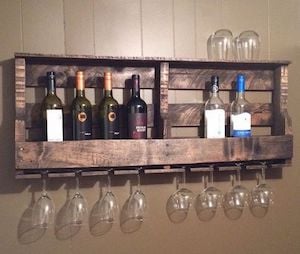 Pallet Wine Rack from Hometalk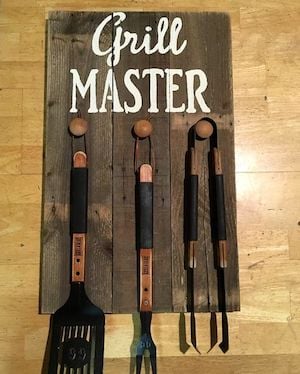 Kitchen Utensil Holder (Source Unknown)
wood knobs or hooks + wood stain + stencils + white acrylic paint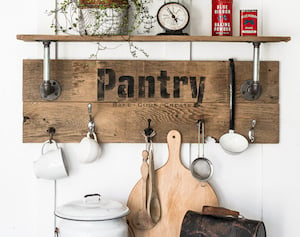 Pallet Pantry Sign from Funky Junky Interiors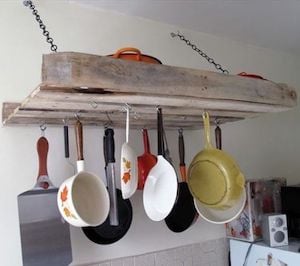 Pot and Pan Holder from A Green Point Kitchen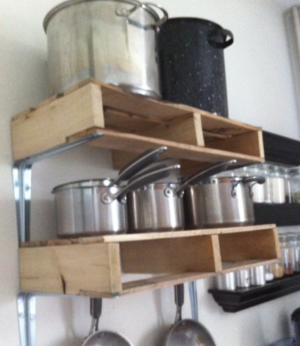 Pot and Pan Storage Idea (Source Unknown)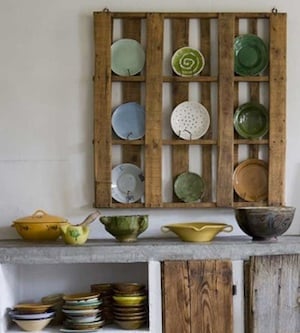 Pallet Plate Display  (No Tutorial Available)
Bathroom Organization Pallet Projects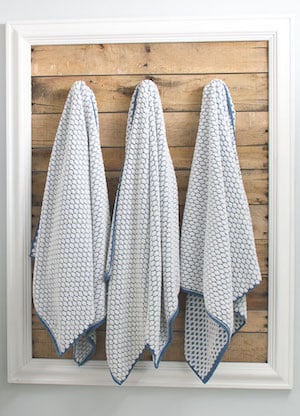 Pallet Towel Rack from The Golden Sycamore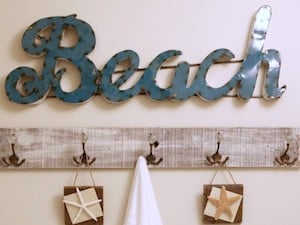 Driftwood Pallet Towel Rack from House by Hoff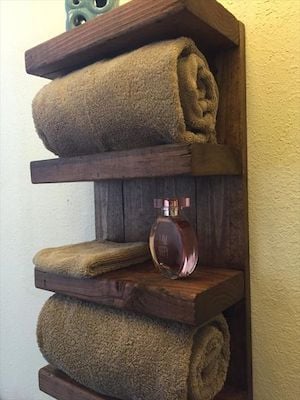 Bathroom Towel Holder
I couldn't find a tutorial for this project, but it looks pretty simple. There is a similar project here that might help: http://www.instructables.com/id/Pallet-Wall-Shelf/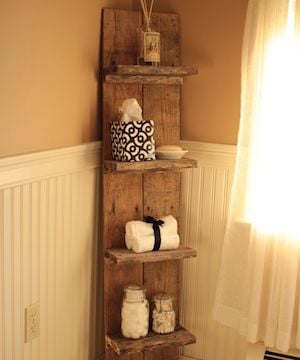 Bathroom Shelf (Original Source unknown)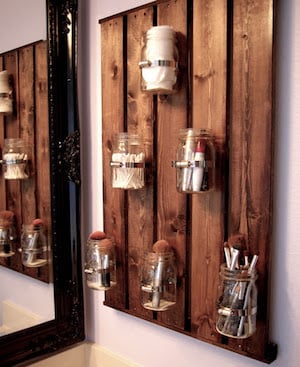 Mason Jar Pallet Organizer from Skinny Meg
Other Organization Pallet Projects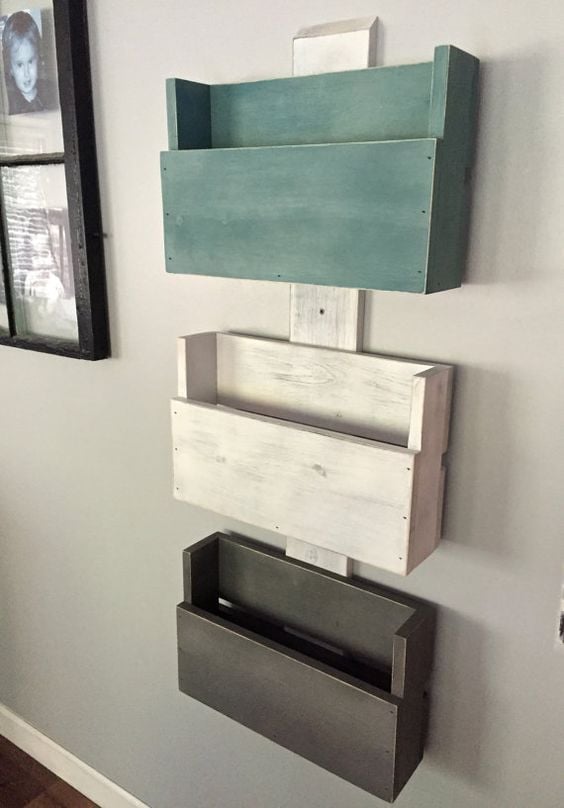 Pallet Letter Organizer (Source Unknown)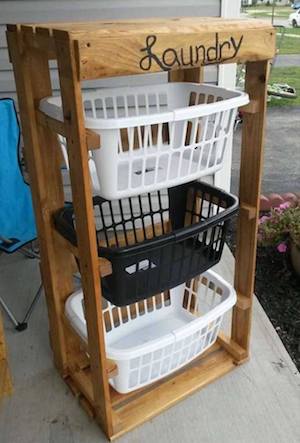 Pallet Laundry Basket Holder from Ana White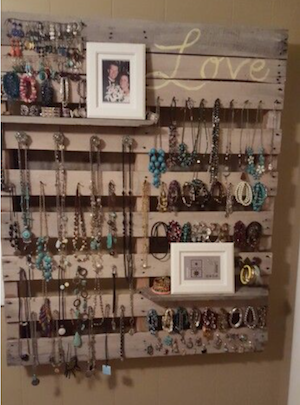 Pallet Jewelry Organizer from Craft or DIY
---
Outdoor Pallet Projects
Garden Pallet Projects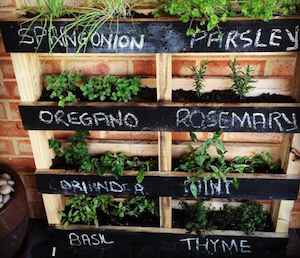 Pallet Vertical Herb Garden from 99 Pallets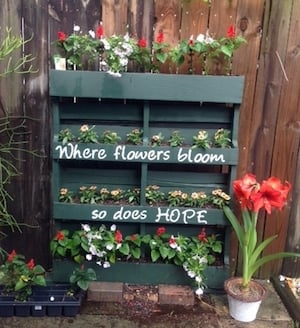 Vertical Flower Garden from Hometalk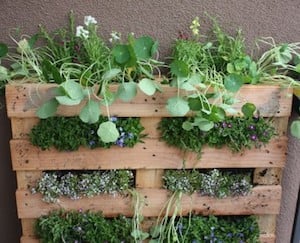 Vertical  Pallet Flower Garden (source unknown)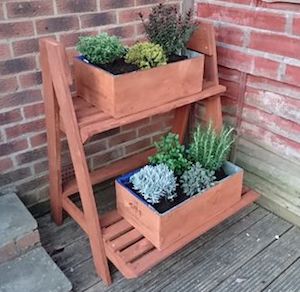 Staggered Pallet Planter from Instructables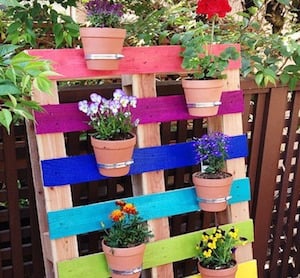 Upcycled Rainbow Pallet Flower Garden Planter from Hello Creative Family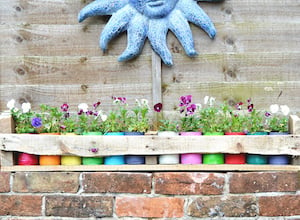 Tin Can Pallet Planter from Pillar Box Blue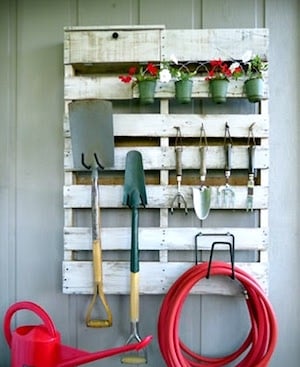 Garden Tool Storage from Our Little Acre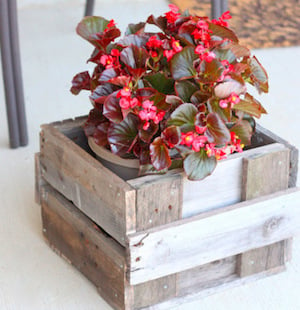 Pallet Planter Box from Live Laugh Rowe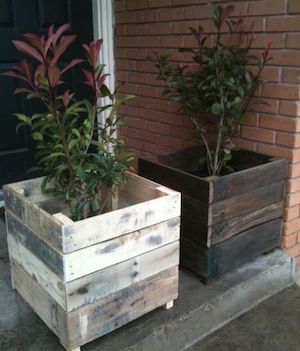 Large Pallet Planter (Source Unknown)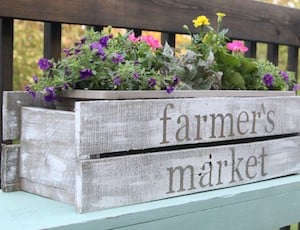 Pallet Planter Box from House by Hoff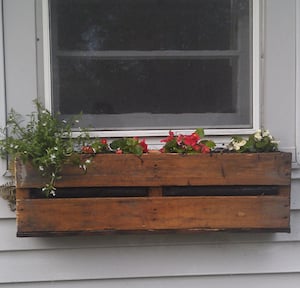 Window Planter Box from Paradise Perspectives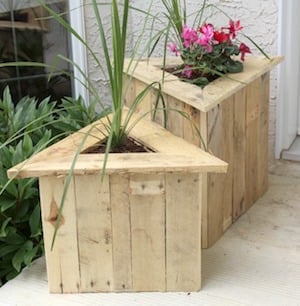 Triangle Pallet Planters from Love Create Celebrate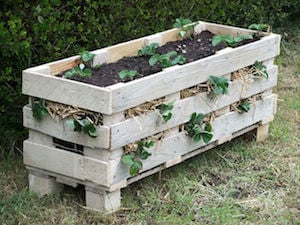 Strawberry Pallet Planter from Instructables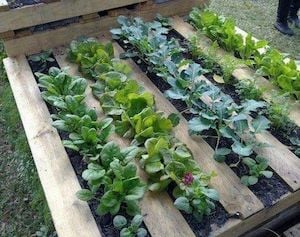 Pallet Garden from Bright Nest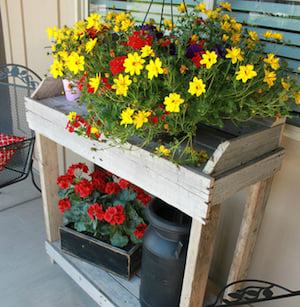 Potting Table from Handmade Utah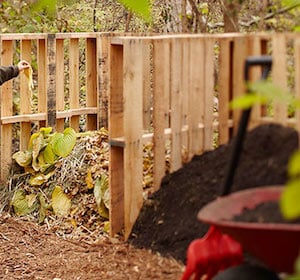 Pallet Compost Bin from BHG.com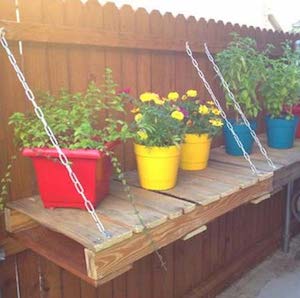 Flower Pot Pallet Shelf (Source Unknown)
washers + screws + heavy duty chains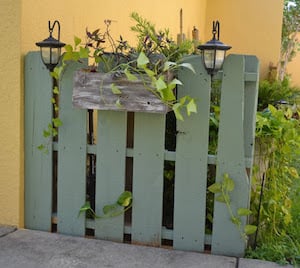 Pallet Garden Fence from Camelot Art Creations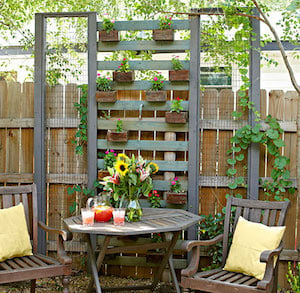 Pallet Garden Trellis from BHG.com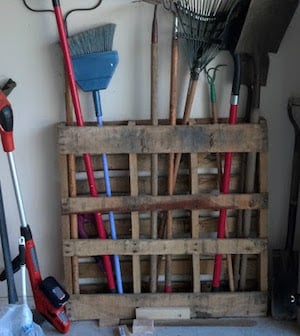 Garden Tool Storage from Fix Lovely
---
Backyard Pallet Projects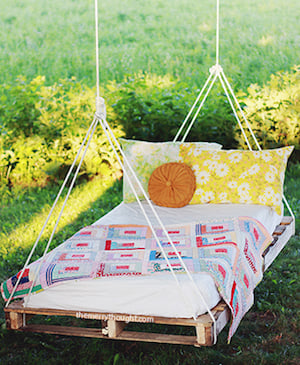 Pallet Swing Bed from The Merry Thought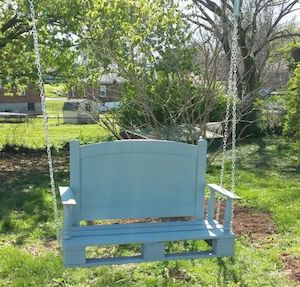 Pallet Swing from Instructables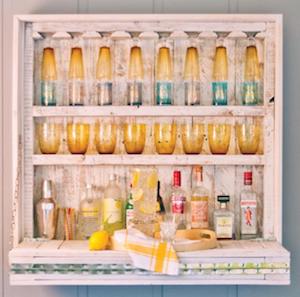 Hanging Outdoor Bar from HGTV.com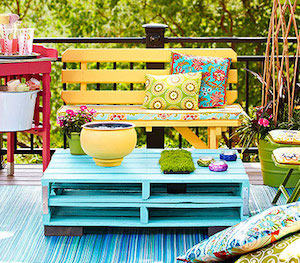 Pallet Outdoor Table from BHG.com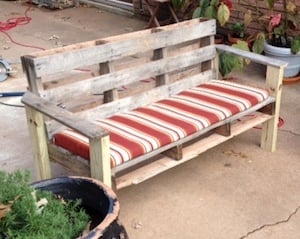 Pallet Patio Bench from RK Black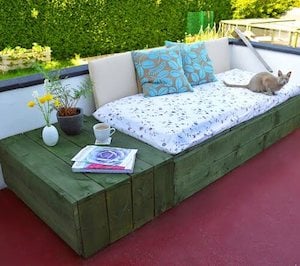 Patio Pallet Daybed from Lovely Greens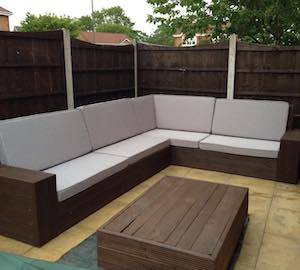 Pallet Sectional Soda from 101 Pallets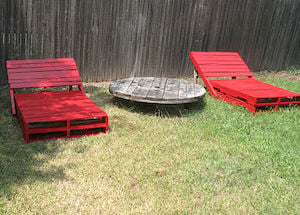 Patio Pallet Lounger from Instructables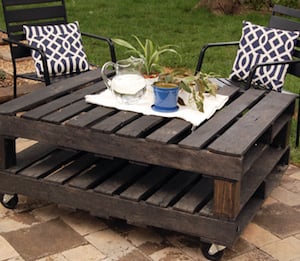 Outdoor Pallet Table (source unknown)
---
Front Yard Pallet Projects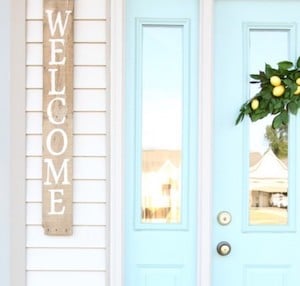 Welcome Sign from House by Hoff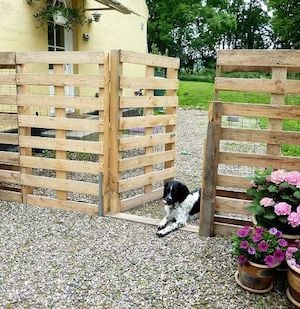 Basic Pallet Fence from Hometalk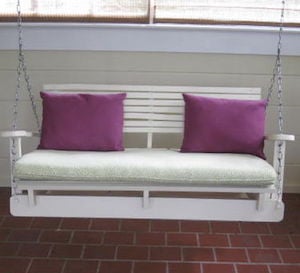 Swing Chair from Instructables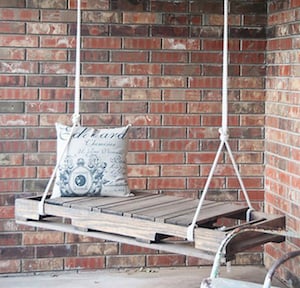 Basic Swing Chair (Source Unknown)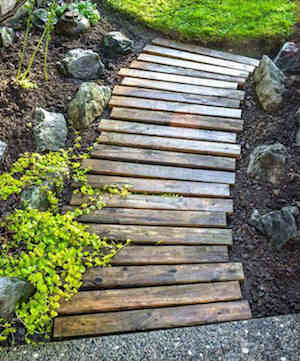 Pallet Walkway from Funky Junk Interiors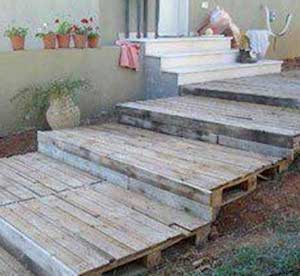 Pallet Stairs (Source Unknown)
---
Holiday Pallet Projects
Christmas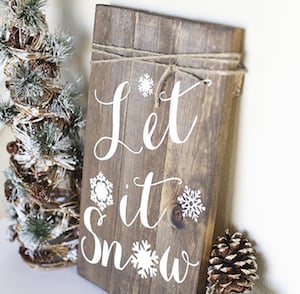 Winter Woodland Sign from Blooming Homestead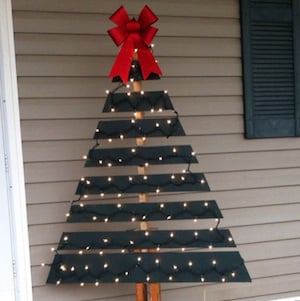 Pallet Christmas Tree from Jolenes Crafting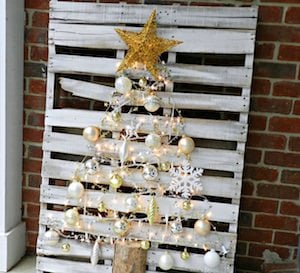 Pallet Christmas Tree II (Source Unknown)
white paint + ornaments + christmas star + clear string lights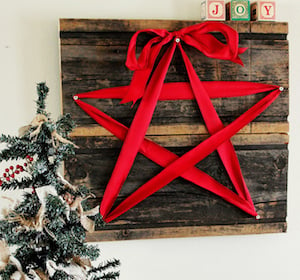 Christmas Star
wide red ribbon + nails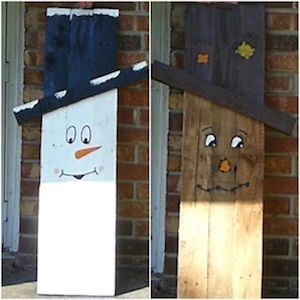 Reversible Snowman and Scarecrow Pallet from Instructables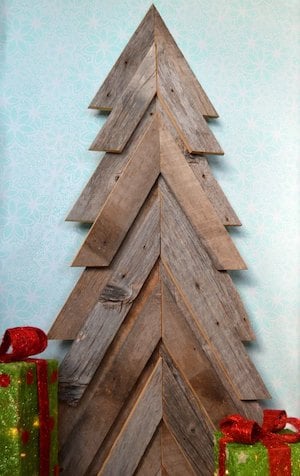 Rustic Pallet Christmas Tree from Her Tool Belt
Fall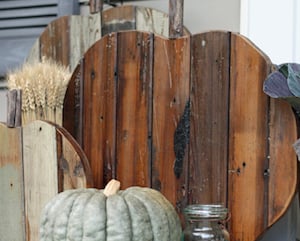 Pallet Pumpkins from Finding House Farms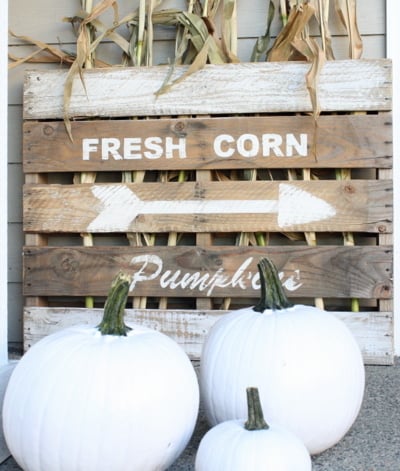 Neutral Fall Pallet Sign from Design, Dining and Diapers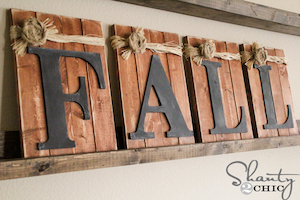 Fall Chalkboard Sign from Shanty 2 Chic
4th of July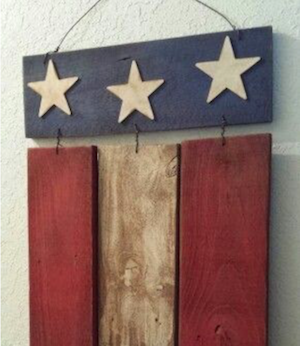 Simple Pallet Flag (Source Unknown)
wire + red, white and blue acrylic paint + wood stars + picture hanging wire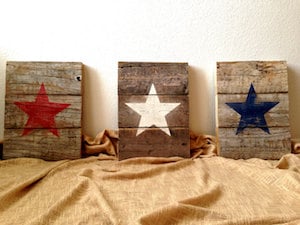 Patriotic Star Pallet Signs (Source Unknown)
large star stencil + red, white and blue paint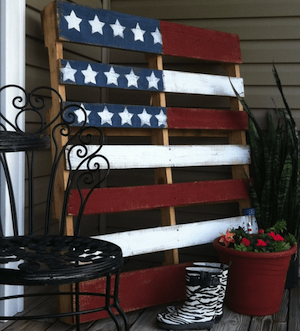 Pallet Flag (Source Unknown)
star stencils + red, white and blue paint
---
Related Post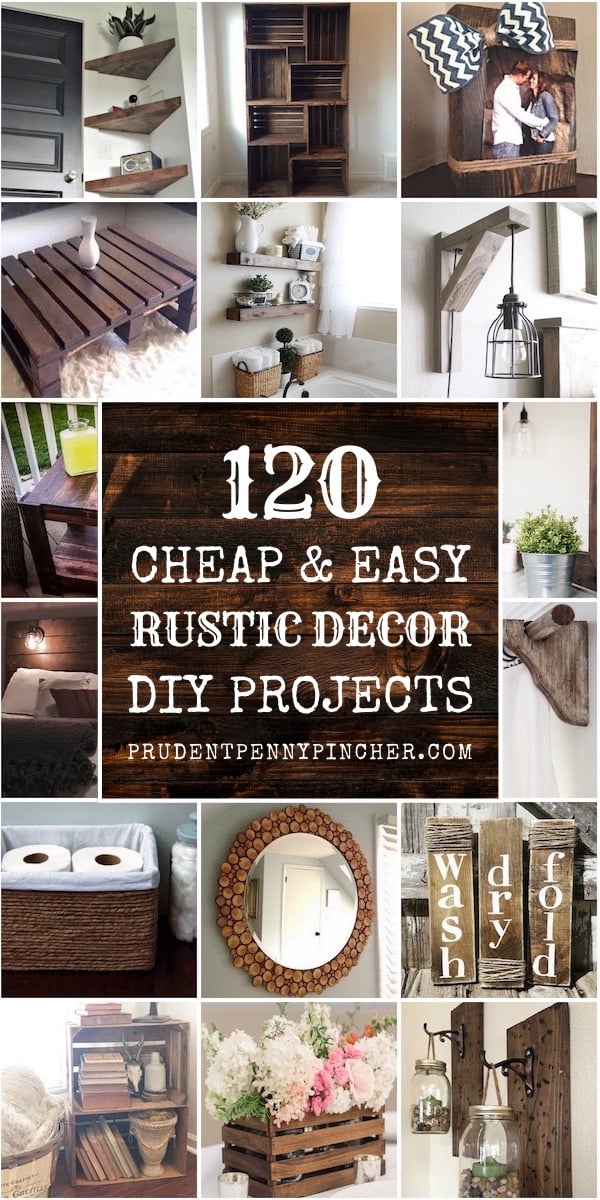 120 Cheap and Easy Rustic DIY Home Decor Ideas