Transform everyday items like picture frames and old jars into unique home decor, organization ideas and furniture with these cheap and easy DIY projects. The projects are sorted by room type (kitchen, bathroom, living room, bedroom, etc.) to make it more organized.
Many of the items required for these projects are common things that you probably have lying around the house and the items that you don't have, can be found at Dollar Tree or thrift stores!
Crafting Supplies You May Need:
Scissors
Glue (E6000 glue, and/or super glue)
Tape
Ruler
Tape measure
Pencil
Marker
Repurposed DIY Living Room and Bedroom Ideas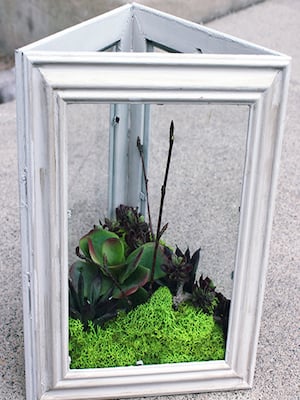 Faux Succulent Garden
5×7 frames + moss +faux succulents + twigs + paint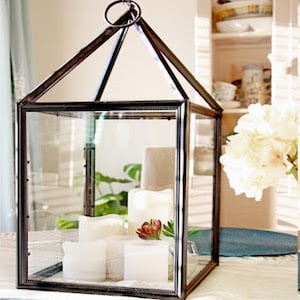 Hurricane Lanterns Out of Dollar Store Frames
5 frames + curtain ring + black marker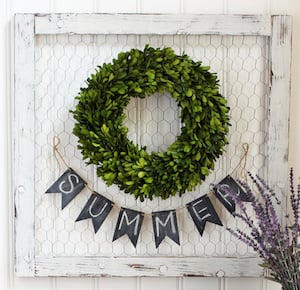 Farmhouse Decor from $5 Thrift Store Frame
chalk paint + banner + boxwood wreath + old picture frame + chicken wire + staple gun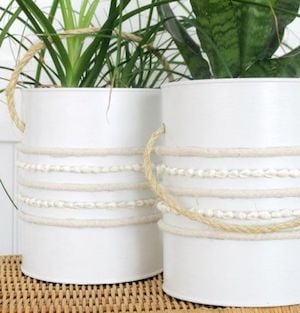 Recycled Coffee Can Planter
white spray paint + drill + rope + seashell necklaces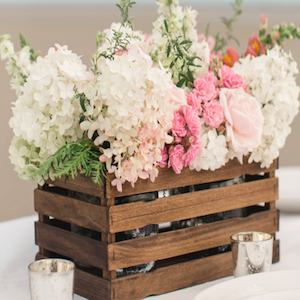 Paint Stick Basket
square dowel + paint stir sticks + staples and staple gun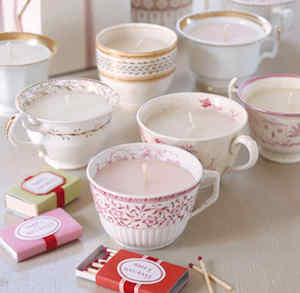 Teacup Candles
Candy or candle thermometer + new wicking + teacups + wick sustainers + wooden skewers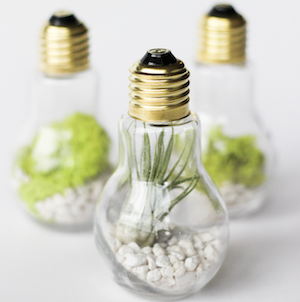 DIY Lightbulb Terrariums
lightbulb + gravel  + small faux plants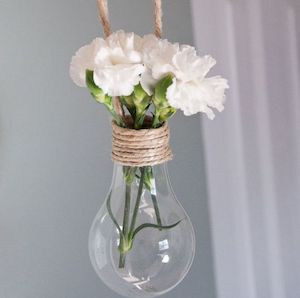 DIY Lightbulb Flower Vase
lightbulbs + twine + flowers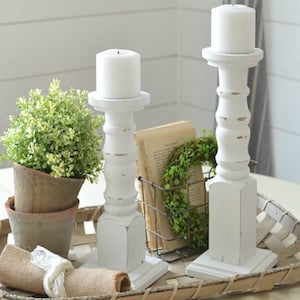 DIY Chalk Paint Candlesticks
spindles + wood pieces (craft store) + wood screws + chalk paint + candles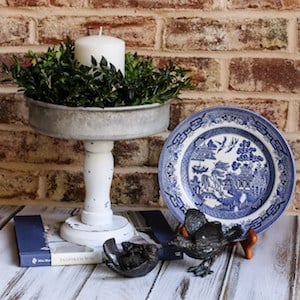 Farmhouse Candle Holder
candle stick + thrift store cake pans + white satin finish spray paint + E600 adhesive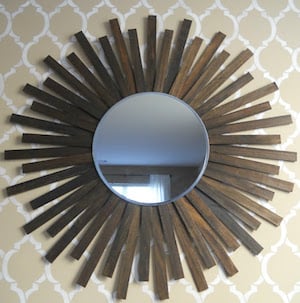 Sunburst Paint Stick Mirror 
paint sticks + glue + round mirror + wood stain + wall hanger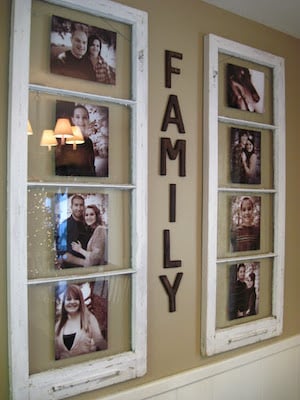 Old Window Picture Frame
clear picture corners + old window + command hooks + wood letters + dark wood stain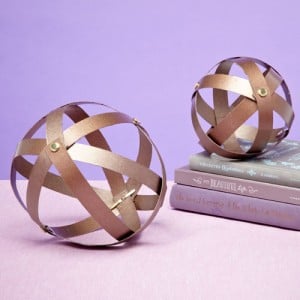 Cereal Box Decorative Sphere
cereal box + Rust-Oleum Aged Copper spray paint + hole punch + metal paper fasteners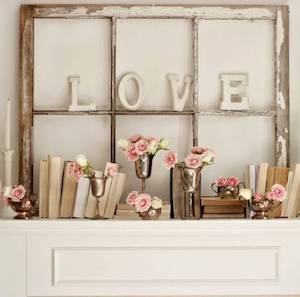 Old Window Wall Art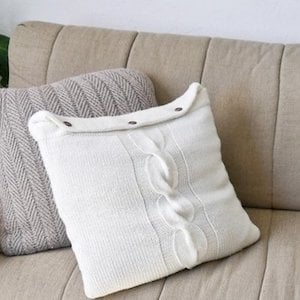 DIY Sweater Pillows (No Sow)
throw pillow + sweater + needle & thread + buttons + pins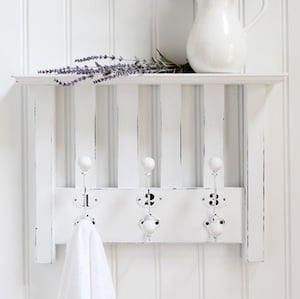 Repurposed Chair Coat Rack
saw + drill + spray paint + sandpaper + wood glue and filler + hooks + screws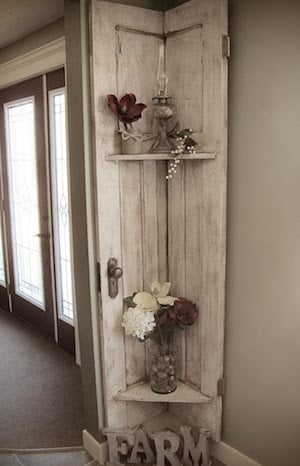 Repurposed Barn Door Decor
barn door + 2 corner shelves + paint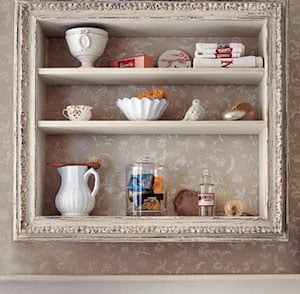 Display Shelves
picture frame + old wine crate + spray paint. + heavy duty picture hanging kit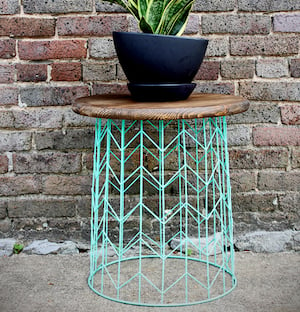 Wire Basket Side Table
wire basket + round wood panel + spray paint + wood stain + clear coat + cable staples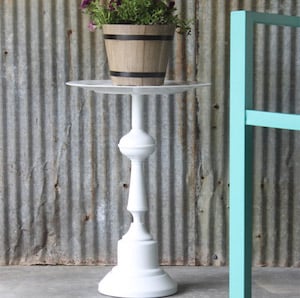 Lamp Side Table
lamp + platter + liquid nails + spray paint
You could also use a large picture frame as the table top instead of a platter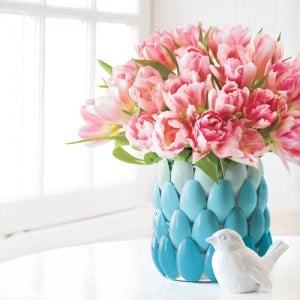 Plastic Spoon Vase
empty can + glue gun + white spray primer + plastic spoons + blue and white acrylic paint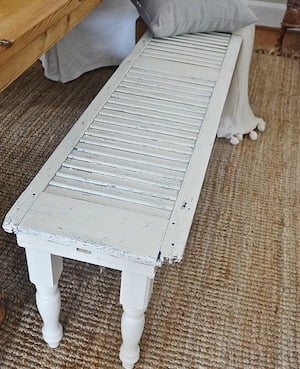 DIY Shutter Bench
antique shutter + baseboard + legs + leg anchors + wood trim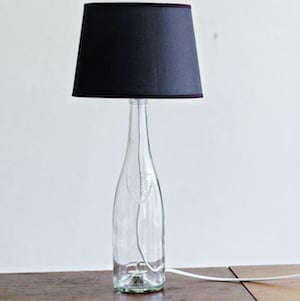 DIY Bottle Lamp
old bottle + simple engraving device + wiring + lampshade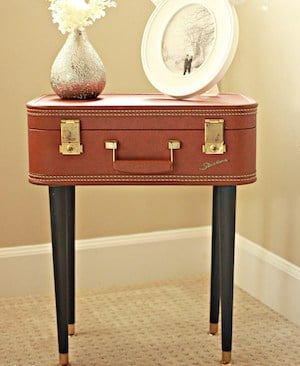 DIY Vintage Suitcase Table
plywood + luggage case + metal plates + table legs + screws + paint/wood stain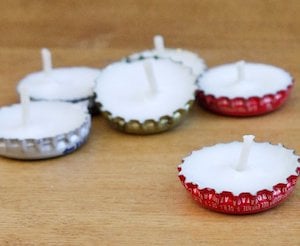 DIY Bottle-Cap Candles
Bottle caps + candle wicks + ends of candles
---
Repurposed DIY Entryway and Office Ideas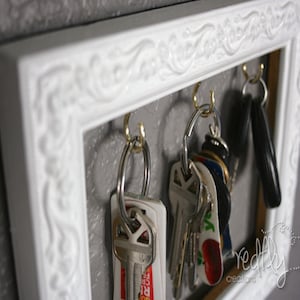 Key Frame
picture frame + gold hooks + paint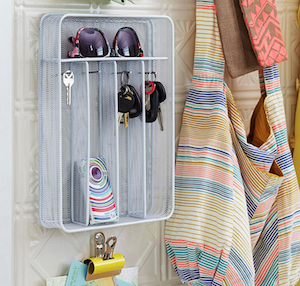 Organization Hub
wire mesh utensil tray + small nails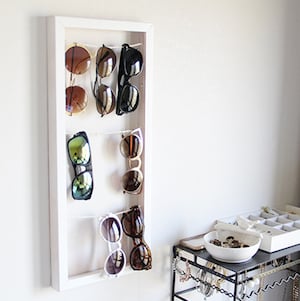 Sunglass Holder DIY
photo frame + glue gun + paint +  rope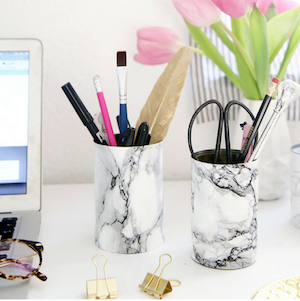 DIY Marble Pencil Holder
empty can + marble contact paper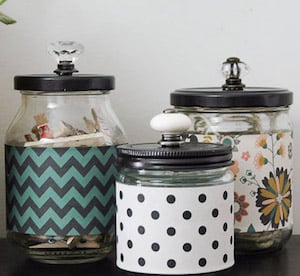 Recycled Glass Jars Turned Stylish Office Storage
recycled glass jars +  knobs + scrapbook paper + spray paint + mod podge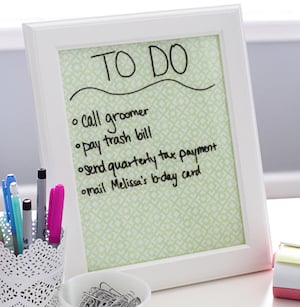 DIY Dry Erase Board
8×10 picture frame + patterned masking tape  + dry erase markers
You can get all these items at Dollar Tree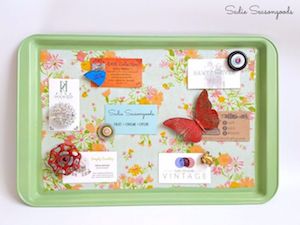 Cookie Sheet Magnetic Memo Board
metal primer + spray paint + fabric + mod podge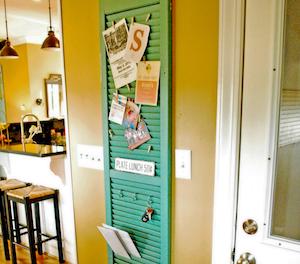 Entryway Shutter Catchall
shutter + spray paint +  S hooks + clothespins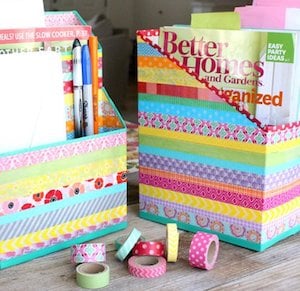 Organizers from Cereal Boxes
washi tape or patterned duct tape + cereal box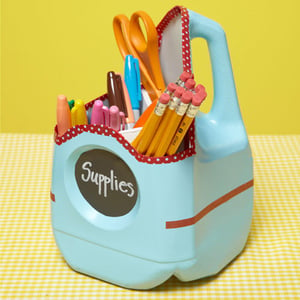 Milk Jug School-Supply Container
spray paint + 1-gallon plastic jug +  X-acto knife, washi tape + foam board + chalkboard label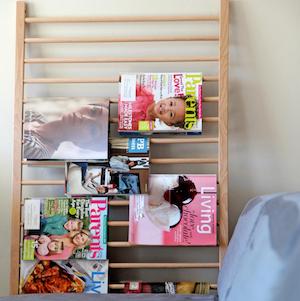 Crib Railling Magazine Holder
You could also use it to hang towels or blankets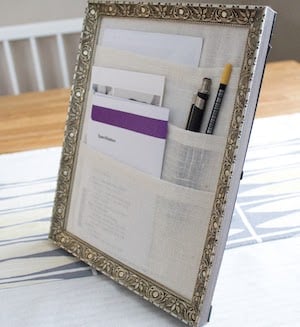 Picture Frame Memo Board 
picture frame + fabric + glue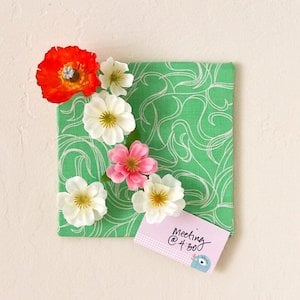 Corkboard Flower Push Pins
cork board + fabric + fake flowers + push pins + glue gun
---
Repurposed DIY Bathroom Ideas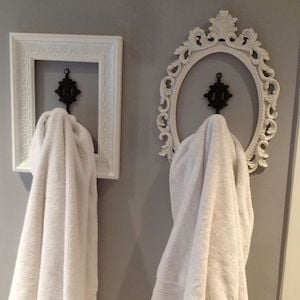 Decorative Towel Hangers (Source Unknown)
thrift store picture frames + white and black spray paint + decorative hooks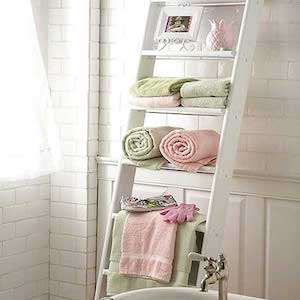 Ladder Towel Rack
small ladder + spray paint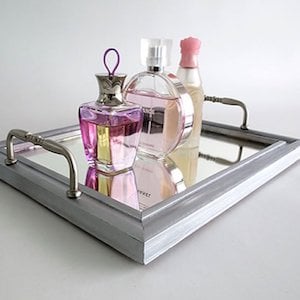 DIY Mirrored Vanity Tray
picture frame + mirror + drawer handles + rubber pads + silver spray paint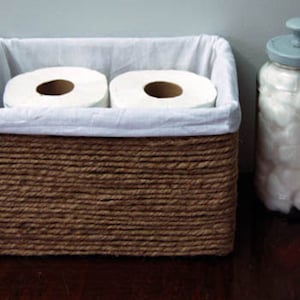 Cardboard Box Basket
jute twine + cardboard + white fabric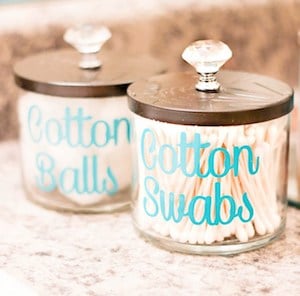 Repurposing Candle Jars
candle jar + glue + knobs + spray paint + primer + goo gone
Here is a great DIY goo gone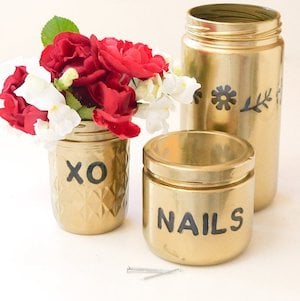 Gold Glass Jar Organizers
Glass jars and lids + metallic gold spray paint + foam shapes and letters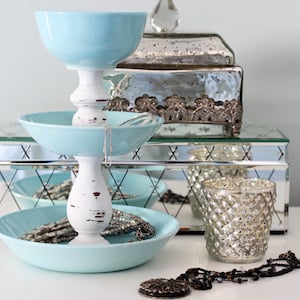 Jewelry Tower
cups + saucers + taper candle holders + spray paint + glue
These dishes were found at Thrift Stores, but you can also find similar ones at Dollar Tree too.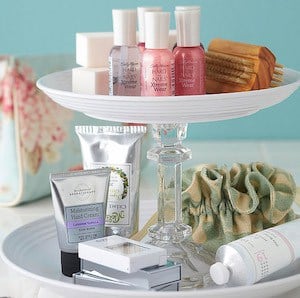 Tiered Tray
glass taper candleholder + white plate + white saucer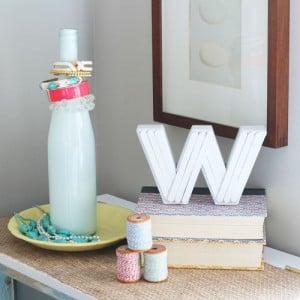 Wine Bottle Jewelry Holder
wine bottle + acrylic craft paint + gorilla glue, salad plate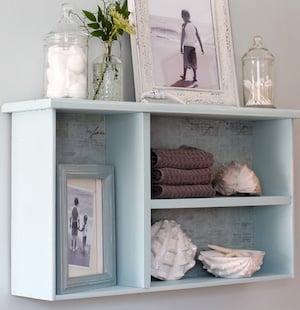 Drawer Shelf
old drawer + spray paint + wood scraps + hammer and nails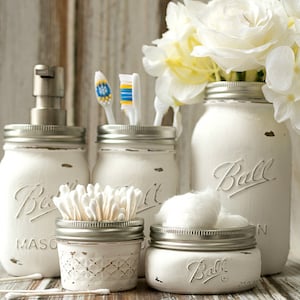 Macon Jar Bathroom Organizer Set
mason jars + white paint + clear coat sealant + mason jar soap lid converter kit + mason jar flower frog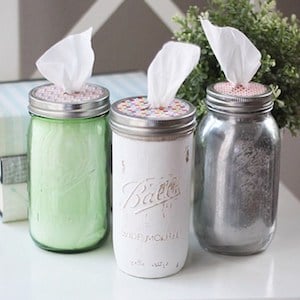 Mason Jar Tissue Holder
mason jar  + scrapbook paper + tissue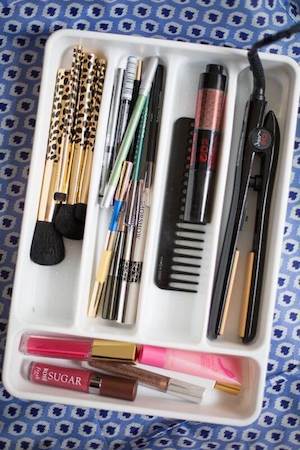 Makeup Organizer (using a cutlery tray)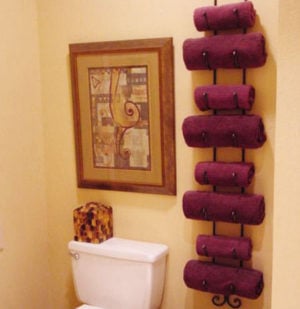 Towel Rack  (Using a Wine Rack)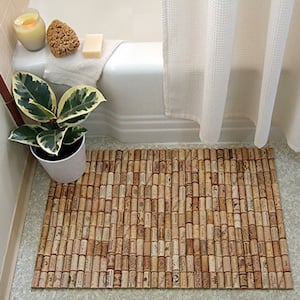 Wine Cork Bath Mat
175 wine corks  + hot glue sticks + non-adhesive shelf liner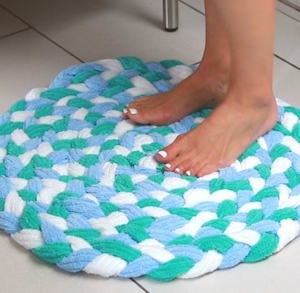 Recycled Towel Bath Mat
3 to 4 bath towels + cutting mat + rotary cutter + pins, needle and thread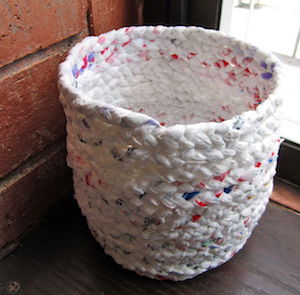 Plastic Bag Basket
sewing needles + white thread + a thimble + plastic bags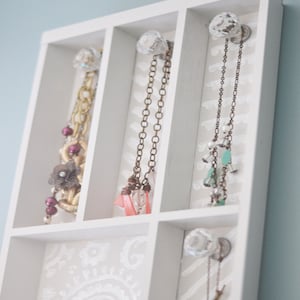 Jewelry Holder from a Cutlery Tray
wooden cutlery tray + paint + knobs  + cup hooks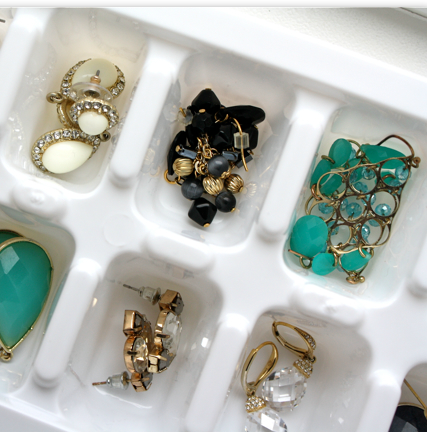 Earring Organizer (using an ice cube tray)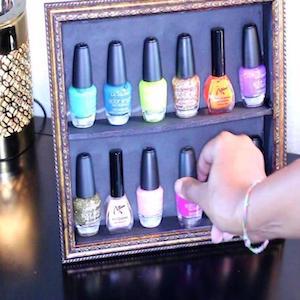 Fingernail Polish Display Stand
black foam board + >picture frame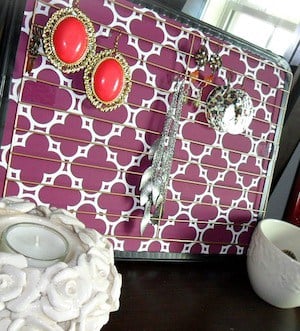 Necklace Holder
cooling rack + picture frame + wrapping paper + adhesives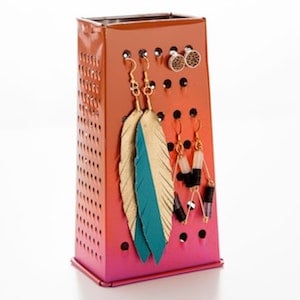 Cheese Grater Earring Caddy
cheese grater (thrift store $1) + spray paint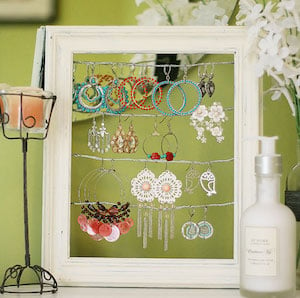 Dangly Earring Display
picture frame + 12′ of picture wire + acrylic paint + staple gun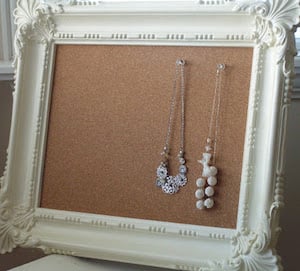 Picture Frame Corkboard
picture frame + spray paint + cork board  + push pins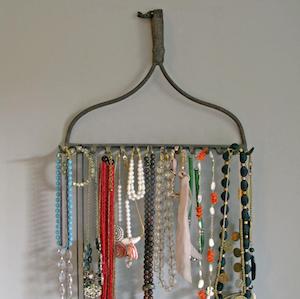 Rustic Necklace Holder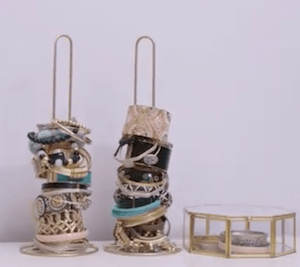 paper towel holder + gold spray paint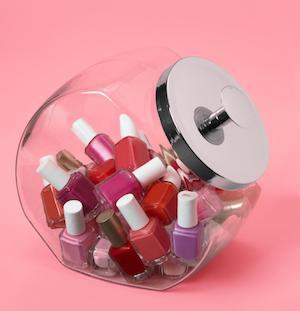 Nail Polish Storage
cookie jar with a metal lid + decorative knob (optional)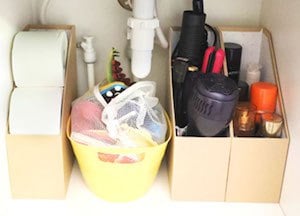 Under The Sink Organization
3 magazine holders + 1 plastic tub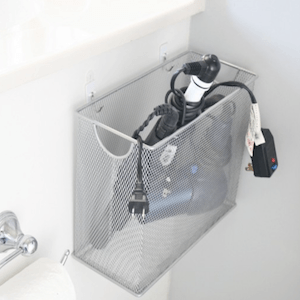 Hair Appliance Storage
file folder box + hair straightener , blow dryer, etc.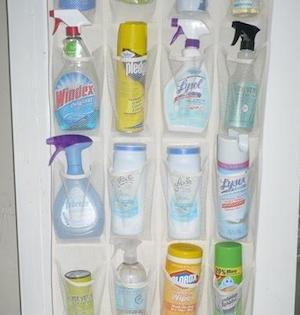 Cleaning Supply Organization
(using over the door shoe organizer)
---
Repurposed DIY Kitchen Ideas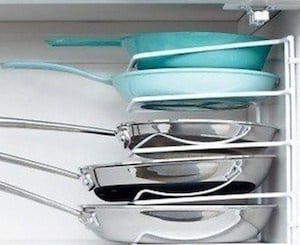 Pan Organizer (using a file sorter)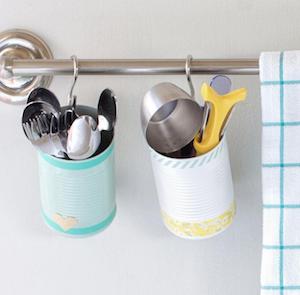 Recycled Utensil Storage Containers
empty tin cans + drill + spray paint + washi tape, stickers or tags + S-hook + towel bar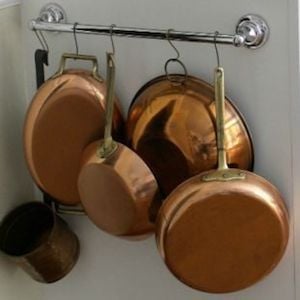 Pot Organizer (using a basic towel rod)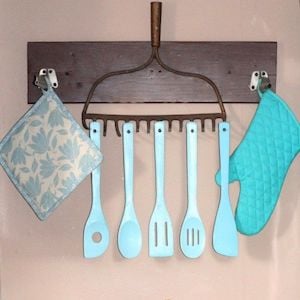 Kitchen Utensil Holder
small hooks + old rake + wood board + wood stain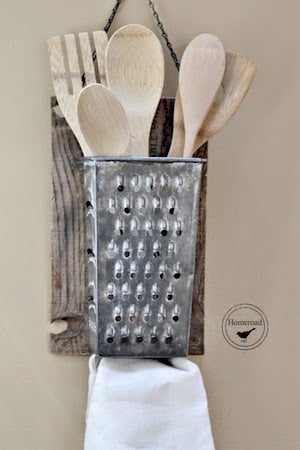 Vintage Cheese Grater Organizer
reclaimed wood + chain + old cheese grater (thrift store) + wooden utensils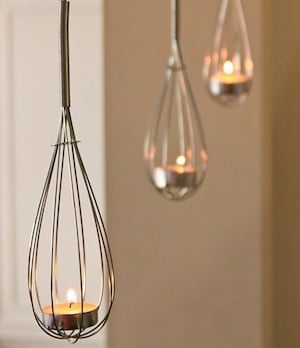 DIY Whisk Candle Holder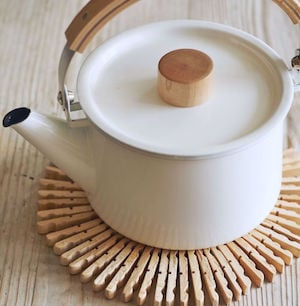 Homemade Trivet 
clothespins + floral wire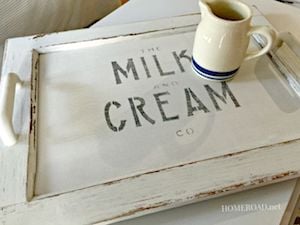 Cabinet Door Serving Tray
cabinet door + wood handles + white paint + sandpaper + stencils + black acrylic paint
You can get the cabinet door at Habitat for Humanity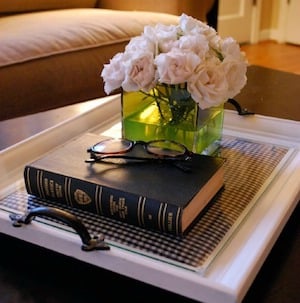 Picture Frame Tray
the picture frame + fabric + picture + 2 handles + screws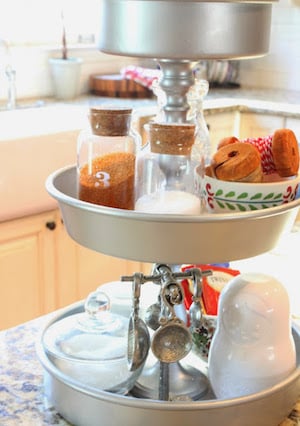 Tiered Stand from Cake Pans
3 cake pans + candlesticks + spray paint + e600 glue
You can get the cake pans and candlesticks at Dollar Tree or a thrift store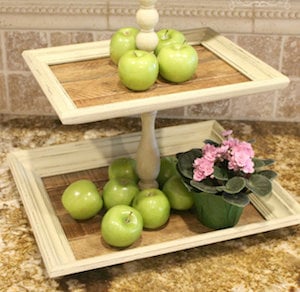 DIY Tiered Tray from Frames
picture frames + paint + wood + saw + wood glue + wooden candlestick and finial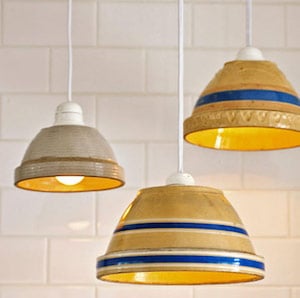 Bowl Lampshade
pendant light kit + large ceramic bowl + drill with ceramic hole saw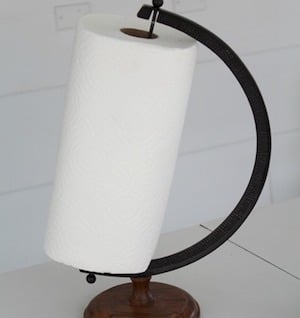 Globe Stand Paper Towel Holder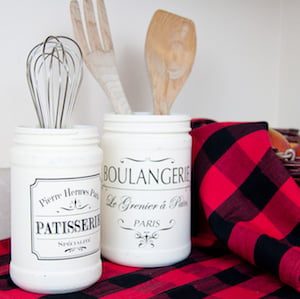 Farmhouse Kitchen Canister DIY
jars + free printable + chalky spray paint + heat transfer vinyl + silhouette cutting machine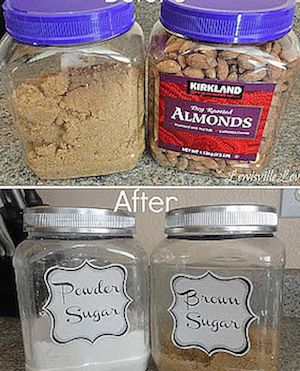 Jar Storage
spray paint + labels + empty plastic jars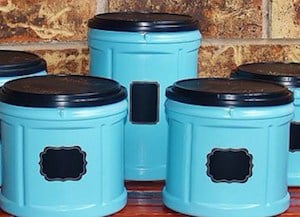 Coffee Canister Storage
spray paint + labels + empty coffee jars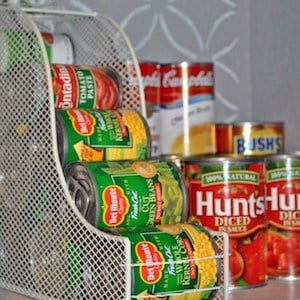 Canned Food Storage (for half sized cans)
magazine holder + bobby pins (to keep cans from falling out)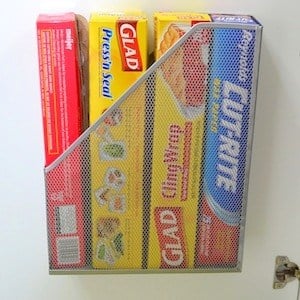 Plastic Wrap Holder (for inside of the cabinet door)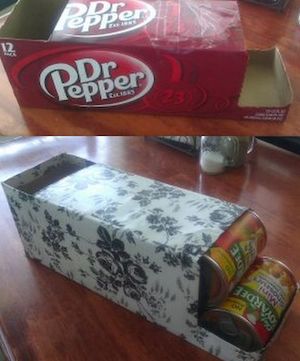 Canned Food Storage Idea
empty 12 pk soda carton + contact paper
Repurposed DIY Porch, Patio and Backyard Ideas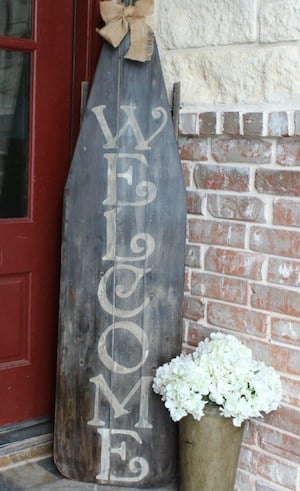 Welcome Sign 
chalk + white paint pen + old ironing board + wood stain + burlap ribbon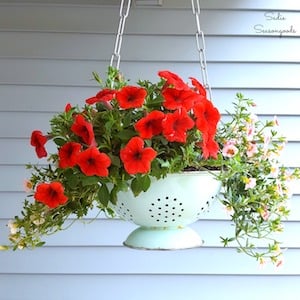 Colander Hanging Basket Planter
carabiners/spring hooks + chain + wire + colander + cheesecloth + plants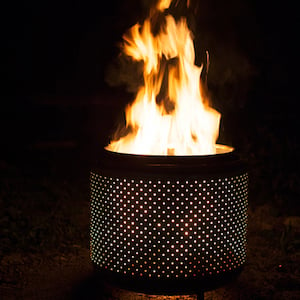 $10 Upcycled Firepit
recycled washing machine drum + high heat black paint (optional)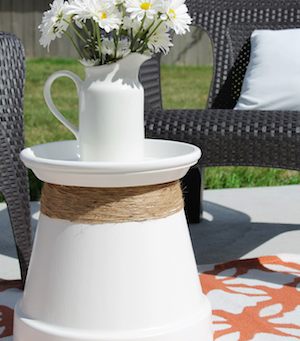 DIY Accent Table
terra cotta pot and base + white spray paint + twine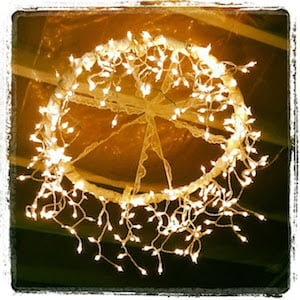 Hula Hoop Chandelier
hula hoop + ribbon + string lights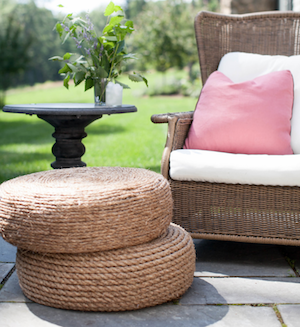 Rope Ottomans Chair 
old tire (junkyard) +sisal rope + nylon rope + hot glue gun & glue sticks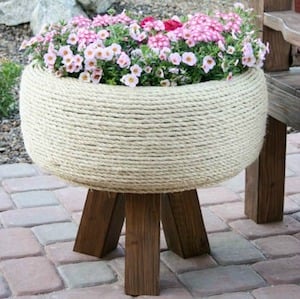 Old Tire Planter
wood board + sisal rope + weatherproof stain + screws + angle brackets + bolts and nuts + plywood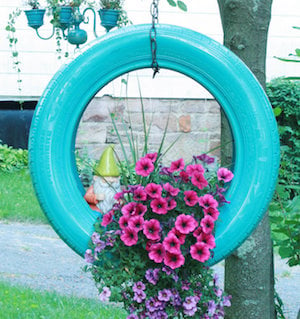 Tire Planter II
old tire + exterior spray paint + potting soil + flowers + chain + s hook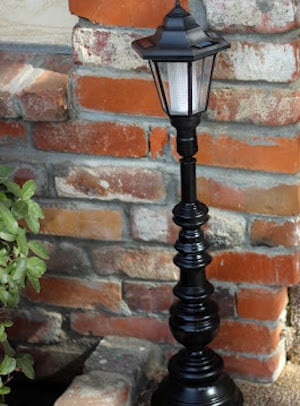 Upcycled Solar Lamp Posts
black spray paint + lamp base + $1 solar lights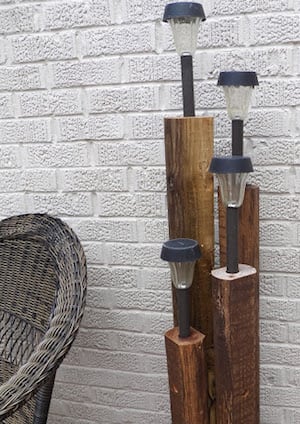 Lighting Posts
fence post + 4 solar outdoor lights + extra long screws + 4″ x 4″ wood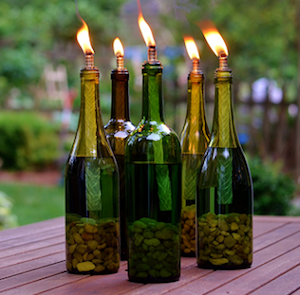 Wine Bottle Tiki Torch
wine bottle + wick + reducing connector +  thread sealant tape + pea gravel + Citronella Torch Fuel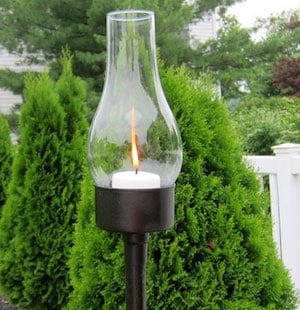 Cheap Outdoor Lantern (using a tuna can)
thrift store hurricane glass + empty tuna can + wood screw + copper adapter + spray paint + votive candle + paint stick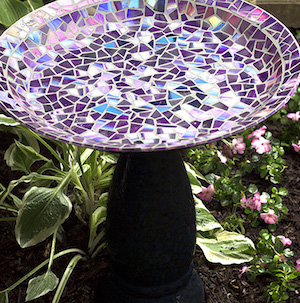 Mosaic Tile Birdbath using Recycled DVDs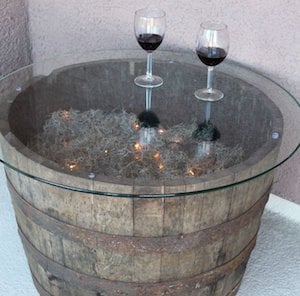 Barrel Table (original source unknown)
large barrel + glass top + moss + string lights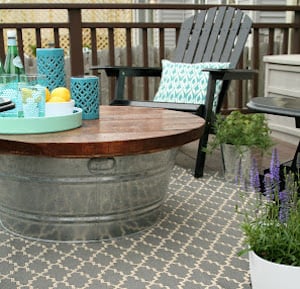 Bucket Outdoor Coffee Table
metal bucket + plywood + 2×6 boards + outdoor caulk + liquid nails + wood stain