Is getting organized on your list of resolutions for the new year. Getting organized right now is easier than ever when you follow some of these cool DIY organizing tutorials. Step by step ways to quickly get your life and home in order, some of these tips are simply brilliant. I only wish I had thought of them myself. Whether you are starting out the new year with a resolution to get organized, you've recently read Marie Kondo's book and hope to find joy in order or you find yourself in a mid-year slump and want to get rid of clutter, these DYI organizing ideas will help you on your way to a clean, orderly home. Culled from my favorite DIY sites and blogs, all of these projects come with step by step tutorials and photo instructions, too. What on earth is stopping you, get busy making some of these creative organizing projects.
DIY Organization Projects
1. Under The Kitchen Sink Organization
Until recently, if you looked under my kitchen sink, I would have been super embarrassed. The cleaning supplies were just thrown in after I used them amid trash bags, paper towels, cleaning cloths and sponges. Light bulbs also decorated the space! No wonder I had an excuse not to clean. I wanted my super-organized daughter to start helping in the kitchen more and she pretty much insisted on us doing this DIY project in order for that to happen. Not sure why putting all of my tools for cleaning in one carry all did not occur to me, but this portable DIY cleaning station is definitely the way to go. Get organized and be more motivated to clean up when you have this nifty station to carry around with you in the house.
2. Mini Homework Station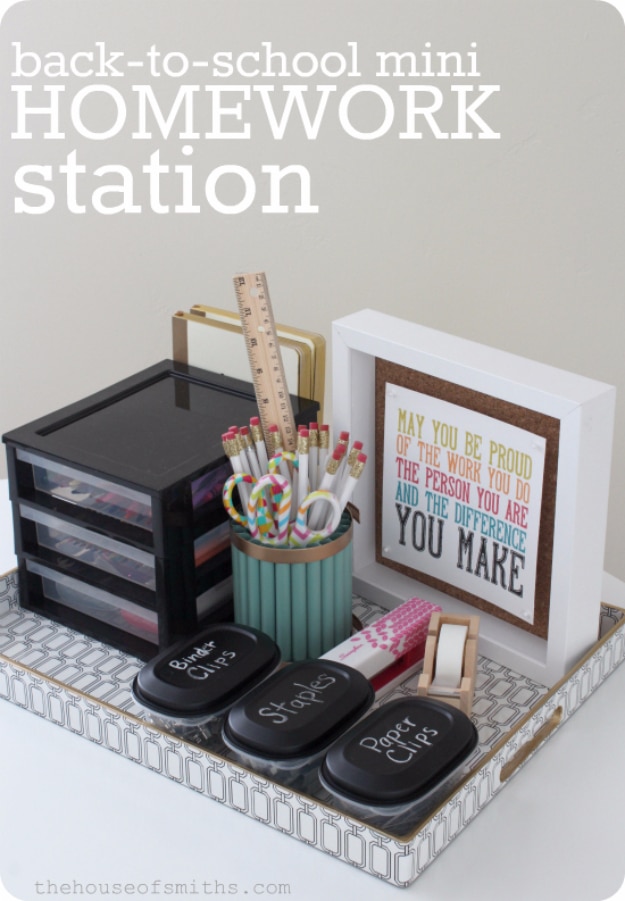 Back to school at my house used to mean tolerating papers and pens plus the other random odds and ends that the weeks homework required. No one could ever find a pencil, much less a paper clip or binder clips. Scissors ran away and were often never seen or heard from again. If this sounds like your house, check out this DIY homework station and make order of the school chaos. If you have a couple of kids, like me, you are going to wonder how you ever lived without this one. Creative, cool looking and oh so organized.
3. Linen Closet Organization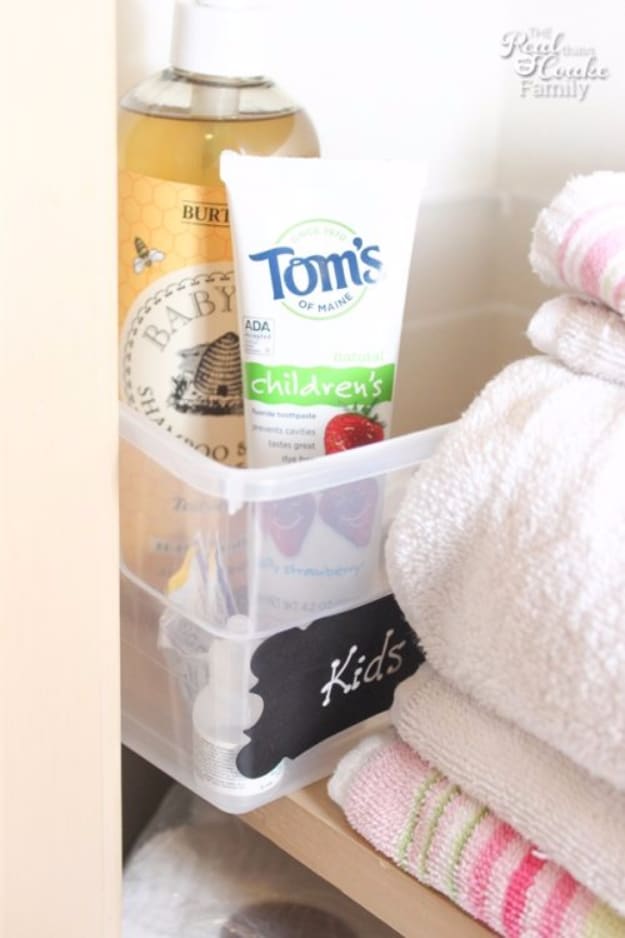 When we first moved into our house, the linens were folded and put away so neatly, but this certainly did not last long. All of those other things that needed to be stored away ended up in the closet with the towels and sheets and utter chaos ensued. A little thought and labeling go a long way when it comes to great ways to organize. Check out this neat DIY idea for your linen closet and make sure all of your stuff has a home, even behind closed doors.
4. Organized Baking Cabinet

This is brilliant! I think I may be able to pull this one off at the new house we are moving to soon! I love baking and I have to take several steps to get to everything that I need when baking. And my current kitchen is small so the tips on organizing baking cabinet from Two Twenty One is such a great inspiration.
5. Wire Baskets To Organize Your Home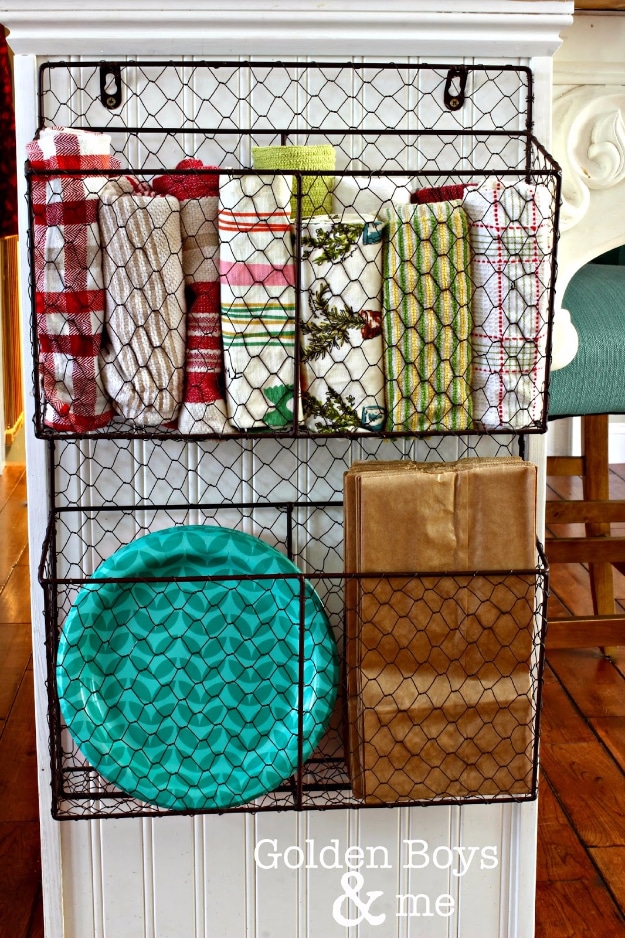 Wow, these are really great ideas from Golden Boys and Me. The wall wire baskets are so cute and would look great in a country kitchen. Wonderful blog! I've found quite a bit of great inspiration here. I just loved the way the chicken wire looked against the bead board.
6. Store Your Makeup in a Desk Organizer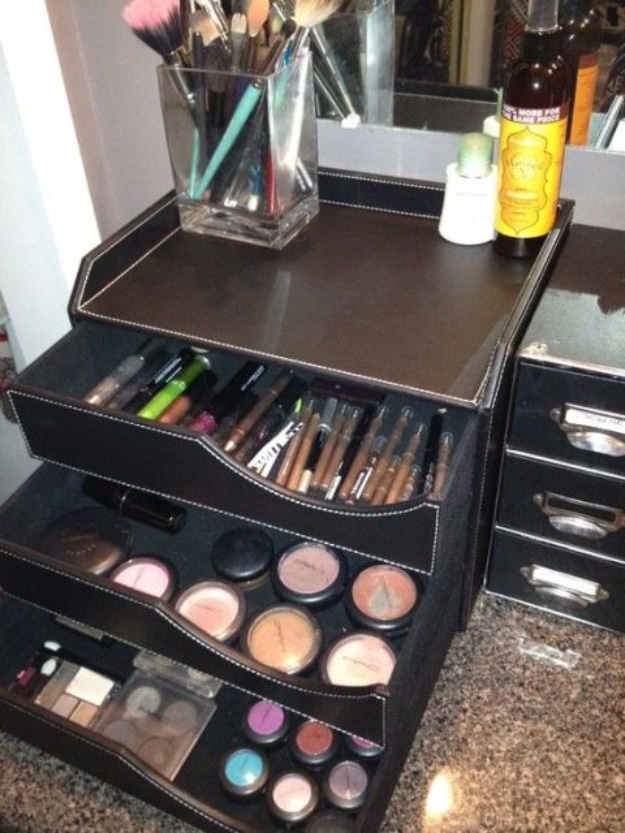 Organizing can sound daunting to some, but it actually can be quite cathartic. And finding the right storage can be a lot of fun. First figure out what type of space you are working with. Do you do your makeup in your room, in the bathroom, or a closet? Figure out your space and then assess what will fit into that area. Depending on your space and budget there are items that will help get your makeup inline.
7. No More Wasted Spaces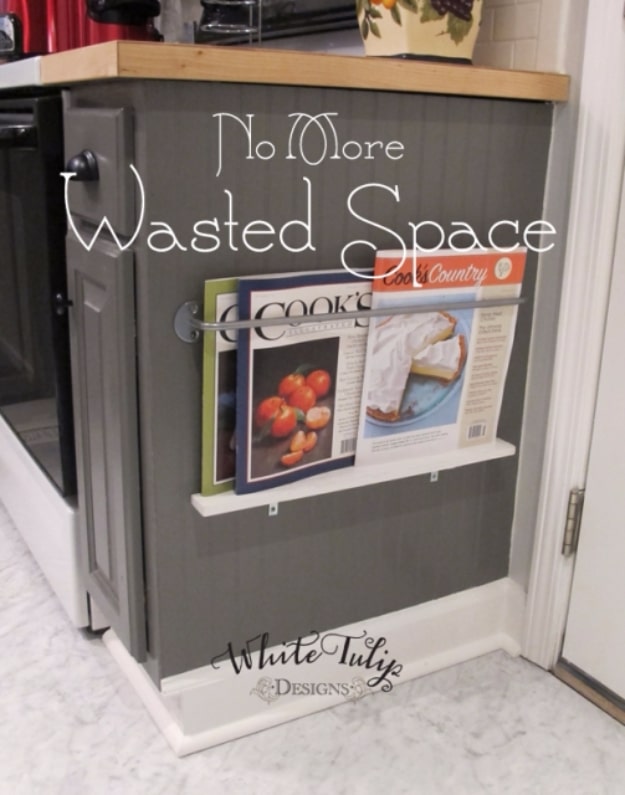 Wow, this is such a great use of space! If you have a collection of cookbooks and food magazines, here is a storage solution from White Tulip Designs. Sweet little project in no time flat and my magazines are all safe and sound!
8. Cork Board Pantry Organization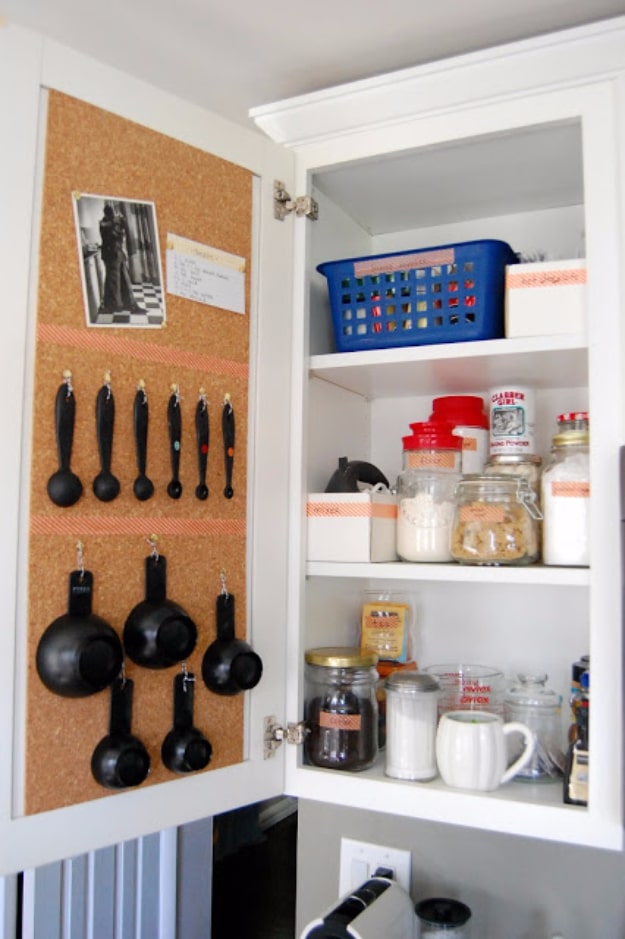 This is such a clever idea! I initially wanted to create a convenient little bulletin board in the kitchen to keep favorite recipes and meal ideas on hand but looking reading through this amazing DIY project tutorial from My So Called Home had me thinking that it can double as an organization tool for my kitchen wares.
9. Super Bathroom Storage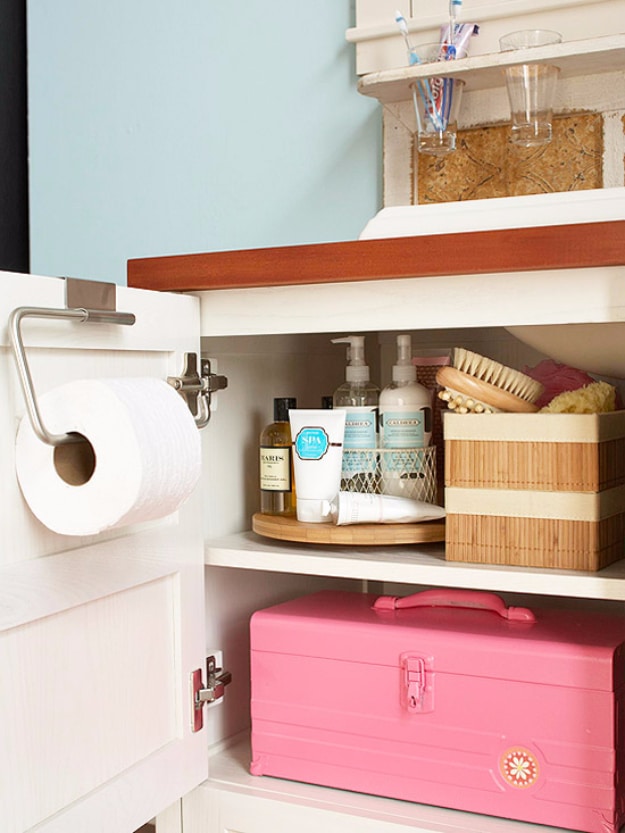 Many bathrooms are tiny, so smart storage is essential. But it can still be pleasing to the eye. Collect containers in like colors or interesting shapes to corral lip glosses, hair ties, and all those small stray must-haves that can make a mess. Add labels to keep yourself organized. See full details from BHG.
10. Craft Closet Organization
This post has tons of amazing ideas if you're looking to organize a craft closet or any storage area in your home! Click through to the post to grab the tips and tricks in organizing like Marie Kondo. Control the clutter in your craft room and make the most of your space, big or small.