Ever thought to make your Thanksgiving dinner in a crockpot? How about making some delicious things that take less than an hour? If you are thinking you would like to make your Thanksgiving easy this year, then we have the best recipe ideas for you. Was I ever surprised to learn that most of my favorite Thanksgiving dishes could be prepared with much less effort than usual when you check out these quick and easy ideas for food. Save time and stress with these best ideas for your top Thanksgiving foods- you will only think you are running out of time to cook. From soups to sides, appetizers to desserts, and of course, turkey, stuffing, and gravy, you will find a step by step recipe tutorial for some of the most delicious Thanksgiving recipes around. My favorite is turkey in a bag surrounded by succulent sides like balsamic roasted sprouts or broccoli casserole. These recipes are sure to get you into the Thanksgiving mood.
1. Apple Cranberry Bacon Candied Walnut Salad
I needed a pre-Thanksgiving brunch dish for a few friends in my Mommy group at church and I found this fantastic salad recipe. This gorgeous salad is bursting with sweet and crunchy apples, juicy dried cranberries, salty, crispy bacon, crunchy red bell peppers, creamy feta, and candied walnuts.  Just imagine all that – in one bite! All my friends loved it and ate every bite.
2. Maple Glazed Chicken With Sweet Potatoes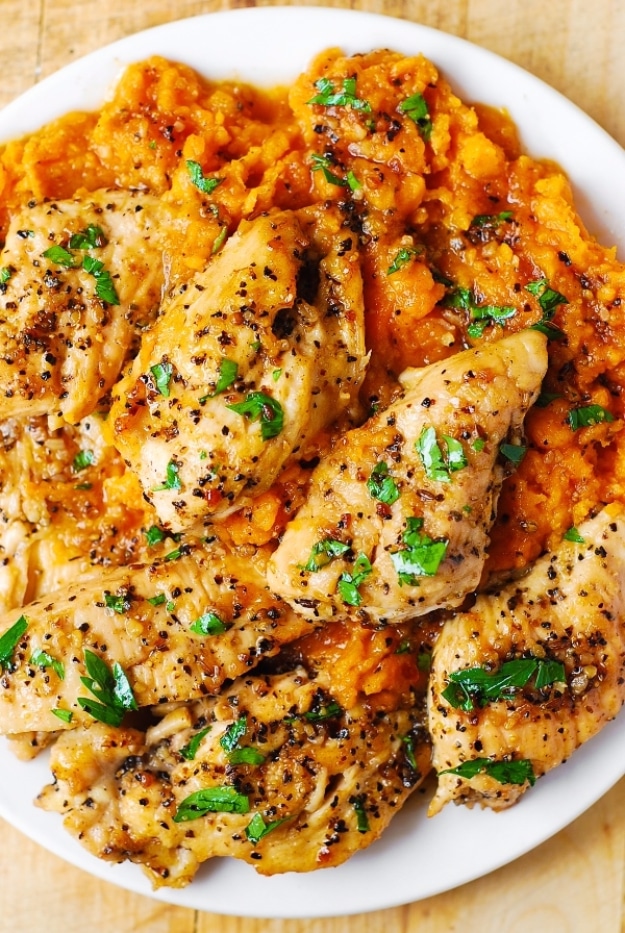 This recipe is so quick and easy, it will turn any impromptu get together into a very special Thanksgiving feast. You just make some sweet or savory mashed potatoes, then brown your seasoned chicken in butter and make a sauce with the drippings and maple syrup. Serve over the mash potatoes glazing each plate with the pan gravy. This chicken meal is the most fantastic 30-minute feast you could ever dream of.
3. Balsamic Roasted Brussel Sprouts And Carrots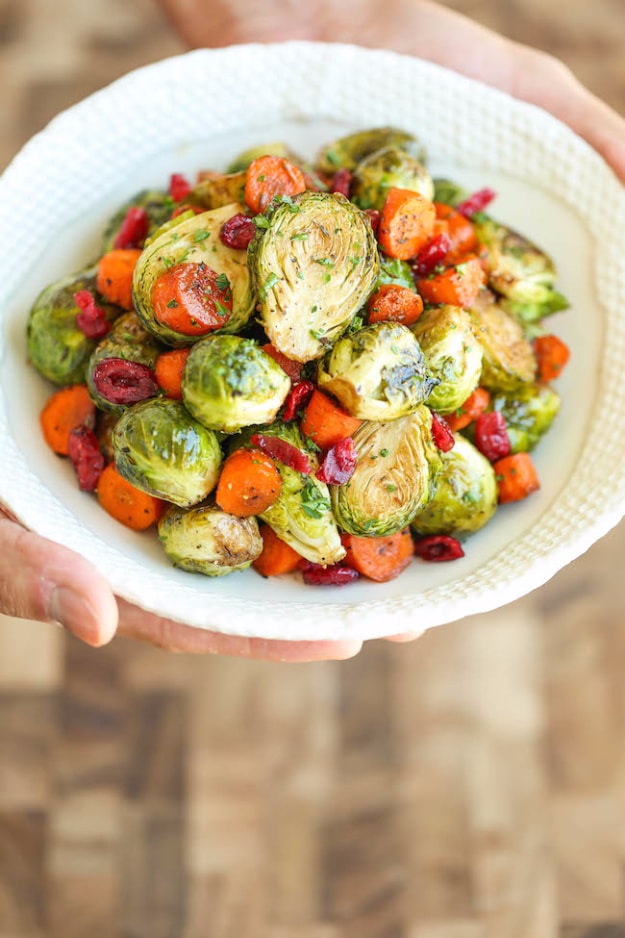 I really wanted to try a whole different approach to brussel sprouts this Thanksgiving. Don't get me wrong, I love them any way you can imagine them, traditionally prepared or in a modern raw slaw. I had not tried roasted yet so I gave it a go, it couldn't have been easier. After you oil your baking dish and make your balsamic dressing, you simply toss together, brown and serve.
4. Cornbread Sage And Onion Stuffing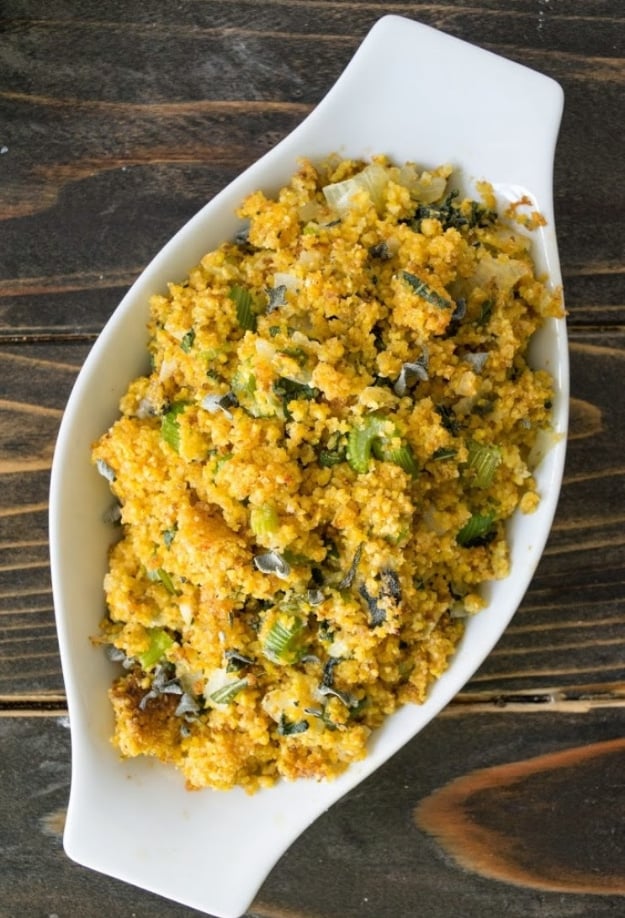 My Mother In Law is coming to our Thanksgiving dinner this year and she is very traditional. I wasn't in the mood to take a chance on new and exciting and have it backfire, so I was looking for a traditional recipe for stuffing, with no frills. I settled on this one because it has all the basic ingredients of old world savory goodness. I made my cornbread from scratch, but you can use pre-made from your local bakery as well. The stuffing is cooked in an open baking dish on the oven so it yields a very crispy top. Just monitor your oven so it doesn't dry out before completion. My mother In Law didn't complain, that meant she loved it.
5. Brown Bag Turkey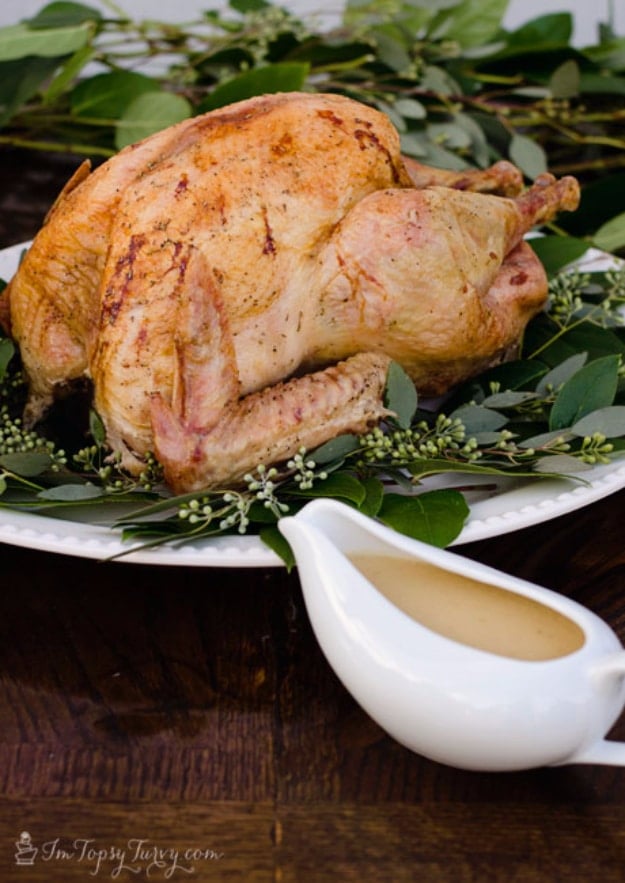 If you haven't heard of the paper bag turkey get ready, because its all the rage. We have all experienced Thanksgiving turkeys that were a little dried out, especially in the white meat areas. This is the succulent Thanksgiving turkey of your dreams, it's moist and tender, melts in your mouth. You rub a compound butter mixture all over the turkey then put the entire thing, including the baking pan into the 2 paper bags overlapping each other. Don't worry, paper burns at 451 so you won't be in trouble there. The end result of this revolutionary technique is beyond compare. It will be the best turkey you've ever had, I promise you.
6. Butternut Squash Soup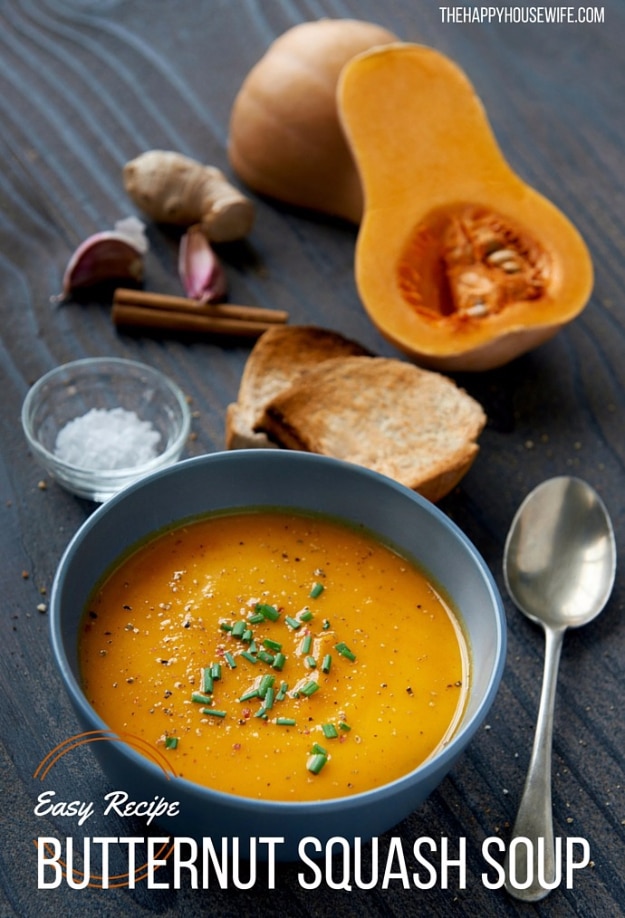 I was going to a Thanksgiving potluck celebration with my coworkers and only had one day available to cook the week before, I thought hard to come up with a solution when the idea came to me that I could actually freeze a soup. So I wanted to make the most of all the Fall vegetables in season and I found this lovely festive Fall recipe. I prepared my Autumn soup with all the fresh ingredients I found at my local supermarket. HEB had all the seasonal produce in and it was so affordably priced, I spent very little cash on the whole dish. I froze the soup after it was complete and I brought it to the event and warmed it up for my friends. I had tried a bowl when I first cooked it and can honestly say it tasted better after freezing it for a few days. My coworkers loved it so much and that made me very happy.
7. Broccoli Casserole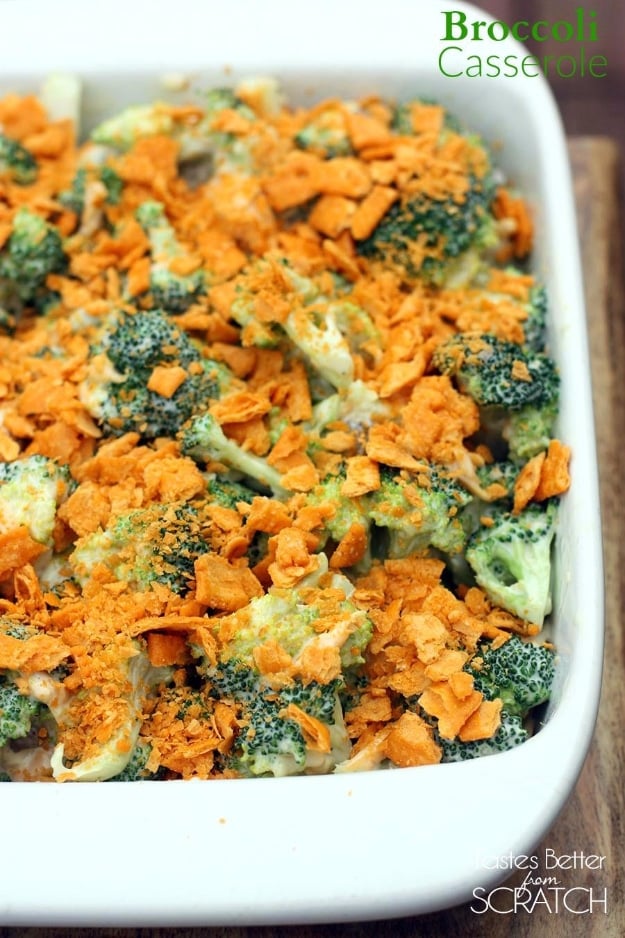 I found a glorious twist for my traditional Thanksgiving casserole recipes. This idea uses mayonnaise instead of cream of mushroom soup and cheese crackers as opposed to Frenches fried onions on top. It is so buttery and creamy it melts in your mouth and is the perfect compliment to your Thanksgiving turkey. I served it with the moist and succulent paper bag turkey. My guests were so in love with it, they wanted to move in.
8. Garlic Roasted Carrots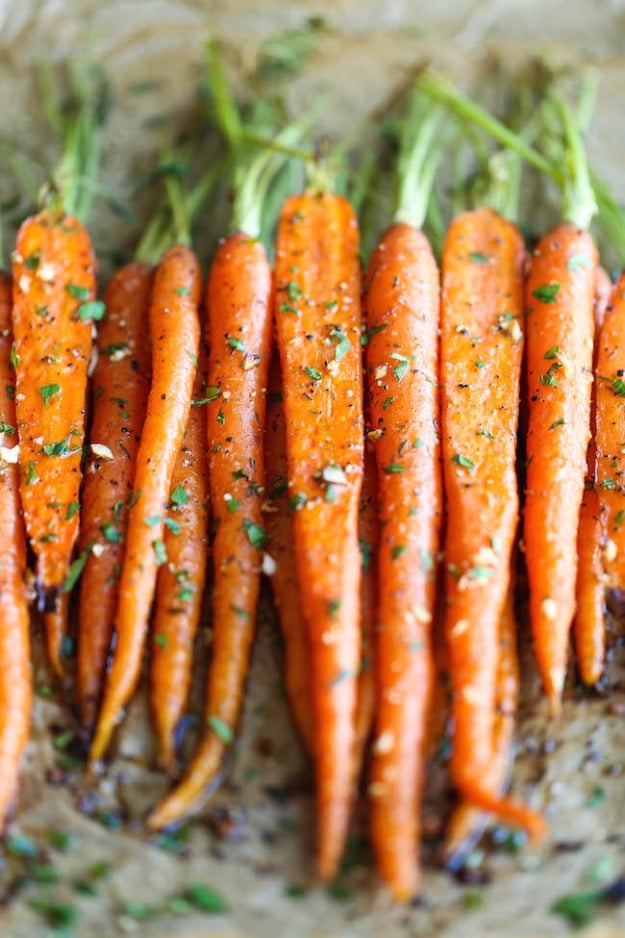 I love carrots so much and they make the perfect accompaniment to a beautiful Thanksgiving turkey. The first time I ever had roasted carrots was in England in the 1980s, most families would have a special family dinner every Sunday consisting of roast beef, Yorkshire pudding and a lovely array of vegetables cooked in an open pan in the oven. I fell in love with roast vegetables then and still eat them almost every day. There's an interesting flavor twist in this roast carrot recipe attributed to the addition of a special balsamic sauce the carrots lay in while cooking. The balsamic sauce creates a glaze over the carrots and tastes so sweet and savory at the same time. You will not be disappointed with any part of this wonderful Autumn dish.
9. Candied Pecan Sweet Potato Casserole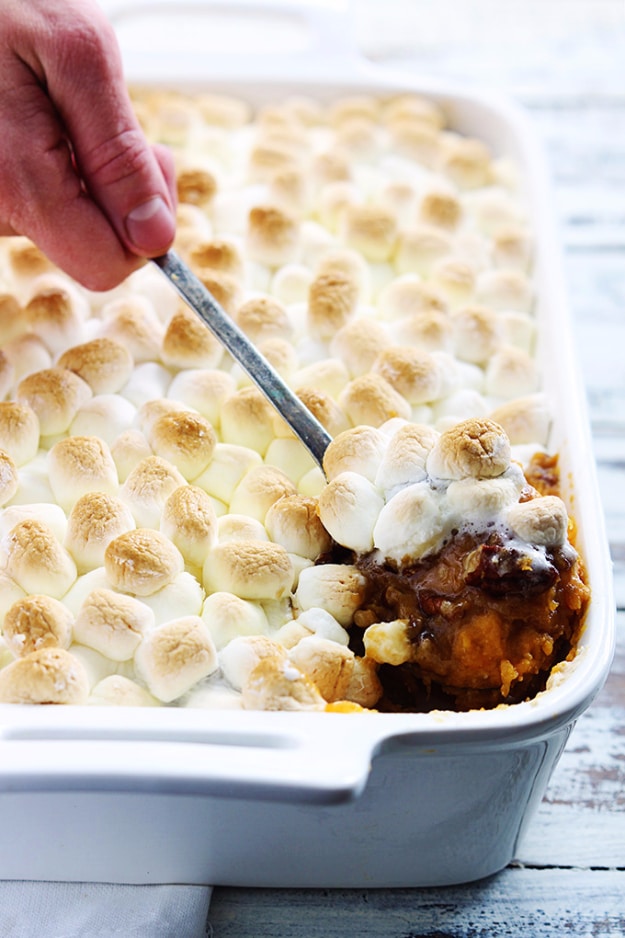 Sweet potatoes are a must have for my family at Thanksgiving and sweet potato casserole is one of the most loved and revered traditional recipes of all. I usually just bake some marshmallows on top of my mashed sweet potatoes, but this recipe involves a crunchy mid layer that is very reminiscent of a buttered pecan flavor. I did a trial run yesterday and the kids ate all of it and fought over the last bite, its a winner in my home.
10. Cheesy Mashed Potato Casserole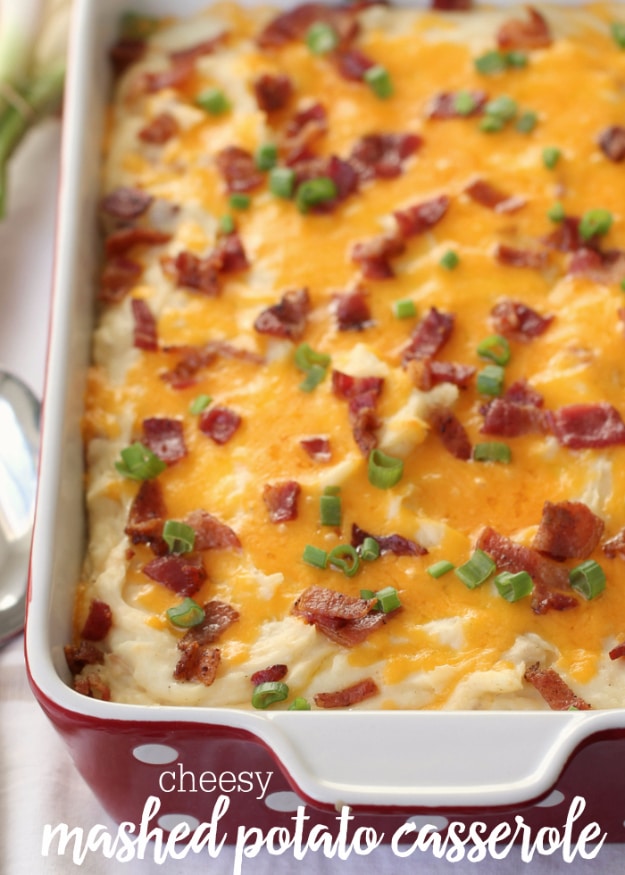 Mashed potato casserole is a great side to bring to a Thanksgiving holiday celebration at another location. Our family went to my sister's house this year so I made my mashed potatoes ahead of time and froze them till the night before my event. I thawed them in the refrigerator all night and brought the baking dish to the Thanksgiving celebration and just topped with cheese and bacon, they were a big hit.
11. Apple Cranberry Walnut Salad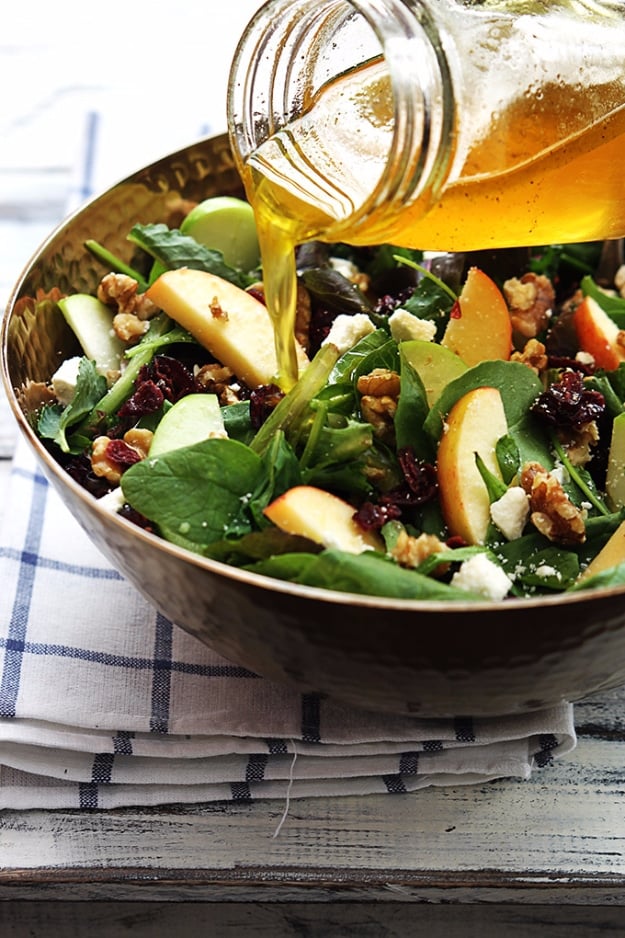 12. Three Cheese Asparagus Gratin

13. Lentil Loaf With Maple Sweetened Glaze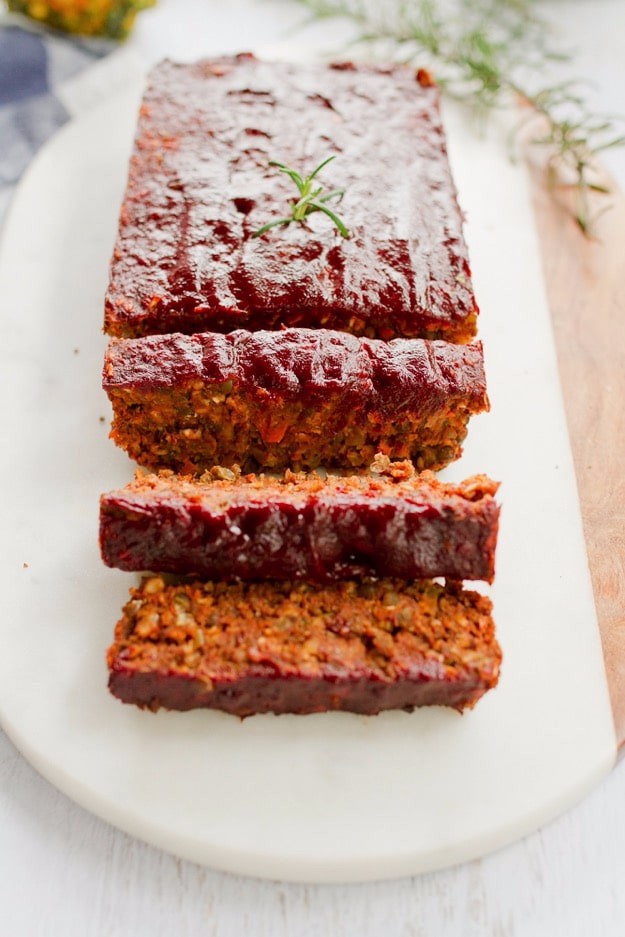 14. Easy Green Bean Casserole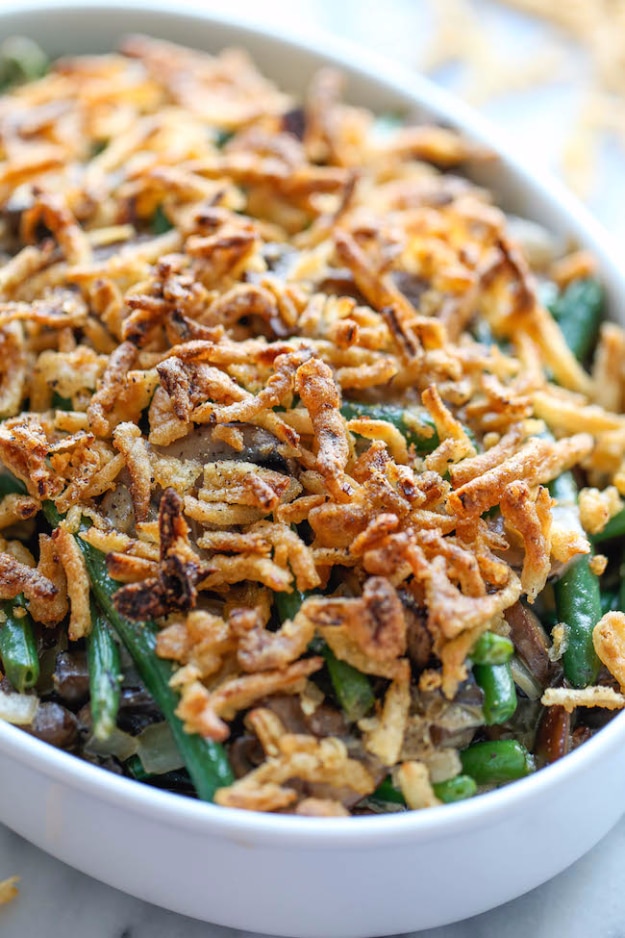 15. Baked Apples With Sausage Stuffing