There may not be a more perfect meal than the enchilada, especially not when you consider the many mouthwatering variations we just found. Check out these exciting new flavors and methods for enchilada making. You will be rethinking enchiladas like we are. Not just for dinner, and not just for a Mexican food style meal. I think I might be able to eat enchiladas every day this week, and I just may. With gluten and cheese free varieties, some healthy veggie and lowfat chicken versions, plus lots of more traditional hearty favorites, we have a recipe to please just about everyone.
Best Enchilada Recipes
1. Zucchini Wrapped Chicken Enchiladas
These Zucchini Wrapped Chicken Enchiladas re made with zucchini in place of tortillas! Delicious, and perfect for
the health-conscious in you. I am blown away by at how easily the zucchini slices can swapped for tortillas without losing any of the flavor.
2. Shrimp Enchilada With Creamy Poblano Sauce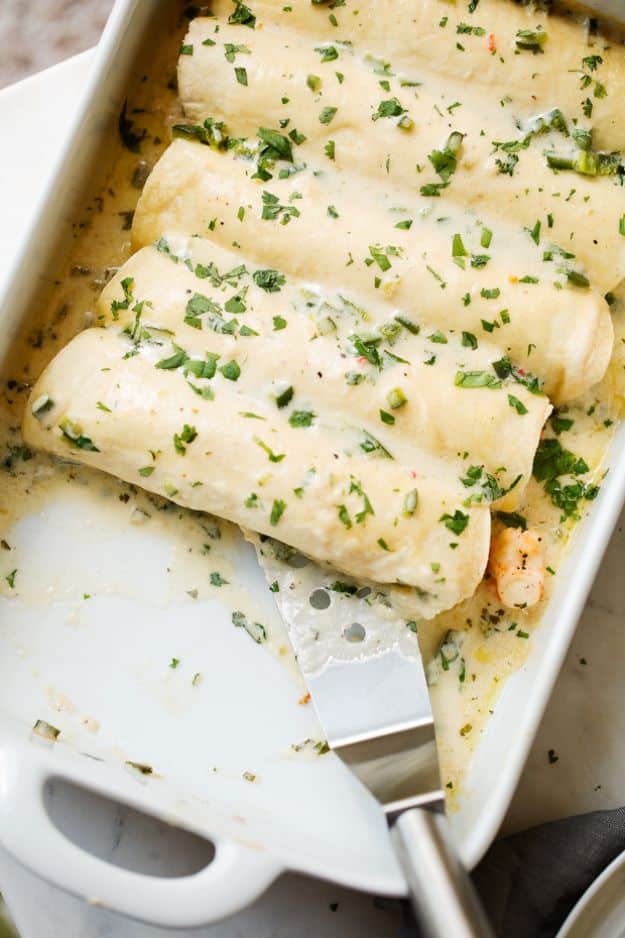 Want a light & refreshing twist on classic enchiladas? Then, you should totally try these Shrimp Enchilada With Creamy Poblano Sauce. Smothered in a creamy homemade sauce, these shrimp enchiladas are hearty and filling and easy enough to pull together on a weeknight.
3. Black Bean Potato Vegan Enchiladas with Avocado Cilantro Sauce
This Black Bean Potato Vegan Enchiladas with Avocado Cilantro Sauce is going to be the best vegetarian enchiladas you'll ever eat. Hearty and healthy, they're perfect for meal prepping or a weeknight dinner!
4. Enchilada Stuffed Grilled Portobello Mushrooms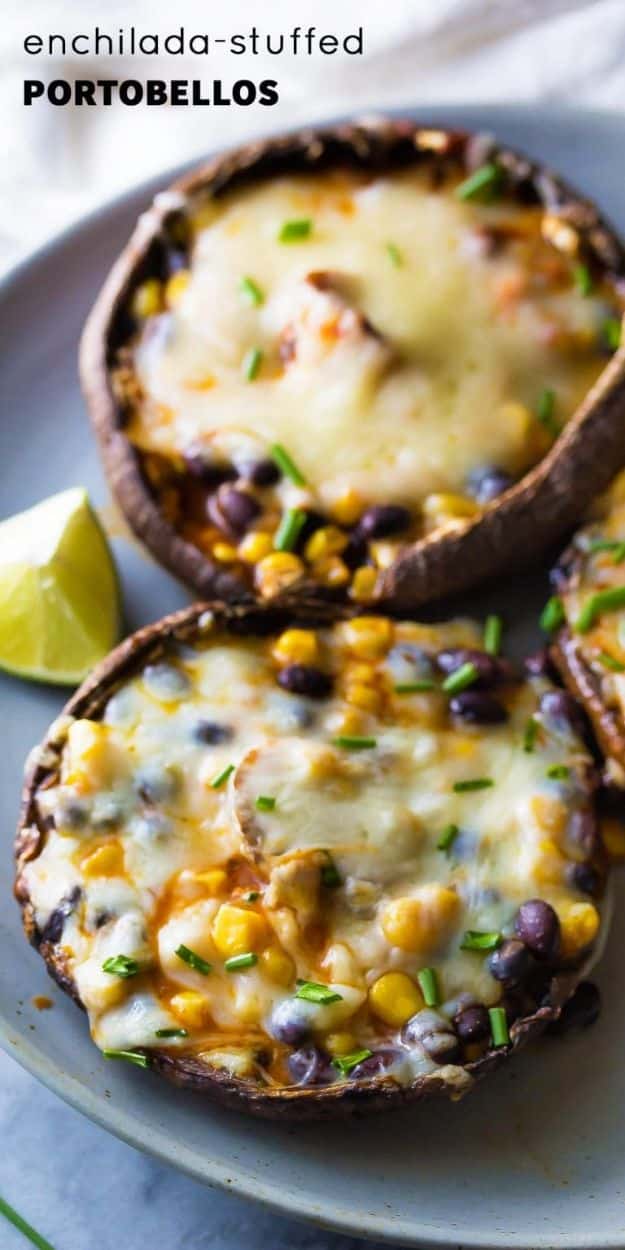 Enchilada stuffed grilled portobello mushrooms are an easy and delicious way to get more plant based foods and filled with fiber.  You'll definitely love the textures and flavors and the best part is it's ready in under 25 minutes.
5. Veggie Black Bean Enchiladas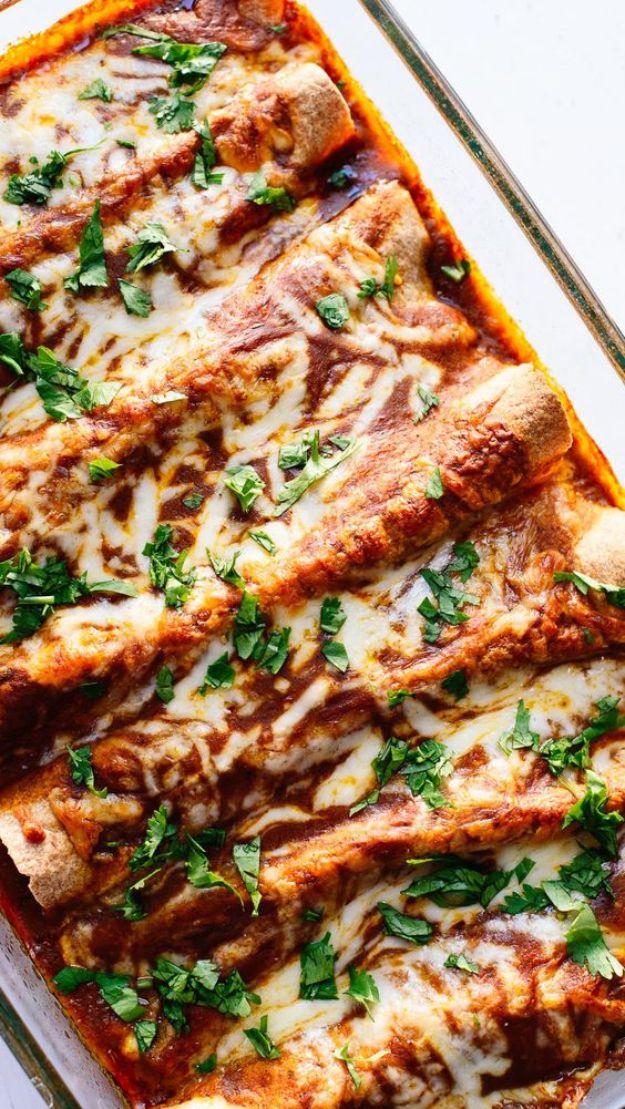 What makes these Veggie Black Bean Enchiladas so amazing? Not only are they filled with super fresh flavors, but they're smothered in a homemade enchilada sauce. I'm trying to incorporate more meatless meals into my diet this year so I will be keeping this in my menu rotation.
6. Sour Cream Chicken Enchiladas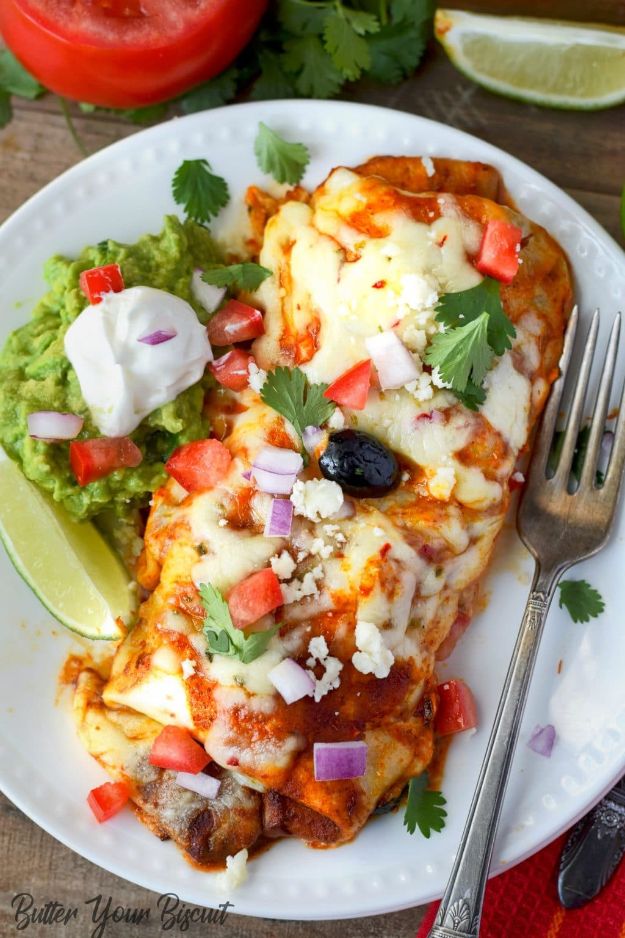 Easy to assemble, deliciously creamy and a great choice for a perfect weeknight dinner, this Sour Cream Chicken Enchiladas is sure to be a winner. Simple and delicious, and loaded with layers of flavor, you can never go wrong with this recipe from Butter Your Biscuit.
7. Healthy Baked Turkey Enchiladas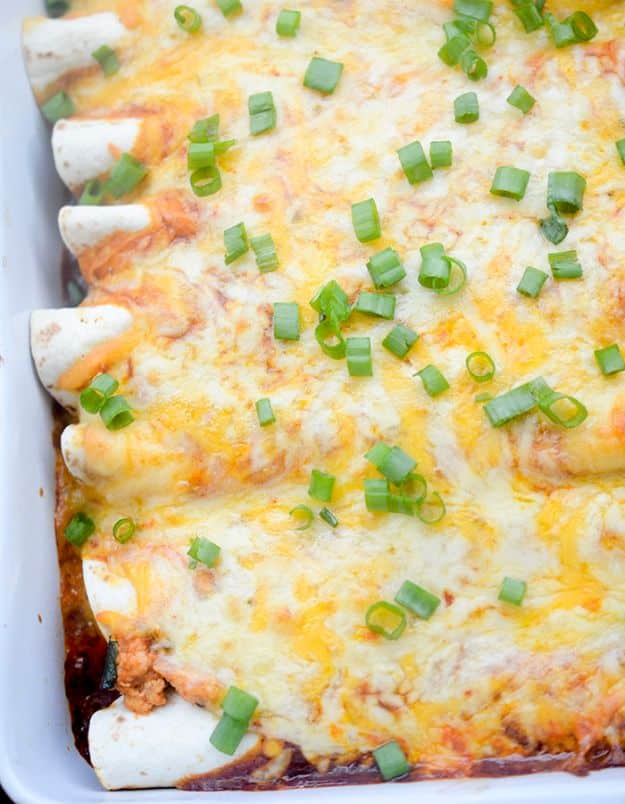 Loaded with ground turkey, zucchini, tortillas, and an easy homemade enchilada sauce, this delicious Healthy Baked Turkey Enchiladas is sure to be a hit at your dinner table! Enjoy this healthier take on enchiladas and forget about rolling tortillas.
8. Easy Stacked Enchilada Suizas Bake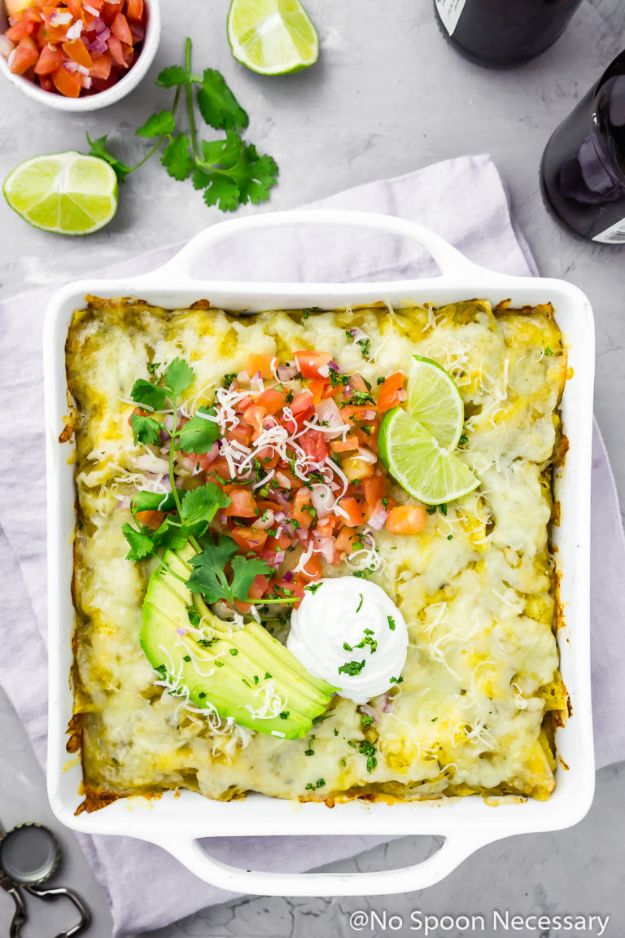 Enchiladas Suizas is a creamy, cheesy enchilada dish that originated at a Sanborn's cafe in Mexico City.  These stacked enchiladas suizas are a quick and easy version of traditional suizas.  It's easy, cheesy and absolutely guaranteed to please! Snag the full recipe from No Spoon Necessary.
9. Stacked Roasted Vegetable Enchiladas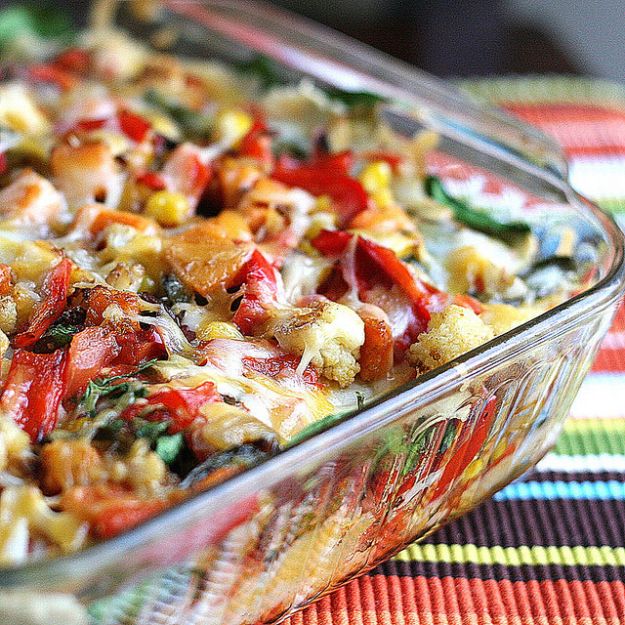 If you're looking for a healthy and comforting vegetarian meal that is perfect for sharing with guests, this Stacked Roasted Vegetable Enchiladas would certainly fit the bill. Feel free to switch out the vegetables or cheese for those you like, add some beans or shredded chicken for variation.
10. Chicken and Cheese Enchiladas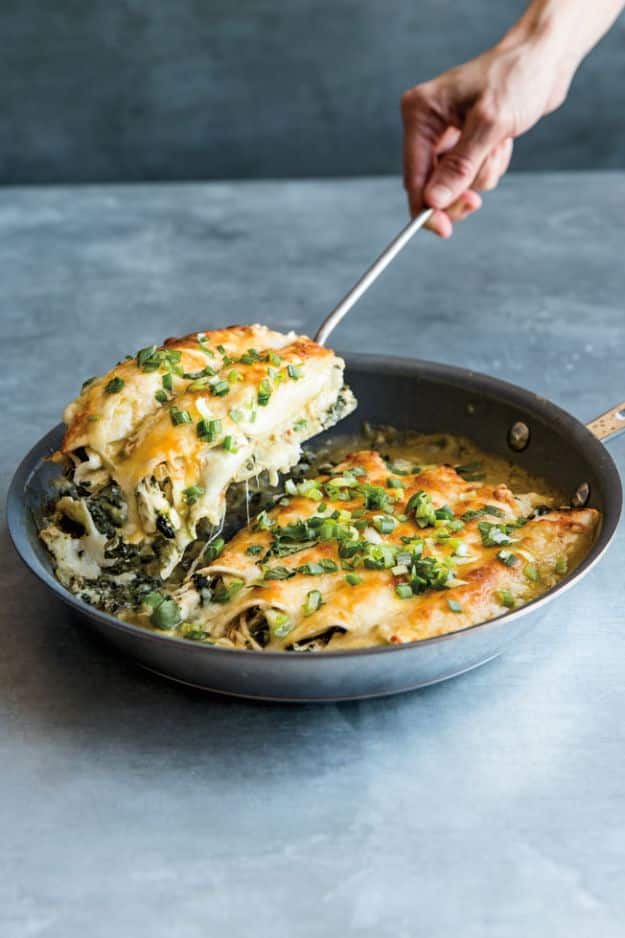 I've been looking for a really good and easy chicken enchilada recipe for a while now. I wanted one that was easy, fairly quick and delicious.  And I just found the perfect recipe! Try it out for yourself and I'm pretty sure you'll love it too.
Please follow and like us: