Getting married this year and not sure how you are going to ever afford the decor, much less the honeymoon? Well, fortunately, some of the best wedding decor is DIY, plus you get to show off your crafting skills with special things you made. Whether you have an indoor or outdoor wedding, summer, winter or spring, we have the best centerpieces you can make for your special wedding day.
1. Plaster Dipped Flower Votives
When I first laid eyes upon these stunning flower votives, I thought they were made of porcelain – but it turns out you can easily make them with plaster no less. These plaster-dipped flowers look like expensive wedding décor purchased from a high-end store, but you can totally DIY it.  I was just going to throw some faux flowers out but now I think I will do this instead. Head on over to Design Mom to learn the complete details.
2. DIY Whimsical Wedding Centerpiece

Staying within your wedding budget is no easy task. Flowers are such an important part of a wedding, but they don't have to break the bank. If you're looking for DIY wedding centerpieces on a budget, you'll be happy to know, there are a lot of options! Learn how to create a whimsical wedding centerpiece with this simply how-to video from Afloral. They look perfect for a summer wedding!
3. DIY Flower And Sand Centerpiece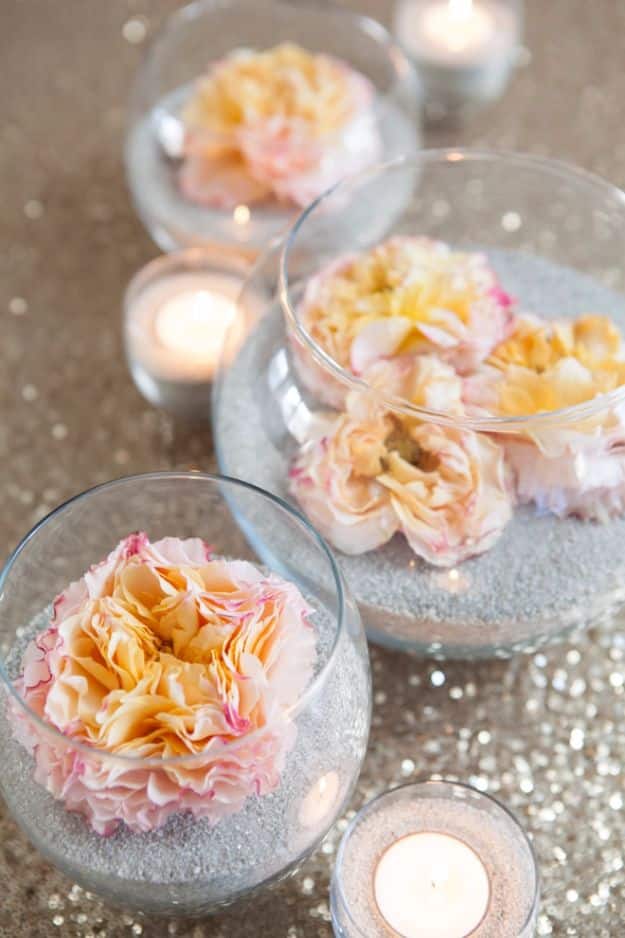 Check out this beautiful DIY Flower & Sand Wedding Centerpieces that will totally set the mood for an enchanted event that is your wedding! So easy and so beautiful, it looks like these flowers are just sitting on the sand, but they aren't. This is a wonderful idea for a beach-chic event of any kind whether it's your bridal shower or your wedding.
Please follow and like us: