So Halloween has ended and Christmas is coming up quick… what to do next? Decorate for Thanksgiving, of course! When you have friends and family coming over for the holidays, especially your amazing Thanksgiving dinner, be sure not to forget about making some DIY decor for your home and table. Cute mason jar ideas, beautifully creative centerpieces, wreaths for your door and other awesome Thanksgiving home decor you can make, all complete with easy to follow step by step tutorials. Whether your home has a rustic, farmhouse look or you prefer something more modern, you are sure to find the perfect fall Thanksgiving crafts to make here. These DIY crafts are perfect for getting the whole family involved, it gives your children a lasting meaning of what the holidays really symbolize. I have lasting memories on my Grandma's farm doing all holiday decorating ourselves, she was such a wise woman, it left a lasting impression I can pass down to my children and it doesn't involve a lot of time and expense and that's so rewarding.
1. Thanksgiving Mason Jar
I love mason jars, just looking at them you can see their potential is limitless. I wanted to make a simple holiday vase for my Autumn wheat with my favorite holiday phrase written on it. I got some peel and stick letters from Hobby Lobby and placed them on the jar, then gave it a couple of coats of Krylon spray paint. When the vase was dry I peeled off the letters and outlined with my gold paint pen. We ended up making a few more for my kid's teachers, they loved them.
2. Be Thankful Wood Sign
This DIY craft project will get everyone in the mood for Thanksgiving. I repurposed the bottom of an old crate and wrote the wonderful words "Be Thankful". They are words I try to instill in my family and mean so much to us, we sometimes need reminding. I made a little decorative banner sweeping on the side out of burlap and used lace from an old prom dress. Everyone stops to take it in.
3. Thanksgiving Corn Husk Wreath
I love the geometric splendor of this corn husk wreath and making it is (almost) as simple as tearing corn husks into strips and hot gluing them to a wreath form. You just need a package of these corn husks from the Mexican food aisle of your grocery store – they are used to make tamales. You'll need to get a wreath form from Michael's craft store and gue your husks to the circle and you can paint some for accent as well. This wreath looks really super on everything from Spanish stucco to American country living. You will have a great time with this DIY project, love the outcome and it won't break your budget.
4. Metallic Painted Pinecones
My friend has a pine tree and was overrun with cones this year. She showed up at my door with two baskets full of these beauties. My daughter ran for the paint she had leftover from her school project. We baked them in the oven to get rid of any bugs and started painting. Our result was so amazing we placed our beautiful DIY craft in a silver mesh basket by our warm glowing fireplace. The kids are exclaiming, "Is it Christmas Yet Mommy?" I can't wait for Grandma and Grandpa to drive up for our Thanksgiving decor, I only hope they love it as much as we do.
5. Wheat Bundle Centerpiece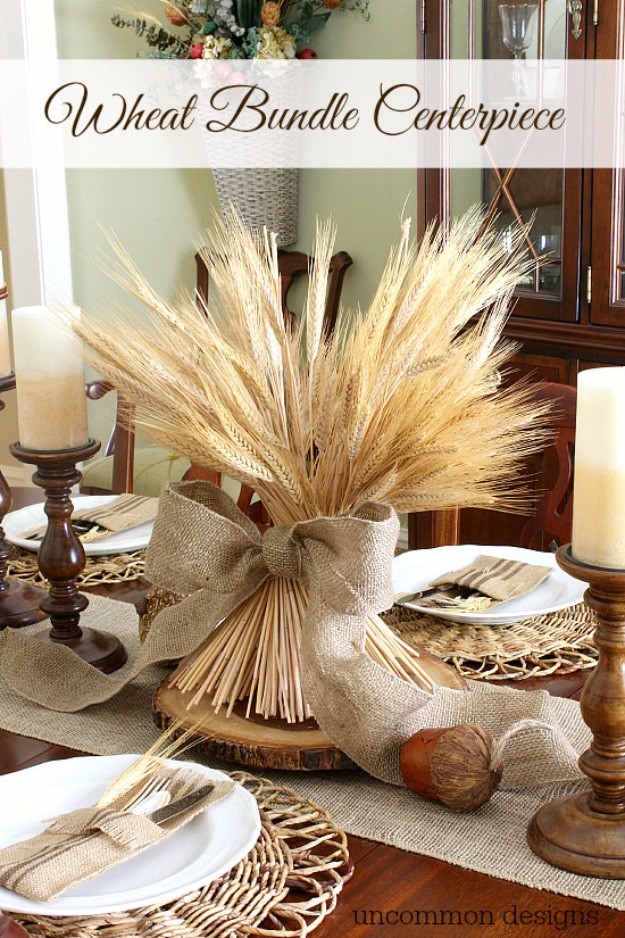 Wheat is is the symbol of our country's breadbasket and nothing says Happy Thanksgiving like honoring our nation's farmers. I saw this lovely centerpiece on Pinterest and couldn't think of a better, more simple cheap DIY project to make my table look Autumn ready. I got my little wheat bunches from Michael's craft store and secured them together, then topped with a rustic burlap bow. This is a must arrangement that will take you through every turn this holiday season, from Halloween till Christmas.
Please follow and like us: