Did someone say turkey? I can almost smell the turkey cooking now when I really think about it, and oh, those pies… One of the best parts of Thanksgiving for me is getting to decide exactly what I will make for Thanksgiving dinner. Although I stick with some tried and true favorites and family recipes, I also love to try out new Thanksgiving recipes, especially when it comes to vegetables and sides, and oh, those pies… In fact, truth be told, my absolute favorite part is getting to test out the dessert recipes beforehand to make sure they are good Start now, like I do, and try some of these awesome gravies, turkey recipes and best things you can make for a crowd at Thanksgiving. Complete with step by step tutorials and photos from some of our favorite food and DIY bloggers, this list is sure to have you drooling. Yummy!
1. Pear-Thyme Brined Turkey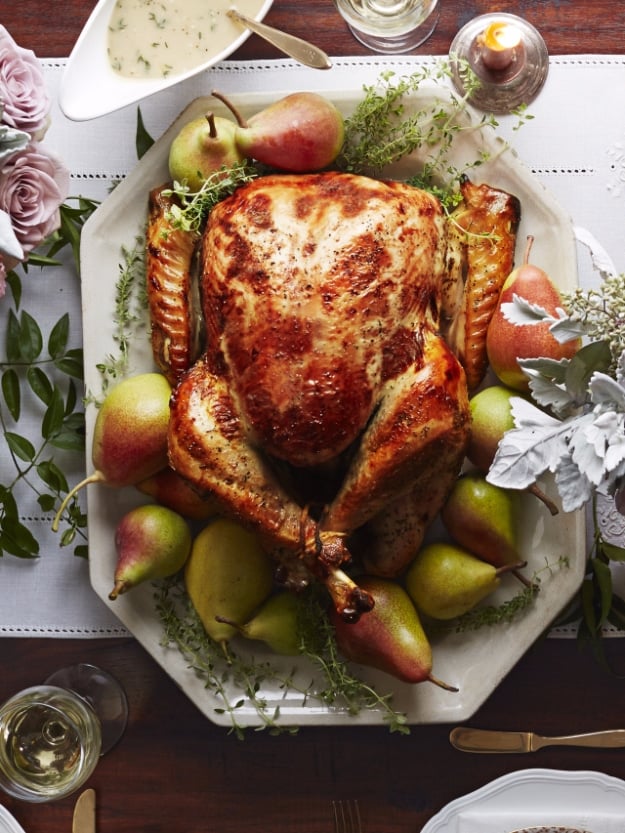 Nothing says Thanksgiving holiday cheer like the flavor of Autumn pears. I wanted to add some extra zing to my turkey this Thanksgiving and found this excellent brine-soaked turkey recipe in Good Housekeeping magazine. I made the pear brine with nectar from the fruit and soaked it overnight in a bag and the next morning you drain off the brine then you stuff the turkey with pears. You just cook your turkey normally, breast side up in an open-faced roaster Bake at 325 degrees F for 3 hours or until a meat thermometer inserted into thickest portion of thigh registers 165 degrees F, basting every 30 minutes with pan juices. Shield with aluminum foil to prevent excessive browning in spots, if necessary. Remove from oven, and let stand 30 minutes. The Autumn sweet pear flavors mixed with the savory turkey will ensure Thanksgiving success.
2. Thanksgiving Turkey Stuffing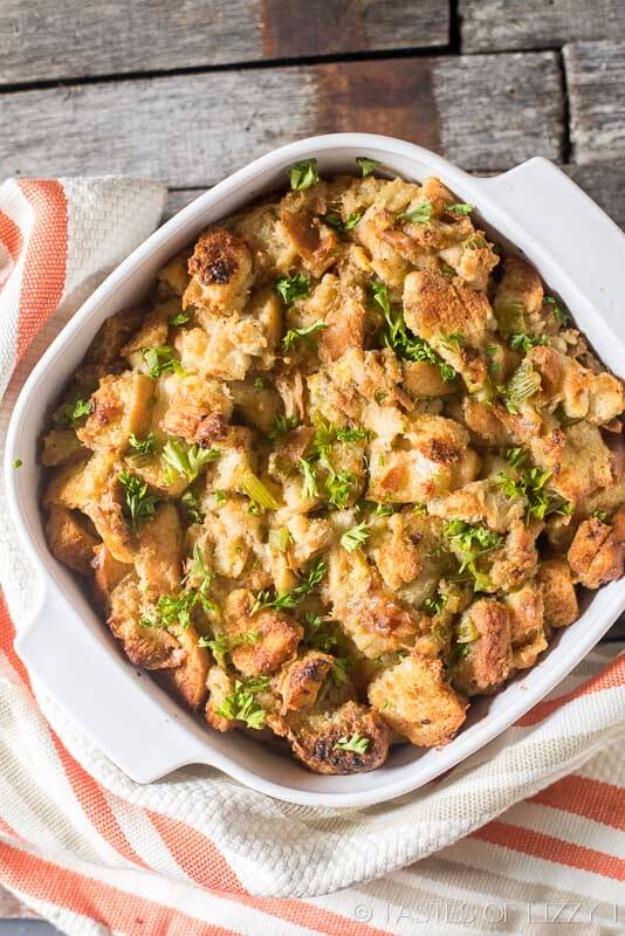 My Grandma left an indelible impression on my Thanksgiving memories. She made the most wonderful stuffing that was just a bit different than mainstream Autumn fair, but that was my Grandma, a trailblazer. This is an excellent stuffing recipe with a twist, you pour an egg mixture over your celery, onion and breadcrumb mixture before you cook and it gives it a really interesting souffle effect. Simply pour the egg mixture over the dry bread cubes, then add the chicken stock, eggs and spices. Why add eggs to bread stuffing? Many of you have asked this question. My main reason is that my grandma did it, my mom continued making stuffing this way, and there is just no better stuffing. hands down.  I haven't put eggs in stuffing, but it makes the stuffing moister. The eggs also act as a bit of a binder. It's not tightly bound but helps the stuffing not to be crumbly. The end result is a Thanksgiving stuffing souffle the family will love.
3. Cranberry Apple Pecan Wild Rice Pilaf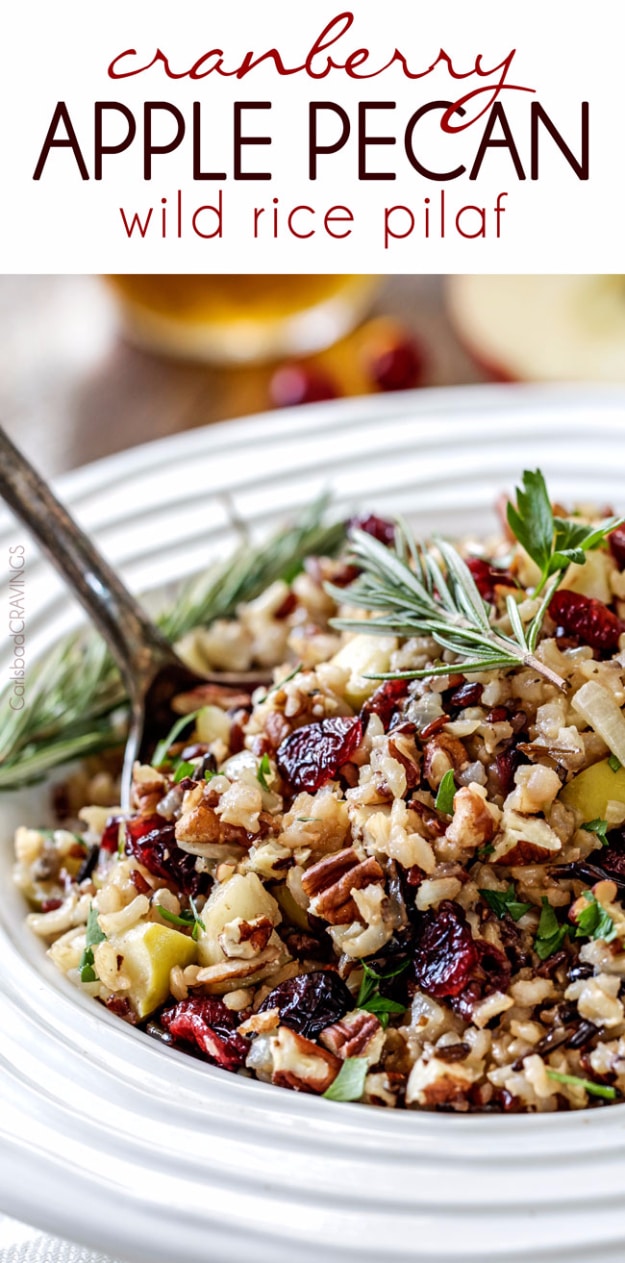 I had mad a pact with myself to make some destructive lifestyle changes. I really began to realize that carbs, my sworn enemy, were not that bad at all if you choose the right ones and diversify them with plenty of nuts and fruits. I found this Thanksgiving wild rice pilaf recipe that incorporated this entire line of thinking and the directions were simple and left me hands-free to do other meal preparation while it was cooking. The apple juice, Dijon, butter infused rice is sweet and tangy, savory and buttery but not overpowering. The dried cranberries add pockets of sweetness while the Granny Smith apple balances with a subtle tart and the toasted pecans add a hearty, salty crunch for the most satisfying mouthful of rice you will ever eat. You have the most lovely compliment to your Thanksgiving turkey because the flavor is both savory and a little sweet. I now eat it all year round and freeze it for spur of the moment parties and holiday gatherings.
4. Pumpkin Cobbler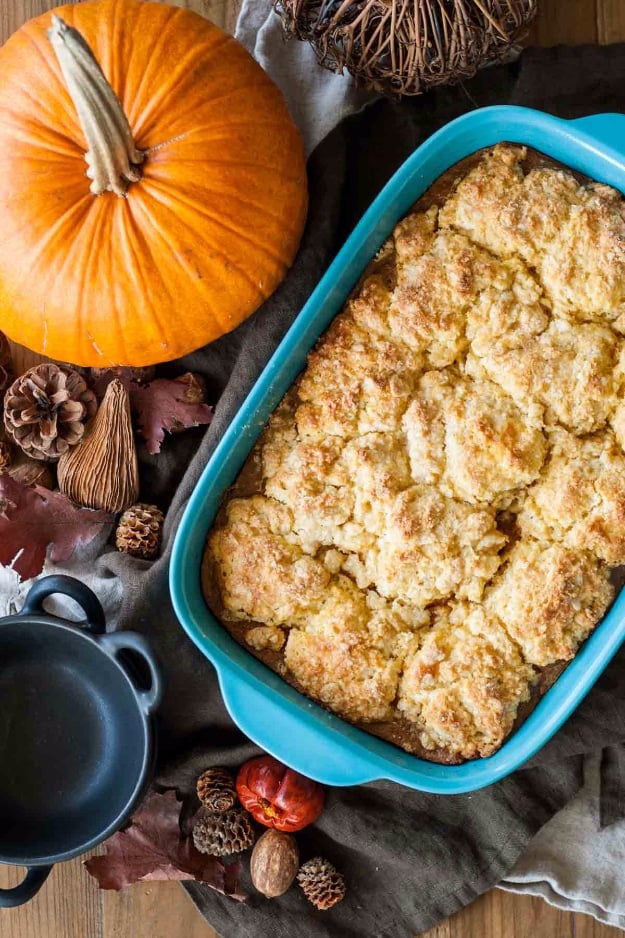 I was having a coffee brunch for a few women in my gardening club and I wanted to serve them something sweet, but not too sweet and filling for a mid-morning boost. I thought of serving scones, but it was so close to Thanksgiving I really wanted to incorporate that into my brunch menu. I heard that this pumpkin cobbler had a sort of scone-like top, and I knew it would be perfect for both my Thanksgiving needs and also provide the semi sweet-savory bread craving I had. The recipe instructions were very simple and I made it fresh the morning of. I served it with coffee and tea on my porch among my Autumn decor lovely porch display. We had so much fun, the late stragglers finished it off with some warmed mulled wine as the evening sun began to set.
5. Cinnamon Pecan Roasted Butternut Squash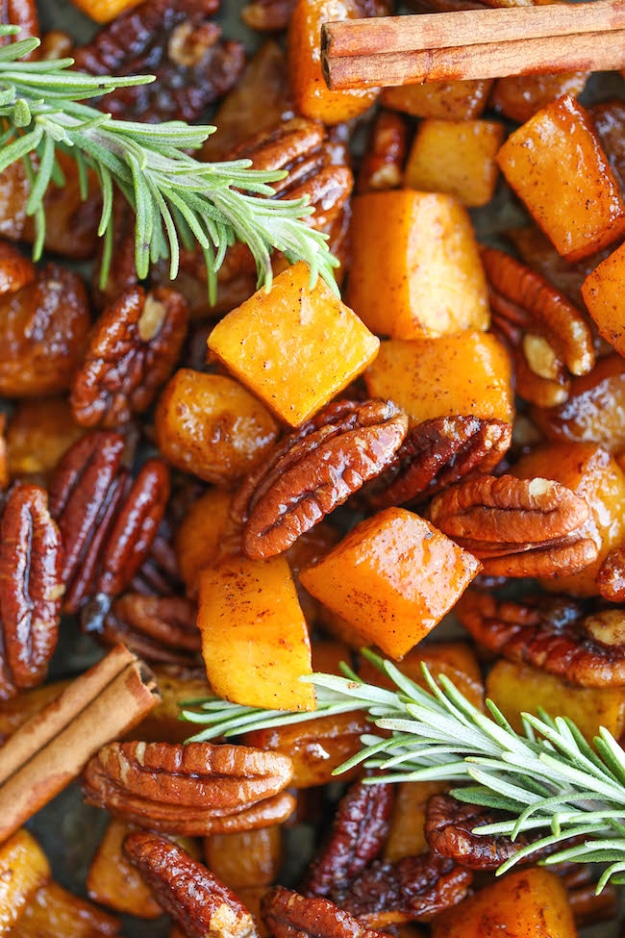 I love these toss and roast veggie recipes, they are quick and easy, but look and taste like you've spent a really long time using painstaking precision. The results are always guaranteed on this quickie toss and roast dishes. This fabulous Thanksgiving side is made with delicious seasonal butternut squash tossed in a butter maple sauce and cooked on an open faces roasting pan for about 30 minutes. I added pecans the last 10 minutes of roasting and my guests were going wild on the aroma the minute they hit the doorway. This will spark your holiday into high gear but its also delicious all year round.
6. Roasted Brussel Sprouts Cinnamon Butternut Squash And Cranberries
I really wanted to try a whole different approach to Brussel sprouts and butternut squash this Thanksgiving. Don't get me wrong, I love them any way you can imagine them, traditionally prepared or in a modern raw slaw. I had not tried roasted yet so I gave it a go, it couldn't have been easier. After you oil your baking dish and make your balsamic dressing, you simply toss together, brown and serve. I love the combination of ingredients here!  Even if you don't like Brussels sprouts, you'll love them here. Roasted Brussels sprouts taste great when combined with all the classic Fall flavors. Cinnamon butternut squash provides a nice, sweeter contrast to the brussels sprouts. And, you get a little bit of crunch from pecans and dried cranberries. These kinds of recipes bond the holidays into your heart indelibly.
7. Rosemary Dinner Rolls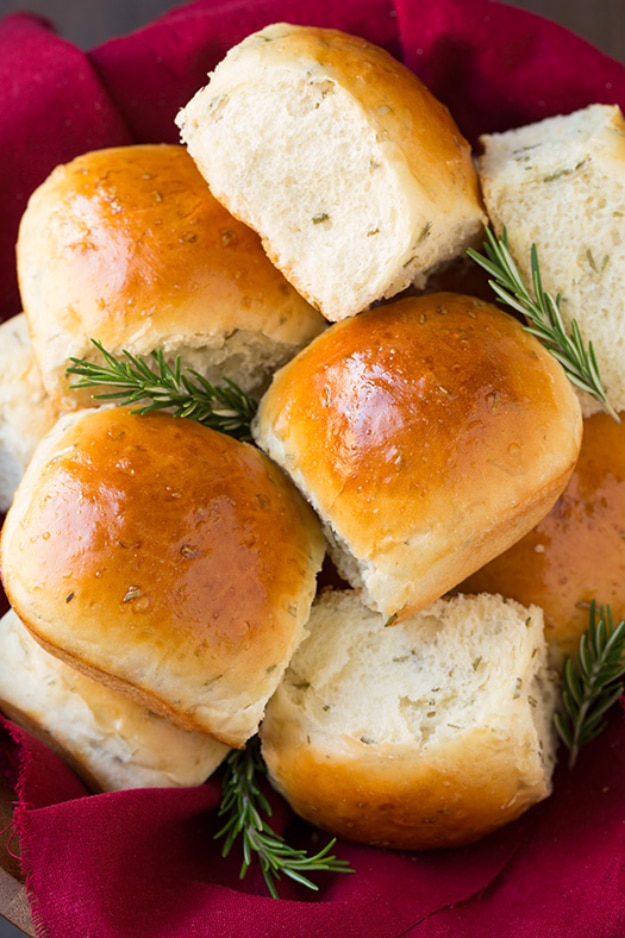 Fresh homemade rolls are my weaknesses and these rolls are inspired by wonderful rosemary bread, the Autumn bread is loaded with fresh rosemary and it's one of my favorite bread recipes. I thought these rolls would be perfect for the holidays because the rosemary make them seem festive and they are just a little fancier than your traditional roll recipe, but they aren't any more work. They are soft and fluffy and their flavor is simply dreamy, especially when you have a side of olive oil and freshly cracked black pepper to dip them in. They make a perfect accompaniment to your Thanksgiving turkey but they are excellent for making small slider sandwiches for the kids using your Thannksgiving keftovers.
8. Classic Traditional Thanksgiving Stuffing

My Mother In Law is coming to our Thanksgiving dinner this year and she is very traditional. I wasn't in the mood to take a chance on new and exciting and have it backfire, so I was looking for a traditional recipe for stuffing, with no frills. I settled on this one because it has all the basic ingredients of old world savory goodness. I made my cornbread from scratch, but you can use pre-made from your local bakery as well. The stuffing is cooked in an open baking dish on the oven so it yields a very crispy top. Just monitor your oven so it doesn't dry out before completion. My mother In Law didn't complain, that meant she loved it.
9. Roasted Vegan Thanksgiving Bowl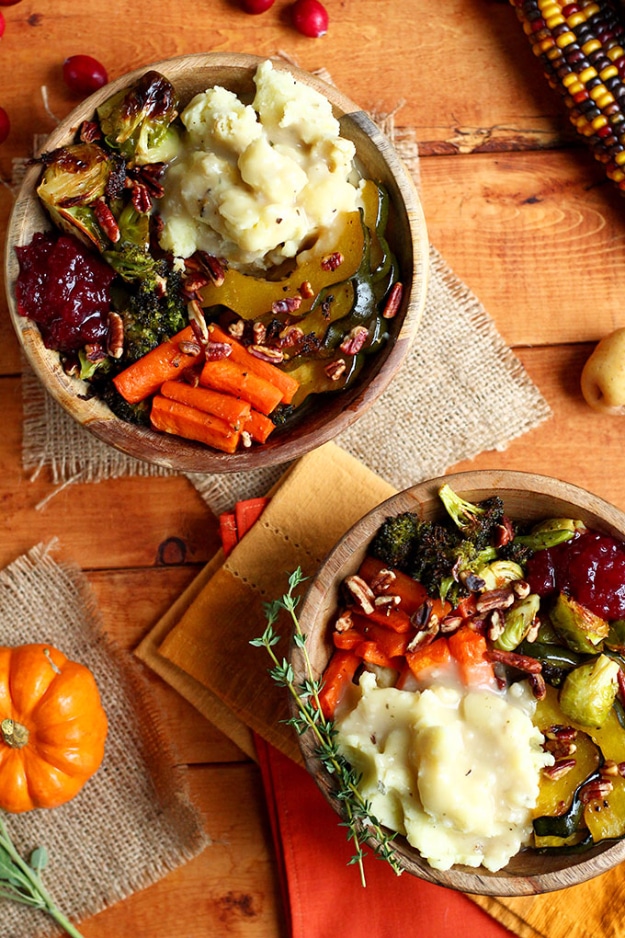 I had my vegan friends over for the Thanksgiving holidays and I really wanted to impress them so I made a Vegan roast bowl of all thing beautiful and seasonal. This Thanksgiving bowl is full of roasted veggies: Brussels sprouts, garlicky broccoli, sweet carrots, and acorn squash, plus toasty pecans and lots of mashed potatoes. Top as you please with easy vegan gravy and crack open a can of cranberry sauce. Easy, delicious Thanksgiving dinner. My friends loved it and happy I accommodated their Vegan needs.
10. Creamy Cinnamon Apple Walnut Fruit Salad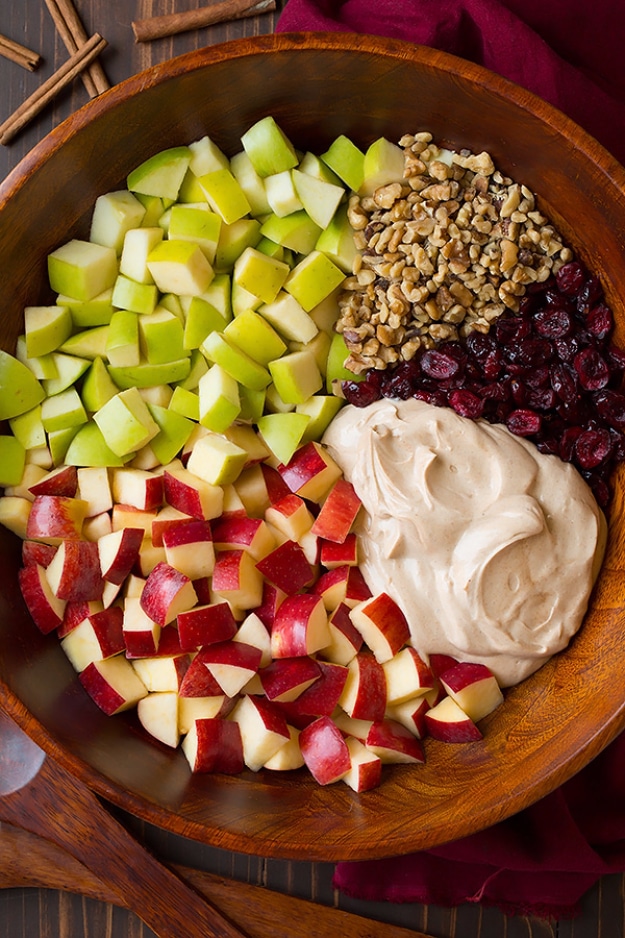 Apples, walnuts, and cinnamon just go together, and fruit salads with cream cheese are so delicious, you are confident in knowing this is going to be good before you've even tasted it. I love all the textures and flavors in this apple fruit salad. You get those perfectly crisp sweet apples, a light tartness from the dried cranberries, just the right amount of rich creaminess from the dressing of rich satisfying cream cheese, and finally that wonderful crunch from the walnuts. Trust me, after one taste it's a fruit salad you'll crave daily, even after all the Thanksgiving and Christmas hysteria has passed.
11. Healthy Green Bean Casserole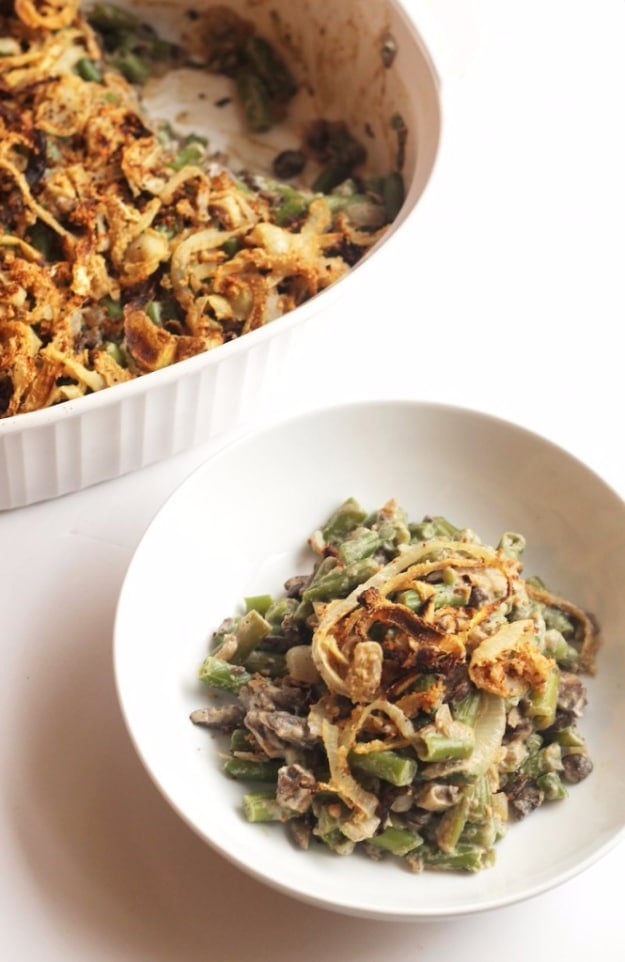 12. Mashed Potatoes with Caramelized Fennel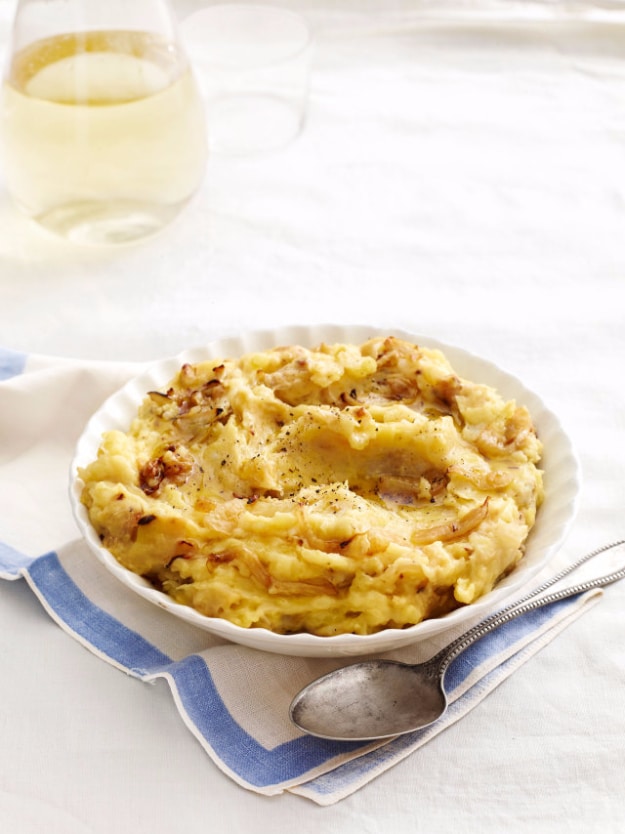 13. Deviled Eggs With Bacon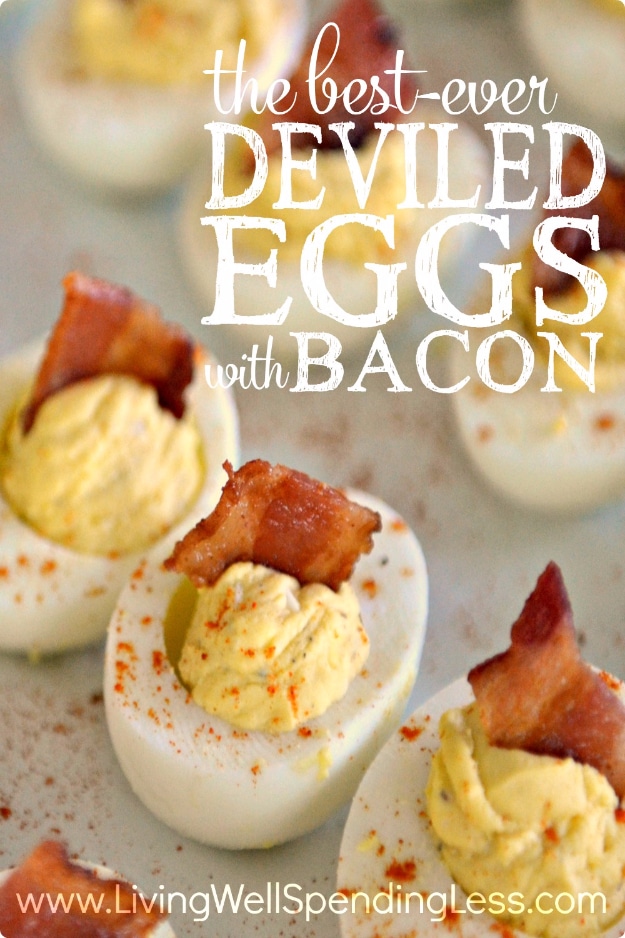 14. Pumpkin Dinner Rolls

15. Crockpot Candied Sweet Potatoes