Ready for an amazing Halloween this year? I am super excited that one of my favorite holidays is only a few weeks away but realized I do not have enough decorations, and I simply love making DIY Halloween decor. Without a huge decorating budget or a lot of time, I scoured Pinterest for some of the fastest, least expensive options. I simply love what I found and think you will, too! From yard decor to table centerpieces, these fun projects are spooky and creative. Witches hats, skulls, broomsticks, pumpkin crafts and more are sure to delight your trick or treaters. Check out the easy to follow step by step tutorials to learn how to make these quick and cheap DIY Halloween ideas. My parties are always a resounding success when I used good old-fashioned know-how and consult all my DIY gurus on the web. There are so many great inexpensive, even free DIY craft ideas here, prepare to be amazed.
Ready for that Halloween party? If you still need some cool ideas for DIY Halloween costumes, so you have the perfect attire to match that amazing decor, we have you covered. Check out our last minute costume ideas and the super fun DIY costumes for couples, so many to choose from, deciding will be the only hard part.
1. Floating Witch's Hat Luminaries
These witches hats were perfect for my daughter's Halloween goblin party. I found these witches hats at Michael's craft store and attached some glow sticks from our big Fourth Of July bash and attached them with fishing line. I always keep plenty of Command Hooks on hand, so stuck them on the ceiling of the porch and attached the Halloween luminaries. They really added to our spooky haunted display and all the party goers were very impressed, no one could have guessed it was so cheap and easy.
2. Dried Apple Shrunken Heads

I saw these apple shrunken heads on Pinterest and knew my kids were going to go crazy over them. I bought the kids a cheap bag of apples at HEB grocery store and we peeled them, cut eyes and a mouth then lightly baked them. We had so much fun doing this together, we use fake fur, feathers, and moss for their hair and staples for their teeth. Move over trolls, these shrunken heads win the prize for cheap easy fun.
3. DIY Floral Skull Centerpiece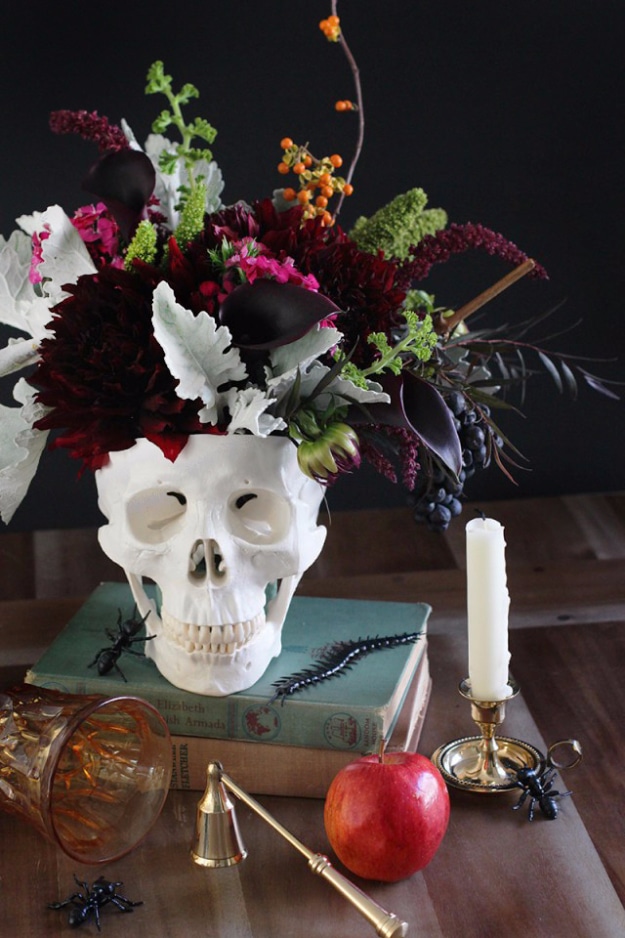 I love getting into the ghoulish spirit for Halloween as so many I love Halloween almost as much as Thanksgiving.  We needed a centerpiece for my annual party table so I made an arrangement of my favorite Autumn flowers and leaves and fastened them into my skull, I got at Hobby Lobby with a removable top. I arranged the table with some gorgeous candles and Autumn harvest vegetables and the results were phenomenal. I could not make anyone believe it was a simple DIY craft, it looked so elegant in my Halloween melange.
4. Bleeding Halloween Candles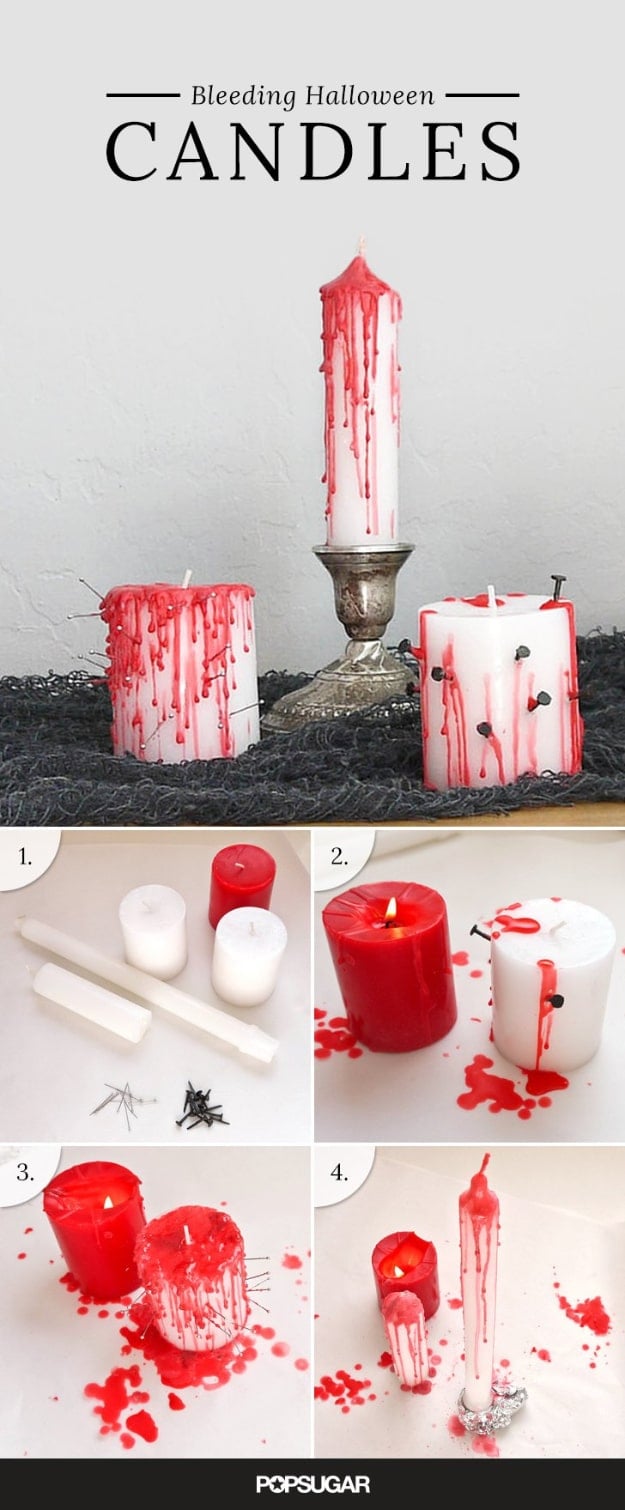 This is the easiest DIY craft project you can make for your Halloween table or porch to create a spooky ambiance at your holiday party. I used my leftover Christmas candles and some old nails and pins. I laid out some parchment paper and just got creative with melting, I dripped the red all over the white candles to make cool shapes. I added the nails and pins in a random fashion and arranged them by my candy table to spook my sweet trick or treaters.
5. DIY Painted Sugar Skull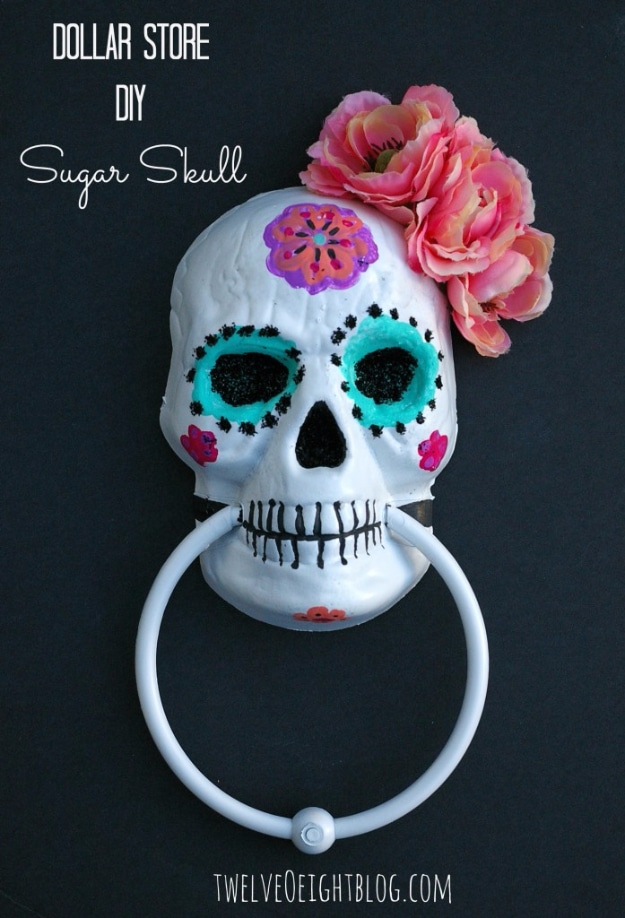 This looked so good on the front of my haunted porch in the backyard. I found it at the Dollar Store and threw a coat of white spray paint on it and decorated it with craft paint and covered my art with a coat of Decopodge. It looked fantastic when I glued the flowers on top. On Haloween night when our guests came in, they loved their spooky knocker.
Please follow and like us: