Are you a reader that has run out of room for your every growing book collection? When I moved recently, we left our fabulous built-in bookshelves behind and ended up with 10 or so boxes of books in the garage for months. My boyfriend actually threatened to throw them out, since I was no longer actively reading any of them! Can you imagine? As a lifelong reader, I could not bear the thought of getting rid of some of my most prized possessions just because we did not have adequate storage in our new home. I quickly went looking to find a new home for my favorite books but wanted something stylish for the new house. After perusing most every DIY bookshelf idea on Pinterest, I came up with this list of 34 awesome DIY shelving ideas and thought I would share it with you. From the quick, cheap and easy crate shelf you can make with boxes available at your local craft store to cute ideas for the kids' rooms to dreamy, vintage-inspired shelves that already look like heirlooms, you are sure to find the perfect DIY bookshelf here. There are also several creatively cool ideas for bookshelf makeovers. I ended up trying the IKEA Billy bookshelf hack and ended up with two of those in the living room, they are perfect. What will you choose?
DIY Bookshelf Ideas
1. Easy DIY Playroom Stepped Crate Bookshelf
What a wonderful reading nook accentuated by a super practical crate bookshelf! It's so simple to re-create, all you have to do is stack them together. Glad I stumbled upon this post. Create a reading space that is perfect storage for the kid's books.
3. Old Bookcase into Nightstand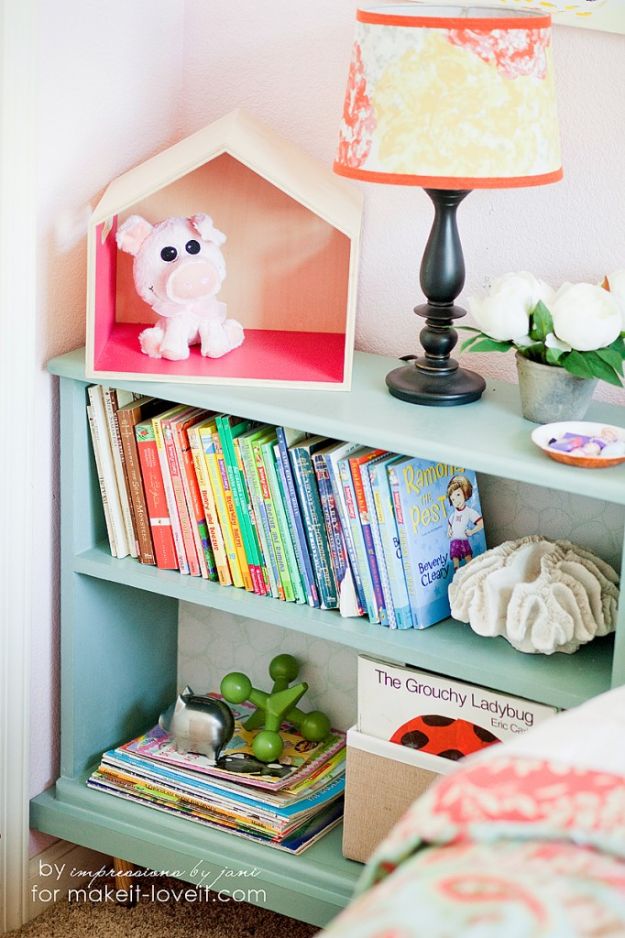 Give your old, tired pieces of furniture in your home its needed makeover by following along the complete instructions of Make It Love It. I just love the idea that it's both a bookcase and a nightstand. Very clever, isn't it?
4. DIY Side Table Small Bookshelf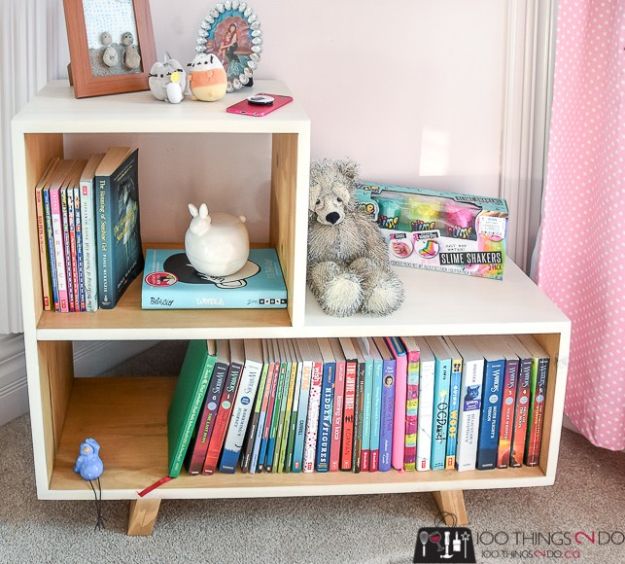 Maximize functionality in a small space with this small bookshelf that doubles as a side table. The cool part about this piece is that it be turned either way so it's a perfect addition to your bedroom or office space. You can even put it in between two narrow chairs. What a great project, indeed.
5. Shiplap Bookcase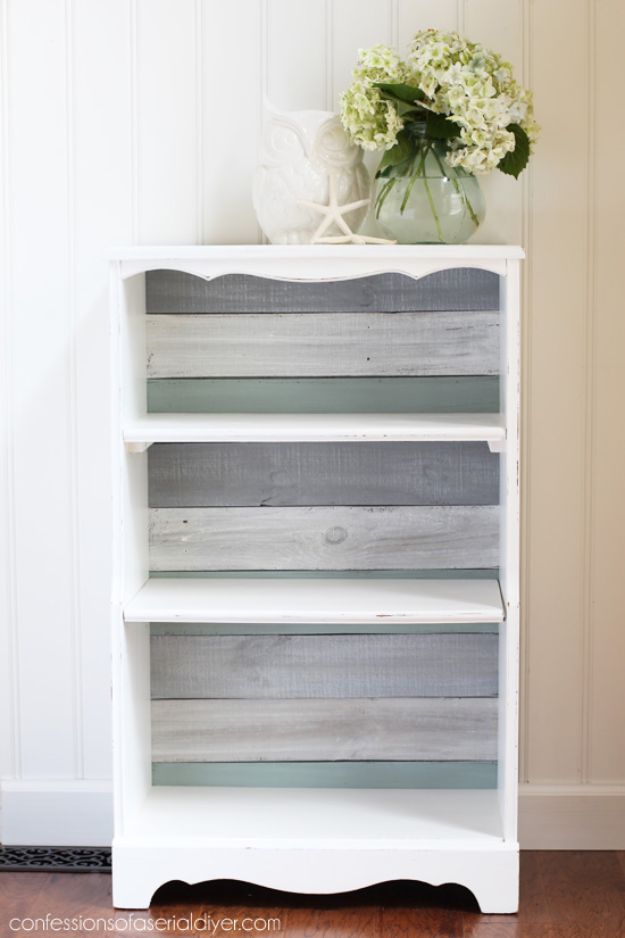 Wow, this is a fabulous makeover! I am in love with the washed colors that they used. It just gives this cool and chic vibe. The bookcase turned out to be magnificent, it's designed to perfection.
6. DIY Stenciled Bookcase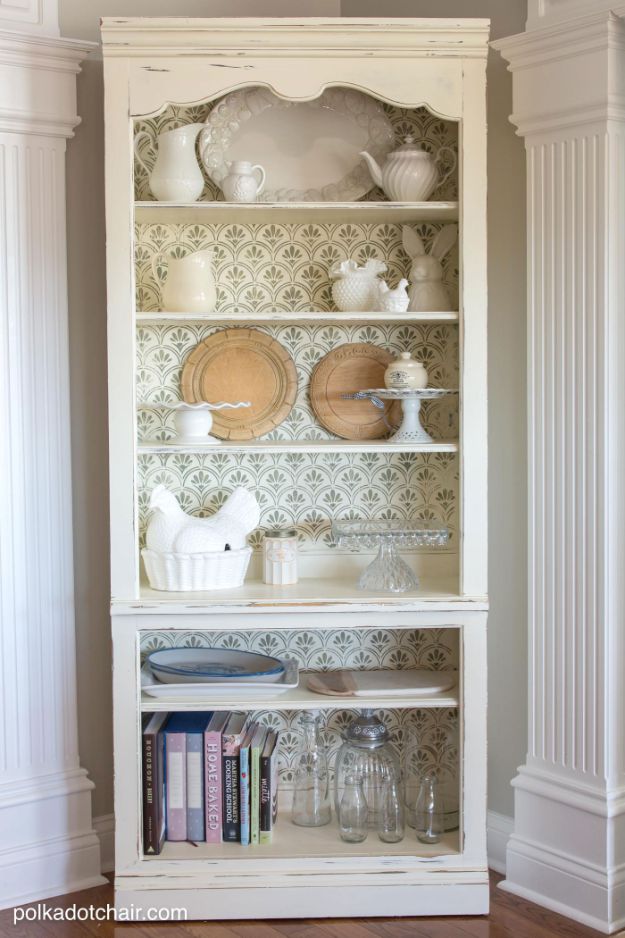 Polka Dot Chair has done such a great job on this stenciled bookcase. I am a stencil novice so I'm not too sure if I can pull this off. However, reading about how easy they made it look gives me the inspiration to try stenciling for sure.
7. Rustic Bookshelf from Crates and Pallet

This cute DIY crate and pallet bookcase from Jen at House of Wood is a pretty easy build, very cheap and gives a lot of rustic appeals. She also has this great tip to never use pallets and crates straight from a dumpster which I think is worth mentioning. Make sure its heat treated before using them.
8. DIY Scrap Wood House Shelf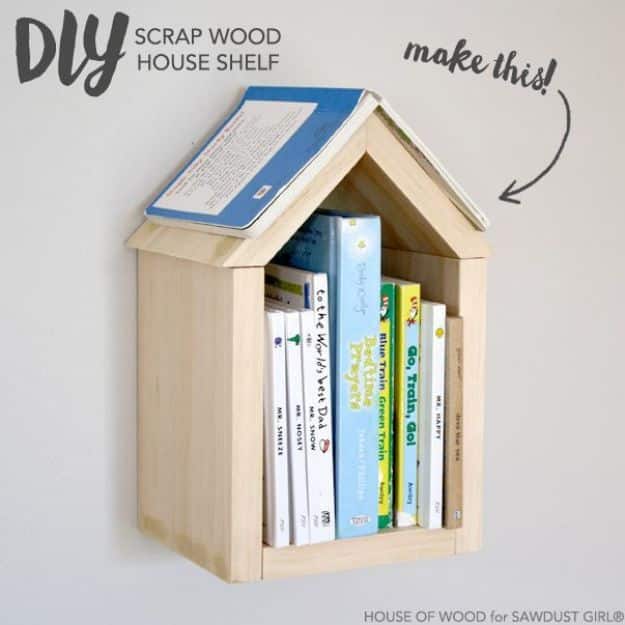 Jen Woodhouse is back again with a quick and easy DIY project you can make out of that growing pile of scrap wood. Check out her instructions in building this DIY Scrap Wood House Shelf. Painting it pink is such an adorable idea and a perfect addition to a little girl's room.
9. Bookcase Makeover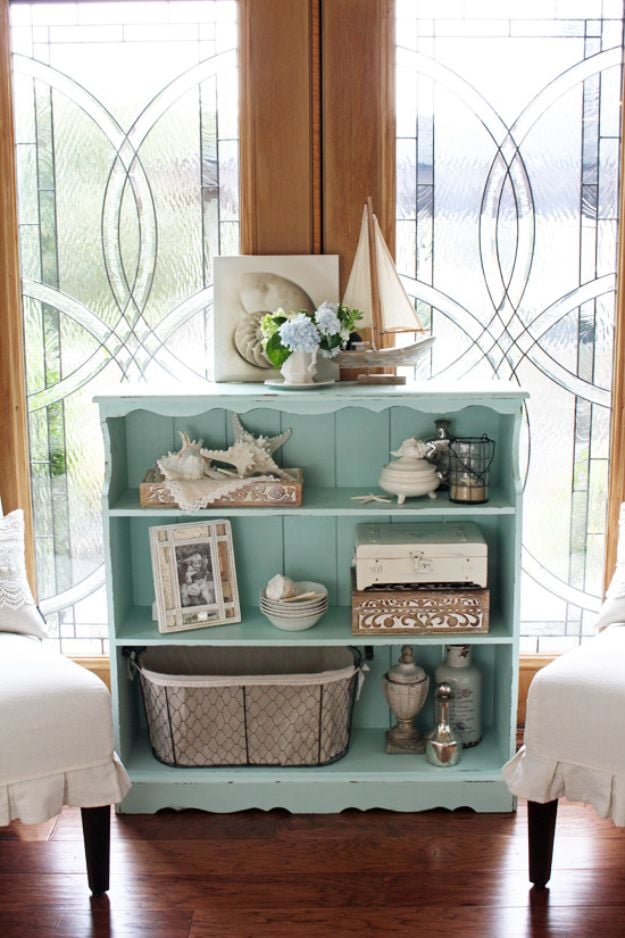 Another thrift store finds that turned out to be a classic gem of a bookcase. I really like the color – it's so fresh and calming to the eyes. Beautiful bookcase makeover as always from Confessions Of A Serial DIYer. Amazing what good taste and paint will do.
10. Paint the Back with a Pattern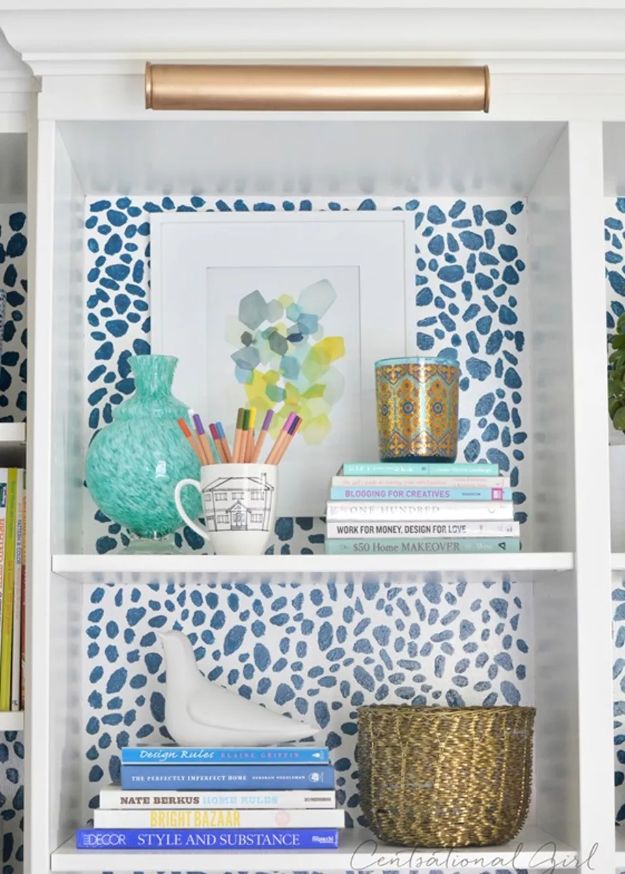 Jazz up your plain looking bookcase by painting some spots and sputnik at the back. Centsational Girl has a great technique in achieving the look by using a simple sponge. You can also try buying spotted wallpaper if you prefer that. It looks great to put up in an office or a study room. The pop of color adds a lively mood. Indeed, a great idea to renew a bookshelf.
11. Elegant and Classy Idea to Store your Books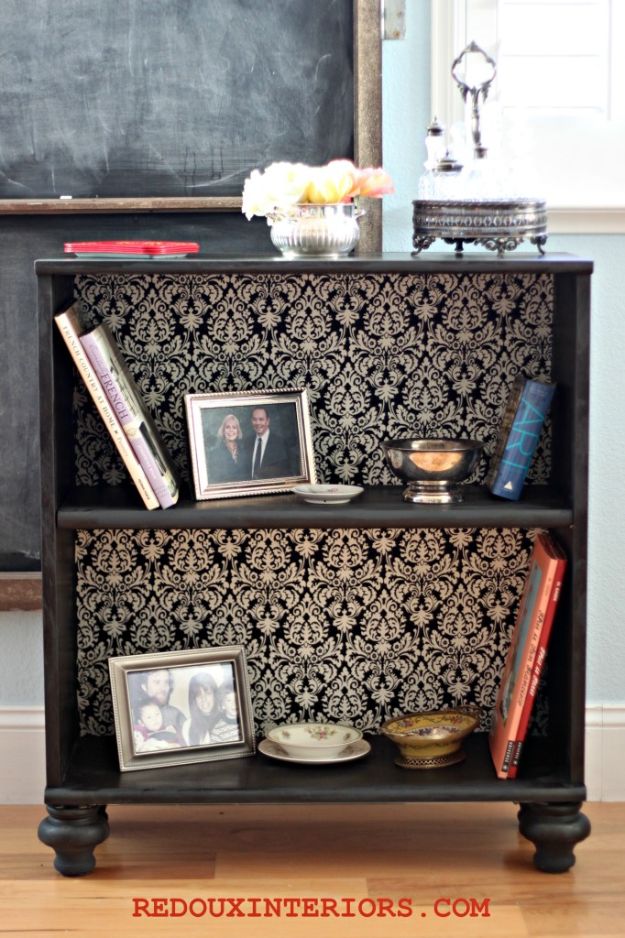 13. Girly Bookcase Makeover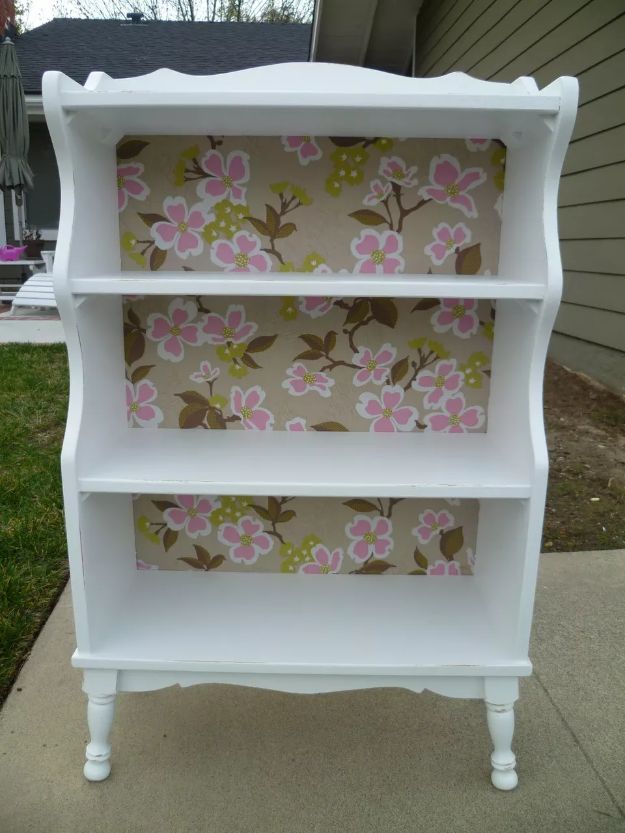 14. Thrifted Bookshelf Rescue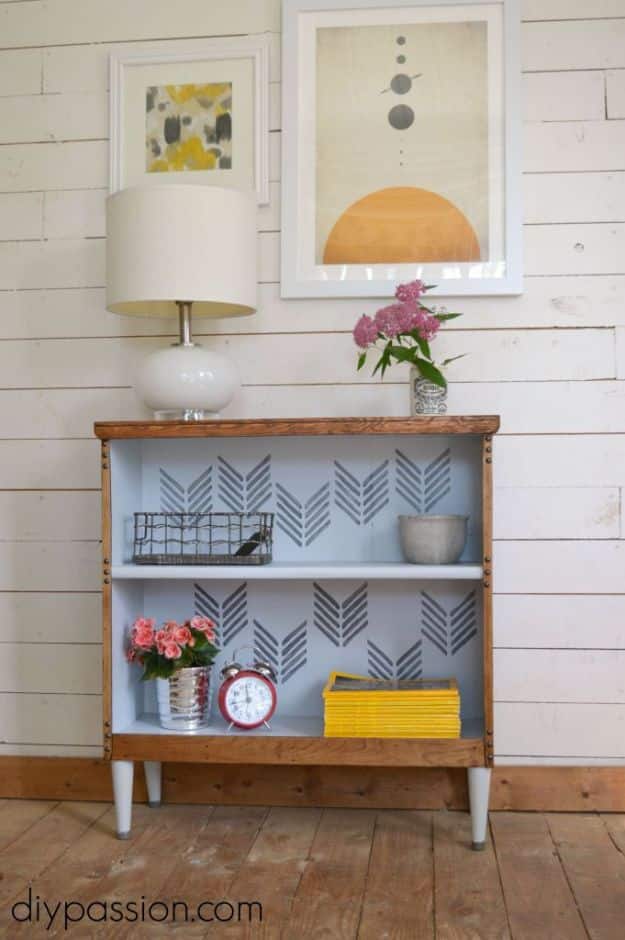 15. DIY Wood Bookshelf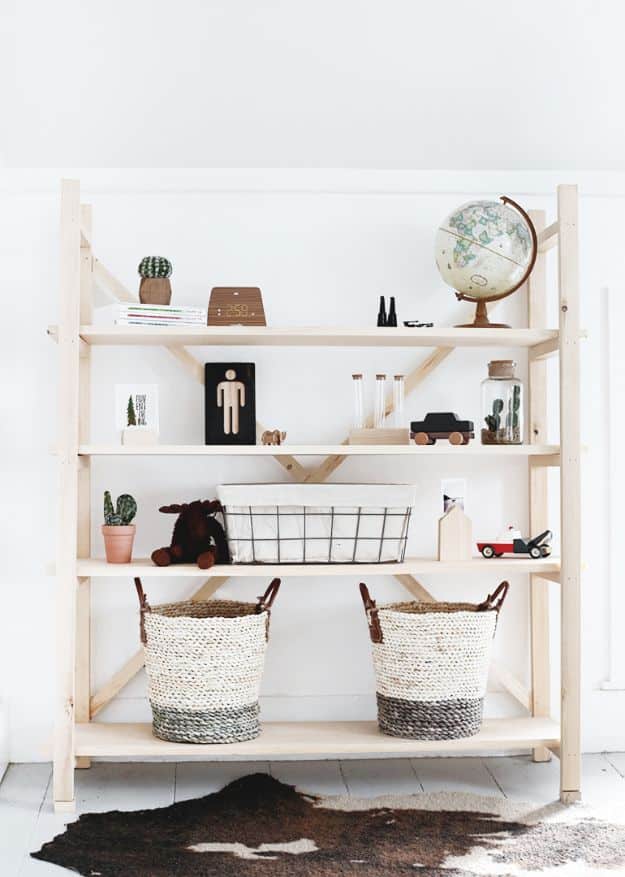 16. DIY Picture Ledge + Bookshelf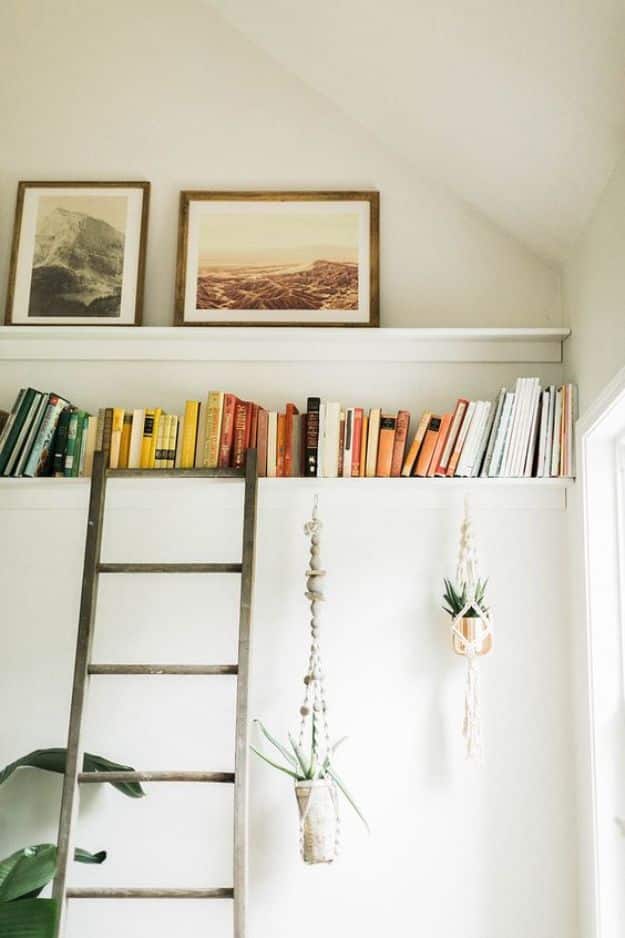 17. Tree Bookshelf DIY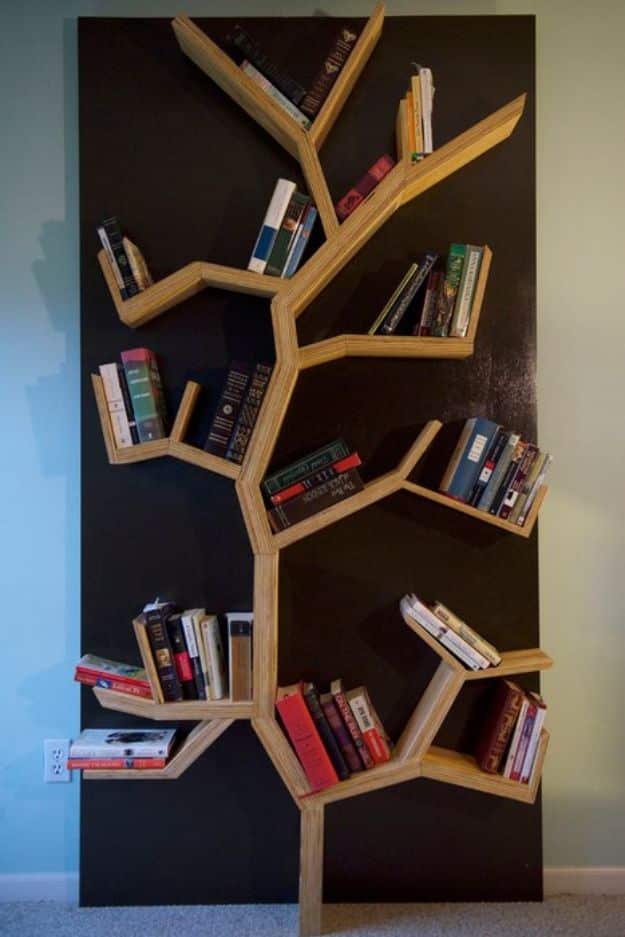 18. Hack a Bookcase and Add Built-in Storage on Top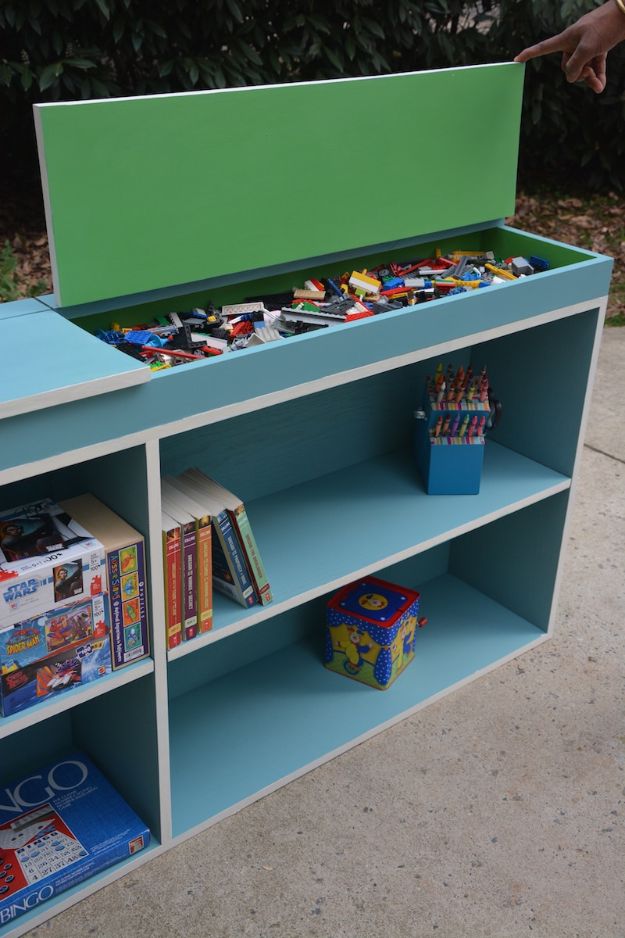 19. Simple Little DIY Bookshelf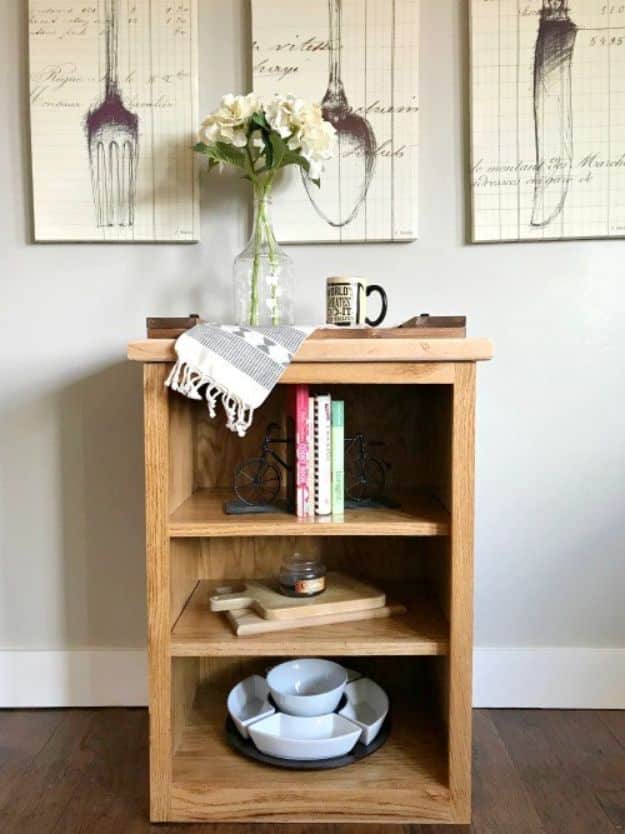 20. Kid's Bookshelf Makeover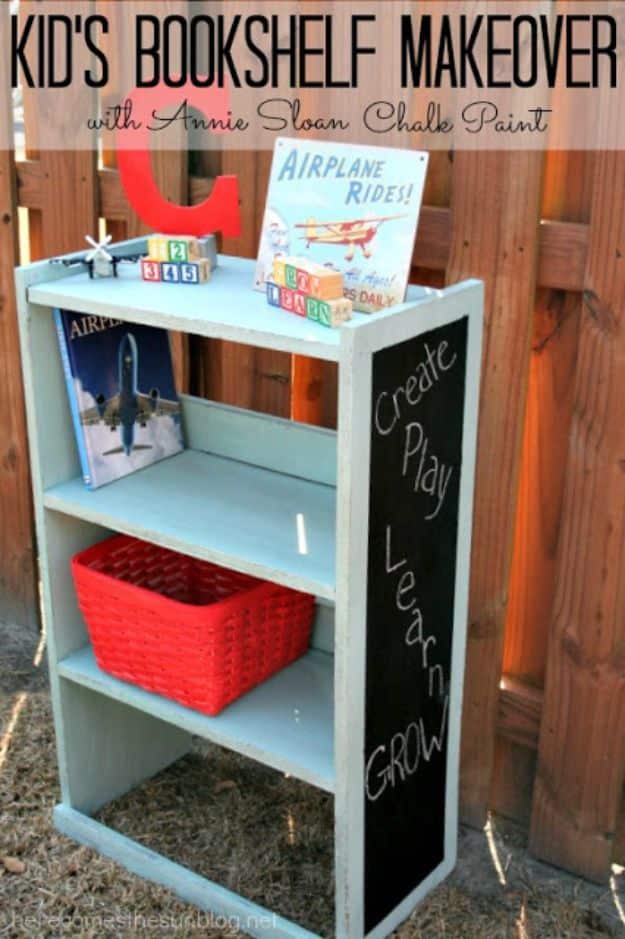 21. Cheap DIY Bookshelf for $40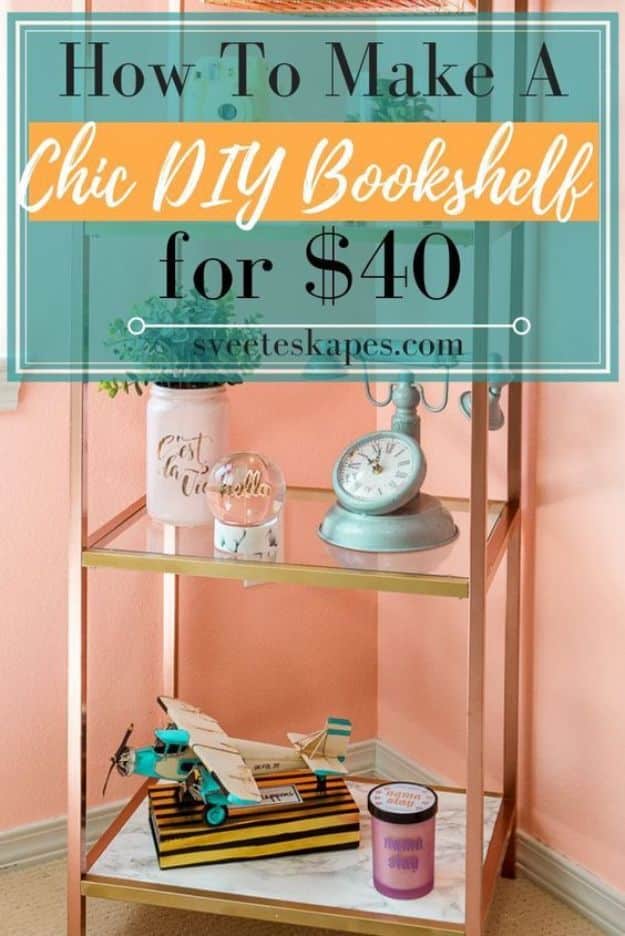 22. Billy Bookcase IKEA Hack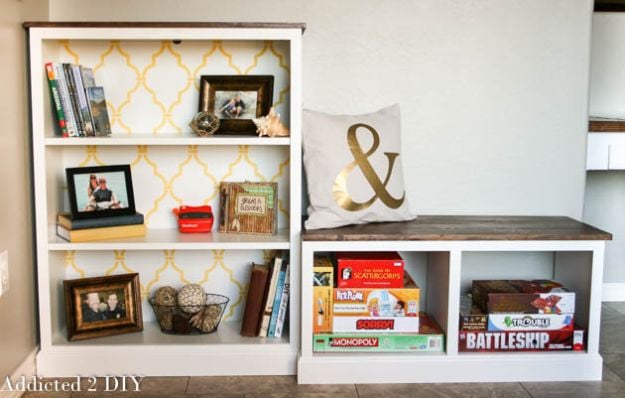 23. Rain Gutter Bookshelves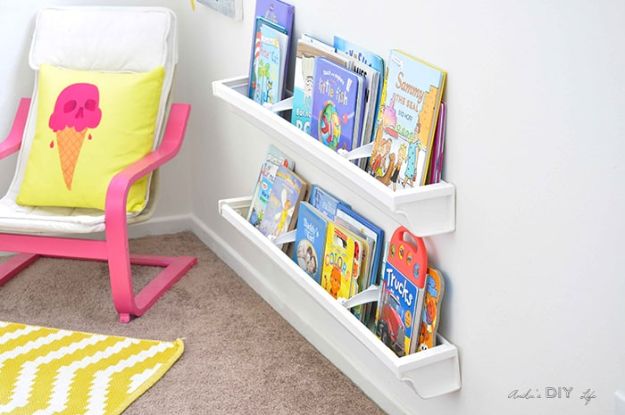 24. Cheap Bookcase Makeover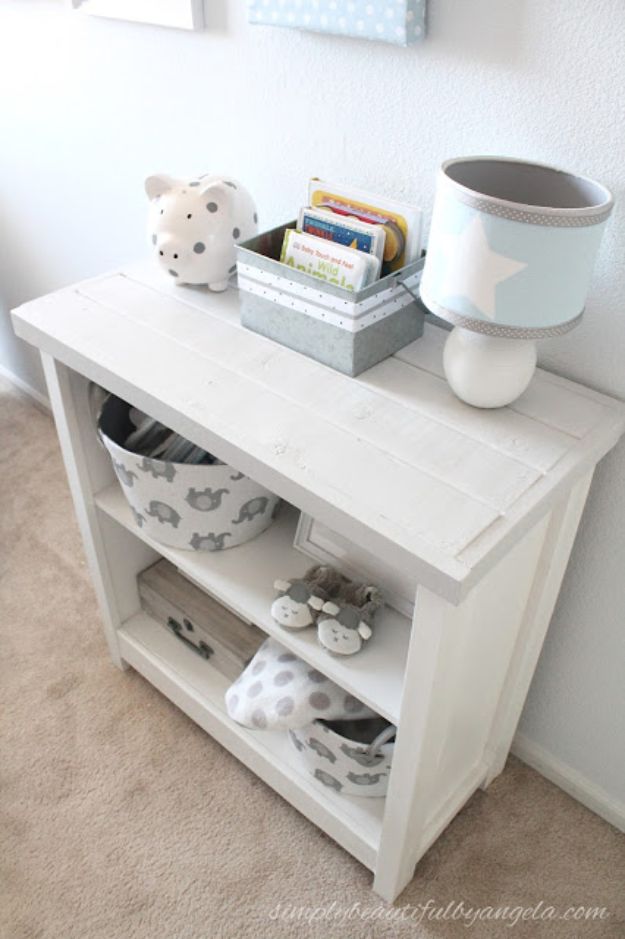 25. Rainbow Bookshelf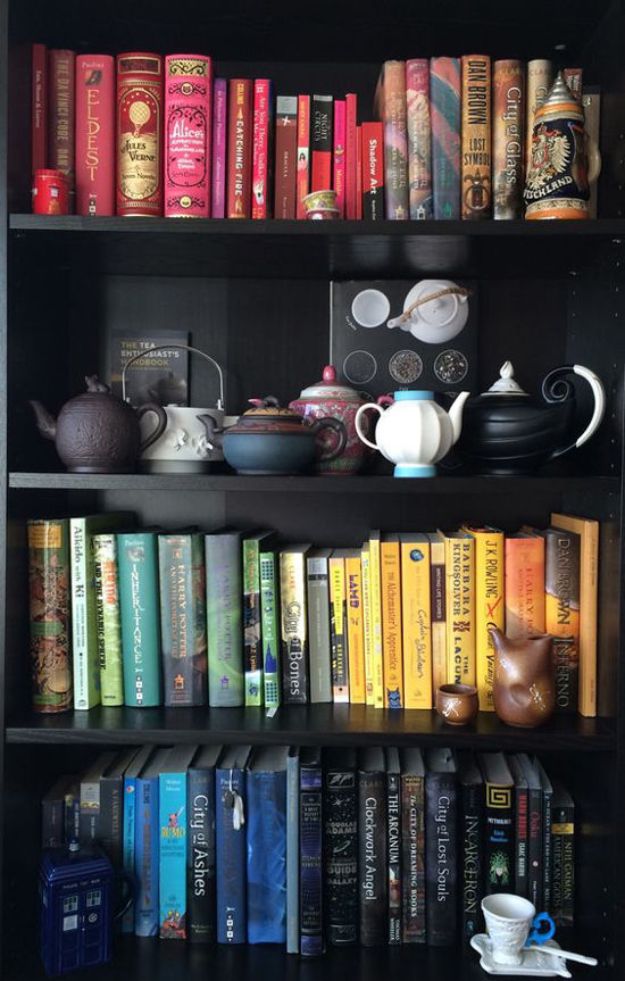 26. Turn Bookcase Into a Bar Cart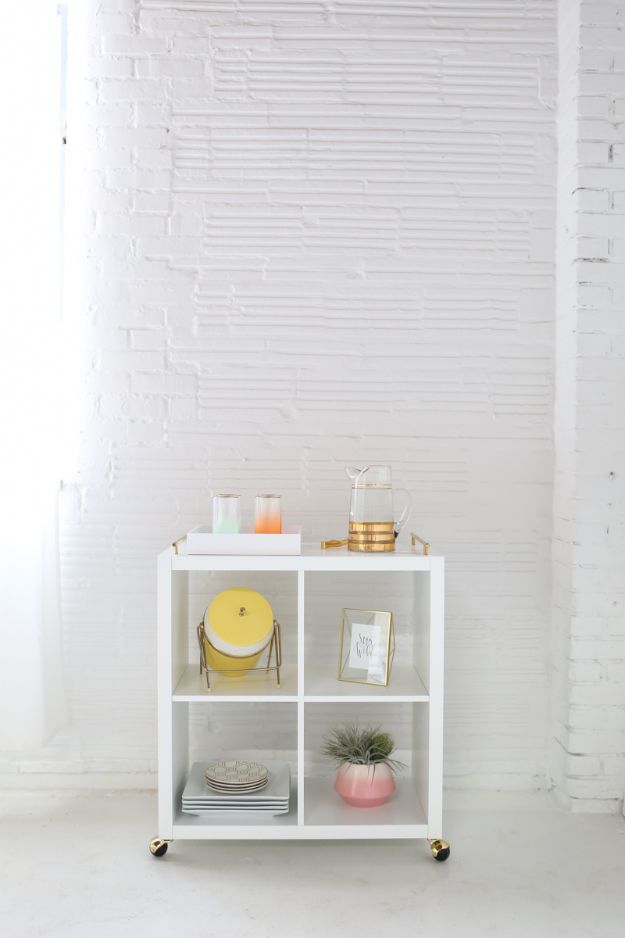 27. Customizable DIY Dresser Drawer Bookshelf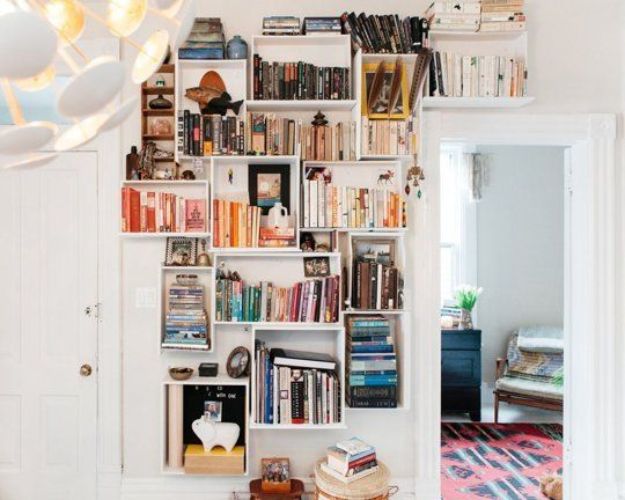 28. Attach Wheels to the Base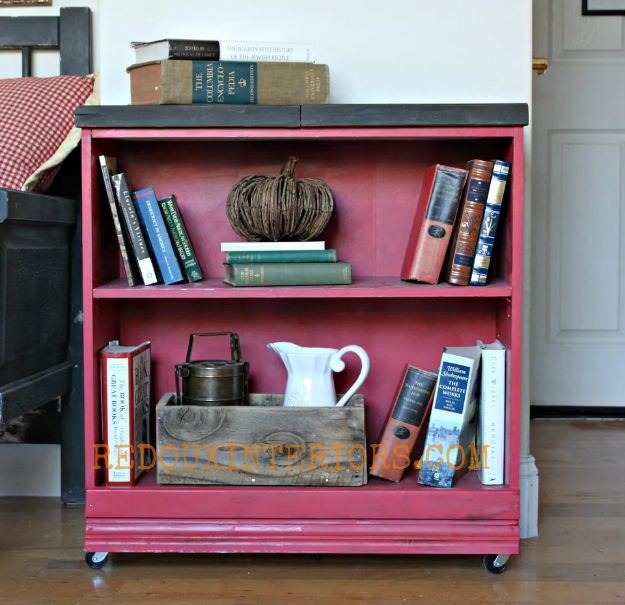 29. Cubist Plywood Box Bookshelf with Binder Clips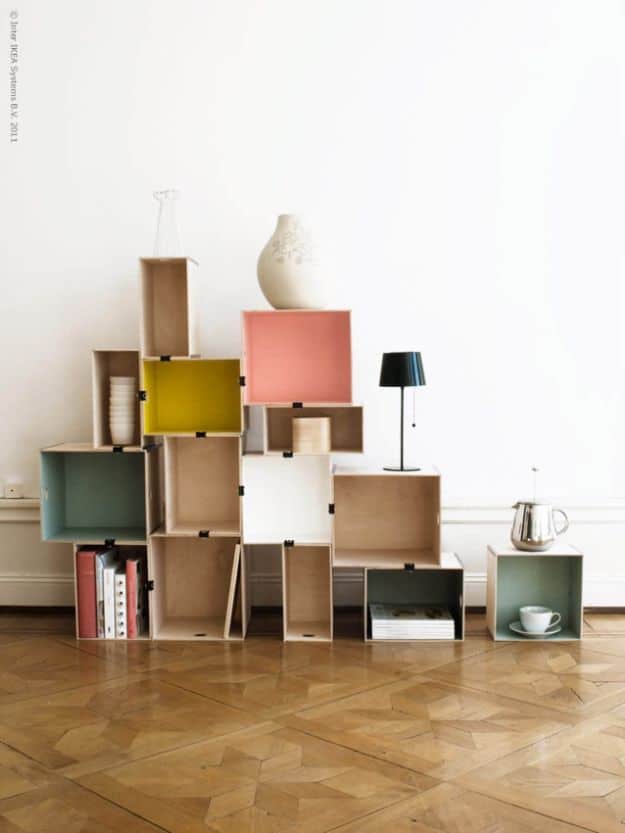 30. Turn a Bookcase into a China Hutch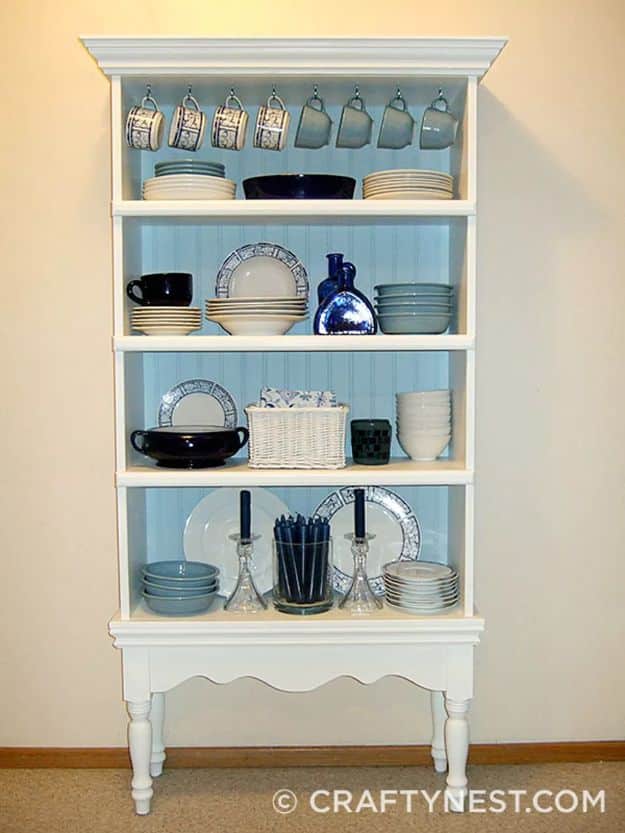 31. Free Standing Bookshelf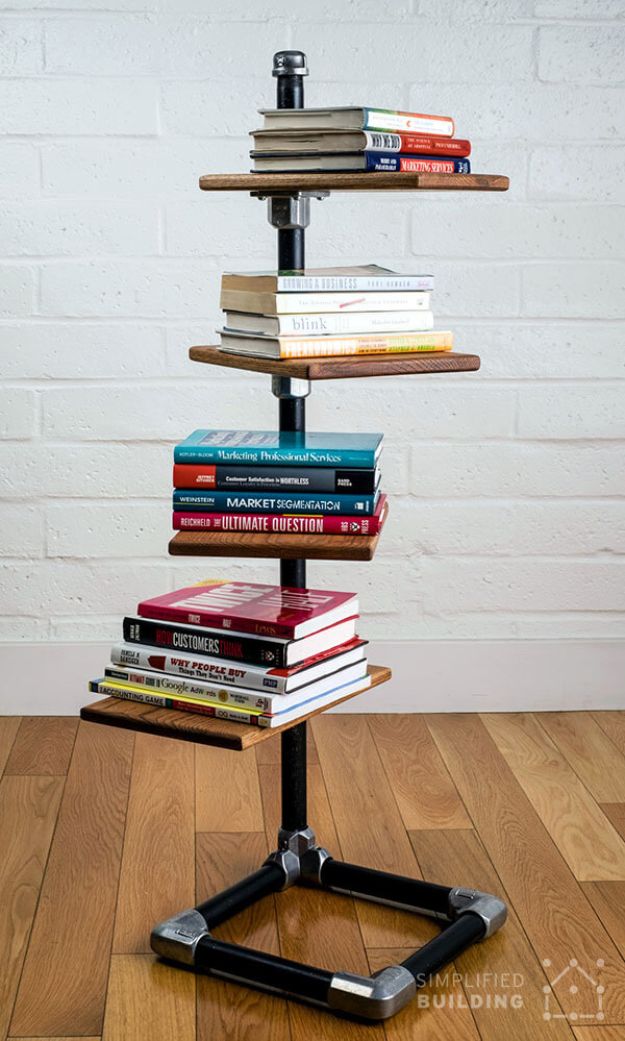 32. Space Saving Bookshelf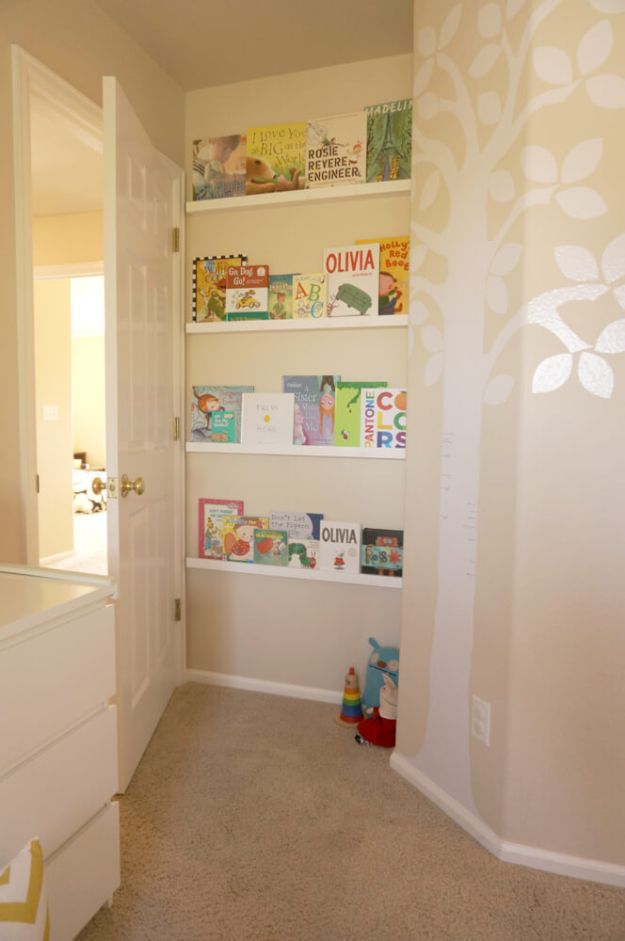 33. Industrial Style Kids Bookshelf
34. Floor to Ceiling Built-In Bookshelf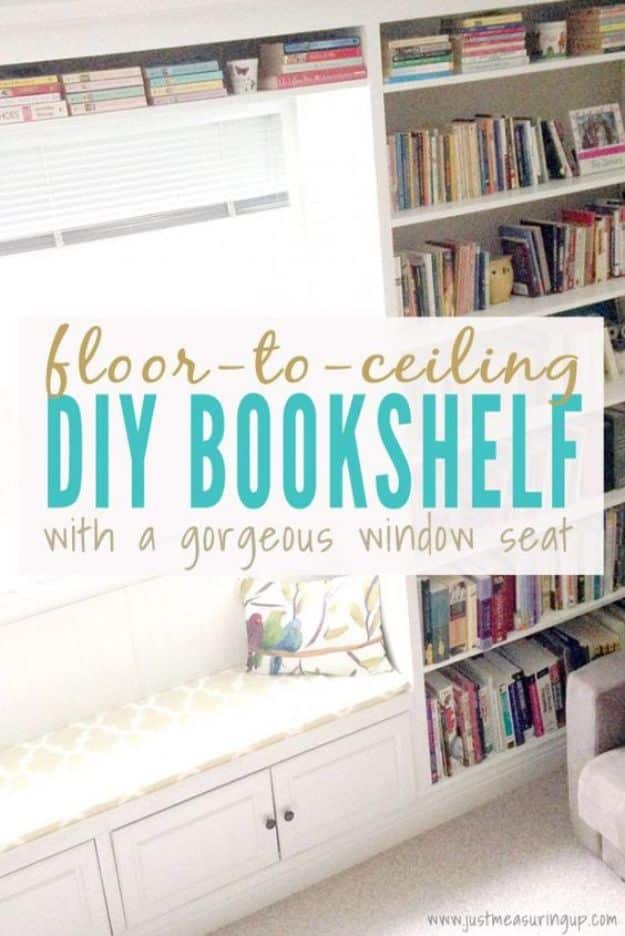 Please follow and like us: