Planning a kitchen makeover or looking for some cool DIY ideas for kitchen cabinet upgrades? The best looking kitchens always start with amazing cabinets, so your dream kitchen should, too. I was super surprised to find that an incredible, updated modern kitchen could be had for a lot less than I thought if I was willing to do some of the work myself. From adding new finishes to existing cabinets, updating kitchen lighting with under cabinet fixtures to adding creative storage areas, these ideas for updating kitchen cabinets are some of the best around. Learn how to add wine racks, plate racks, and hidden trash storage with ease, using these budget-friendly home improvement projects. Love the all white look? Many of these ideas incorporate our favorite all-white minimalist look, which is about as timeless as they come. Need more room in your kitchen but can create extra space where there is none? Think again, the DIY slide out shelves will magically solve that problem. Check out all 34 of these amazing DIY ideas for kitchen cabinets and plan your dream kitchen, you deserve it!
1. DIY Upper And Lower Cabinet Lighting
Have you been thinking about adding some lights under the upper cabinets in your kitchen area? Well, this DIY project tutorial from Thrifty Décor Chick isperfect for you.  I've wanted to DIY this forever but it always seemed like such a hassle but with this amazing tutorial and DIY tips and tricks, I can finally start on this project idea.
2. DIY Weathered Hickory Cabinets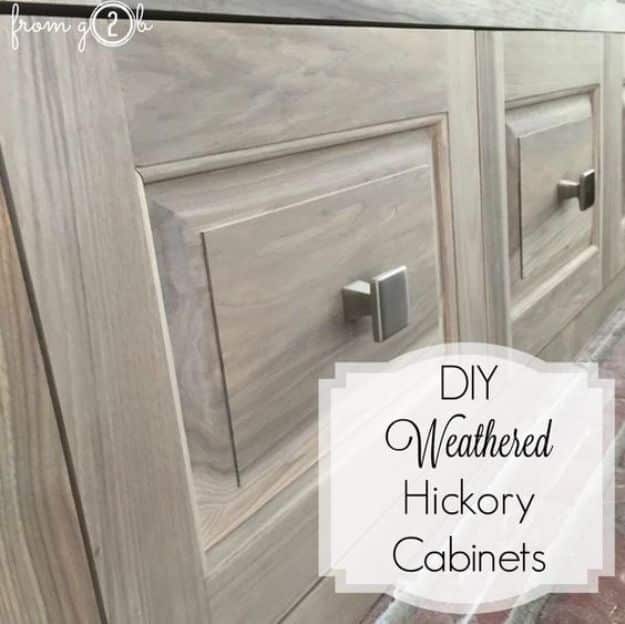 The easiest way to age wood is with things you probably already have in your kitchen. I am in love with the soft gray and tan of the hickory. It's one of my favorite Weatherwood looks. I've been wanting to replace the cabinet doors in my kitchen. Look at the difference it can make without spending extra money to completely replace the entire thing.
3. Sheet Metal Shimmer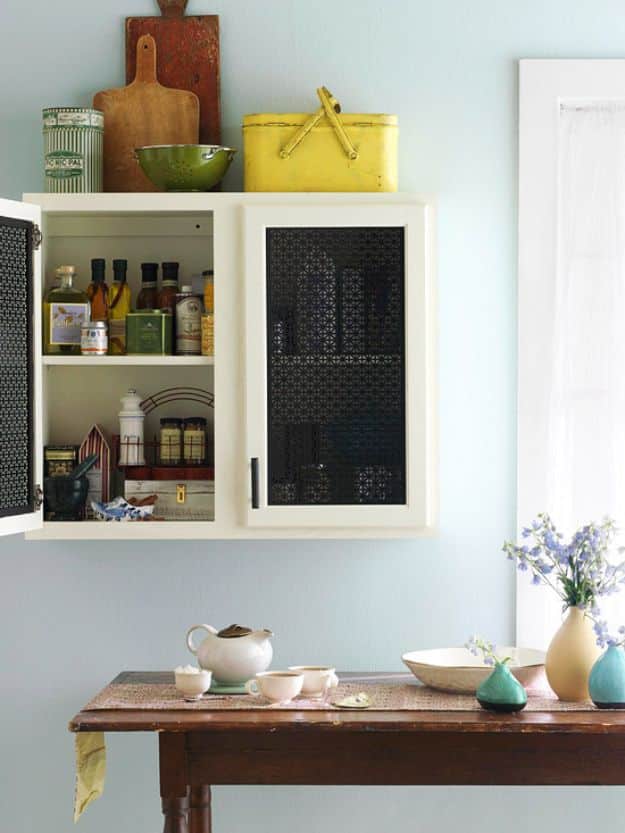 If you're looking to update your kitchen cabinet, metal inserts are a fun way to do so. It gives off an industrial vibe and will instantly breath new life into the kitchen. Patterned sheet metal like this radiator cover gives a fresh yet vintage vibe to a cabinet door.
4. Wallpapered Cabinet Door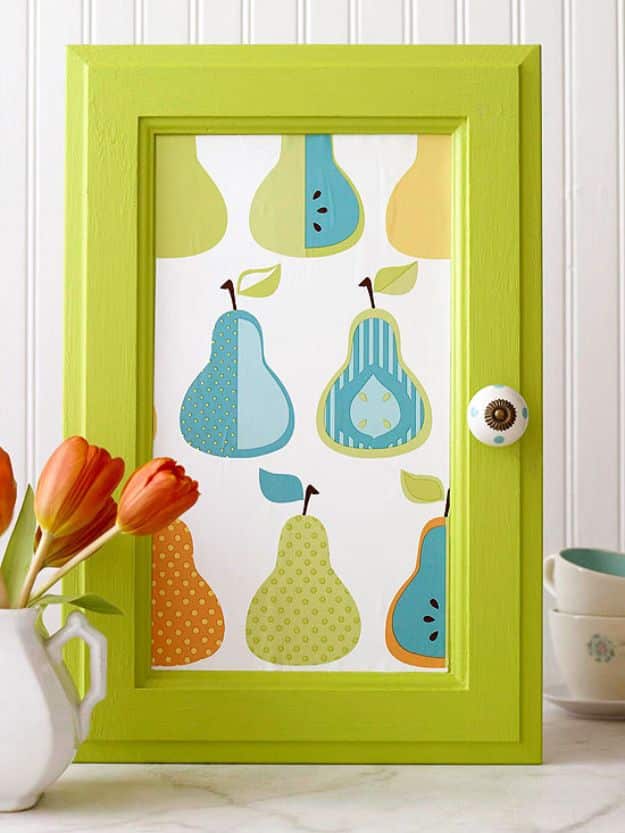 For a very quick remodeling project, and an inexpensive project to do, you can either repaint, or add wallpaper to your cabinet doors. Transform your kitchen cabinets with a fun wallpaper. Learn how to add wallpaper to your cabinet doors with this quick and easy DIY project tutorial from BHG.
5. Creative Hidden Storage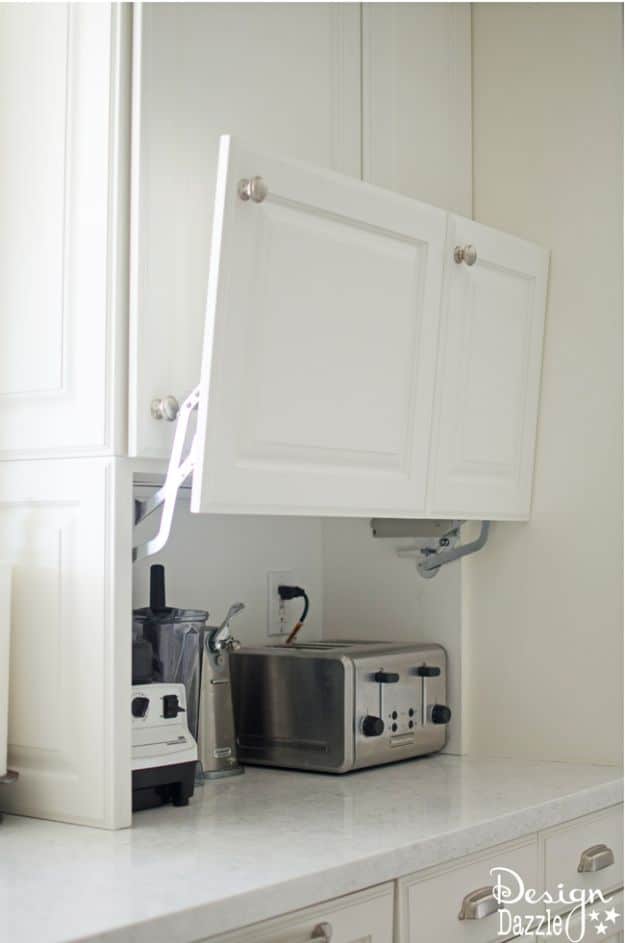 Look at how sleek this creative hidden storage is! I just love the fact that the door hasn't made it inconvenient to access the appliances that get used frequently. Having uncluttered counters is important to me because I just don't like the way it looks to have all these big, clunky tools sitting out for everyone to see. And that is why this post from Design Dazzle is such a good read.