Is your kitchen desperately in need of a makeover, namely the cabinets? When it comes to kitchens, cabinets are definitely one of the most important, and sometimes overlooked parts. Kitchen cabinets, especially new ones, can be super expensive. However, they need not be if you get creative and add a little DIY effort into the mix. We put together 34 of our favorite DIY ideas for kitchen cabinets so you could see for yourself. These inexpensive home improvement projects are yours for the making, see for yourself. From refacing existing cabinets to building new ones, you are sure to find some awesome ideas here.
DIY Kitchen Cabinet Ideas
1. Fabric Backed Open Kitchen Cabinets
Refresh the look of your kitchen cabinet by updating it with fabric at the back. All it takes is a $25 worth of supplies and you can re-create this glamorous update in the kitchen. Read the full tutorial from Pretty Handy Girl to learn how it's done.
2. Chalk Paint Kitchen Cabinet Refresh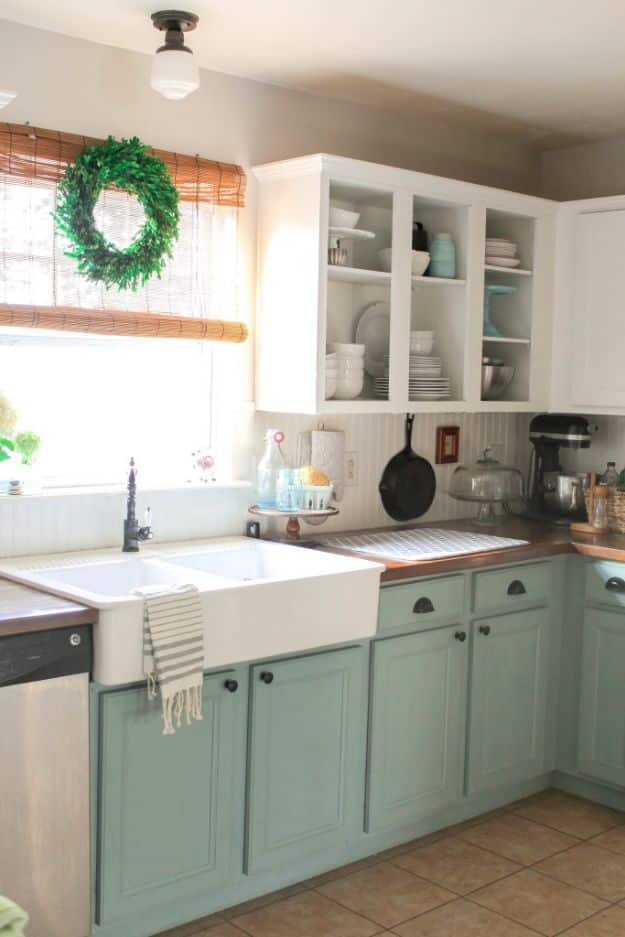 Don't you just love the richness of the color from chalk paint? I honestly think it's a great way to update the look of your kitchen cabinet. It really matches the farmhouse style so well. Lovely kitchen, indeed!
3. Rustic Modern RV Kitchen Cabinet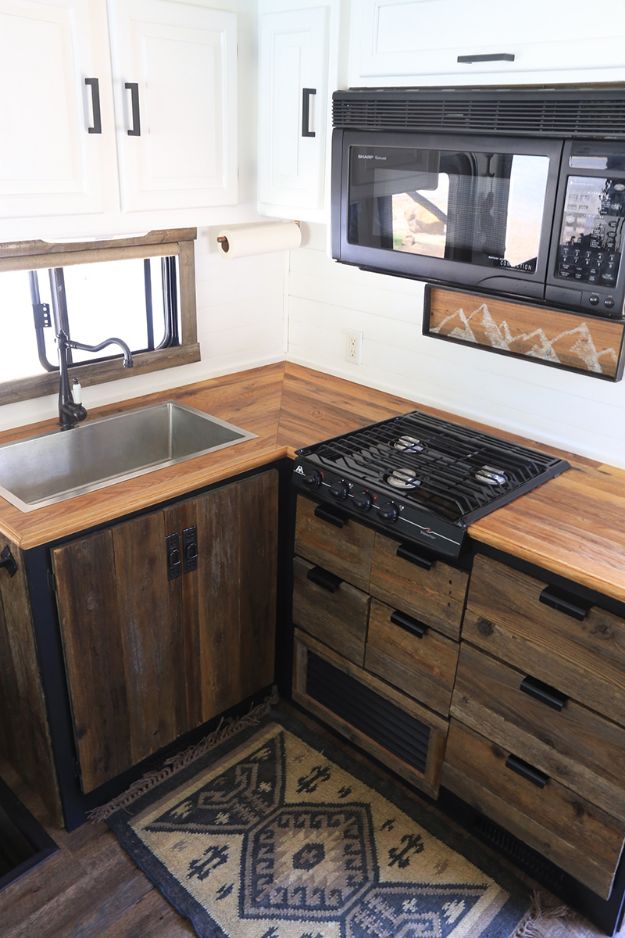 Oh wow, this reclaimed wood kitchen cabinet came out really great! Another great way to refresh your old kitchen cabinets. Spruce up the kitchen and give it a home-y appeal with this unconventional and cool design. Mountain Modern Life will show you how it's done.
4. DIY Shaker Style Cabinets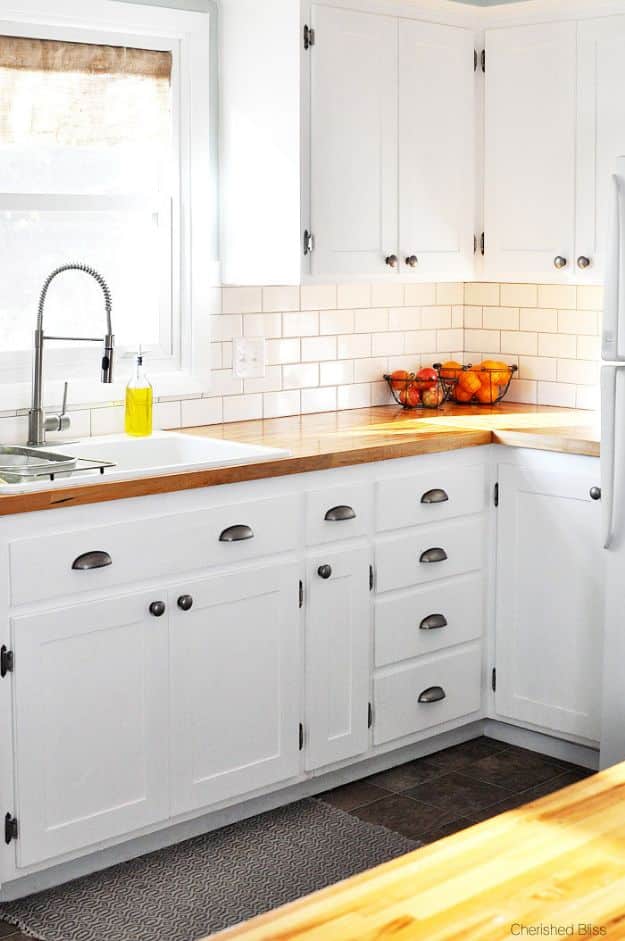 This shaker style cabinet might just be my favorite on the list. With its sophisticated look and classy appeal, your  cabinet makeover will surely be the most impressive. It's always cost effective if you just update rather than completely replace them. Read the full tutorial on Cherished Bliss to learn the full details of this project.
5. Cabinet Towel Bar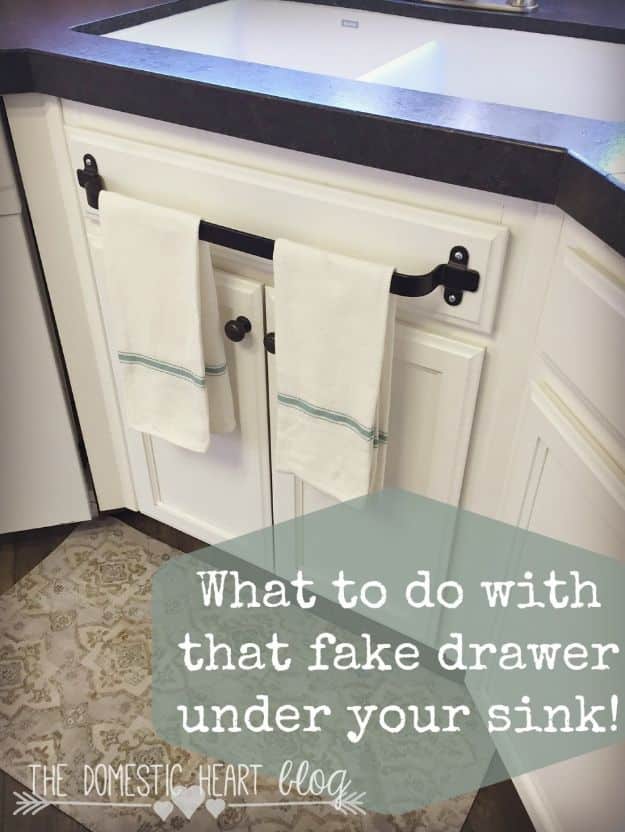 What a clever idea to put towel bars on the kitchen cabinets! I love that it does not only look pretty industrial but it's functional too. I am completely sold into this idea and might just try it on my upcoming kitchen makeover.
6. Add Glass to Cabinet Doors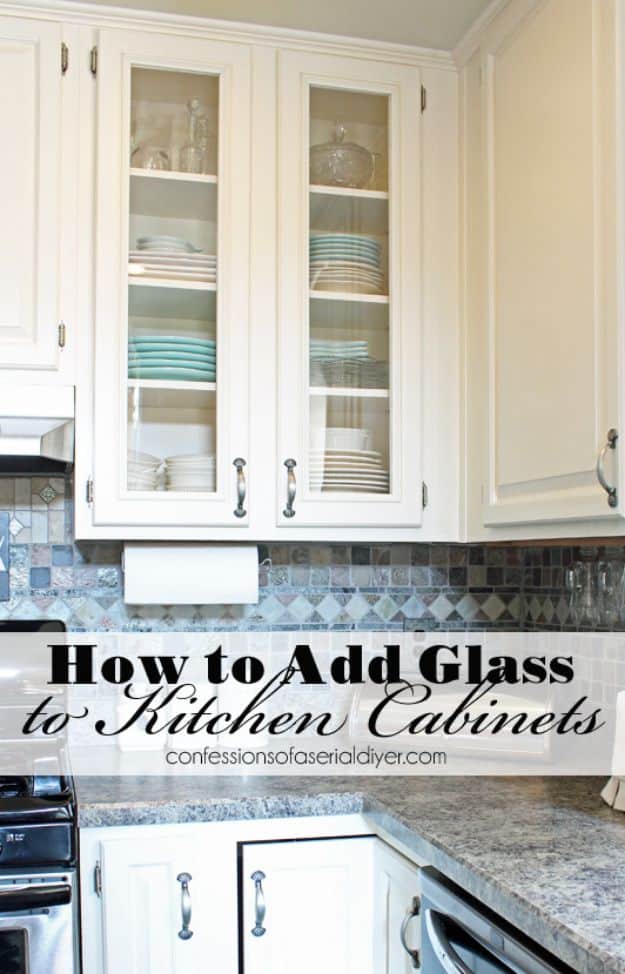 Replace kitchen panels with glass and see the huge difference it would make in your kitchen. The panels brought a level of brightness that makes the whole space airy and inviting. They did a great job with this makeover.
7. Grey Painted Kitchen Cabinets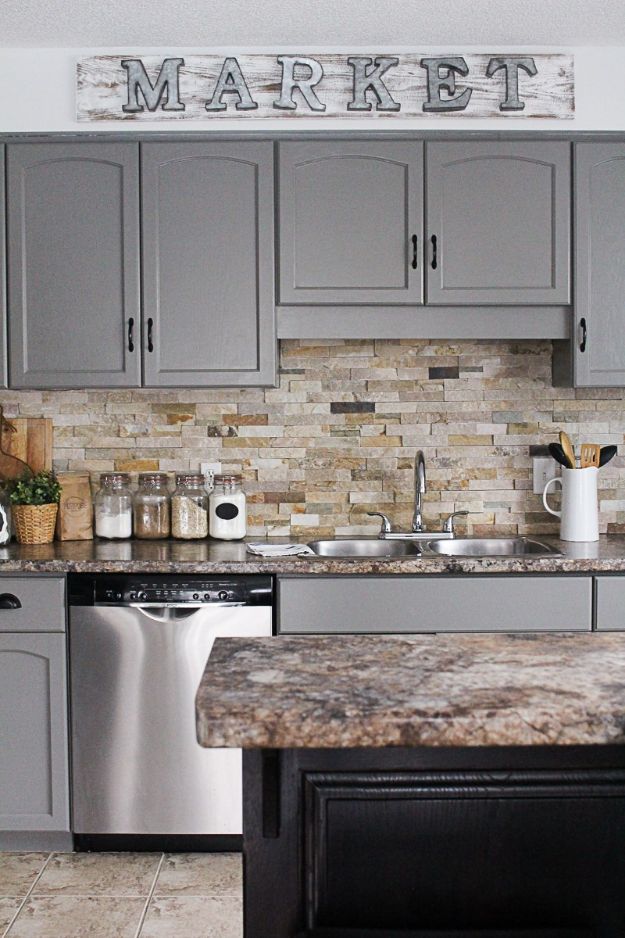 Transform your kitchen area just by painting the cabinets. Plus it's going to save you a lot of money if you do it yourself. I have been wanting to re-paint my cabinets but I kind of think it was going to be a tough job. Looking at this tutorial, I now have the motivation and courage to do it! I can't wait to tackle this project next month.
8. DIY Upper and Lower Cabinet Lighting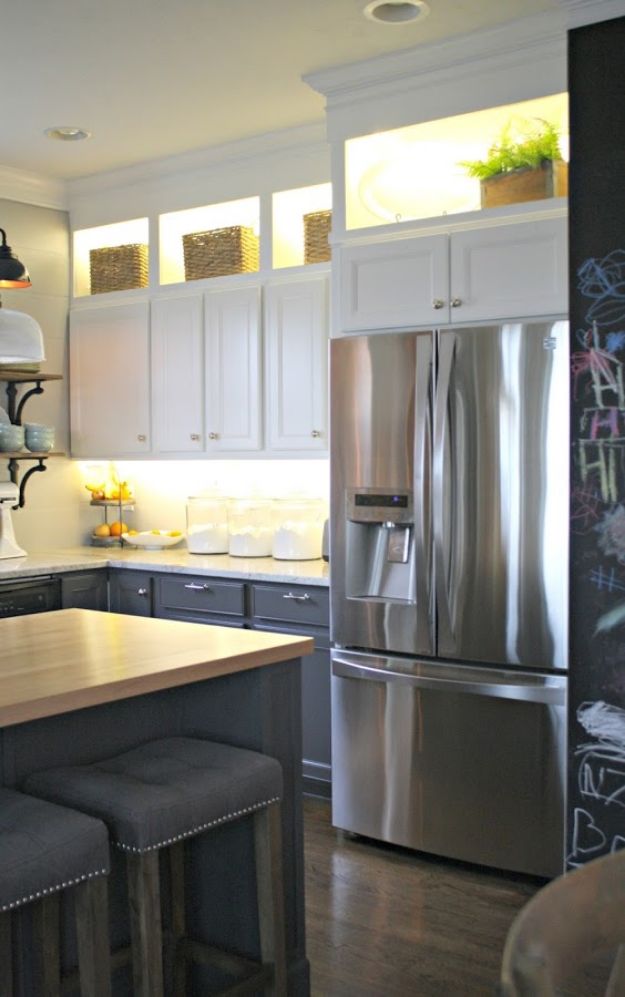 Okay, so this project looks a little intimidating but look at the result. It's too beautiful. I never imagined this is just accomplished by installing some rope lighting. Another great idea to keep in mind when renovating the kitchen and giving it a fresh new look. Let Thrifty Decor Chick guide you on this DIY.
9. Budget Cabinet Makeover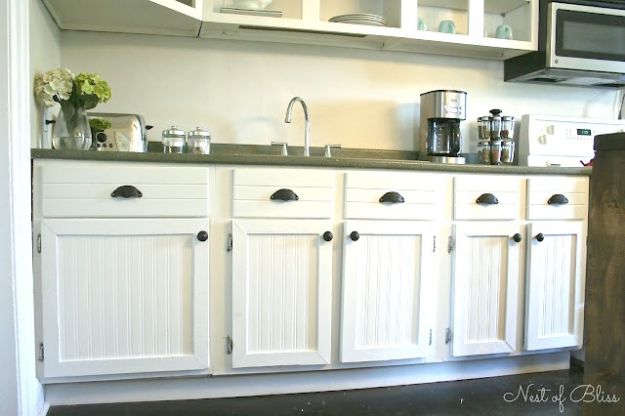 If you are low on budget you can still find ways to update your kitchen cabinet. I read this post from Sand and Sisal and it talked about getting the cabinet walls sturdier just by thickening the board frames and updating the look of the entire cabinet.
10. Upcycled Barnwood Style Sideboard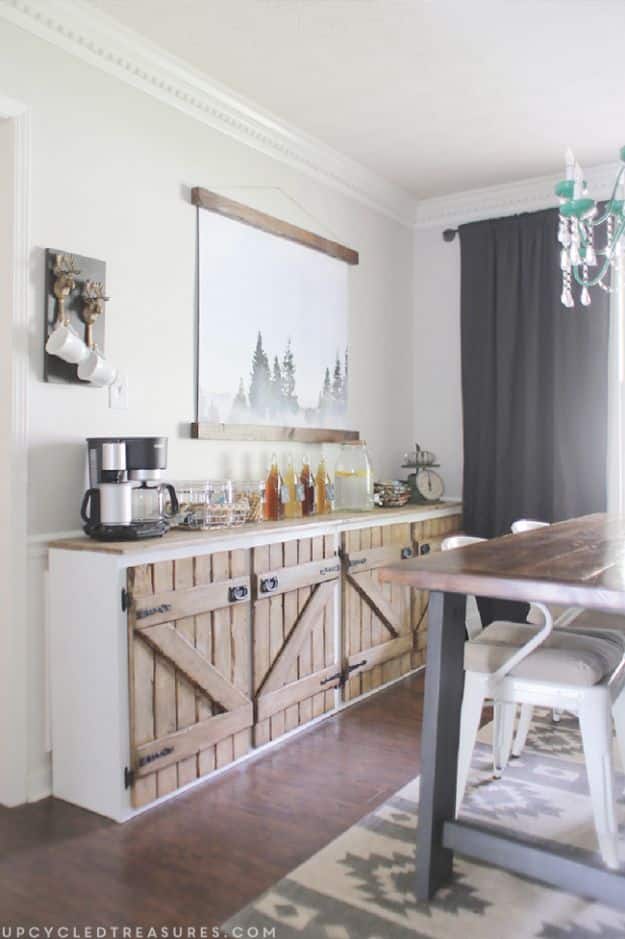 If you are fond of the farmhouse style, this kitchen cabinet upcycle is definitely for you. Fall in love with the simple yet rustic design of this kitchen cabinet. This is really a fabulous transformation and Mountain Modern Life is crazy talented by coming up with this idea.
11. DIY Kitchen Cabinet Door Organizer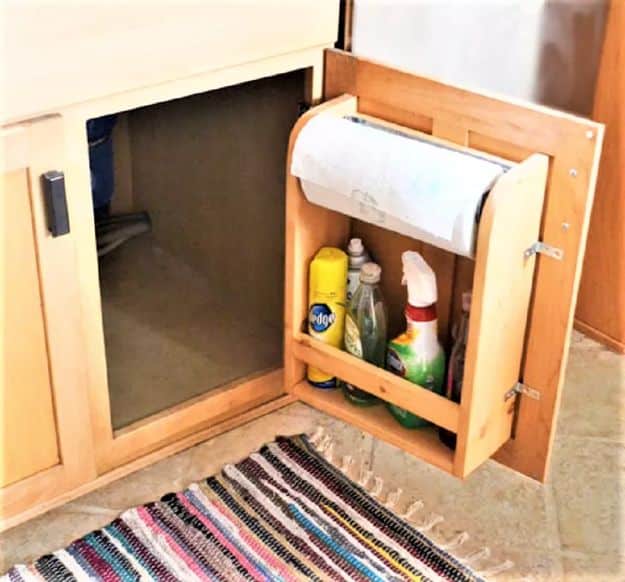 12. Painted Kitchen Cabinets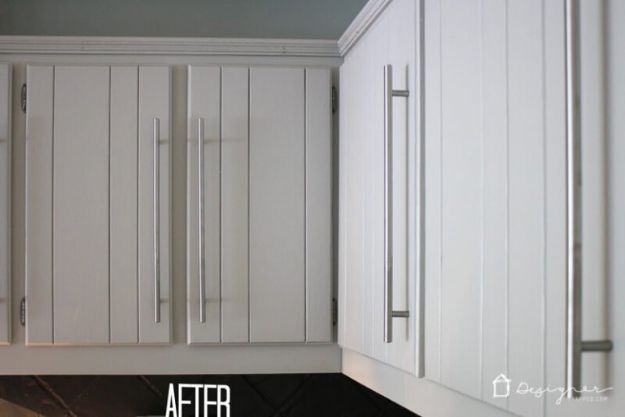 13. Paint Kitchen Cabinets without Professional Equipment
14. Base Cabinet for the Kitchen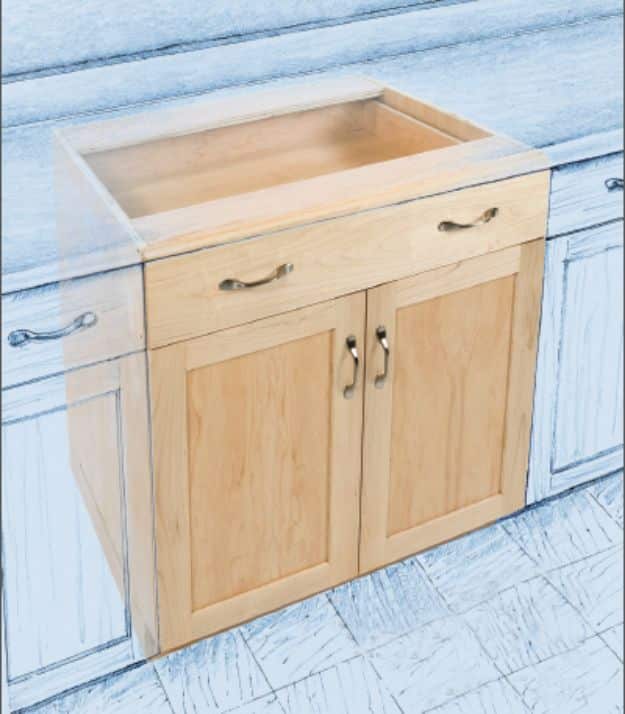 15. Painted Kitchen Cabinets The Easy Way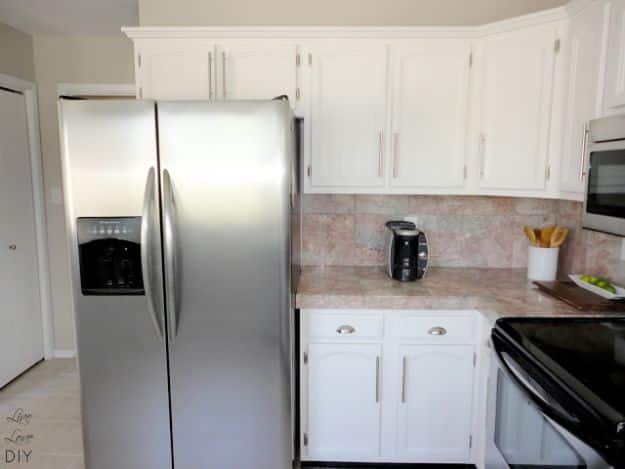 16. Build a Basic Wall Cabinet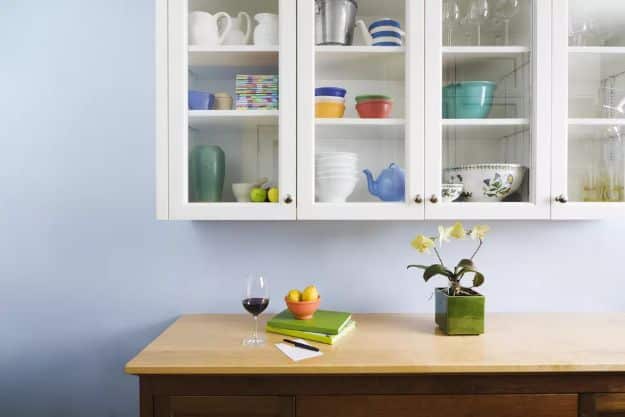 17. Open Shelf End Wall Cabinet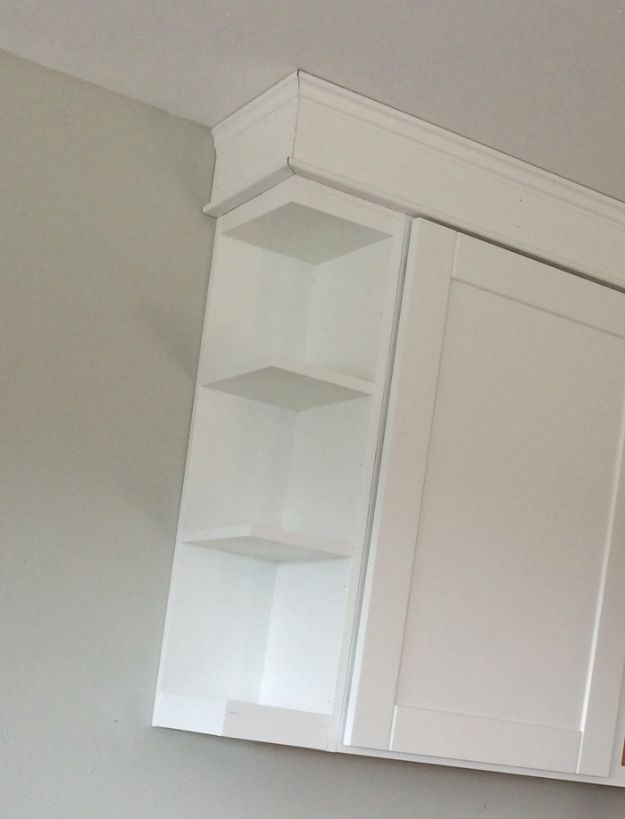 18. Install A Pull-Out Garbage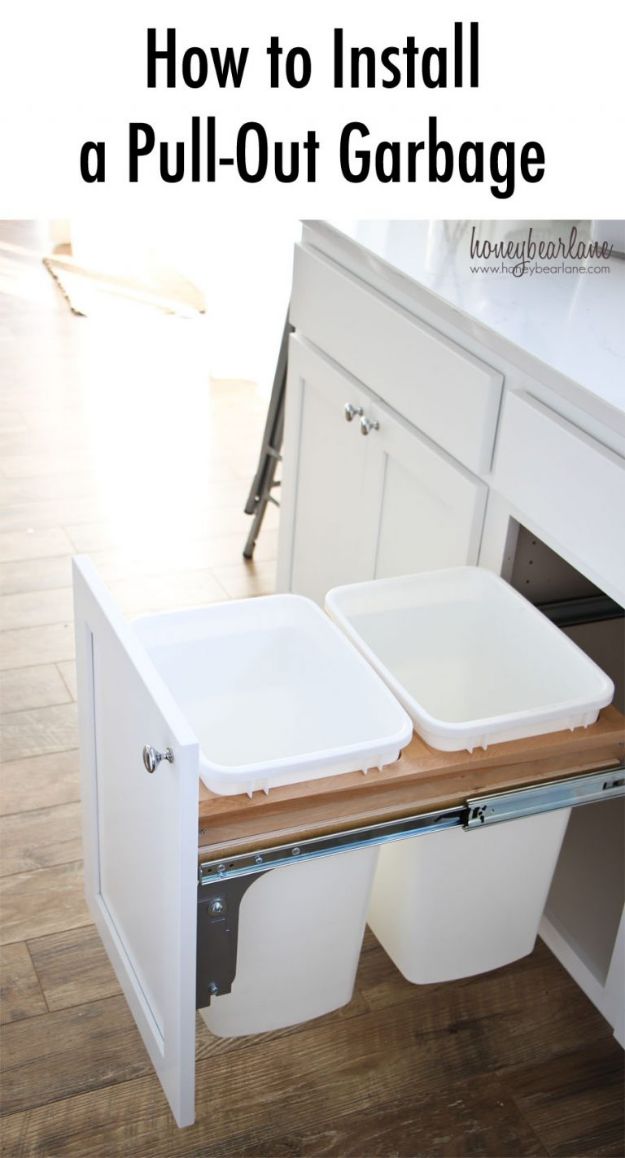 19. Build Custom Kitchen Cabinets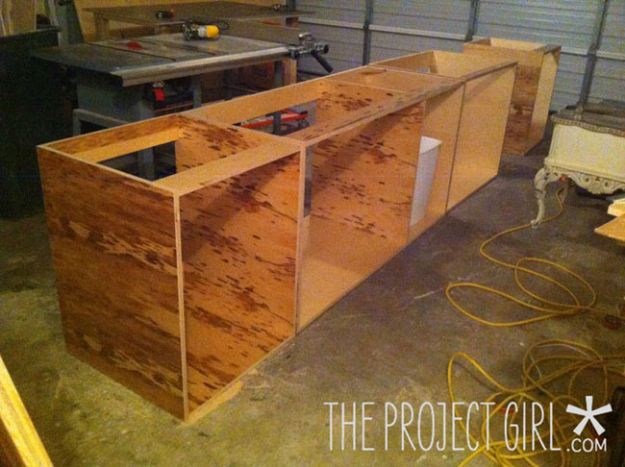 20. Frameless 30in Base Cabinet Carcass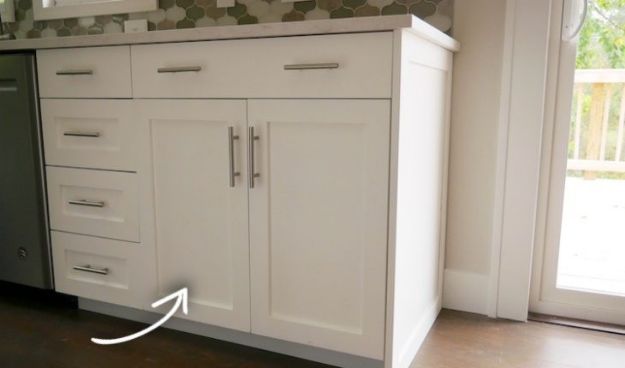 21. DIY Inexpensive Cabinet Updates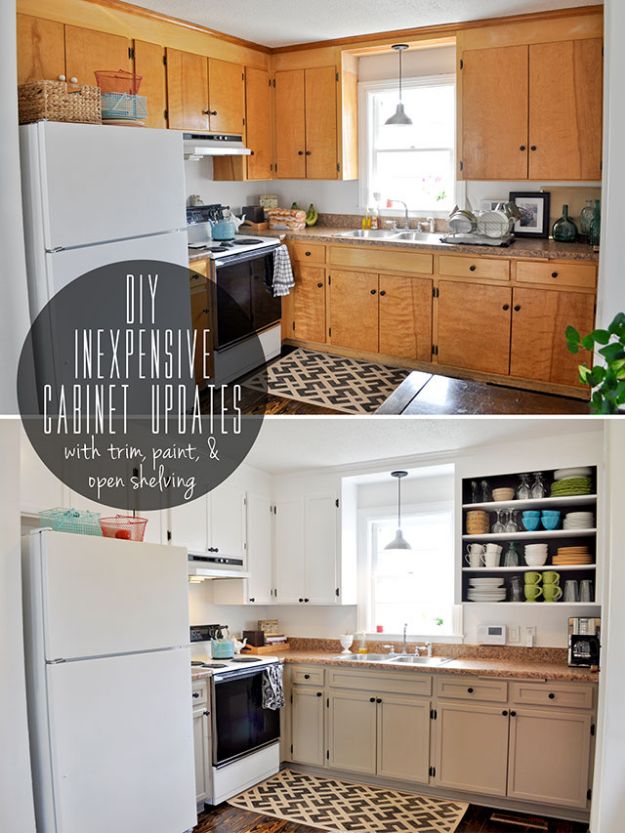 22. Build Your Own Kitchen Cabinets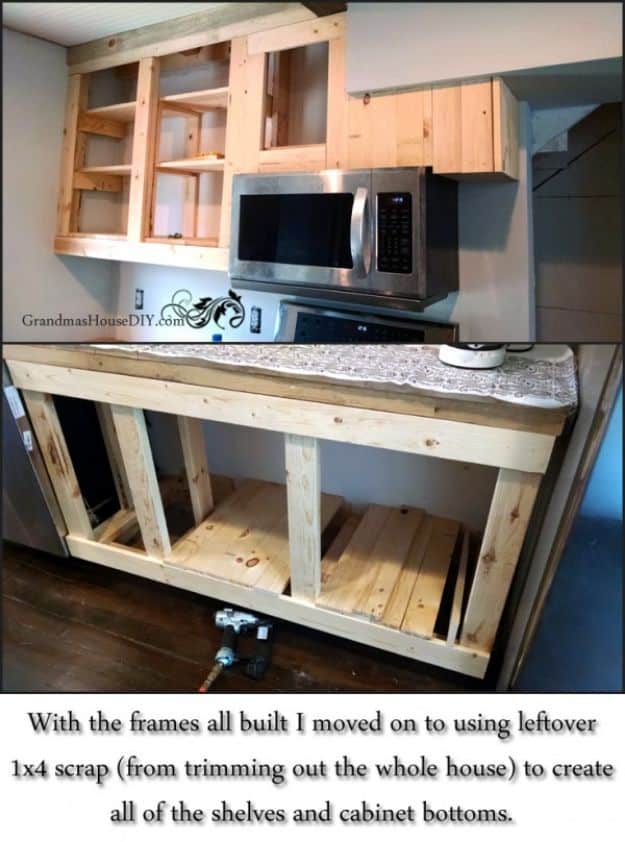 23. Kitchen Cabinet Facelift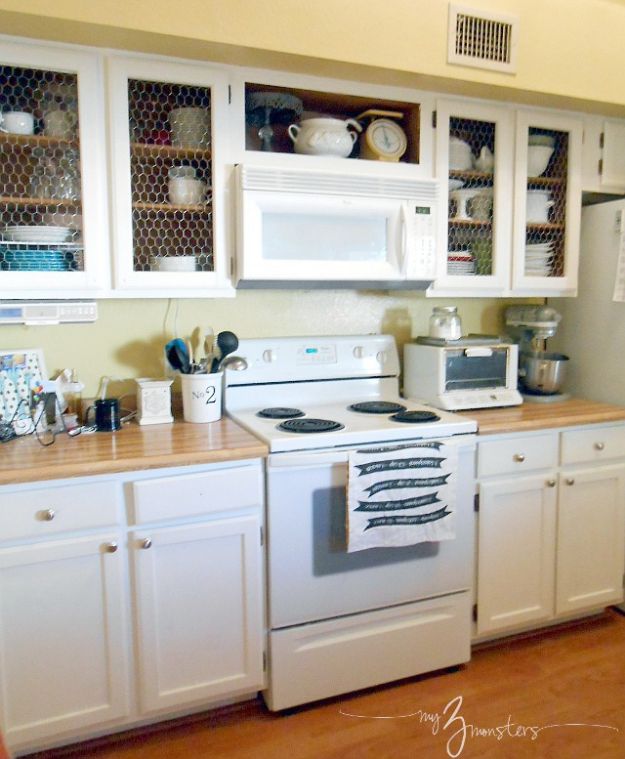 24. Kitchen Cabinets Up to the Ceiling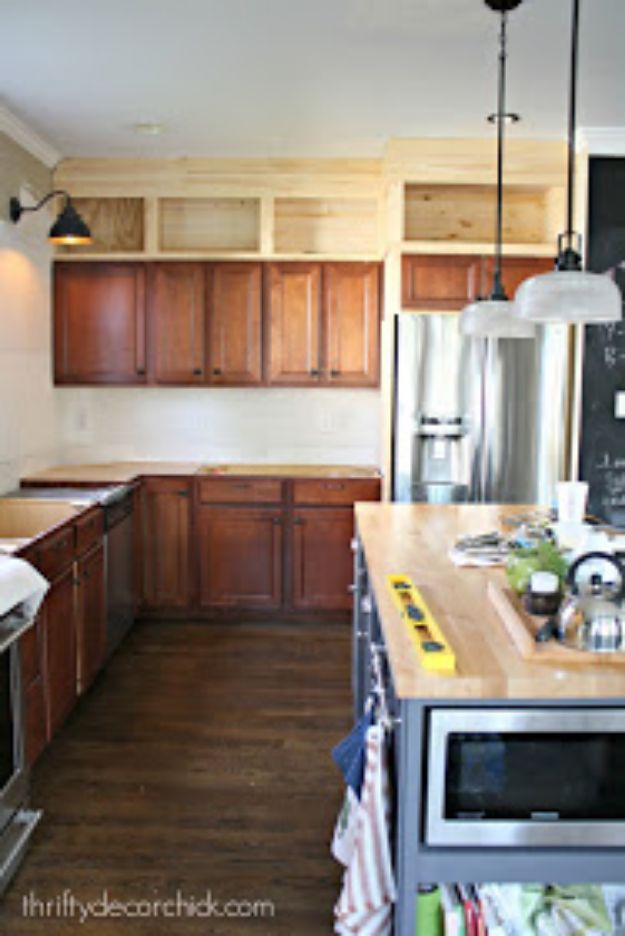 25. Kitchen Cabinet Accent

26. Update Your Dishwasher Cabinet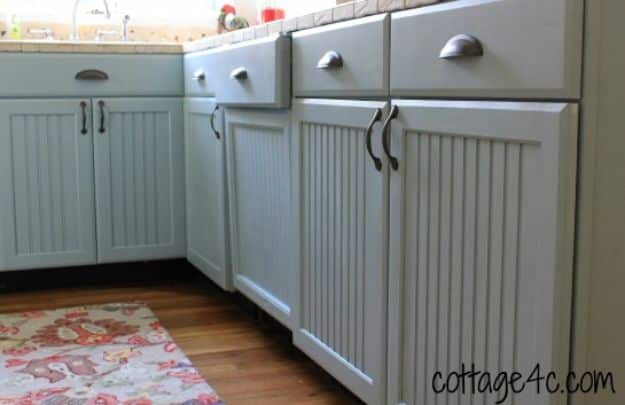 27. Plywood Upper Kitchen Cabinets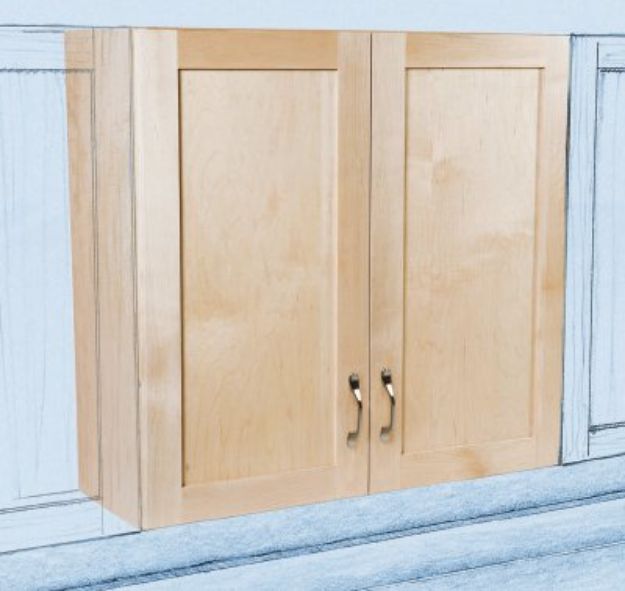 28. Fixer Upper Inspired Kitchen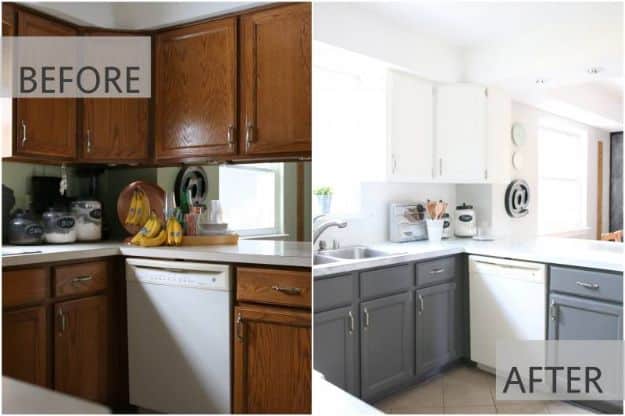 29. DIY Canned Food Organizer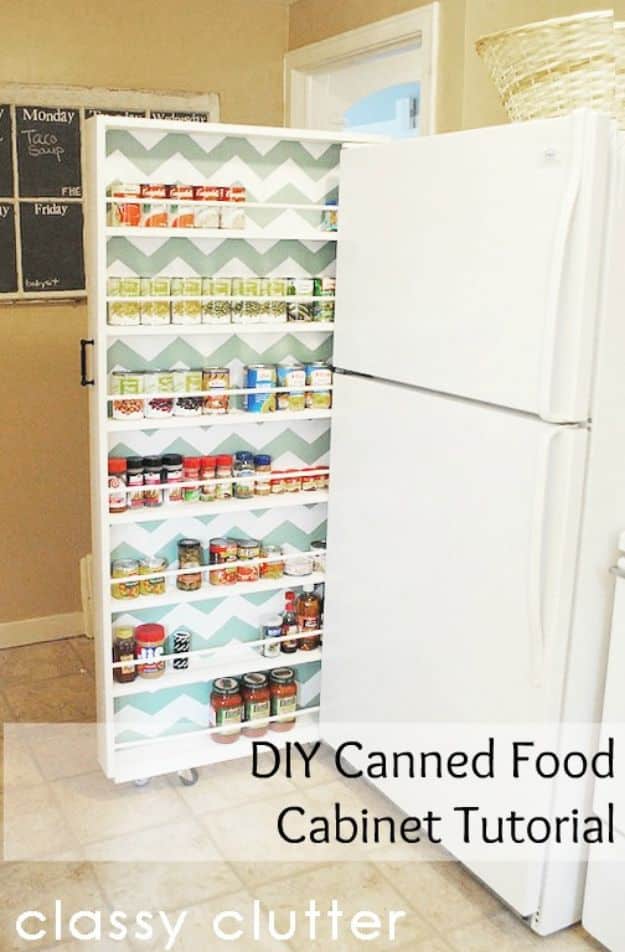 30. Refinishing and Cleaning Kitchen Cabinets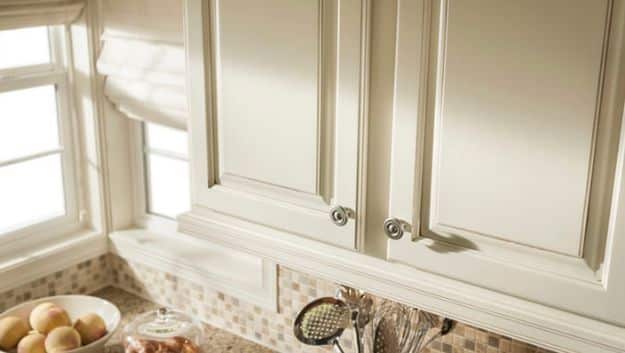 31. Beadboard Wallpaper Cabinet Refresh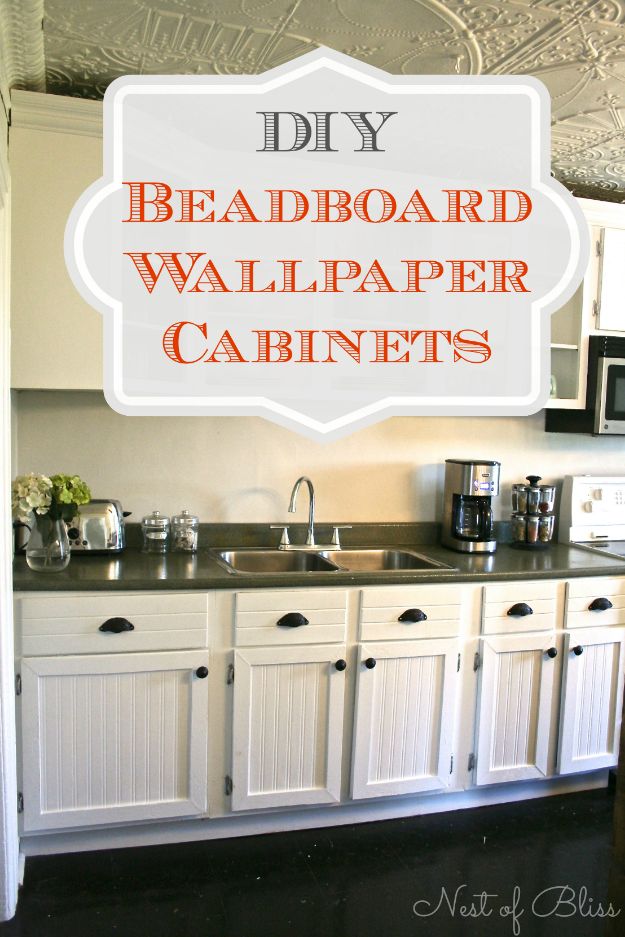 32. Easily Paint Kitchen Cabinets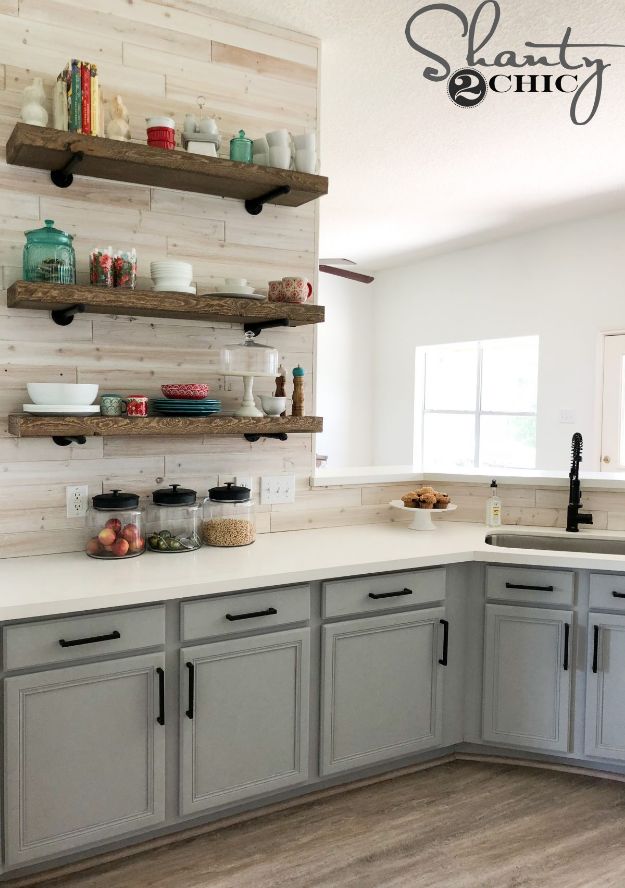 33. Lower Cabinet Drawers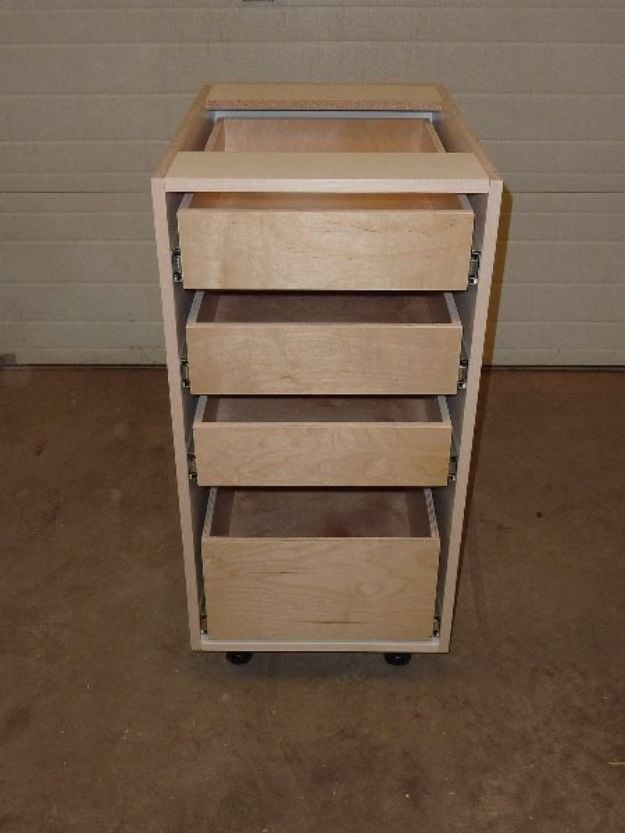 34. Pull-out Drawers in Cabinet above Fridge