Is the soap you keep at your sink an afterthought? Last month, I realized I'd spent all this time updating my kitchen, with cute DIY decor and freshly painted cabinets, only to notice that my soap dispenser was still the ugly bottle the soap came in at the store. It looked completely out of place and made me feel a little embarrassed to see when compared to my other lovely kitchen decor. I went on the hunt to make some DIY soap dispensers for both my kitchen and my bathrooms. I was thrilled to find some amazingly cute and creative ideas, so I wanted to share the best ones with you. If you need an easy DIY gift for Christmas, these clever DIYs will fit the bill nicely. Make a few for yourself and a few to give. Happy crafting!
DIY Soap Dispensers
1. DIY Minimal Soap Bottles
Are you fond of sticking stickers on anything? If your answer is yes, then this is the perfect craft for you. Look at how chic these babies turned out! The oversized graphics look awesome. I must say, simple DIY ideas are always the best. Such a great idea and so inspiring, I think it would also make a great personalized gift.
2. Easy DIY Soap Dispenser from Liquor Bottle
DIY Soap Pump Dispenser From Liquor Bottle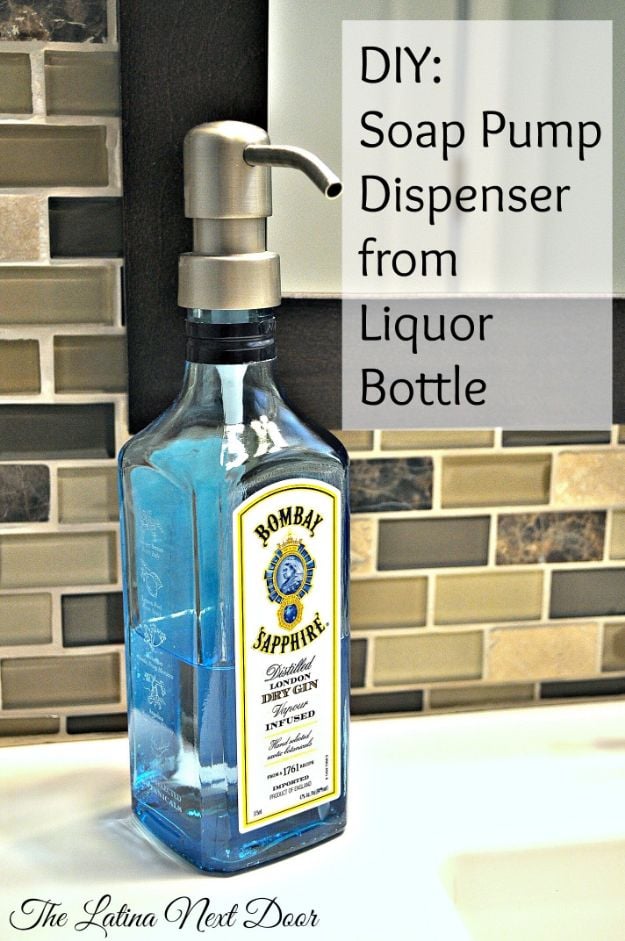 Have you ever noticed that alcoholic beverages come in the prettiest bottles? So after the booze is all gone, you can turn these pretty bottles into something functional. And this liquor bottle soap dispenser is one of its many uses. Loving the color on this one too!
3. Snow Globe-Inspired Soap Pump
Got zero crafting skills? The snow globe inspired soap pump is so easy and so cute it can be used all year long with different items. I particularly love the jute twine details that got finished off with a bow on the pump. Such a brilliant idea!
4. Faux Etched Glass Soap Dispenser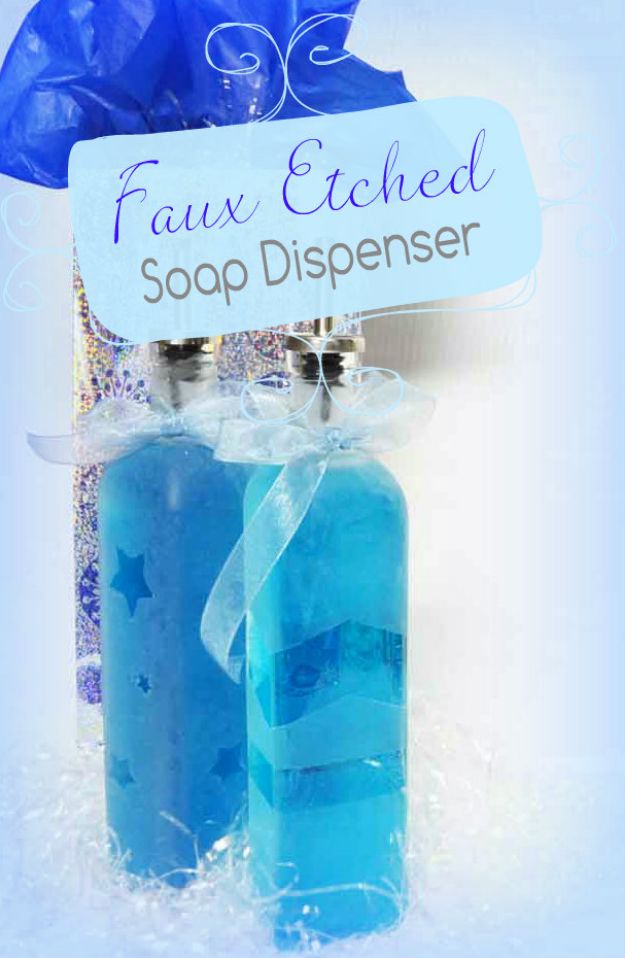 I have always been fascinated with etched glass items, be it votives or simple jars. Coming across this blog which talks about "faux etching", my interest was piqued. So if you're looking for a fun, fast and frugal way to store your dish soap, try making this one. Bonus tip: it can also make a beautiful present.
5. DIY Animal Print Soap Dispenser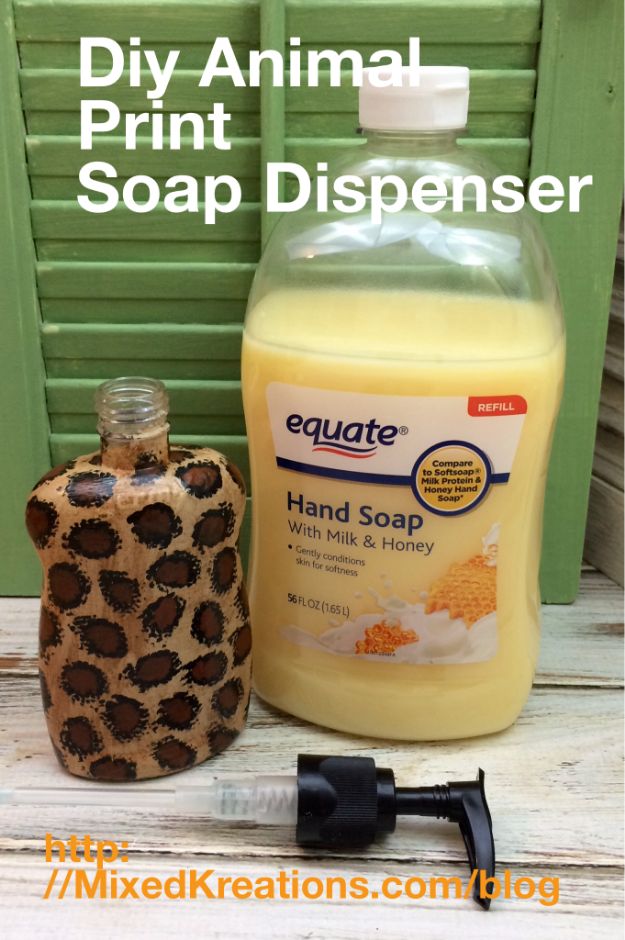 Okay, so this is something that would turn your boring and ugly store bought soap dispenser into something that is just way too fun and oh so creative! I am a sucker for animal prints and I am in love with this brilliant idea. I also like the idea of being able to reuse the soap dispenser instead of throwing it out. Trying this idea very soon.
7. Easy DIY Nautical Dish Soap Bottles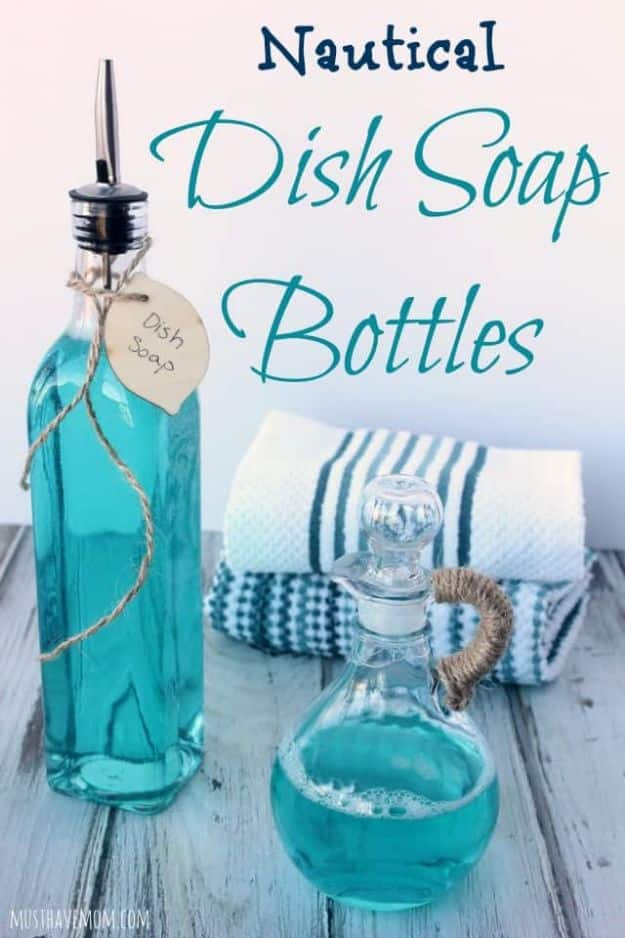 Everyone deserves and appreciates a pretty sink. After all, we spend so much time in the kitchen and in the sink so, why not make it pretty, right? And this nautical dish soap bottle is a perfect way to do just that. I simply love the blue contrasted with glass and burlap and would be a perfect addition in any beach house.
7. DIY Beer Bottle Soap Dispenser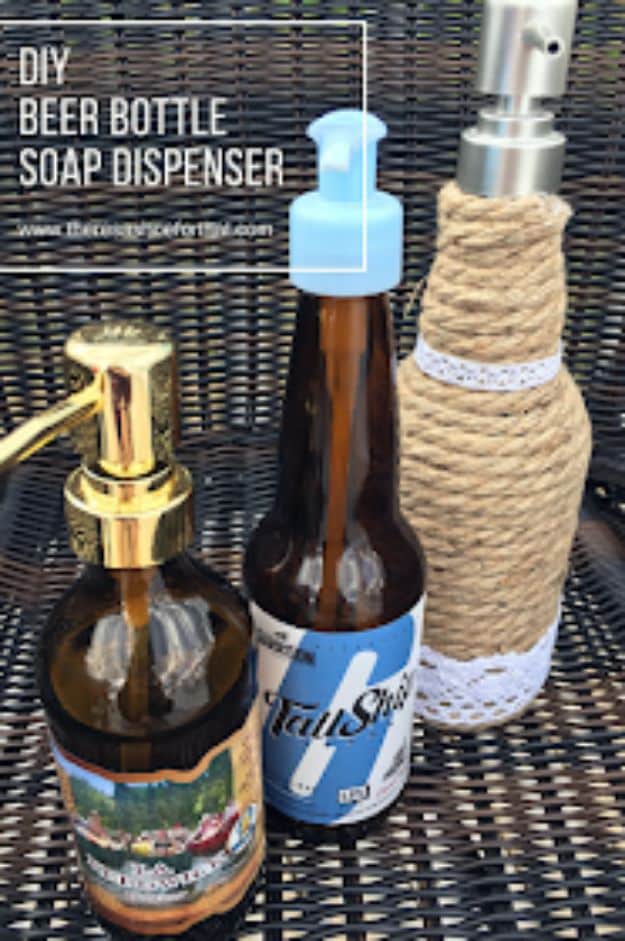 Don't throw out our beer bottles because you can turn them into something pretty like this Beer Bottle Soap Dispenser. There are only five steps in making your own so head on over to There's A Shoe For That for the complete tutorial.
8. Pickle Jar Soap Dispenser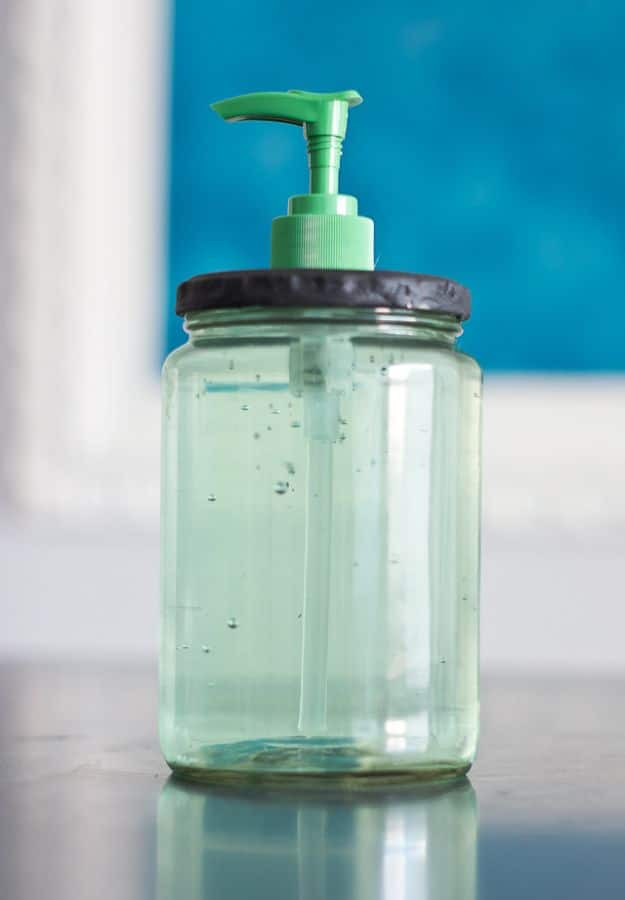 Another awesome way to recycle your old pickle jar! All you need is a jar, a pump from a plastic soap dispenser, a power drill, scissors, glue, and some paint. This is such a quick and easy weekend craft. Follow along the tutorial from Mox and Fodder to start making your own.
9. Soap Dispenser DIY Using Whiskey Bottle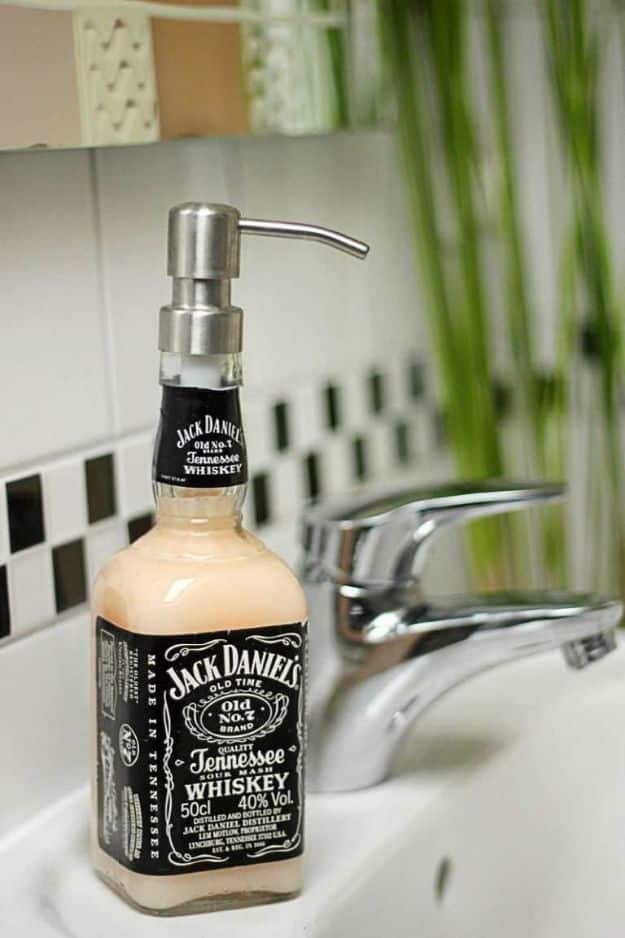 Do you have an empty Jack Daniel's bottle hanging around? Use it as a room decor by upcycling and turning them to this clever Soap Dispenser.  It makes for a great industrial, functional and useful addition to the kitchen sink or even the bathroom.
10. DIY Minnie Mouse Soap Dispenser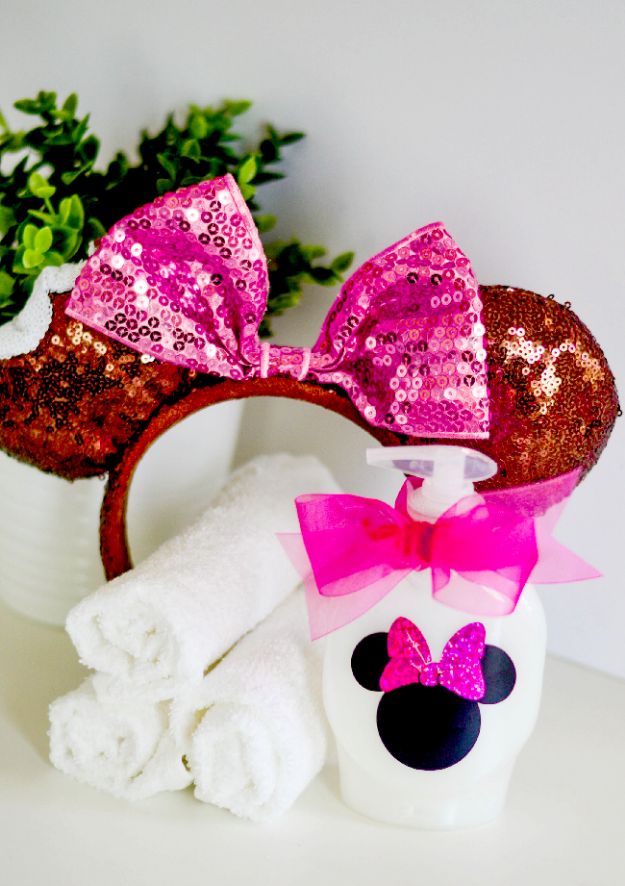 Keep things simple and easy by re-creating this Minnie Mouse Soap Dispenser. This is such a fun way to add some style to your boring soap dispensers. I am 100% sure the kids will love it. With just some free printables and a pink ribbon,  you'll be on your way to making this adorable piece.
11. Dollar Store Mason Jar Snow Globe Soap Dispensers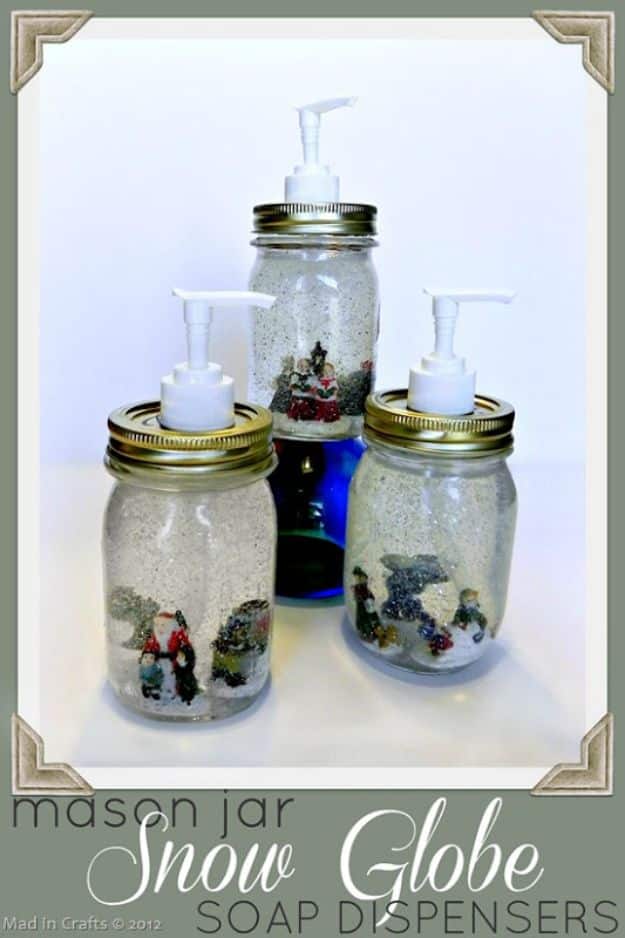 12. Easy DIY Mason Jar Soap Dispenser Foam Pump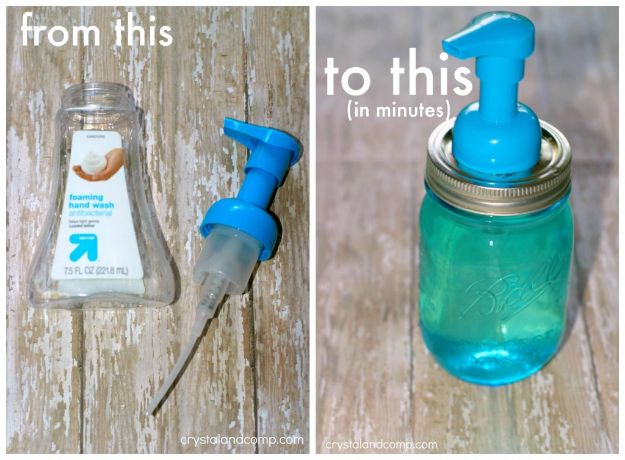 13. Nautically Inspired DIY Soap Dispenser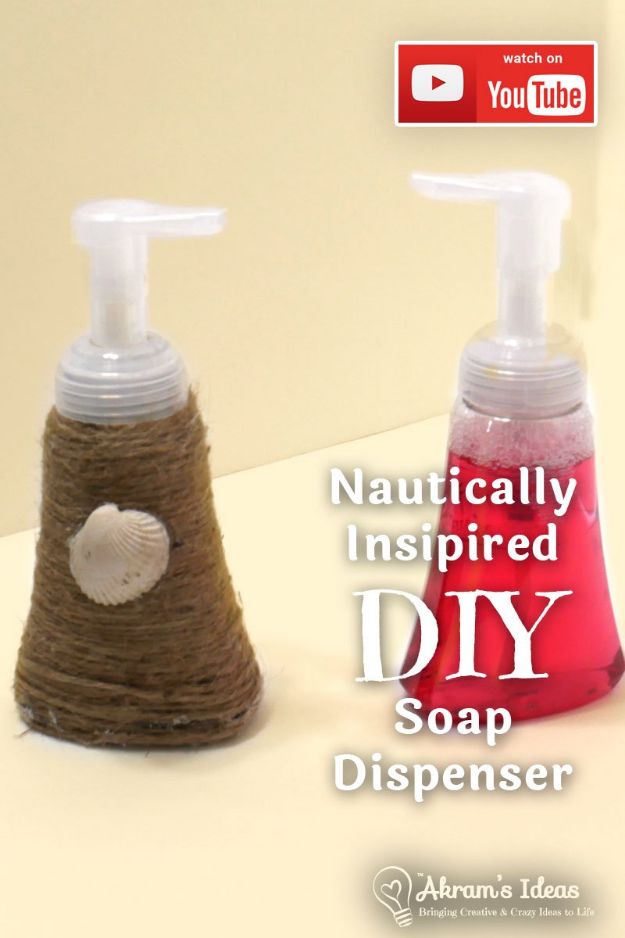 14. DIY Decorative Soap Dispenser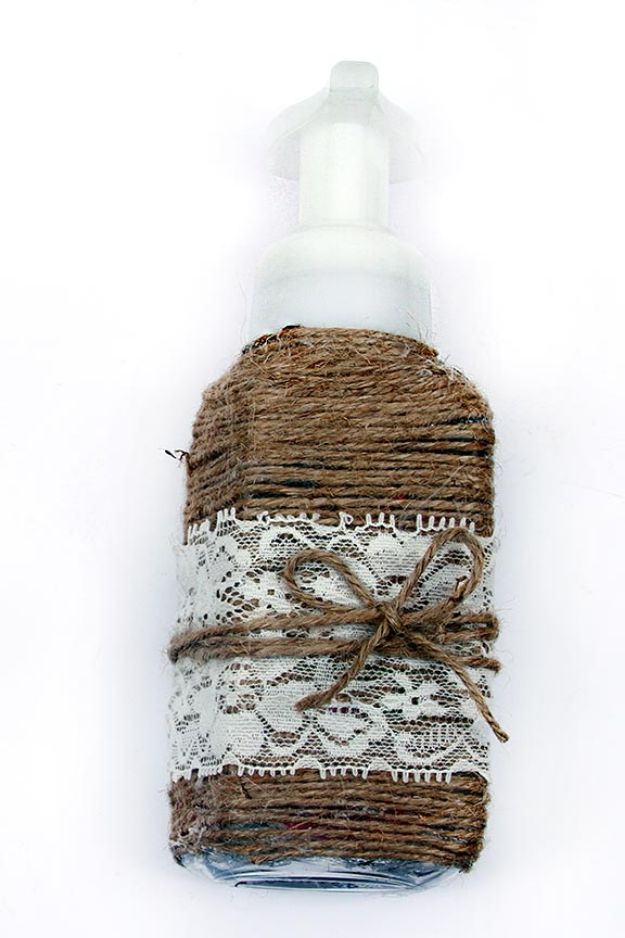 15. Embellished Soap Dispenser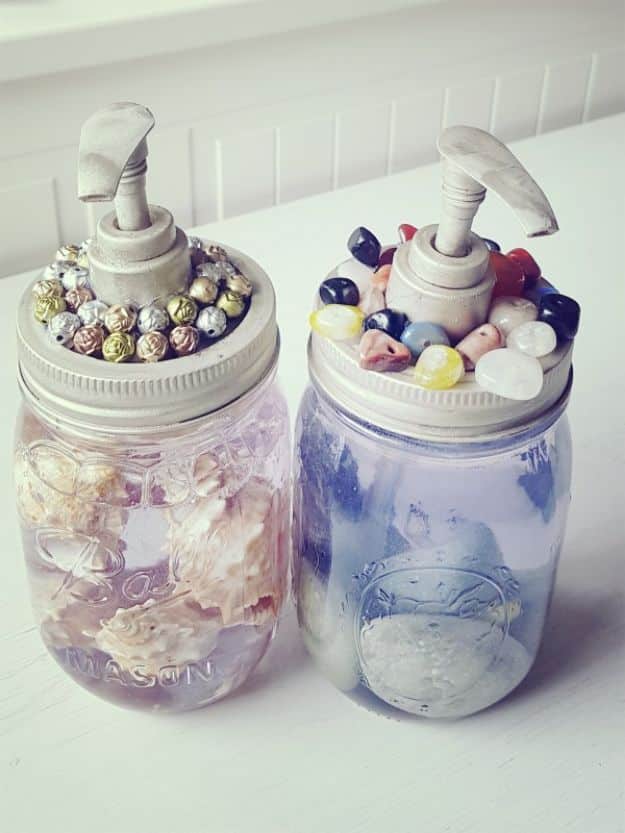 16. Mason Jar Foaming Soap Dispenser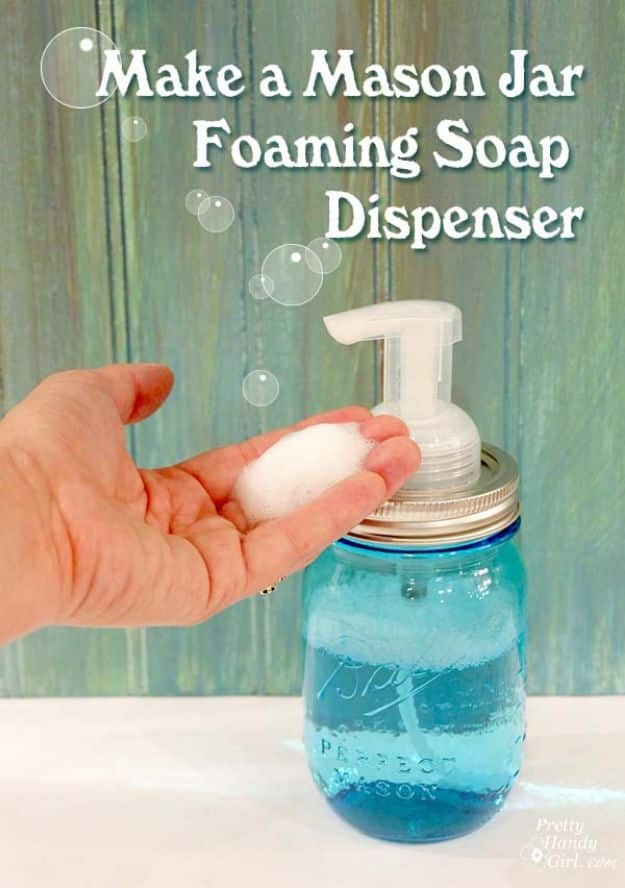 17. Soap Dispenser With Chalkboard Tags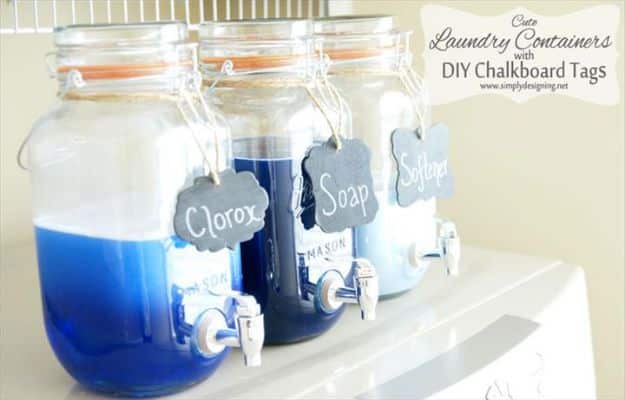 18. New and Improved Mason Jar Soap Dispensers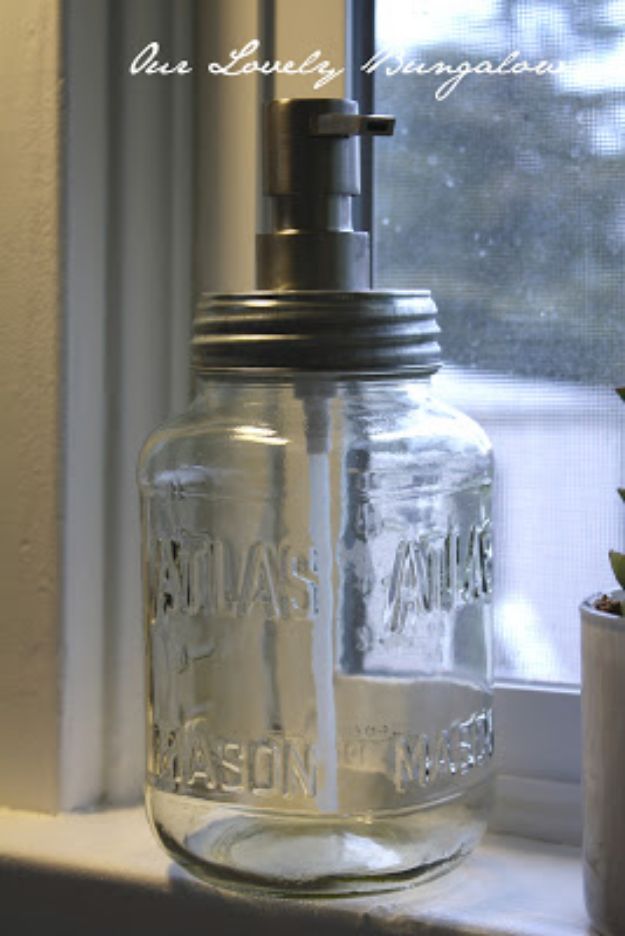 19. Lego Hand Soap Dispenser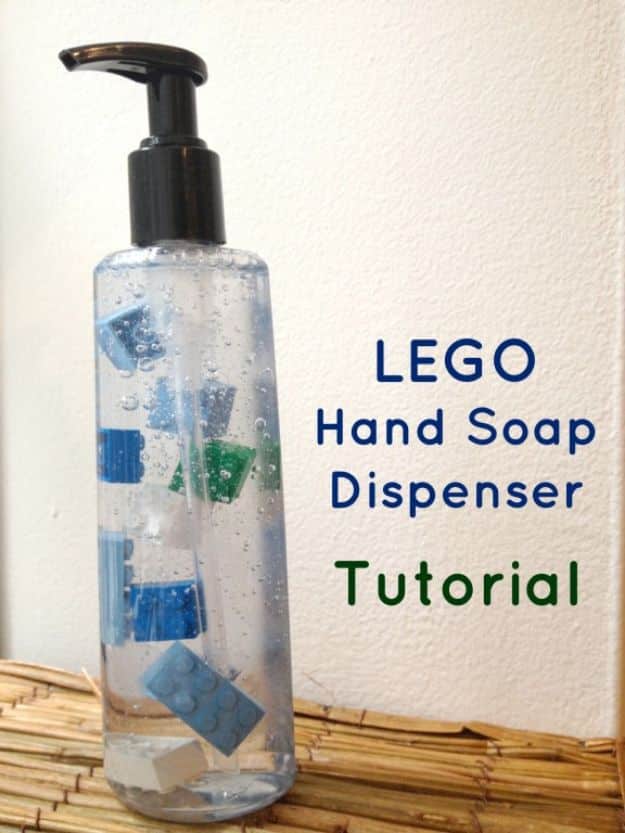 20. Painted Soap Pump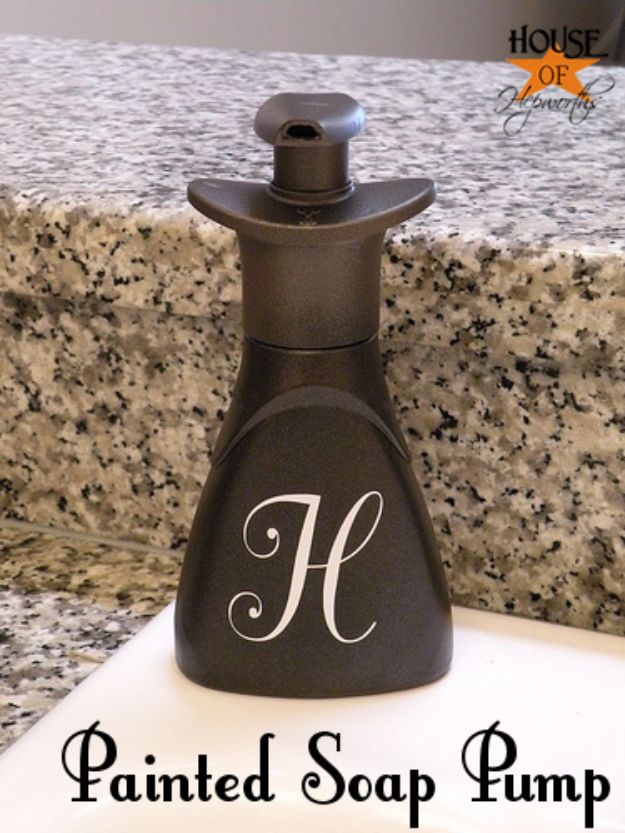 21. Chalk Painted Mason Jar Soap Dispenser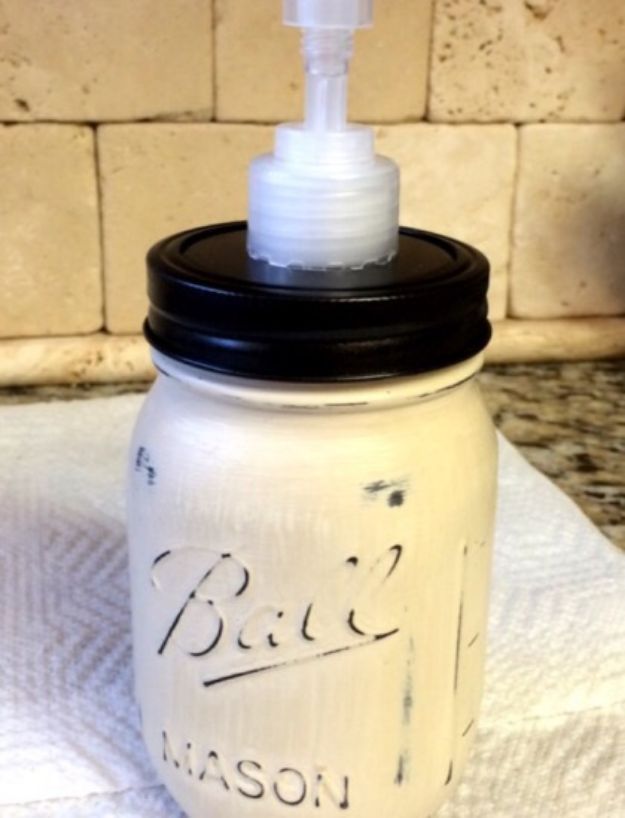 22. Up-Cycled Patron Bottles Soap Dispensers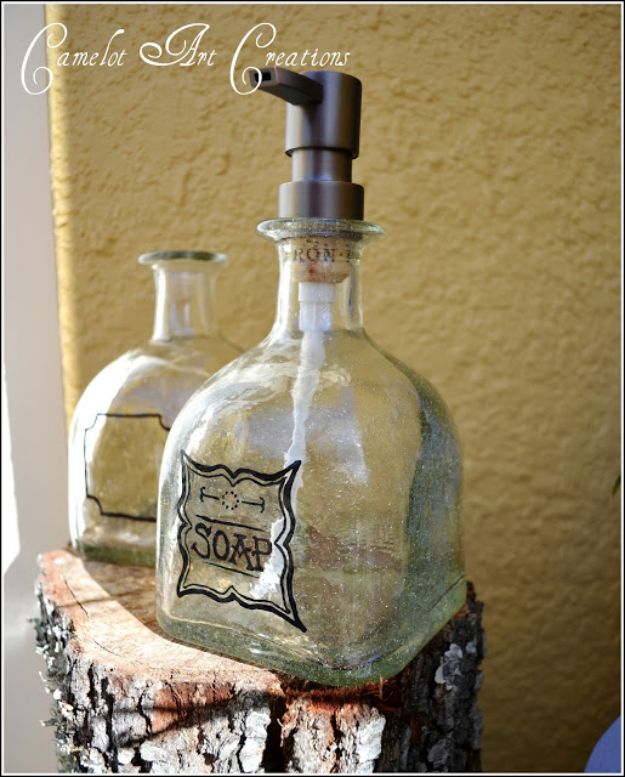 23. Decoupage Soap Dispenser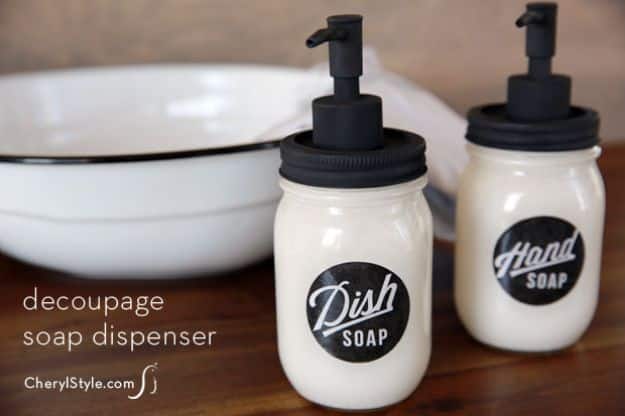 24. Flower Bottle Soap Dispenser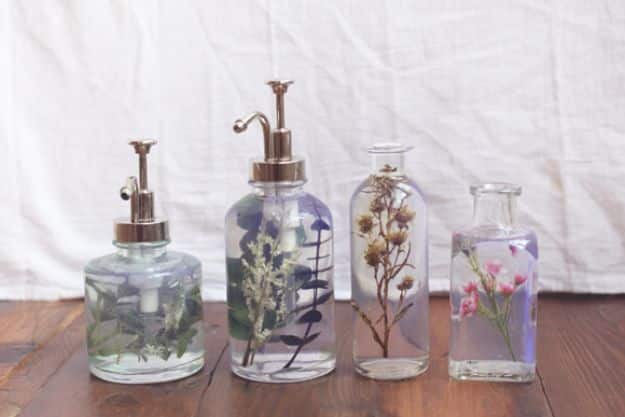 25. DIY Etched Wine Bottle Dish Soap Dispenser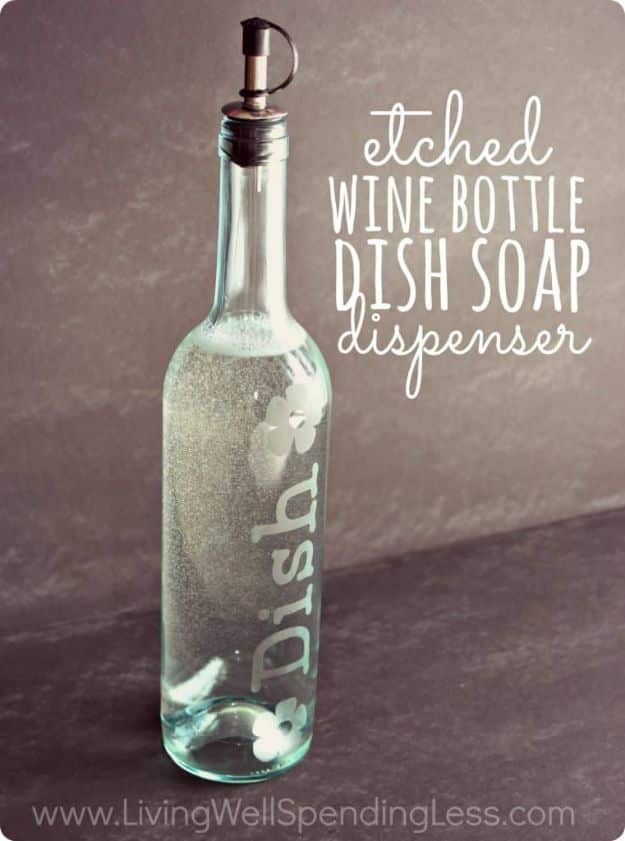 26. Olive Oil Bottle Dish Soap Dispenser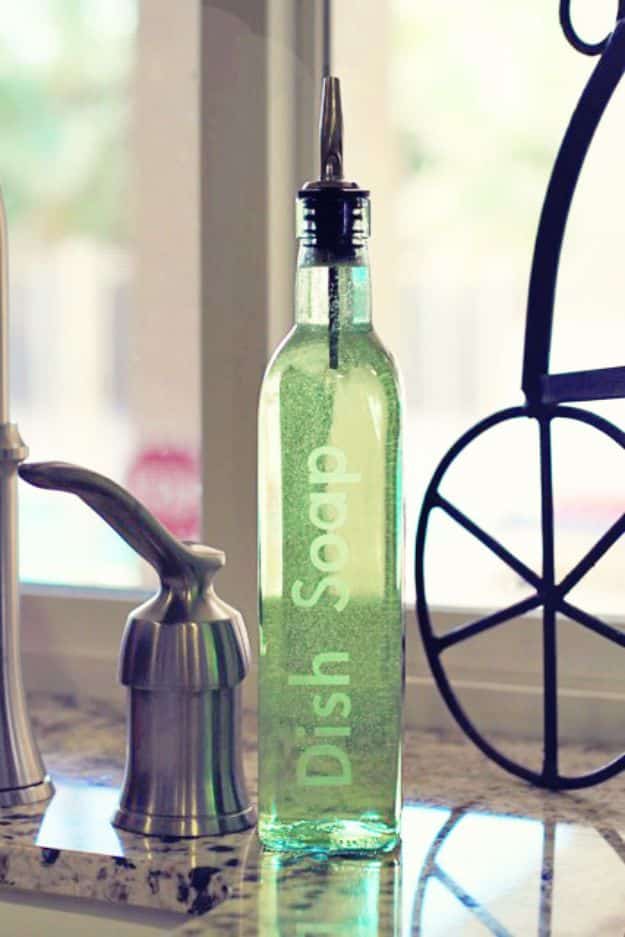 27. Bourbon Bottle Soap Dispenser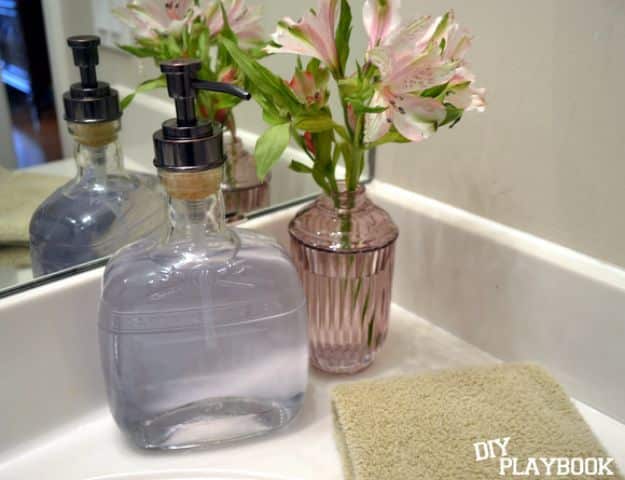 28. Mason Jar Soap Dispenser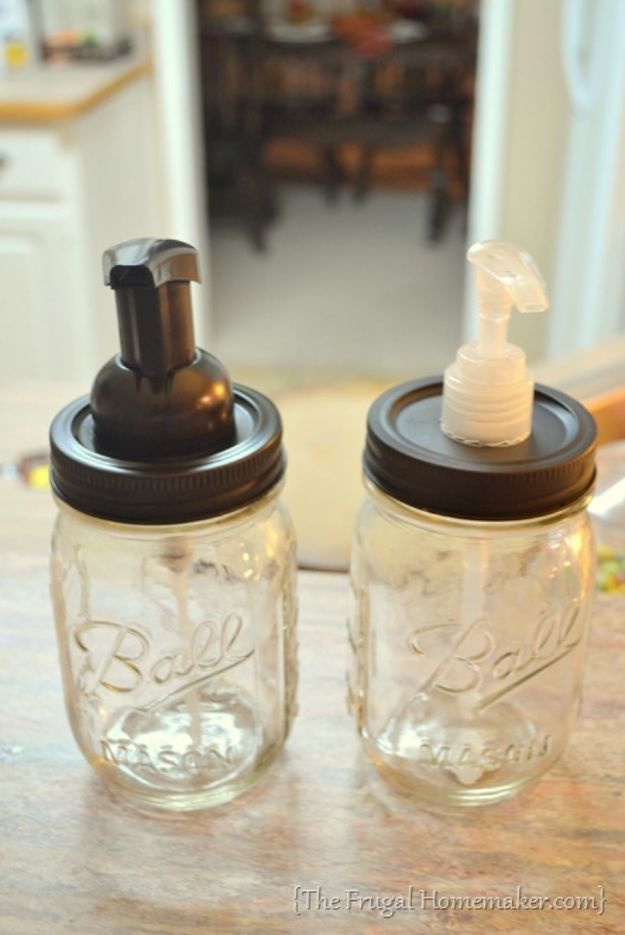 29. DIY Stylish Soap Pump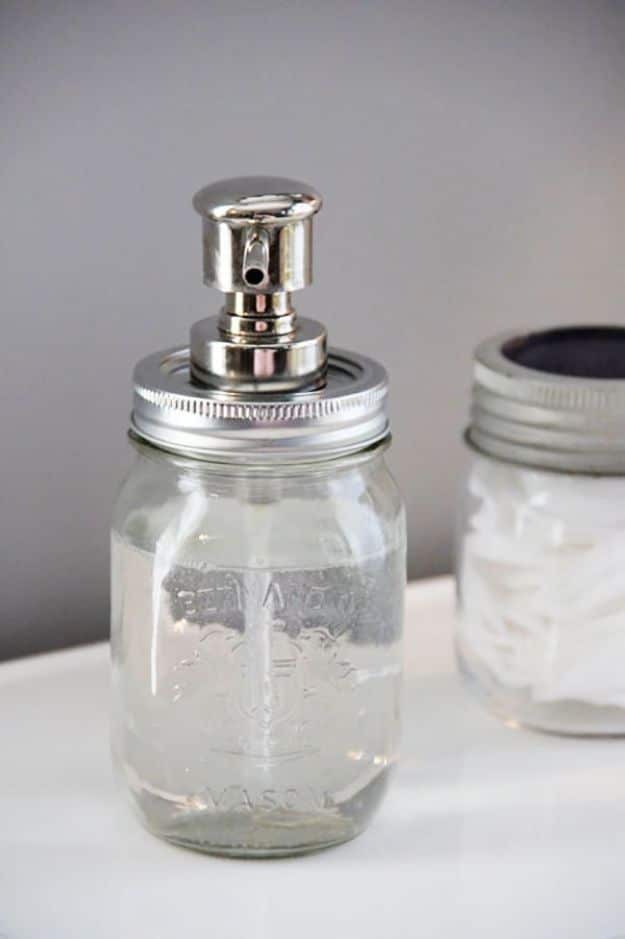 30. Flavored Syrup Bottle Soap Dispenser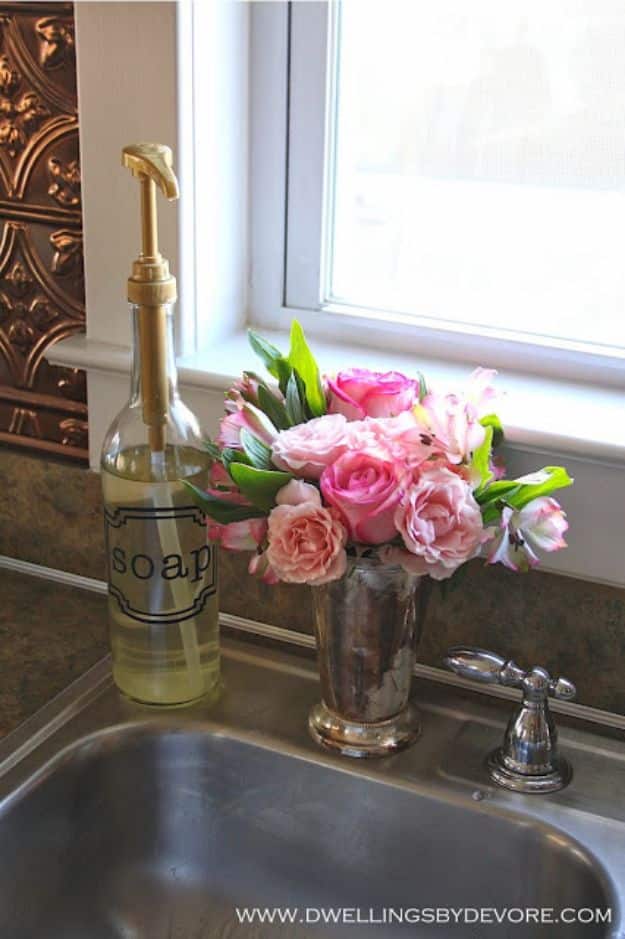 31. DIY Dispensers from Glass Bottles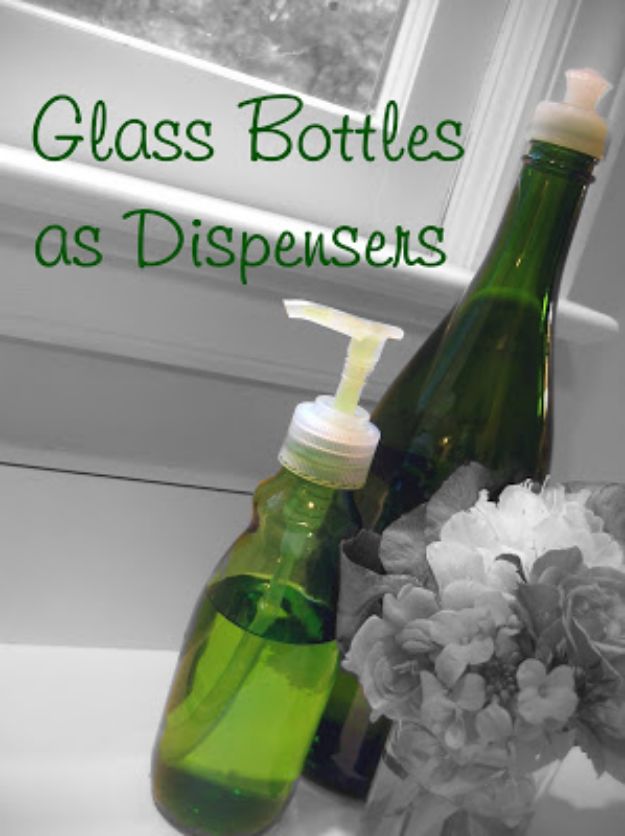 32. Oh Deer Fun and Easy Soap Dispenser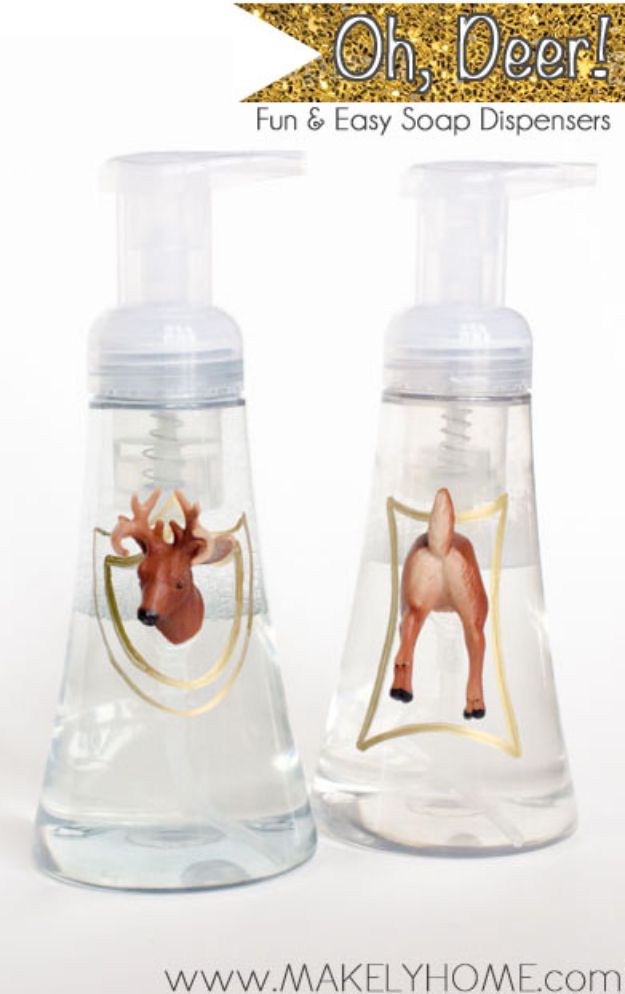 33. Make a Mega Soap Dispenser

34. Coke Bottle Soap Dispenser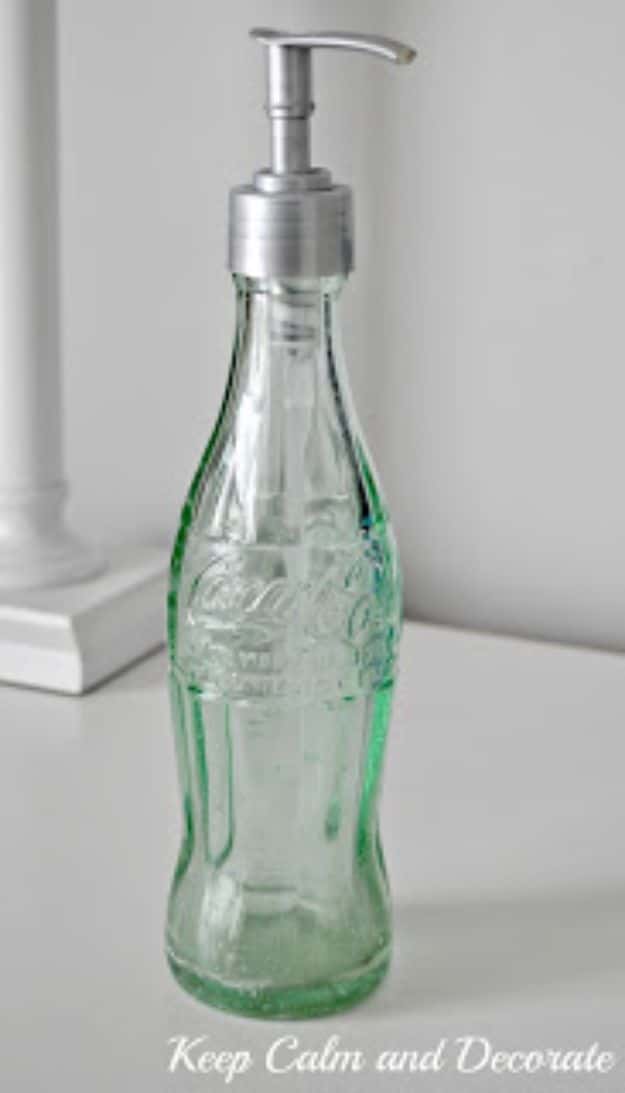 Please follow and like us: