Looking to learn how to quickly prep meals for dinner for the week, easy recipe ideas for meal prepping that you can make and even freeze ahead? When it comes to cooking every night, I love having home cooked meals and saving money while not eating out, but the logistics of said goal often have me "calling Uncle" by Wednesday and ordering takeout. I went looking to some of my favorite food bloggers for the best meal prep recipes and ideas for planning meals a week at a time. Now, every Saturday, I go to look at my recipe lists, choosing my favorite for the week. I make my grocery shopping list as I go, so by Sunday I can go shopping in the morning and cook all evening for the week. Prep, rather. Sunday evenings have become one of my favorite times of the week, actually. My boyfriend and I love getting everything ready together so we have great meals when we come home from work every night. If you are looking for some cool and easy meal prep ideas, try these 34 foods. From bowls to bentos to casseroles, you are sure to love these one-dish wonders. Lots of these double as take to work lunch ideas, too. My coworkers have been inquiring often, as some of these look and smell so good, I'd be wanting them to. Fortunately, the recipes are all now in one list I get to share with them and you.
Easy Meal Prep Recipes
1. Vegan Salad Meal Prep
Learn the basics of vegan meal prep with this recipe from Saffron Trail. Healthy and delicious, this make-ahead vegan salad is perfect for a Sunday meal-prep and midweek lunches, even potlucks and gatherings. All I can say is that the dish looks mouth-watering and I am definitely trying it out.
2. Spicy Chicken and Sweet Potato Meal Prep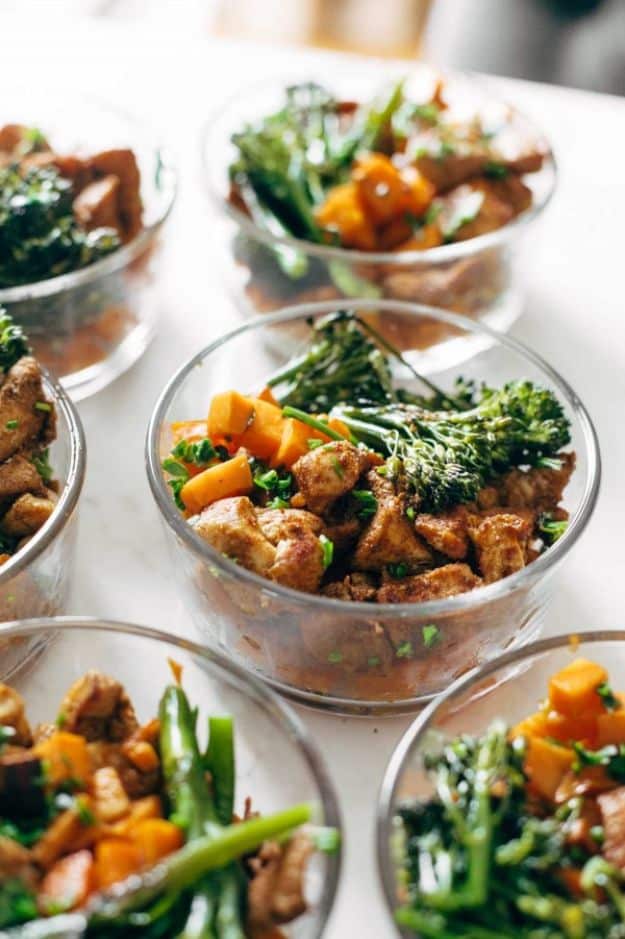 For easy healthy chicken recipes, it does not get much better than this simple spicy chicken and veggie dish. Healthy and quick to make, this is my favorite new Monday night dinner.
Meal Prep Ideas for Work Lunches
3. One Pan Healthy Italian Sausage Veggies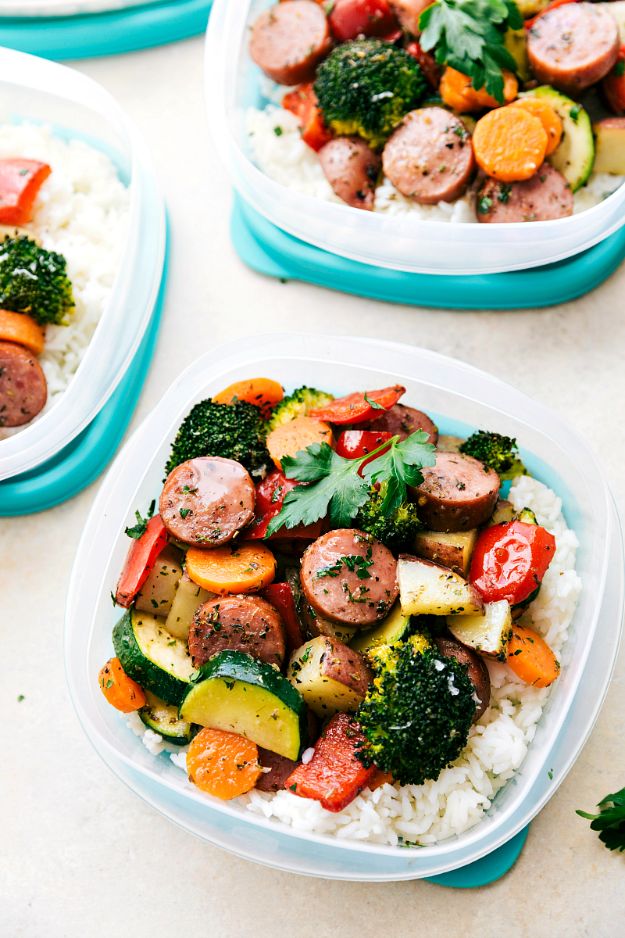 Make meal prep easy with this one pan sausage, veggie and rice recipe. I love taking this to lunch at work, as salads and other super light foods leave me feeling hangry by about 4pm. My coworkers probably love it when I bring this, too! For an easy healthy dish that will actually fill you up, this rice recipe idea is a winner.
4. Caribbean Jerk Shrimp with Cauliflower Rice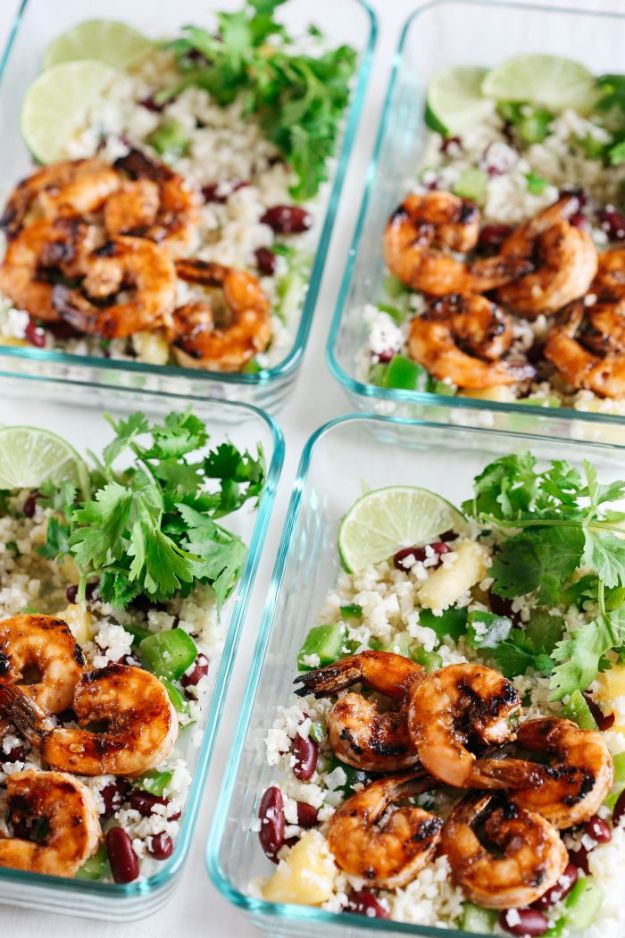 Looking for a total winner recipe on a Sunday meal-prep? Well, Caribbean jerk flavors are one of my favorites – sweet, spicy with a lot of kick! And it could be yours too once you try this recipe from Eat Yourself Skinny. It's on perennial repeat on my recipe list.
5. Honey Sriracha Glazed Meatballs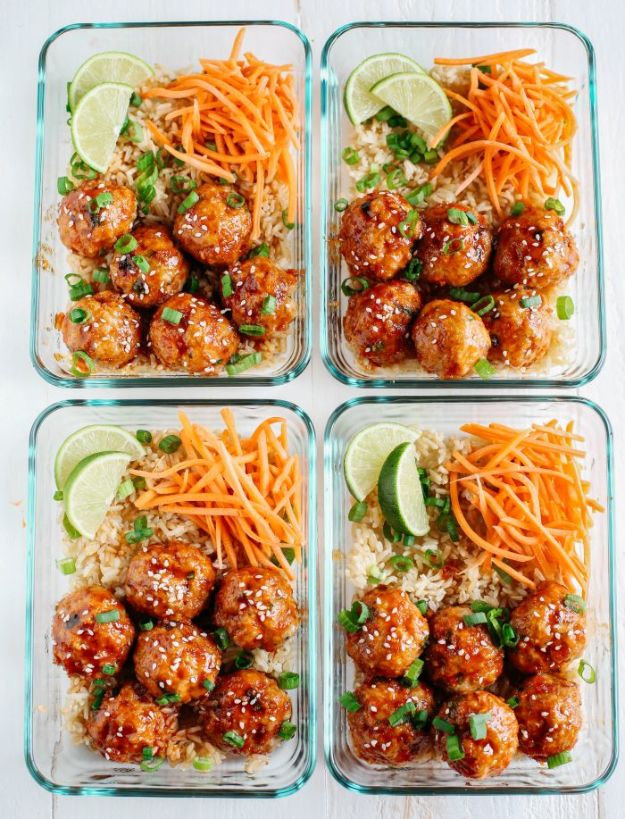 This recipe packs a lot of flavors and the best part is it only takes 30 minutes to prepare. How amazing is that? Have a quick, easy and healthy dinner in little to no time at all. Plus this Honey Sriracha Meatballs would make such a fun party appetizer and I can guarantee would be a huge hit among your friends!
6. Spicy Chicken Meal Prep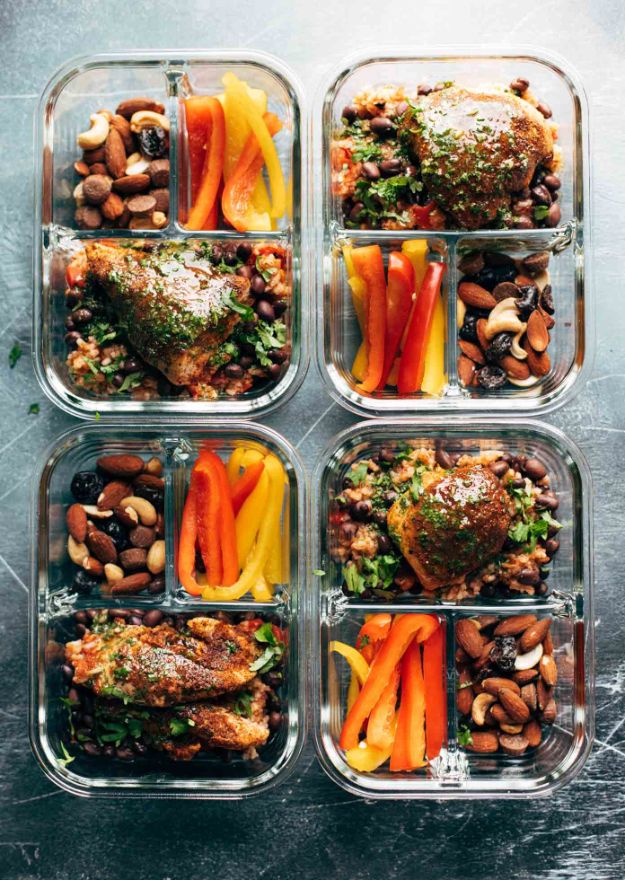 Spice things up with this Spicy Chicken Meal Prep! This recipe is super clean and healthy but packs tons of flavor with all of the seasonings that are added to the chicken and that sunshine sauce is definitely on my list to drizzle on everything in the near future.
7. Meal Prep Carnitas Burrito Bowls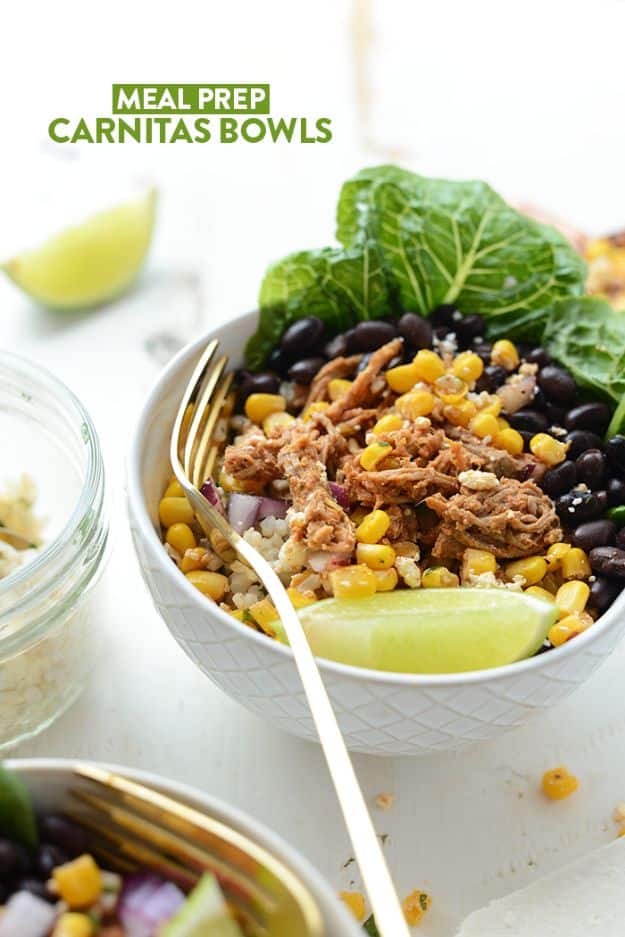 This Carnitas Burrito Bowl lets you have both healthy and yummy in one dish. It might seem a lot going on with the burrito bowl but it's an especially great choice for busy weeknights. Grab the recipe from Fit Foodie Finds for a drool-worthy experience.
8. Healthy Roasted Chicken and Veggies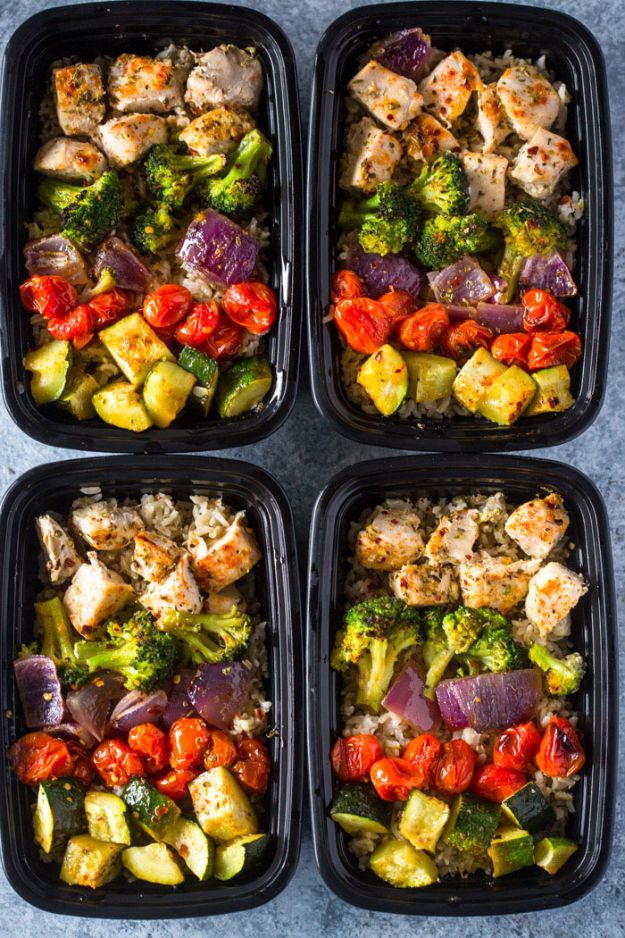 Roasted Chicken Veggies is a classic family favorite recipe.  I can't say enough good things about this meal-in-one. I love it for lots of reasons. This sheet pan roasted chicken and rainbow veggies is a great dish to make if you're just starting to meal prep or if you just want easy toss in the oven kind of dinner.
9. Cheesy Broccoli, Chicken and Rice Bowls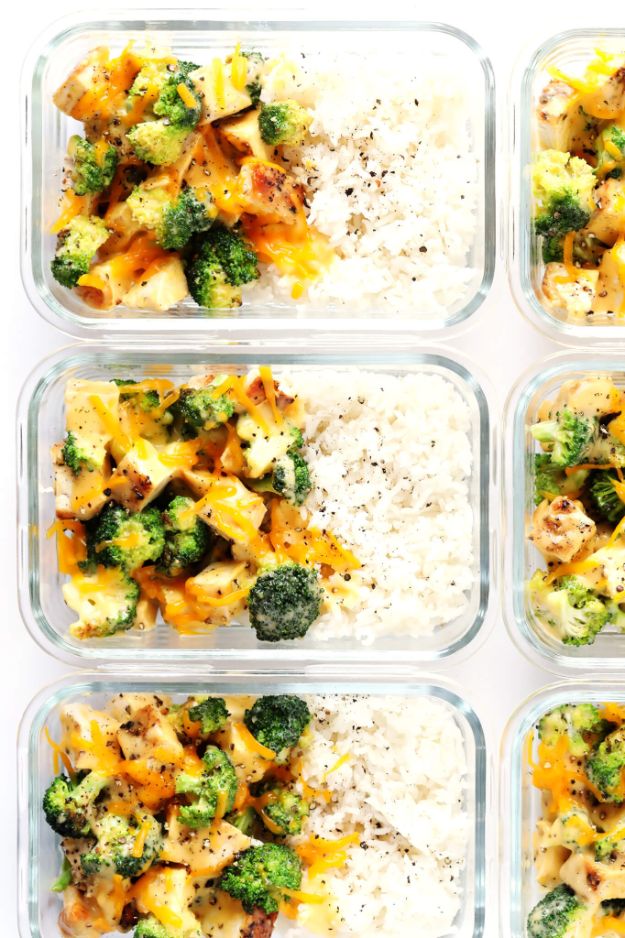 If you're looking for a quick stove top dinner, or some meal prep ideas for the back-to-school season, I feel like you all just might love this Cheesy Broccoli, Chicken and Rice Bowls. All the cheesy goodness combines with veggies makes me drool over this recipe.
Meal Prep Bento Boxes
10. Jerk Chicken Meal Prep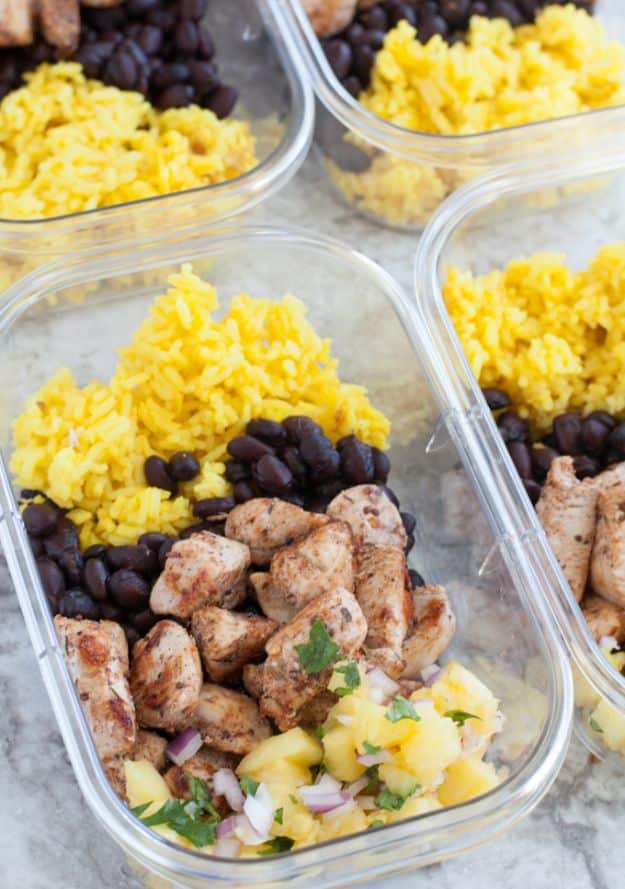 Want a super flavorful meal prep to last all throughout the week? You will never go wrong with this recipe from Food Lovin Family. Bring a taste of the tropics with the sweet and spicy goodness of this jerk chicken. This easy meal prep recipe idea looks insanely delicious, I bet you can't wait to try them!
Please follow and like us: