Love eggs benedict recipes? Whether you have only tried the classic eggs benedict recipe or you love your benedicts and are looking for some cool new variations to try out for breakfast or brunch, we have some fabulous recipe ideas for you to try.
Best Benedict Recipes
1. Grilled Pineapple Caprese Eggs Benedict With Coconut Almond Hollandaise
I never would have thought to make a pineapple Benedict, but this recipe is just phenomenal! This Grilled Pineapple Caprese Eggs Benedict With Coconut Almond Hollandaise looks fantastic – what great tropical flavors packed in all it's yumminess. Definitely the most creative Benedict I have ever seen and I cannot wait to try it.
2. Caprese Eggs Benedict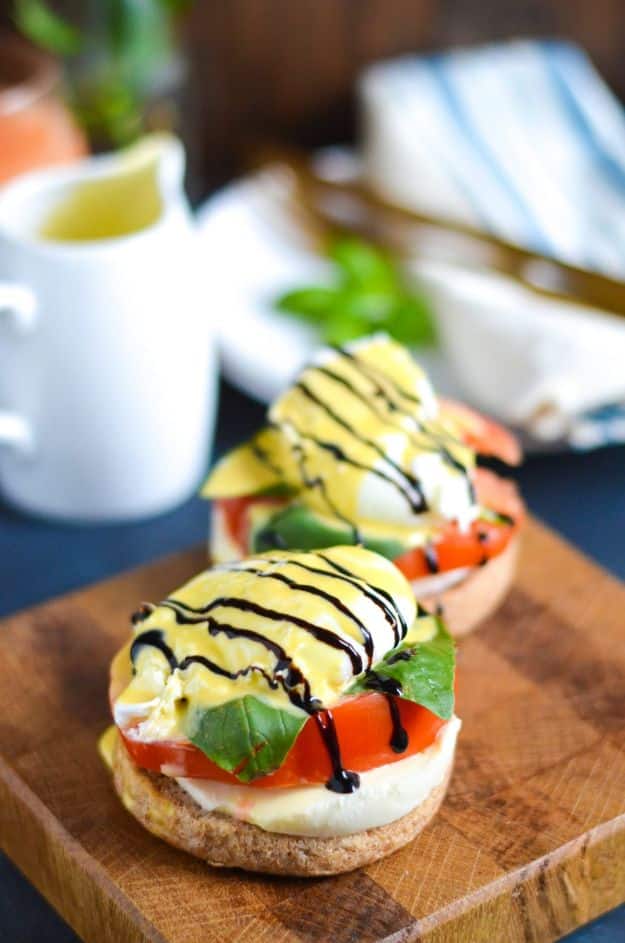 This easy caprese eggs benedict recipe is perfect for your next brunch! Make a gourmet brunch at home with this delicious and easy Caprese Eggs Benedict from My Modern Cookery. So good and you don't have to get out of your pajamas. It's one of my favorite breakfasts to make and it reminds me of going to a fancy restaurant for brunch.
3. Chipotle Guacamole Eggs Benedict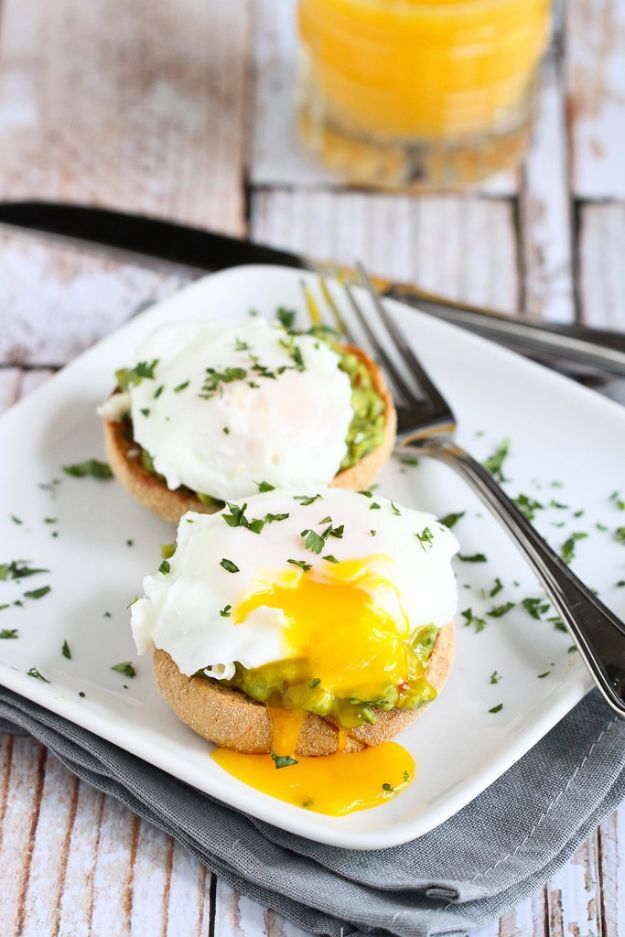 This delicious kicked up eggs benedict with chipotle hollandaise sauce are the perfect addition to your next brunch. Once I tasted this, I vowed never go back to the traditional Eggs Benedict again. You just can't beat the taste of a perfectly poached egg that has burst and mixed with creamy avocado.
4. Sweet and Savory Waffles Benedict Stacks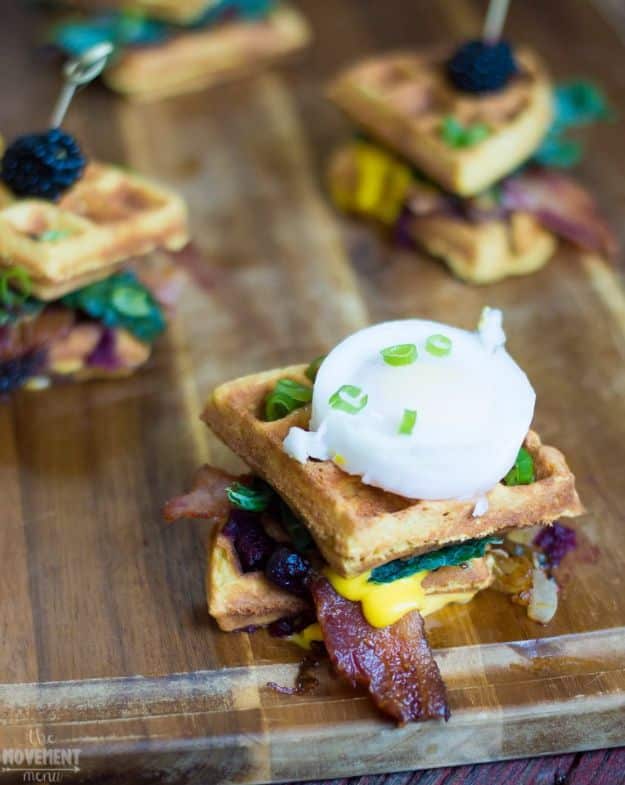 These look absolutely delicious! The idea of making sliders using waffles sounds so good. Waffles Benedict are the perfect go-to breakfast and/or lunch. These waffles freeze so well, and you cannot go wrong when adding eggs and bacon. I cannot wait to make them!
5. Crab Eggs Benedict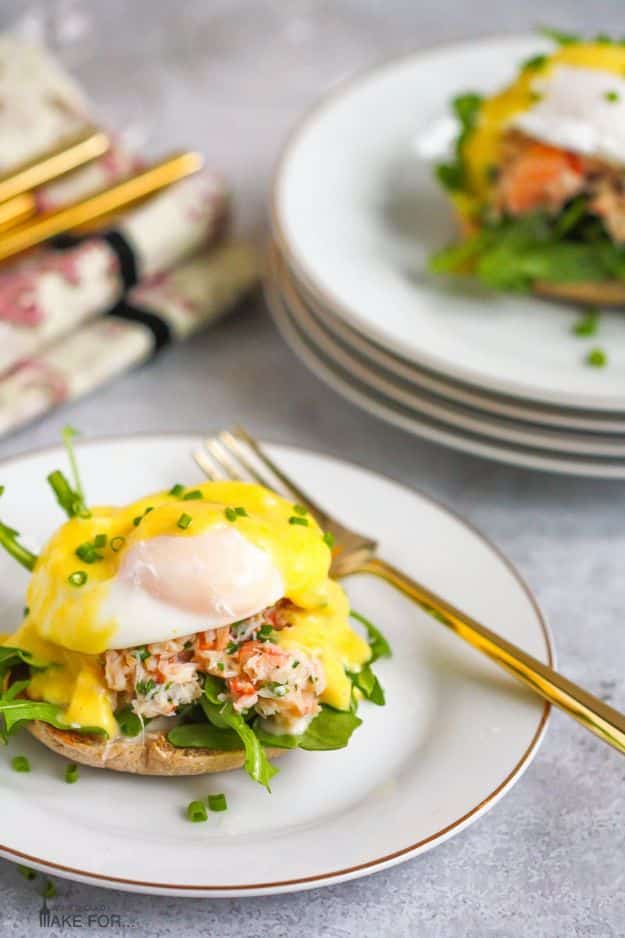 If you're lucky enough to have leftover crab, there's no better use for it than this. Rich and creamy, bright with lemon, this classic brunch dish also makes a great breakfast or brunch recipe. Fresh, light and lemony, there's a tasty twist on eggs benedict.
6. Cajun Eggs Benedict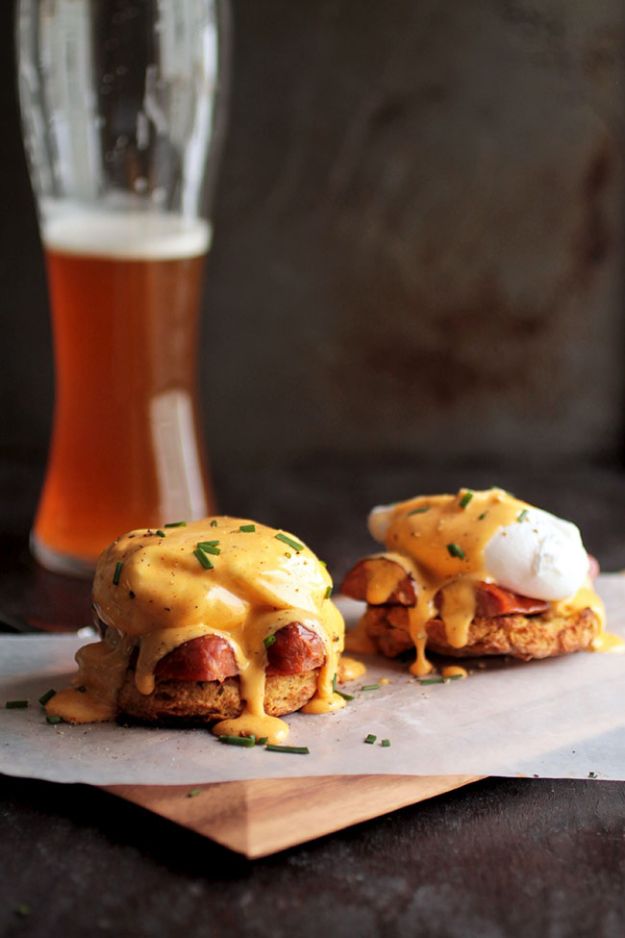 This Eggs Benedict recipe includes a Cajun twist by using French bread as the base and special spices in the hollandaise sauce. This is a version that kicks it up a notch with a little Cajun twist. Spice up your breakfast with this easy homemade recipe from Life as a Strawberry.
7. BBQ Brisket Eggs Benedict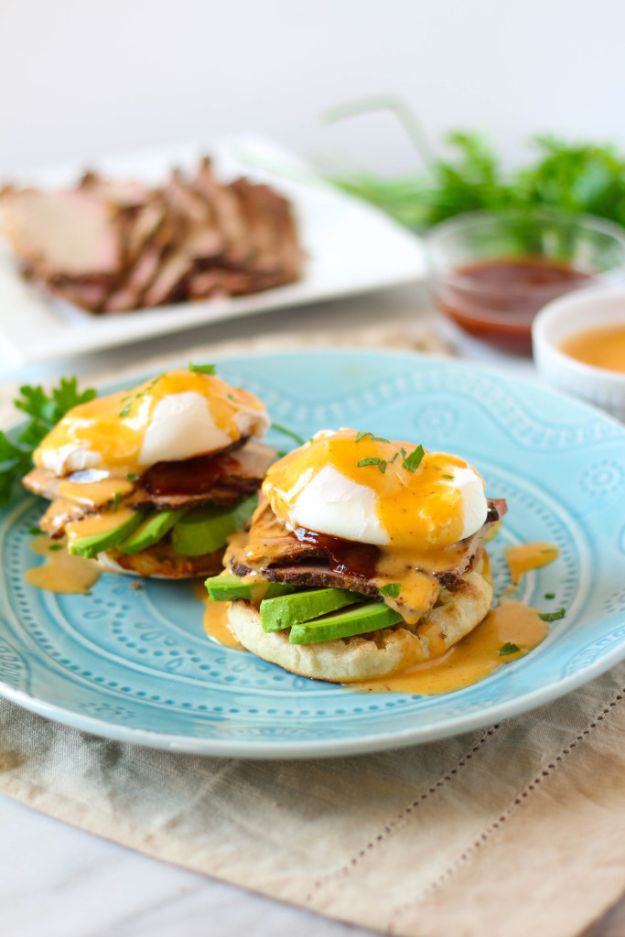 This brisket breakfast recipe is a great way to get some barbecue into your morning. Typically you pour hollandaise on your benedict, but the cheesy bechamel sauce in this recipe goes perfectly with the smoky flavor of the brisket. I love English muffins around here and frequently eat them for breakfast. I will definitely be making more Eggs Benedict around here with this hollandaise sauce recipe.
8. Tostones Eggs Benedict with Mango Salsa and Avocado Hollandaise
Tostones Eggs Benedict with Mango Salsa and Avocado Hollandaise recipe from Get Inspired Everyday is an easy, delicious side dish or a savory snack that anyone can enjoy. The tostones are then stacked with pan fried ham, perfectly poached eggs, fresh Mango Salsa, and creamy Avocado Hollandaise. Now this is the weekend breakfast of my dreams!
9. Eggs Benedict Casserole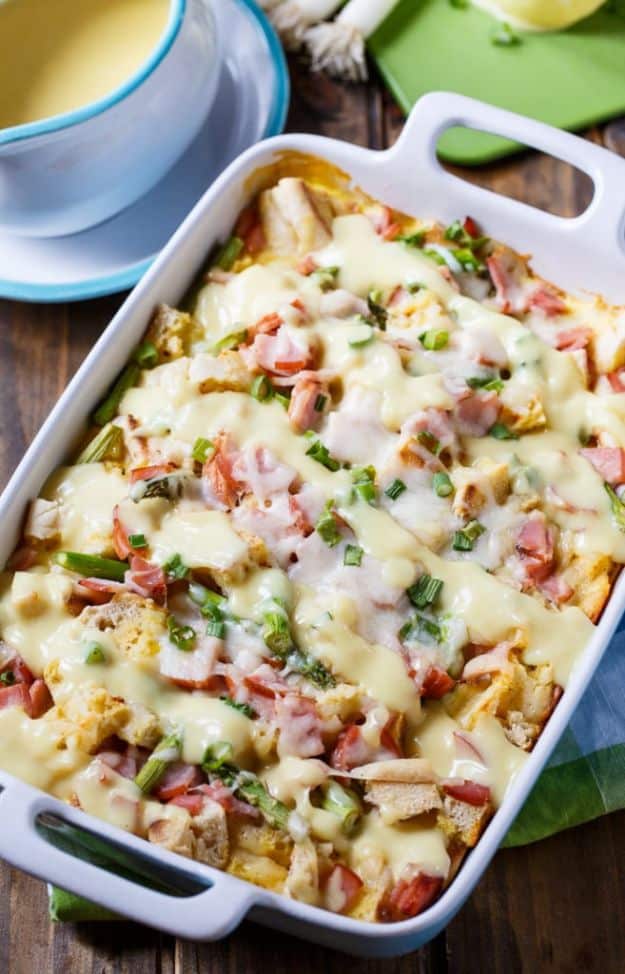 Here's a casserole as tasty as eggs Benedict, but without the hassle. This is a great choice if you have company coming over for brunch. With Eggs Benedict Casserole you have all the flavor of Eggs Benedict without slaving over the stove all morning. This recipe from Spicy Southern Kitchen will definitely knock your socks off.
10. Cotija Guacamole and Chorizo Eggs Benedict With Honey Chipotle Lime Sauce
Wow, all of my favorite food to eat smashed together in this heavenly recipe! Such an amped up version of eggs Benedict — one of my favorite breakfasts! This Benedict needs to be present at every brunch ever. And I really loved the fact that this dish covers three holidays. Head on over to Half Baked Harvest to grab the full details.