Love decorating for fall? So do we, but we don't always find the time to make all those intricate, time-consuming little crafts we love. Why not add some easy fall crafts to the mix, so you can have your DIY fall decor done in time to enjoy for the season? From pretty little tabletop items to wall art to wreaths, and of course pumpkin crafts, we found 45 of the best DIY ideas for fall. Decorate your home in style, even if you are in a hurry. Check out the step by step tutorials to learn how to make these awesome projects. Some of these projects can be used from September through Christmas, too. Pretty ideas for your table that are perfect for family gatherings and even Thanksgiving dinner, cute things to put on your porch while you sit outside enjoying the cool weather, and some quick and easy decorating ideas that will net you some DIY fall decor in a hurry. I found the cutest DIY ideas for my rustic, famhouse style decor, but there are also projects that would look great with modern decor, industrial and of course classic looks.
1. Fall Succulent Planters
I fell in love with this DIY fall decor idea the minute I saw it, and just now found the time to make it. Wow. These succulent pumpkins turned out even cuter than the ones in the picture. I was planning to give this as a gift to my neighbor who just moved in, but I decided I had to keep it for myself. To make your own crafty pumpkin, all you need is a faux pumpkin from Michaels or your local craft store, a saw, some potting soil and your favorite succulents. If you need some quick and easy decor ideas for autumn, this craft should be at the top of your list.
2. Flannel And Denim Fall Wreath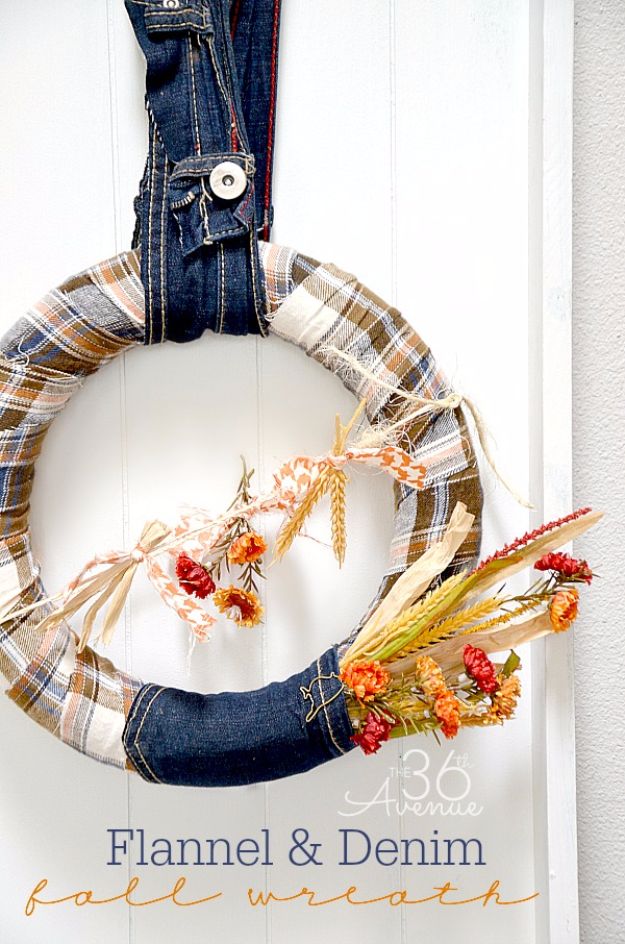 Rustic decor, anyone? If you love country crafts and DIY farmhouse style, this wreath belongs on your front door this fall. Upcycle an old pair of blue jeans and a worn flannel shirt into this fabulous door decor. If your husband does not have these leftover, you can pick them up cheap at the craft store. All you probably need to buy is a styrofoam wreath and a small bunch of silk flowers. Super easy to make, you will be surprised how little time this creative project takes to make. From start to finish, I had mine hanging on my front door in less than an hour.
3. Pumpkin Yarn Tassels

I saw this tutorial for cute DIY tassels and knew right away they were the icing on the cake for my beautiful fall decor ensemble I created on my front porch. Just using some leftover yarn from a sweater I made for my daughter and some wooden beads I got from Michaels, I turned my ordinary pumpkins into a regal gift perfect for the spirit of Thanksgiving! In less than one hour my front porch was transformed. If you are looking for cheap and easy fall crafts, ones that don't take a lot of time, but look fantastic, these cute DIY pumpkin tassels should be at the top of your list.
4. DIY Fall Acorns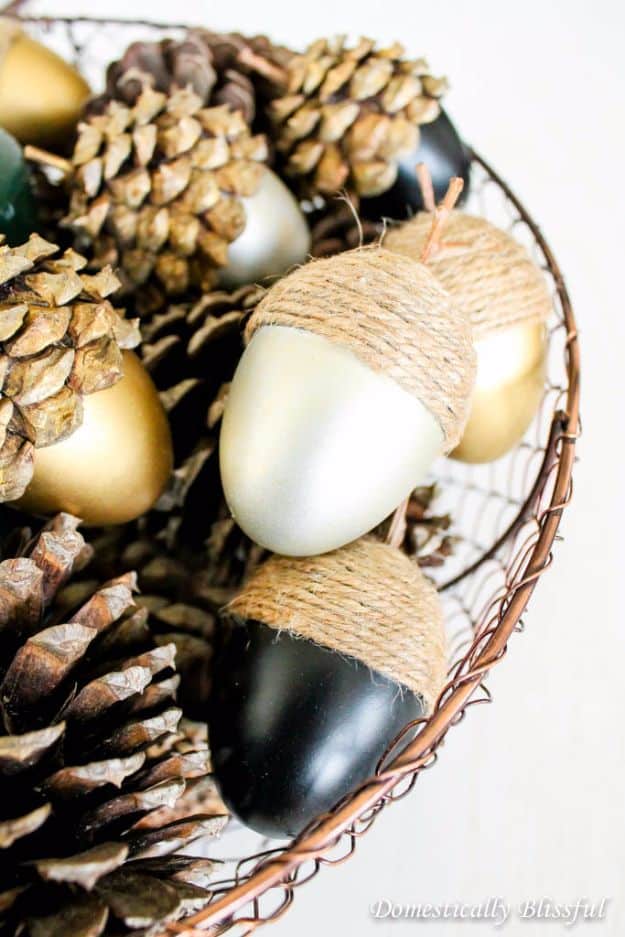 Need some cheap, quick and easy ideas for fall decorating? How about ones that look super expensive and time-consuming but actually only take minutes? If this sounds too good to be true, you need to check out this DIY twine wrapped "acorns." I already wanted to make this project, but when I found out I could upcycle the leftover Easter eggs I've been tripping over, I ran to get out the supplies to make this. Paint yours gold and add some glittery sparkles or go for a more natural rustic look. Either way, your fall decor will get an instant upgrade when you add these pinecones and yarn wrapped acorns to the mix.
5. DIY Falling Leaves Garland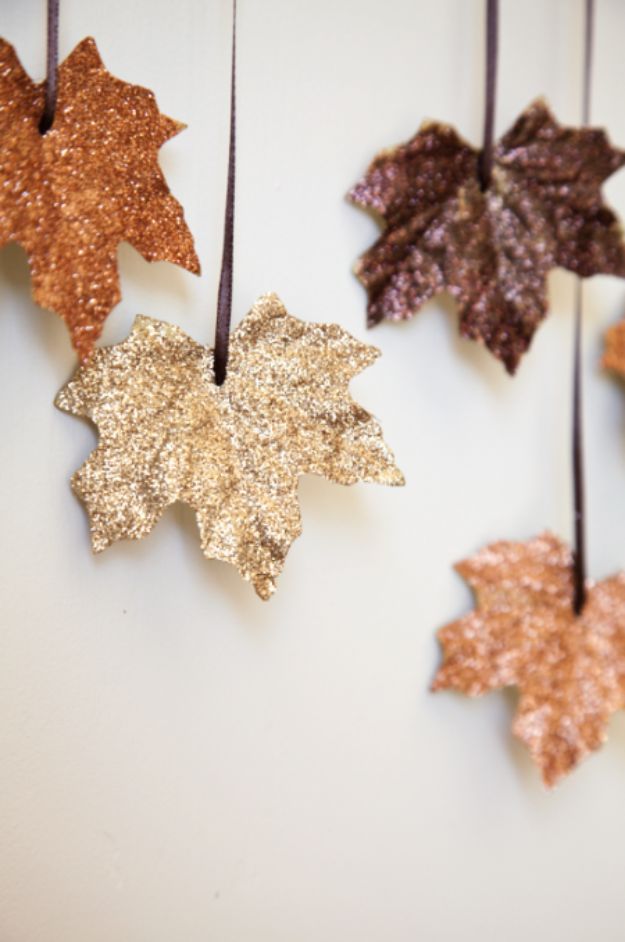 The kids and I had this amazing idea as we were browsing the Fall decor at Michael's.  We purchased some artificial leaves, glitter in beautiful Autumn Tones and earth-toned ribbon. We had a blast covering our leaves in Elmers Glue and rubbing the sparkling Fall colors over each stunning masterpiece. We attached all the loveliness and hung it right over the entrance to the porch. My husband was so thrilled to see his busy little elves of autumn cheer had brightened our beloved holiday season. At night you can see the sparkling from yards away. Little things make our kids love this Autumn seasonal decor as much as their Mom.