Most DIYer's love wine cork crafts because they are some of the easiest and most fun DIY projects out there. I love the versatility of craft ideas that wine corks have inspired! That's why I've created this giant list of clever things to do with wine corks. There are crafts for kids, plenty of home decor ideas, and DIY projects for teens (and they're DIY's they'll actually want to make and use). Upcycling is very in these days, and since my budget does not allow for expensive craft notions, I always love being able to find free craft supplies. Wine cork crafts are one of my favorite go-to DIYs when I am short on cash but itching to make something cool. When you get down to the last minute during the holidays and need gift ideas, these cute wine cork DIY ideas may just save the day. Easy and fun to make, while being budget-friendly and also super cute, you can't go wrong making any one of these cool craft ideas with wine corks.
Maybe you need some more wine corks? Grab some bottles of wine on your way home, then. While you are at it, be sure to save the empty wine bottles as well as the corks, because there are lots of cool DIY wine bottles crafts that you should also be making while having all that fun.
50 DIY Wine Cork Crafts
1. Wine Cork Candles
via A Subtle Revelry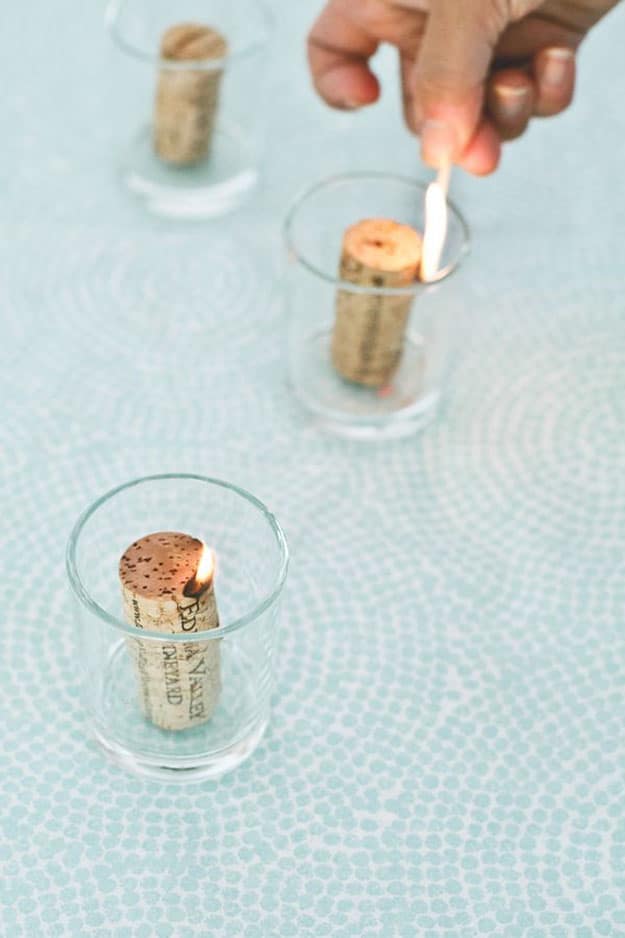 Have lots of leftover wine corks from your last dinner party and not sure what to do with them? Throw another dinner party and use them as candles. One of the best cool ideas for old wine corks, you can recycle your corks while creating a festive atmosphere. These DIY wine cork candles are so incredibly easy and super cheap. The step by step tutorial shows you just how simple it is to turn your corks into candles. You start by finishing your wine and collecting corks, or if you are in a hurry, go and get a bag of them at Michael's craft store. Then soak the corks in a capped mason jar filled with acetone alcohol for a week. Once the corks are soaked let them dry fully before using. Light them up and enjoy making the easiest candle there ever could be. I used them on my patio last Summer for an outdoor dinner party and they looked fabulous. My guests were knocked out!
2. Wine Cork Ampersand Wall Art
via Craft Cuts

When you want an awesome idea for cute wine cork crafts, this DIY ampersand wall art should be at the top of your list. Make it with lots of different colored corks for best effect, does not matter if they are wine-stained, they look all the better this way. I crafted one of these for my kitchen and always get compliments on it. Don't be afraid to go big with this DIY wine cork letter because smaller letters end up being overwhelmed by the corks, plus bigger letters leave more room to fit the corks naturally. And please, whatever you do, don't cut the corks to make them fit. It just looks tacky. Either leave some of the wood exposed or go over the edge a little. I experienced both of those scenarios in this project and still love the end results.
3. DIY Wine Cork Trivet
via Lush Home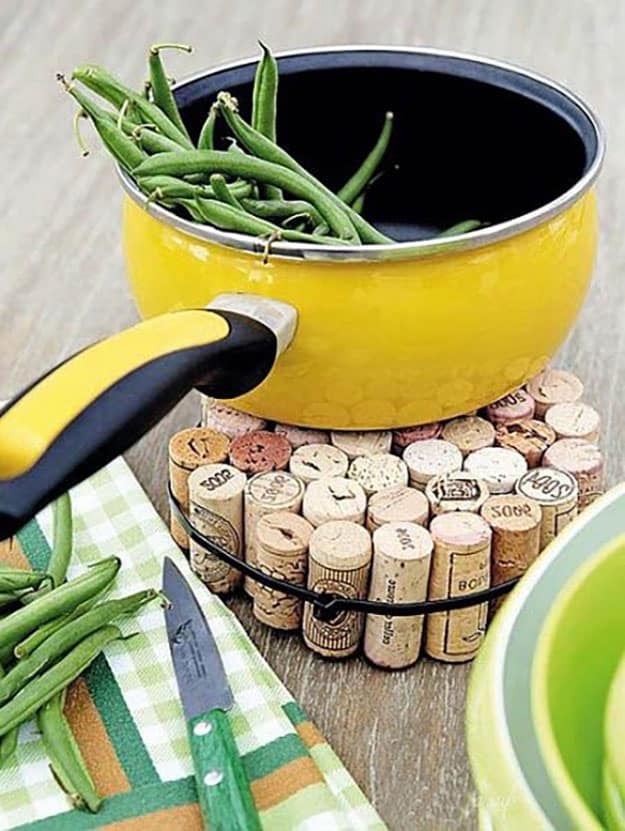 If you are itching to make something but don't have any money for craft supplies, this handmade trivet just may be your next project. All you need are some leftover wine corks and a zip-tie to make this. Quick and easy, you could probably make ten of these in an hour! And recycling anything and everything is a great way to keep your home clutter free while adding comfort and beauty to your eco-friendly environment. There are so many functional items and home decorations you can make by reusing and recycling wine corks, that are inspiring, cheap, and quick.
4. Wine Cork DIY Bathmat
via Crafty Nest

I love to drink wine, but don't like the idea of letting anything go to the landfill, so lately I have been collecting my corks to use for an awesome DIY project. I found so many on Pinterest but I absolutely fell in love with this DIY wine cork bathmat! It is so lovely and affordable but too big for my tiny bathroom, this equally eco-friendly version of bath heaven is tops. My sister gave me the genius idea of using non-adhesive shelf liner with a grip bottom, so it stays in place. The cork feels good on my bare feet, plus it goes perfectly with the natural color palette of my neutral Zen eco-friendly bathroom space.
5. DIY Wine Cork Cheese Knife Handles
via Yarni Gras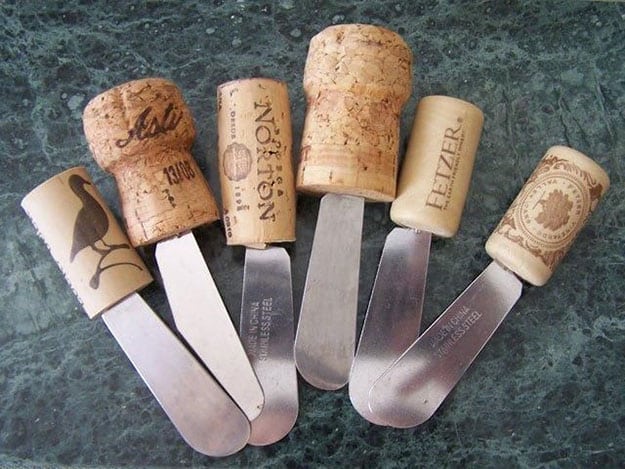 I had several old canapé knives that had torn up and faded handles. I was planning on ditching them so it was a challenge was to reuse something you would usually throw away….which gave me the perfect excuse to use some old wine corks I'd been saving. The handles were old and faded so I took a mallet to one of them and cracked the rest of the handle off. I followed this amazingly simple step by step tutorial and just stuck the cork on the nib that was left after the handle removal and they looked fabulous!