Need some quick and easy dinner recipes and ideas, ones you can make without spending hours in the kitchen or even in the grocery store? Especially on weeknights, I find myself wanting to cook and serve a healthy, home-cooked meal, but yet I just don't have it in me to make something time consuming and laborious. My favorite ideas are the recipes where everyone thinks you worked very hard, but you actually did not! If you are also a fan of this sort of recipe, then I have 50 cool recipes for you to check out. These 50 easy dinner recipes are the best of the best, you will definitely be excited when you see how easy they are to make. Check out the gorgeous photos from some of the top food and DIY bloggers and see for yourself. Yum, right?
Whether it be easy chicken recipes, simple vegetarian or vegan dishes, home-style comfort foods or easy recipes with ground beef, these 50 fantastic foods are sure to please most anyone you want to feed. I made this list a few months ago, and now all my friends insisted I share a copy with them, as it makes last minute dinner planning and even the weekend plan ahead meal prep that much easier. You only need a few ingredients to make a lot of these easy recipes, so there is no need to spend hours at the grocery store hunting down a long list of weird ingredients.
Easy Dinner Recipes
1. Quick Teriyaki Chicken Rice Bowls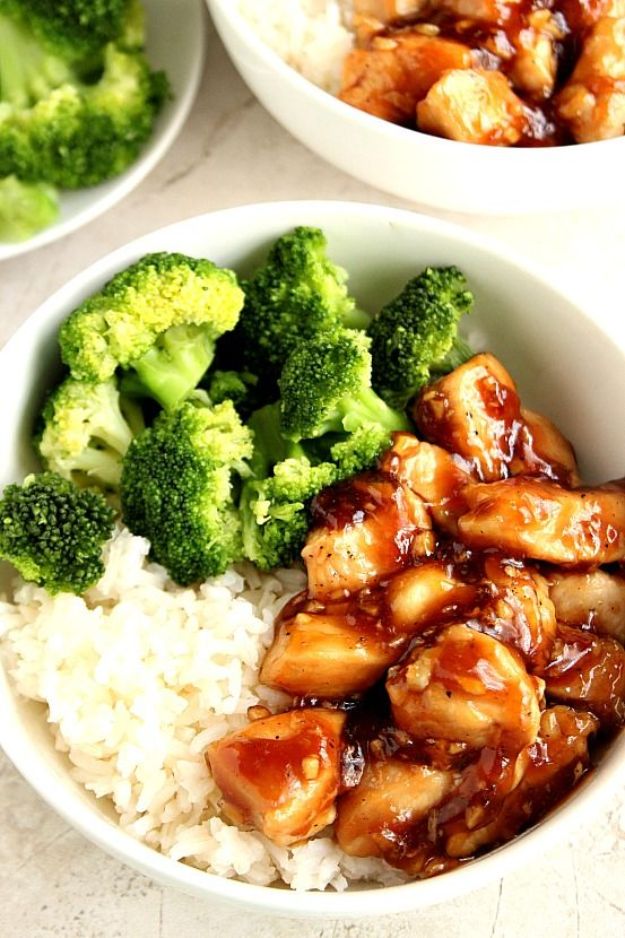 This easy chicken recipe idea is healthy, quick and delicious, so I am not sure what more you could ask for. This quick chicken teriyaki dish is now on of the most requested foods by all three of my children. Even picky eaters love this one.
2. Garlic Butter Steak And Potatoes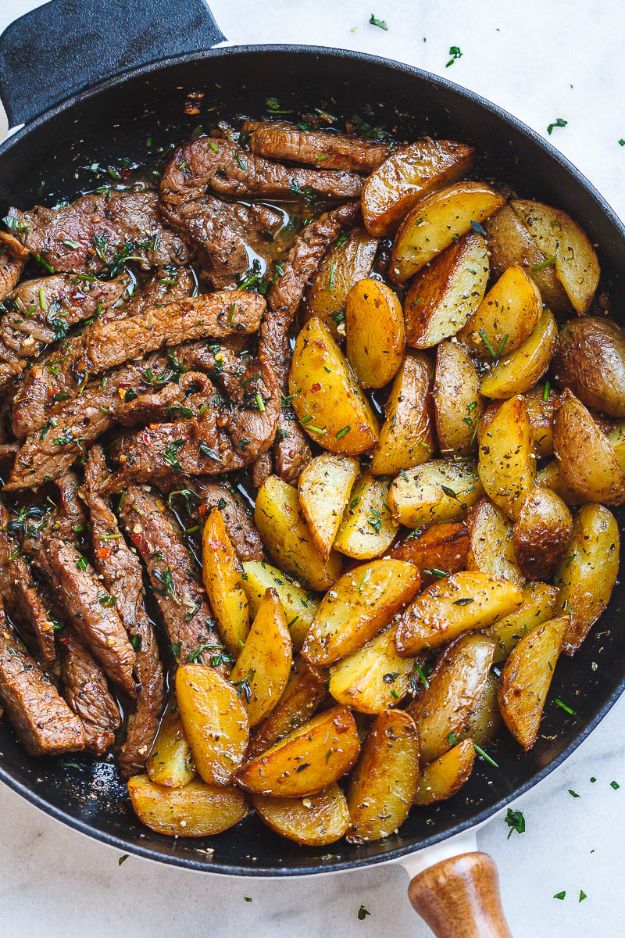 Looking for easy beef recipes? Look no further than this simple garlic butter steak with potatoes. Your meat and potato people are sure to fall in love with it, and you just may turn the rest of them into steak lovers, too. A one skillet meal you can make in a hurry, I often make this easy idea for beef when I have late day meetings at the offics and know I will not be home early. Serve it with a green salad and you have a quick and easy, healthy meal.
Easy Chicken Piccata Recipe Video
For quick and easy Italian tonight, learn how to make this awesome creamy chicken piccata recipe.
3. 15-Minute Chicken Chow Mein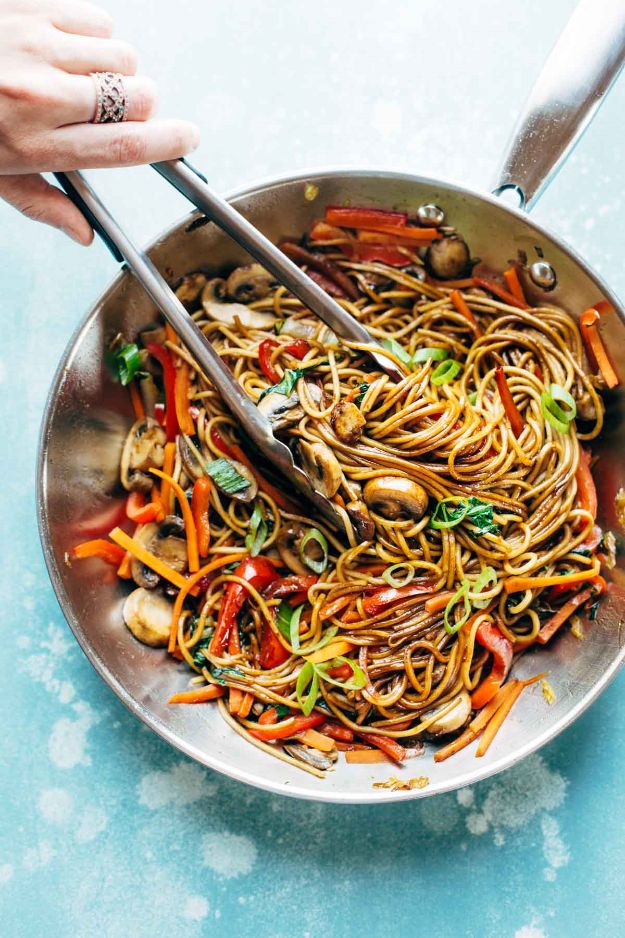 Who doesn't love Chinese takeouts? Well, this Chicken Chow Mein recipe is as good as the restaurant and it's so easy and simple to make, it will be ready on the table in about 15 minutes or so. Totally a crave-worthy dinner!
4. One Pot Penne Pasta with Tomato & Basil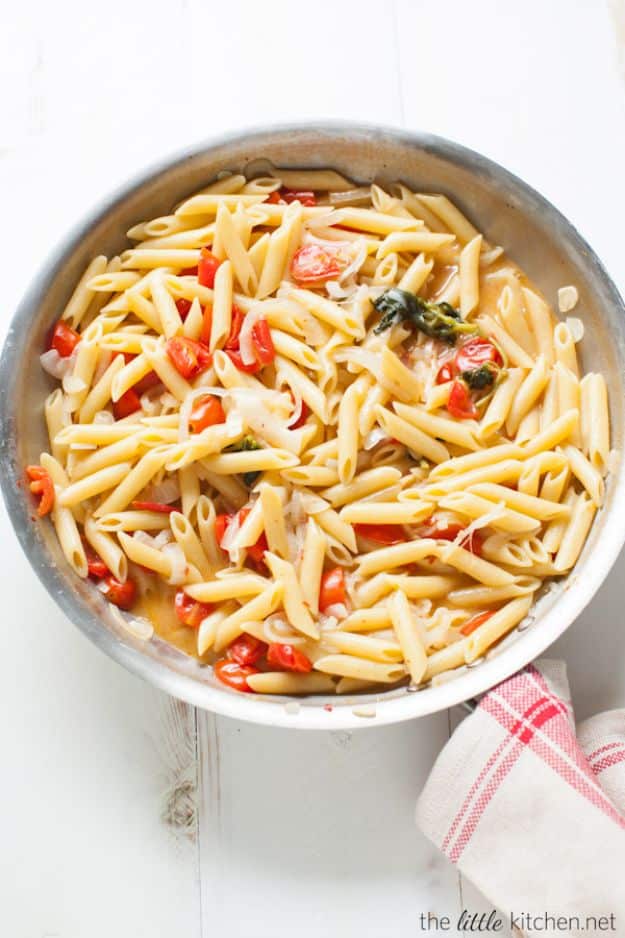 I have been wanting to try so many one pot pasta dishes online but haven't quite figured out the best recipe until I stumbled upon this post from The Little Kitchen. I just love how fresh this looks so I'll have to finally give it a try.
Easy and Healthy Primavera Stuffed Chicken
For a super healthy, super delicious but easy dinner idea, try stuffing chicken breast with vegetables Primavera style. Learn how to make with this video recipe tutorial.
5. 15-Minute Easy Honey Garlic Chicken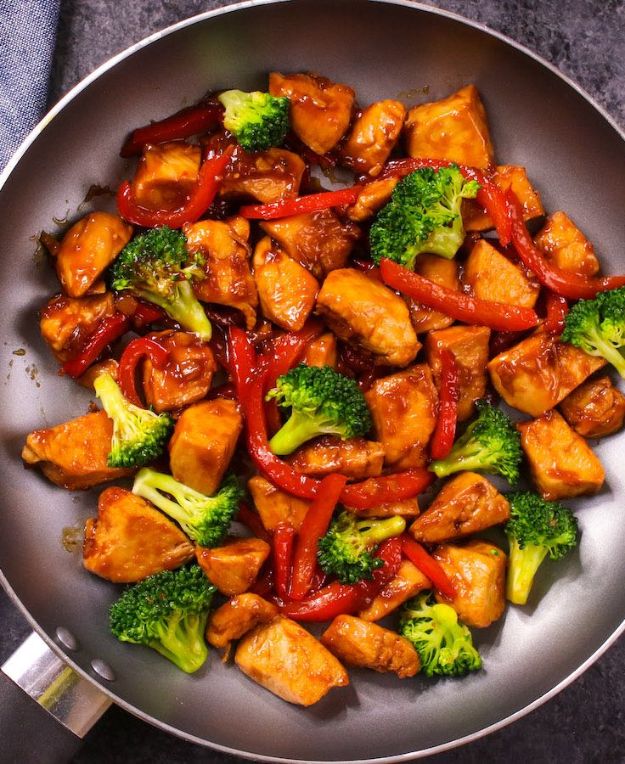 If you're looking for the perfect weeknight chicken meal, the Easy Honey Garlic Chicken might just be the perfect recipe for you. It is  a super easy chicken recipe cooked in 15 minutes. Stir-fried to perfection, this dish will absolutely be an instant favorite in your home.
Easy Chicken Marsala Recipe
6. Lemon Garlic Shrimp Scampi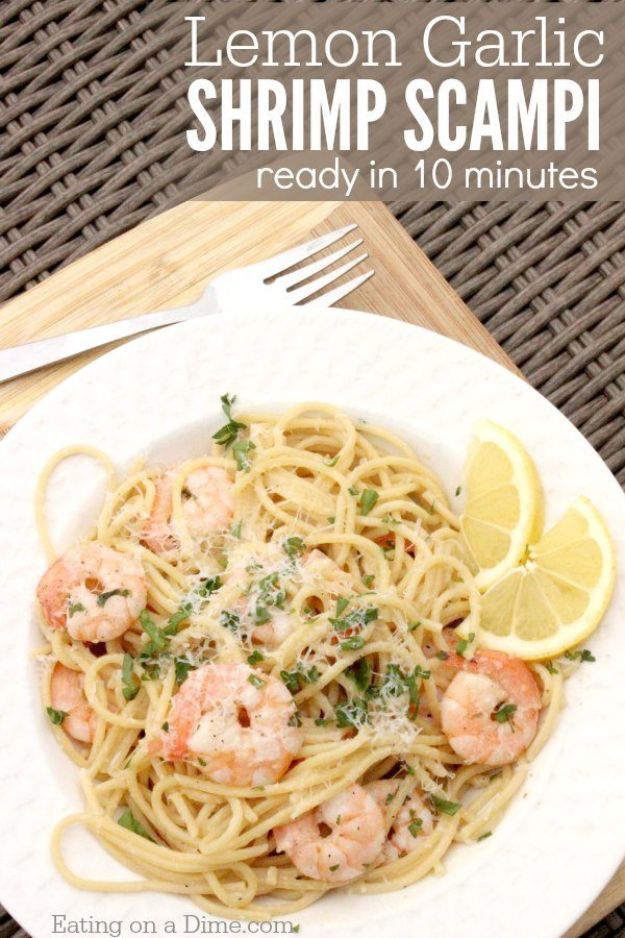 Want a recipe that's incredibly simple and tastes amazing the next day? Lemon Garlic Shrimp Scampi hits the home run for it's absolute deliciousness. The best part is this recipe can be cooked and on the table in just minutes.You are definitely going to love this recipe.
7. 10-Minute Lemon Garlic Salmon & Asparagus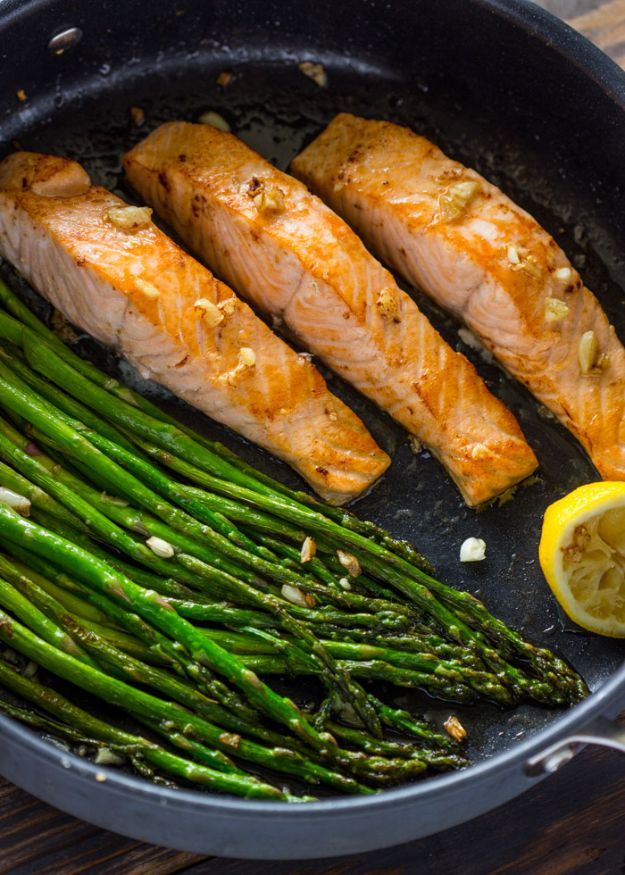 I am certified salmon lover and this recipe of salmon, asparagus and garlic caramelized in the flavorful browned butter is just the perfect dish to impress just about anyone. No prep need and is ready in just a few minutes. Does it get better than that?
8. One-Pan Cheesy Chicken, Broccoli, and Rice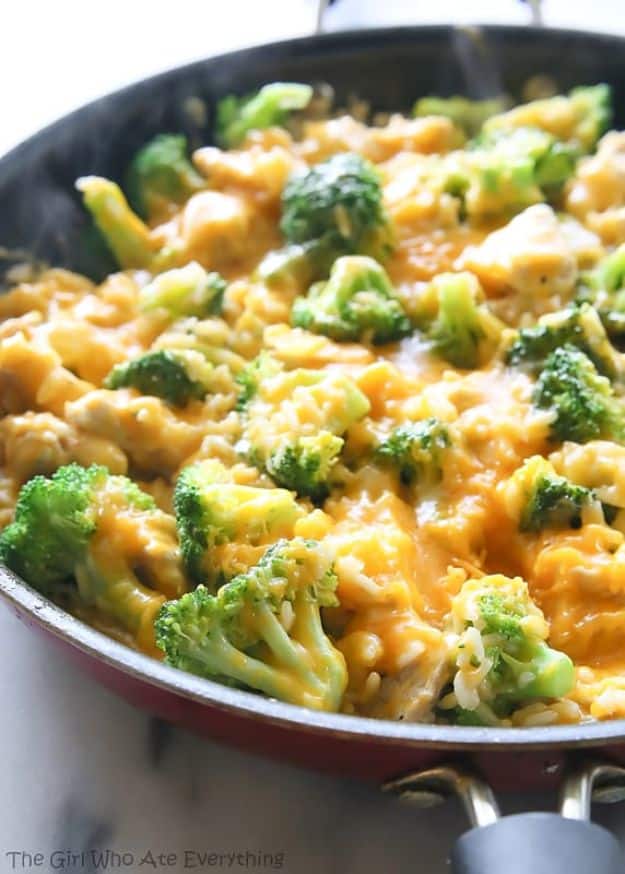 Got a hectic week ahead and running out of ideas to cook? This One-Pan Cheesy Chicken, Broccoli, and Rice dish is perfect for a busy weeknight, you'll definitely want it on your weekly meal plan.
9. Sheet Pan Lemon Parmesan Garlic Chicken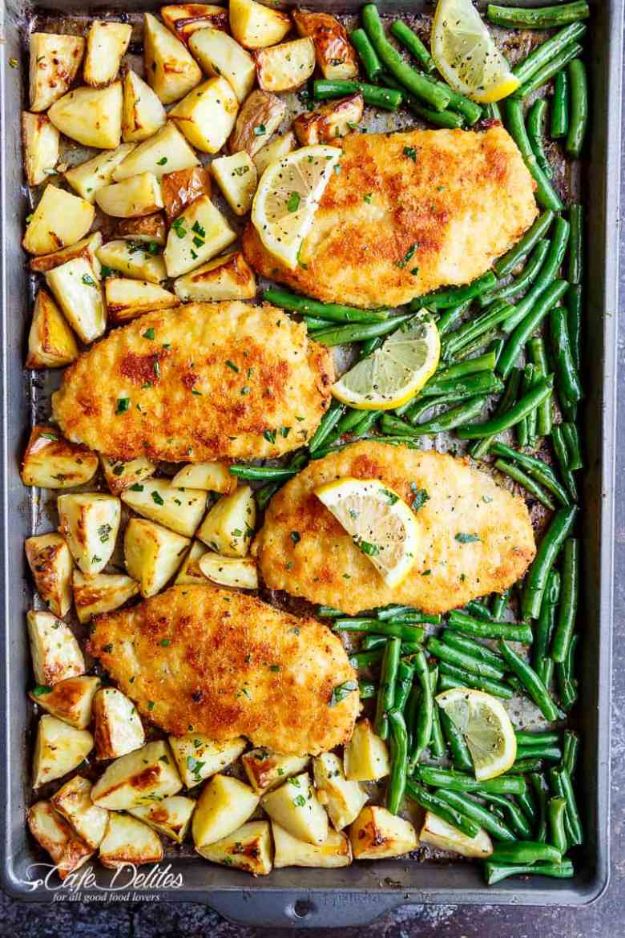 This recipe looks and tastes amazing. Made them tonight and my whole family loved it! It's so quick and easy to prepare, I will definitely be putting this on permanent rotation.
10. 10 Minute Lemon Garlic Butter Shrimp With Zucchini Noodles
Wow, two of my favorites in one pan meal! I am completely sold on this recipe. I never knew shrimp and zucchini go well together. It looks super delicious and it doesn't hurt that it's a healthy dish too. I can't wait to try it!
Please follow and like us: