Looking to make an awesome mancave for yourself or that special guy? DIY mancave decor is the way to go, then, because you can make the most creative statements by making some fun and funky things we bet you never thought of before. Check out these 50 DIY mancave decor ideas for some cool and creative ways to decorate a garage, man cave or workshop for him. Masculine ideas that are easy and full of rugged, rustic charm, you will want to make several of these to decorate the space. Fun furniture, awesome games, accessories, seating and decor ideas are all here for the making. Check out the step by step tutorials and learn how to make some this weekend.
DIY Mancave Ideas
1. Personalized DIY Ottoman Using Jeans and a Wooden Crate
Do you love denim DIYs and IKEA hacks? Well, with this DIY project tutorial from Pillar Box Blue, you will definitely get the best of both worlds. This Personalized DIY Ottoman Using Jeans and a Wooden Crate has a unique rustic industrial vibe going on. It would really look great in a man cave or even a lounge. What I love about it is the storage bit under the lid – really handy for magazines and general clutter.
2. DIY Repurposed Vintage Television Beer Bar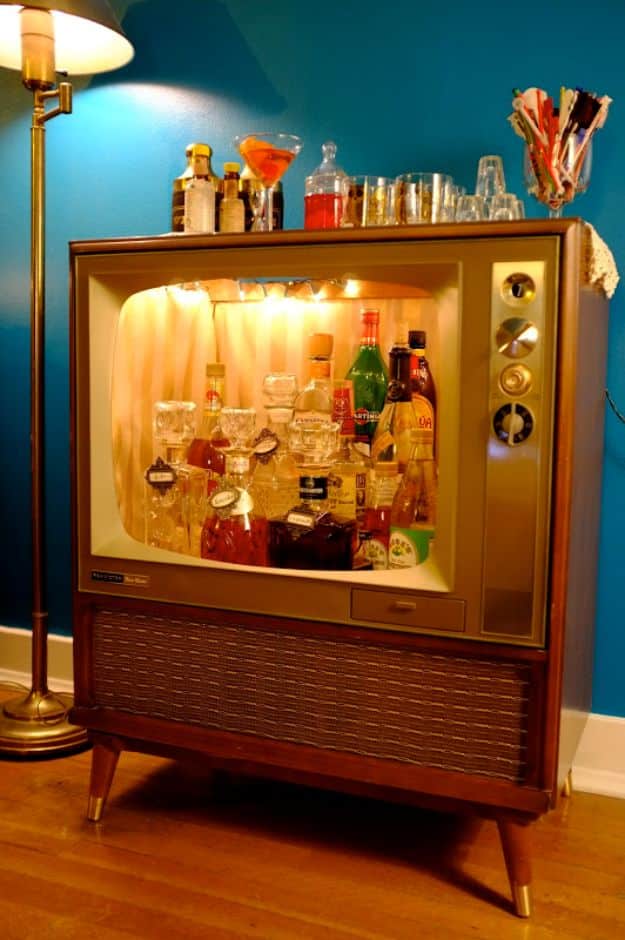 Wow, what a fabulous job repurposing this vintage television into a beer bar! No space for a full bar? Turn an old TV into a retro liquor cabinet.  Do this with the vintage TV – DIY vintage tv repurposed into a bar. After gutting the insides and a trip to IKEA it will be ready for alcohol.
3. DIY Skateboard Shelves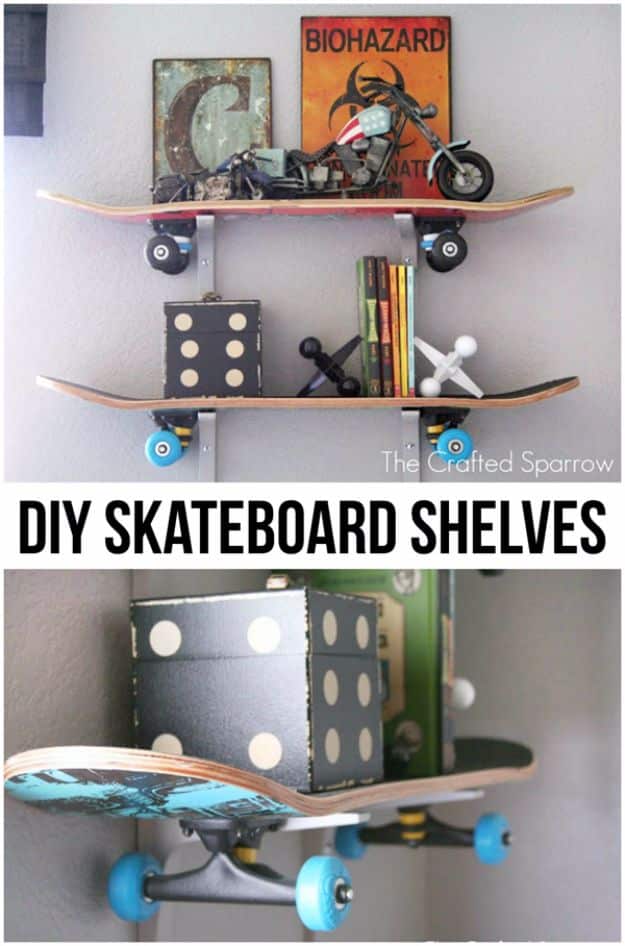 To maximize space in your home, wall shelves always come in handy!  DIY projects are too awesome they miraculously turn things so amazing like this super cool DIY Skateboard Shelves. Wouldn't it look great in a man cave? Repurpose an old skateboard into a hanging shelf and surprise your boys. Just look at how eclectic and gorgeous this turned out.
4. License Plate Box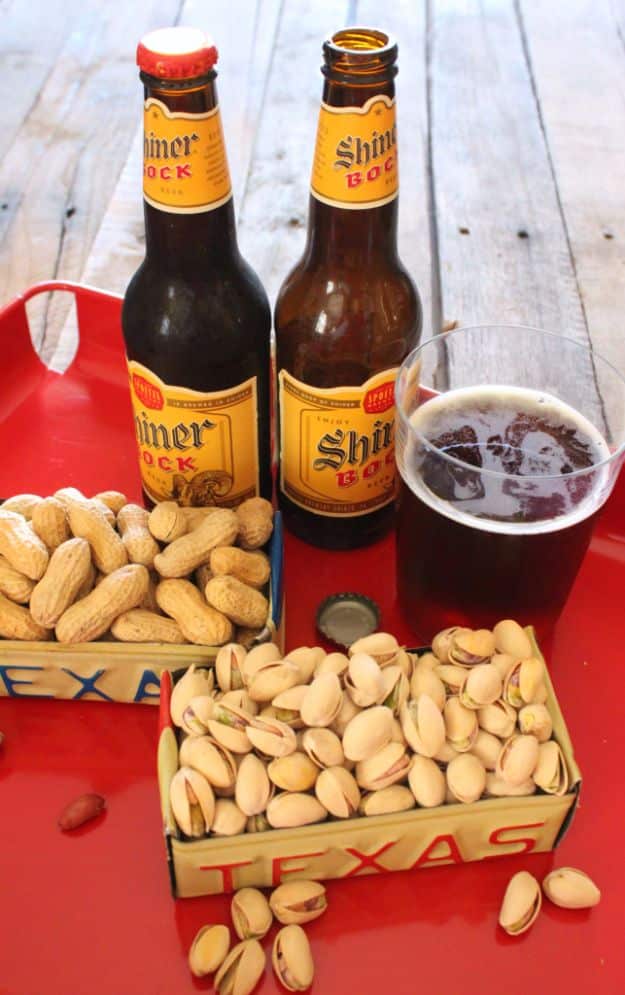 Are you interested in getting rid of your excess license plates? Well, you can turn them into an all-purpose box that would really look great in a man cave. This idea is so clever will be scouring the garage sales for cool license plates! And then handing them to the Mister so he can get busy with them. Really brilliant and a completely unique piece!
5. DIY Beer Tote
Ditch the cardboard six-pack and customize your own wood beer caddy to tow your brews in style. This step by step DIY woodworking project is about wooden beer tote plans and a quick fun woodworking project that anybody can make with a few basic woodworking tools.  Similar totes sell for up to $50, but you can build this one for half the price! Just follow along with the simple and easy step-by-step tutorial from The Rogue Engineer.
7. Awesome Guitar Shelf
If you have a broken guitar just sitting around and wondering what to do with it, then this DIY project tutorial from Dad's Bible is the perfect DIY for you. It's a fairly simple project but I think it's creative and unique as well. This would be great addition to thing to any man cave room especially those who love guitars.
8. DIY Sports Jersey Pillows
If you want to bring the sports theme to your family's Man Cave, but don't have any jerseys laying around?  You can find out how to make your own using iron on numbers and turn them into pillows. Grab the full details of this DIY project from Kenneth Wingard. These awesome pillows would be ideal for any sports fan and would be fantastic in any man cave.
9. Poker Card Wall Decal
Create custom wall decals, vinyl decals and wall stickers for your blank walls. Perfect for home décor and especially the man cave, this Poker Card Wall Decal will be the center of attention. Learn the full DIY tutorial from Martha Stewart.