Ready to wrap a million presents in a couple of hours? It may seem pretty daunting when you have large piles of gifts to wrap and not much time to do it, but these fun, easy and creative gift wrapping ideas will show you how to wrap a gift in amazing ways you never thought of. We included step by step gift wrapping basics for those of you who need them, and some cool quick ideas like how to make a gift bag out of wrapping paper. Not just for wrapping Christmas presents, either. Cute holiday ideas as well as clever and cool birthday present wrapping ideas and artistic ways to decorate the paper itself. Learn how to make clever bows and DIY gift boxes in tons of awesome shapes, too! Check out all of these brilliant ideas and learn how to wrap a present like a pro.
Looking for cool DIY gift ideas for your friends and family, too?
Be sure to check out The Ultimate DIY Christmas Gifts list which includes:
DIY Present Ideas for Men
Awesome DIY Gift Ideas Mom and Dad Will Love
41 Fun DIY Gifts to Make For Kids
31 Best DIY Gift Ideas for Her
27 Expensive Looking Inexpensive DIY Gifts
27 MORE Expensive Looking Inexpensive DIY Gifts

ALSO…if you love DIY, be sure to follow us on Twitter for awesome craft tips and projects
Follow @diyjoycrafts

How To Wrap A Gift – Wrapping Tutorials & Ideas
1. Cut Out Gift Wrap
When I saw this, I said "Oh, WOW!" and then I wondered why I had never thought of such an easy idea myself. Adorable and easy, you can do this with pretty much any gift wrap you have as long as you have two layers. If your box is colored, you will not even need to wrap twice. Solids like this look great, but you can really use any wrapping paper you want. When you want to learn how to wrap a present without having to get fancy wrapping paper or spend lots of money, this DIY cut put gift wrap is a great place to start.
2. Furoshiki Gift Wrap

I first saw Furoshiki wrapping at this amazingly decadent Japanese department store in New York city, and ever since then, when I see it, I am reminded of its simple elegance. Furoshiki refers to a traditional japanese wrapping cloth,  and you can use it to wrap just about anything – gift wrapping, shopping items and oddly shapes packages and presents. This is a great gift giving idea for a  fun scarf, as the scarf itself can be used as the presentation for the gift it holds. When you want olearn how to wrap a present without wasting any wrapping paper, this reusable scarf wrap is our favorite idea.
3. Linoleum Hand Stamped Gift Wrap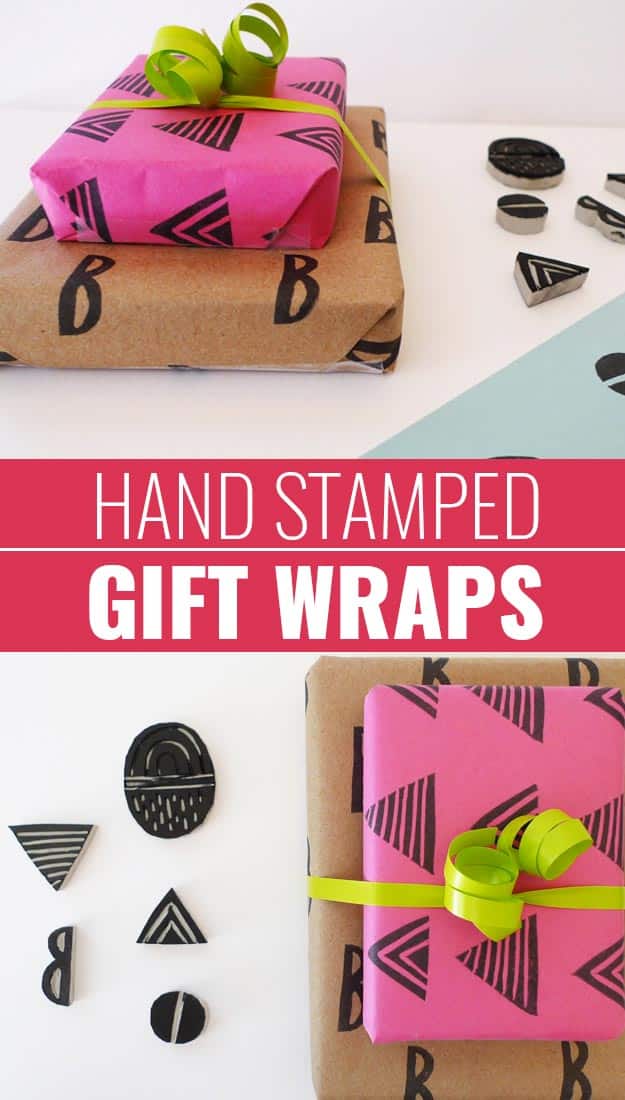 This clever wrapping idea is a lot of fun to make, at least for those of us who like carving and playing with ink pads. Created from linoleum stamps and inexpensive carving tools, these stamps will last forever so you can make your own signature designs for your wrapping paper. I think you could also go the traditional route I learned in preschool and make some stamps with carved carrots and potatoes for a similar effect, but you probably will not want to save those stamps, you know?
4. DIY Gift Bag Tutorial

Warning: Before you look at this tutorial, know you are likely to be mad at yourself for not knowing this was possible. We understand you will question yourself, and how you could possibly spend 100's of dollars on gift bags in your lifetime when this easy solution has always been there. It's ok. We feel your pain.
5. How to Wrap A Gift

Need present wrapping basics? Here is an awesome Youtube video tutorial that shows you exactly how to wrap a present with easy to follow step by step instructions. Follow along and learn how to wrap a gift like a pro. Be sure to Pin this handy guide, too, so you will have it on Christmas Eve when you need it! Even beginners will be wrapping presents quickly and beautifully if they follow along in this awesome video by One Kings Lane.