Do you love sewing and making crafts? I can think of no better way to spend my time.  Recently, I wanted to see if I could turn my love of crafting into a small business, or at least figure out how to make enough money to pay for my crafting supplies Was I ever surprised when I found so many awesome sewing craft projects to make and sell. Whether you want to sell on Etsy or another online marketplace, at craft fairs or in boutique stores, these sewing craft ideas are some of the best, easiest and most popular items you can make and sell. From DIY gifts ideas, to kitchen accessories to easy and adorable fashion accessories, these sewing tutorials are too cute for words. Check out the step by step tutorials and learn how to make some today. From gift bags, lunch accessories and things you can take to work to adorable items you can make for kids and babies, there are some incredibly easy sewing projects you can whip up in under an hour.
1. Summertime Pocket Placemats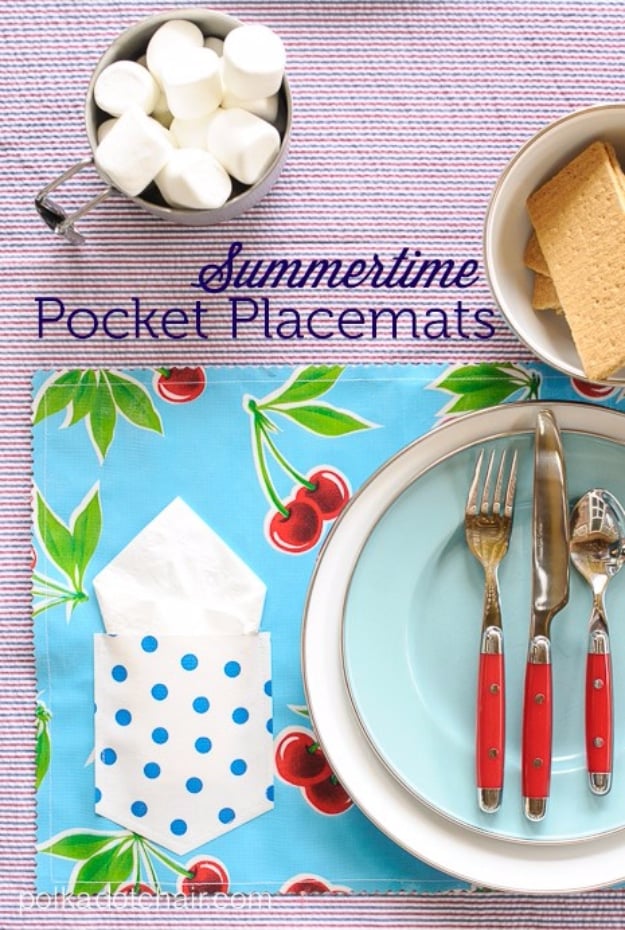 I love taking my family on picnics because during the summer we love eating outside more than anything. Fire up a grill and throw on some burgers and I'm a happy girl! Since we eat outside so much, and our outdoor table can get a bit dusty, I thought it would be fun to have some DIY wipeable placemats that we could use all summer. These summertime pocket placemats are made out of oilcloth, (making them so easy to clean) lined, and even have a fun little pocket on the front to hold your napkin!
2. Heart Backpack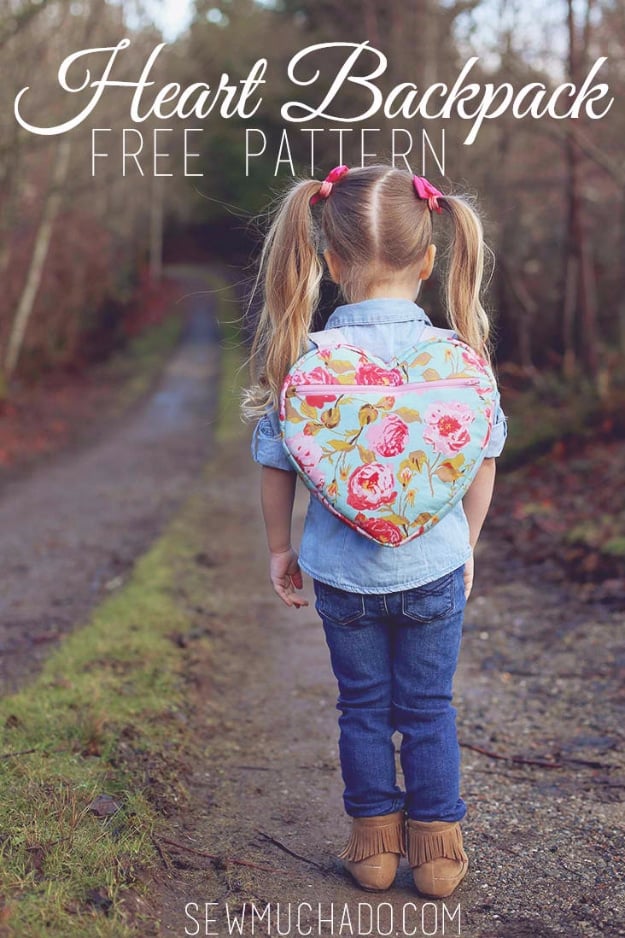 Need a fun project to make for a special little Valentine? I saw this DIY Heart Backpack Free Pattern that has a very simple tutorial and looks so adorable. I made one for my niece and she cried tears of joy the moment she laid eyes on it. It will keep any munchkin smiling all year long! You must try this, it only requires moderate sewing skills.
3. DIY Vintage Fabric Key Chains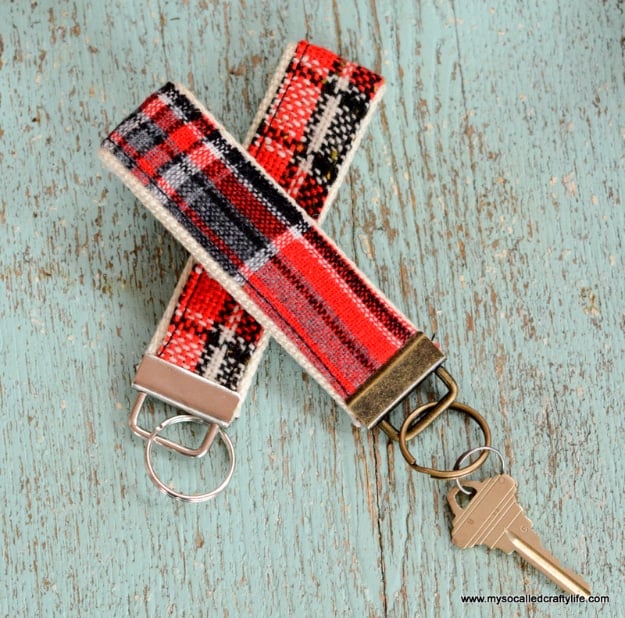 DIY handmade items are really fun to make and gift! I always strive to make DIY items that are something that my family will love and want to use. I also have a lot of family, so my handmade DIY items have to be fairly easy and quick to whip up. One of the easiest gifts I have been making this year for my fellas are these fun DIY vintage wool key fobs. You can whip up a whole batch of them in under an hour too!
4. Easy Laptop Sleeve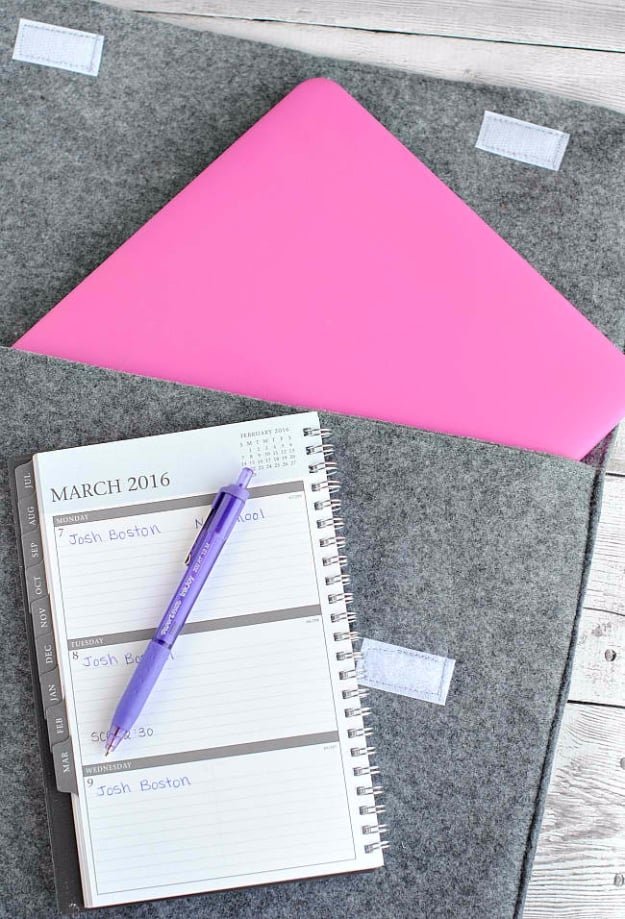 Laptops have become a necessary item for the educational advancement of your children. I got my Daughter a laptop as a Christmas gift but most of them don't come with a cover to protect them. This DIY craft is  I love my laptop and I decided that I wanted to create a cover to protect it. I found some felt fabric at JoAnn's, where I always use my 40% off coupon on the JoAnn's app and that provided a really nice cushion protection for the laptop. I put it under the tree Christmas morning with a bow and tag saying, Santa loves you. She is so thrilled that her DIY craft cover stands out from the rest. One of the most loved and requested sewing gifts to make for Christmas, I now make at least 4 of these every year.
5. Cherry Table Mat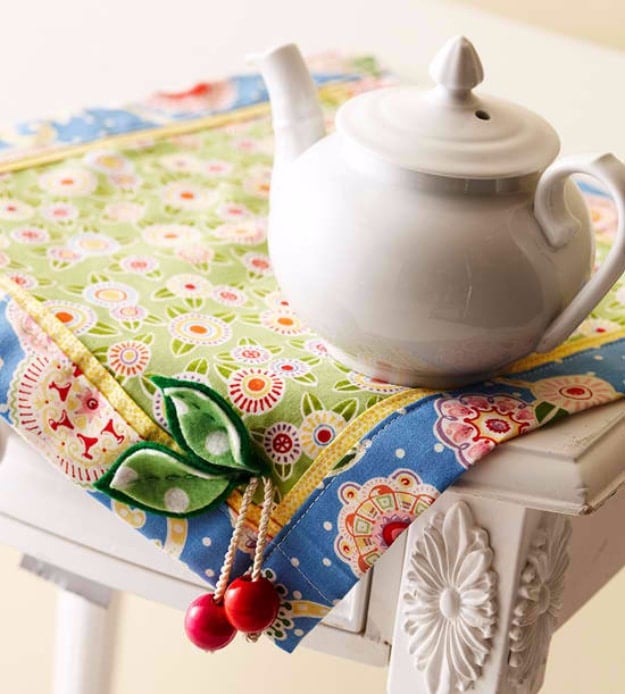 My best friend finally was able to buy her very own house. She had been living with her family, who she really loves, but it was a big step that she needed to finally take. Its a little Victorian style cabin by Lake Buchanan and she's doing her kitchen in a farmhouse country theme, shes even got a 1950s O'Keef and Merrit Gas range. I am so happy for her and so thrilled at her bravery to finally strike out on her own, I knew I had to make something extra special for the wonderful new kitchen. I decided on the handmade tea towels, so they could be draped along the handles of that beautiful range. She cried when I gave them to her, she's so happy about her new place in the Sun.
6. Key Fob Wristlet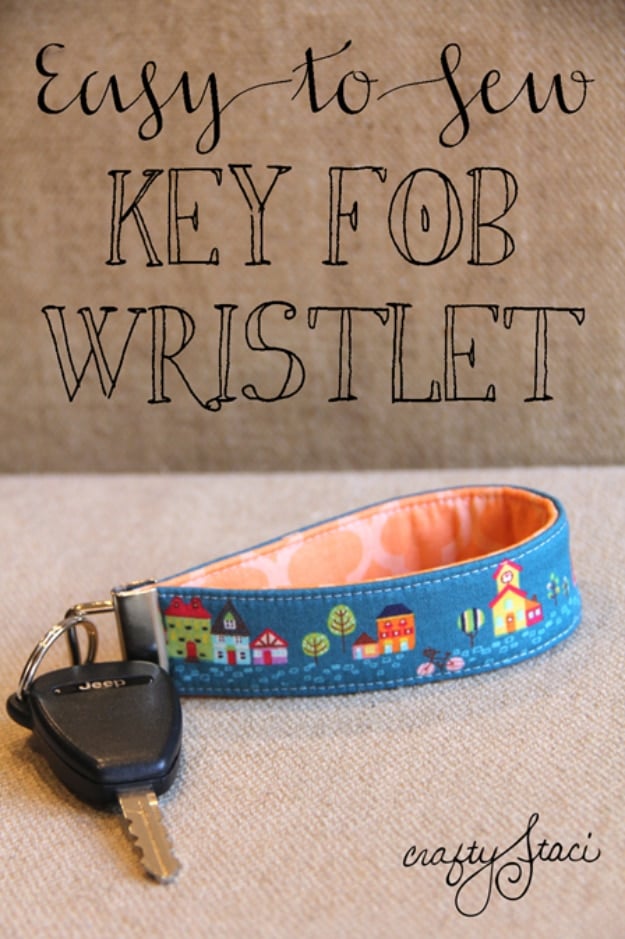 I decided to make a couple of sets of DIY key fob hardware from Christmas presents. They're so quick to make, and once you have the hardware it takes very few supplies.  Perfect for those fabric scraps!  There are many ways to make these handy little things and everyone loves them, they are both personal and useful. What more could you ask for?
7. Simple DIY Fold Over Clutch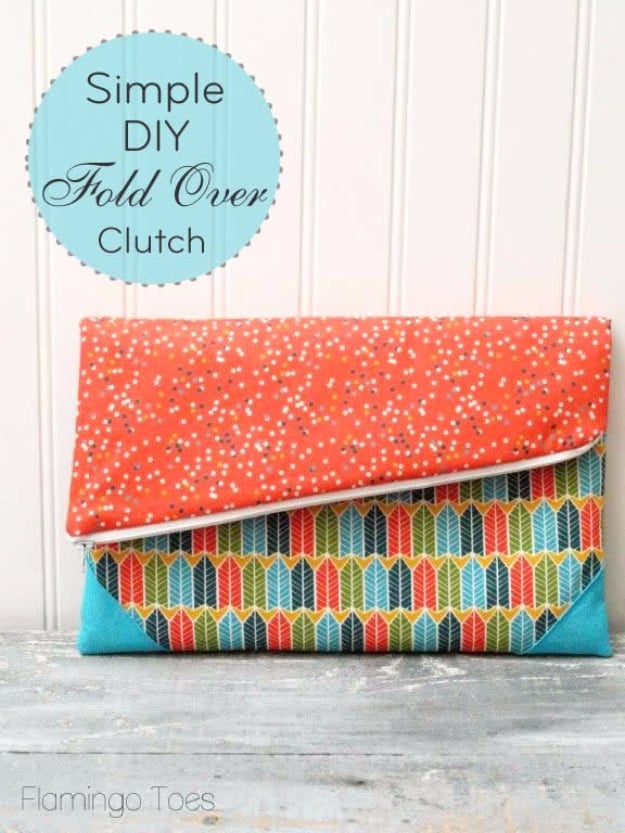 My daughter needed a new makeup bag, so I thought I would give her something crafted from my heart. She loves sewing but had kind of got a little disinterested in it. I made this gift as a surprise and it worked. We are making a holiday party dress for the Christmas dance. So glad we will get to experience that together.
8. Easy Sew Star Snuggler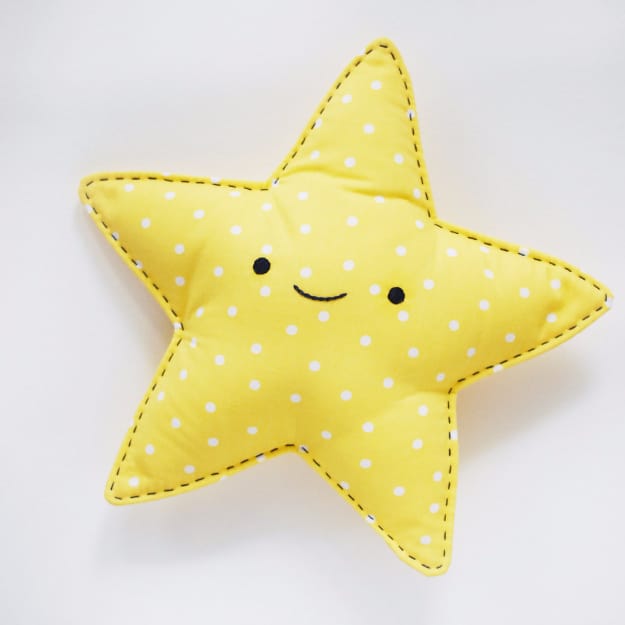 Would you like to swing on a DIY pillow star? I thought that it might be fun to sew up a little plush star and surprise my kids this Christmas. The idea behind this was to make it less like a stuffed toy, and more like a "lovey", which is a sort of blankie substitute for little ones. You can use this easy-sew pattern to make your star snuggler super stuffed or kinda floppy or something in between. However you make it, your star will love sleepy snuggles!
9. Cute Triangle Chair Cushion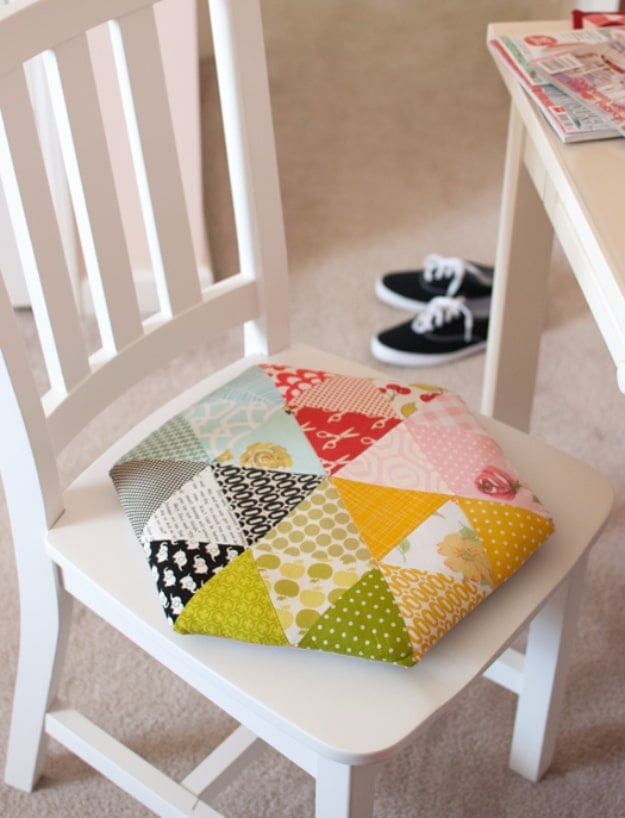 love the vintage retro style in the home, and nothing makes a better housewarming gift than a patchwork Partridge Family-style DIY seat cushion. I attended my friend's housewarming last week and really loved bringing her this DIY handmade gem. The entire room was filled with oohs and aahs as she pulled this cheerful gift out of its wrapping.
10. Reusable Snack Packs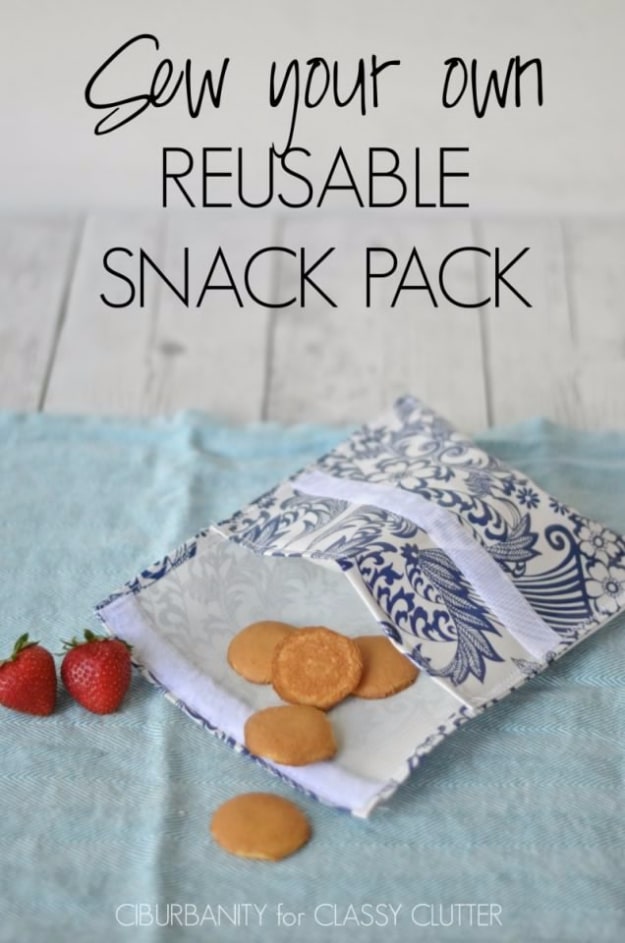 It's time for some organization, routine and maybe a hint of peace and quiet. Next week, I'll be responsible for packing three lunches every morning. I'm not perfect by any means, but I *try* to use reusable items as best I can. The thing is…reusable snack packs are sneaky expensive. I'm terrible at sewing, but these DIY reusable snack bags were so easy that even I could whip them up in one afternoon!
11. DIY Fabric Tortilla Warmer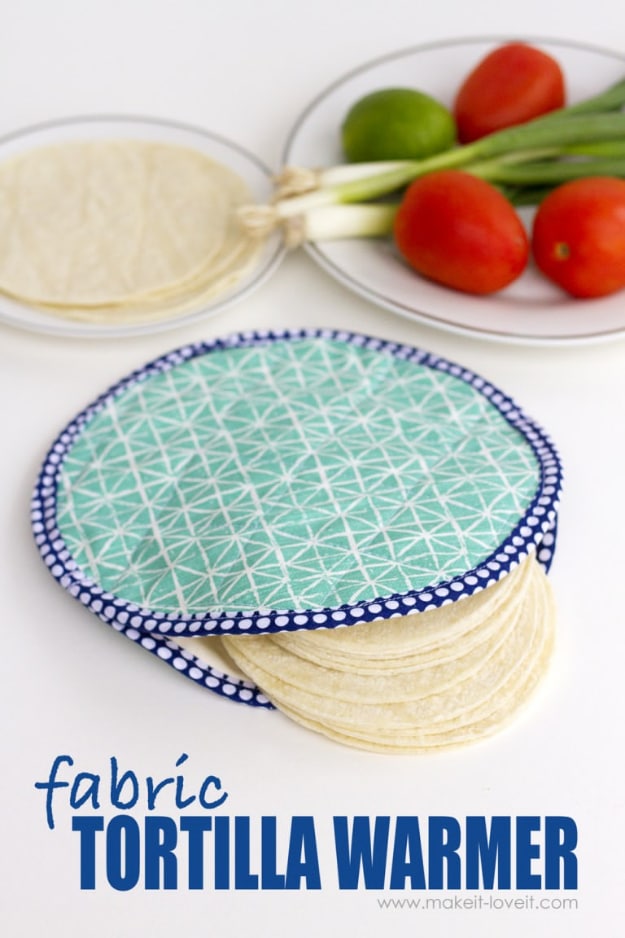 12. Pretty Lace Zip Pencil Case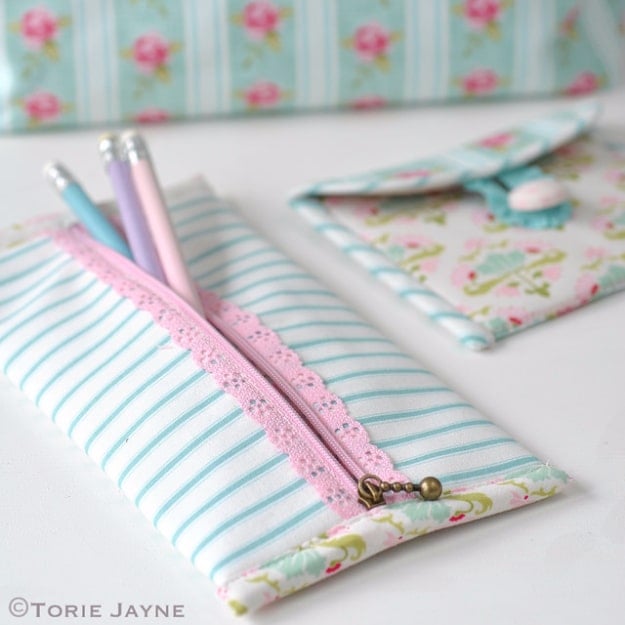 13. DIY Homemade Heating Pad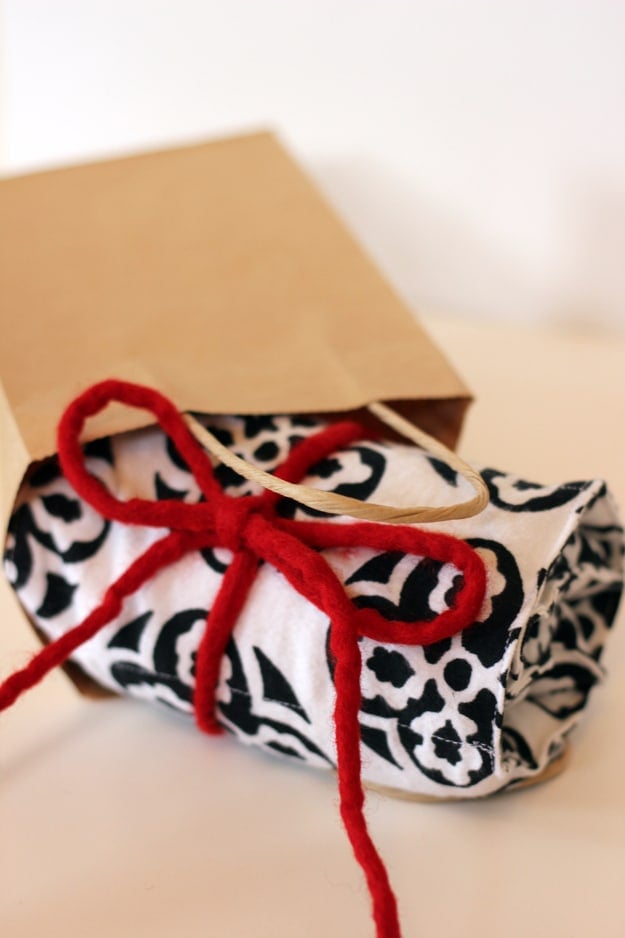 14. Handwarmers DIY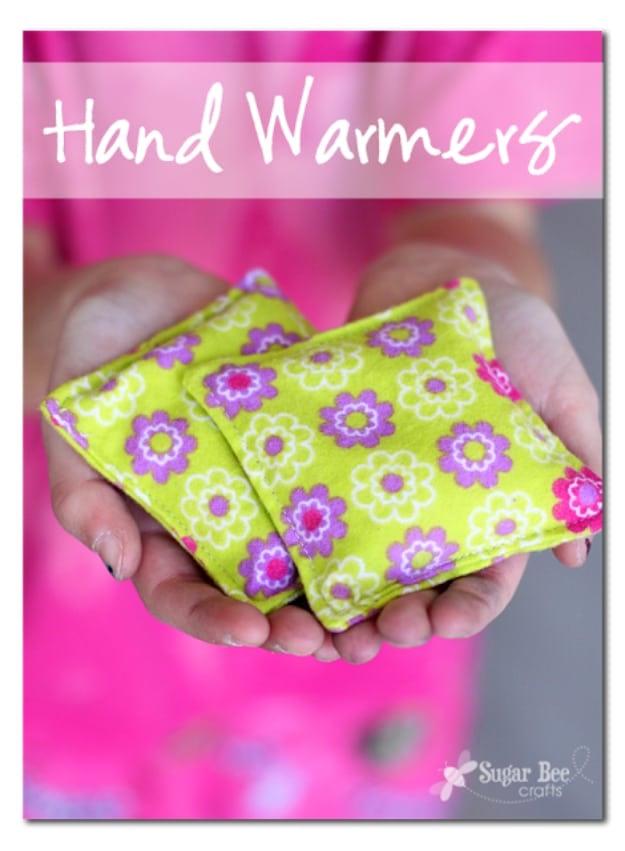 15. Summertime Beach Bag Tote