Love to sew and need some creative, new ways to make money selling you sewing crafts? I was also wondering what makes the best project to sew and sell on Etsy, Ebay and other online outlets, and what were the hot items to sell at craft fairs this year. I decided to scour Pinterest and also Etsy for some of the most popular ideas, and found some cool tutorials for awesome sewing crafts to make and sell. Inexpensive, not too difficult, and things most everyone needs or wants, these cool DIYs include awesome DIY gifts, creative home decor, kitchen accessories, fashionable bags and purses, plus a few adorable ideas for kids. Whether you are looking for projects for your church group, ideas for you and your friends to get together and make on weekends, or some new ideas for your late night sewing extravaganzas, these cool crafts and sewing tutorials should have you set with all kinds of new ideas. Check out this list of 50 Sewing Projects to Make And Sell and let us know what you think.
DIY Sewing Projects to Make And Sell
1. Reversible Place Mats
If you are looking for a top seller in your Etsy shop, we think placemats and table decor are the way to go, especially with the holidays coming up. Try making these with two or three pretty fabrics and create the cutest custom placemats. Follow this easy sewing tutorial to learn how. Don't forget to make a set of these for your home, either!
2. DIY Zipper Pouch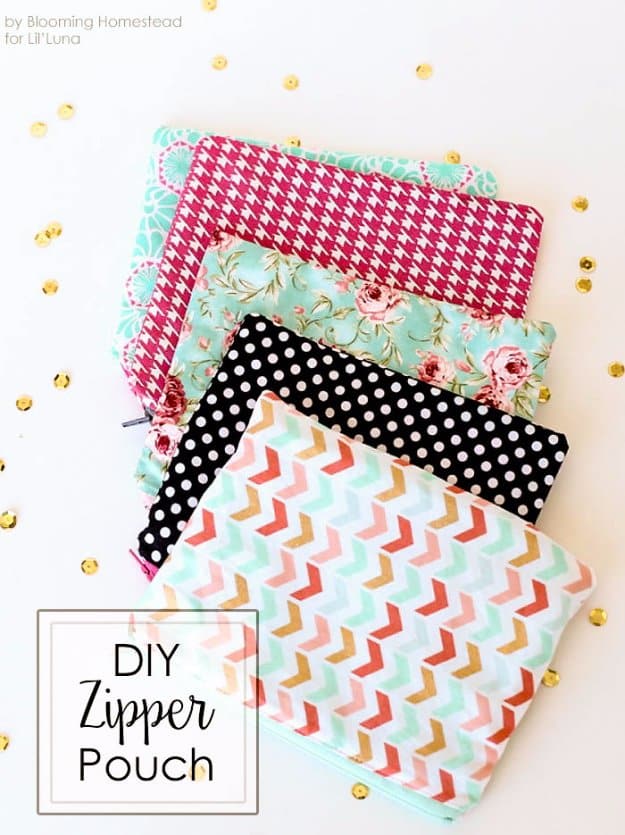 Sewing these little pouches is so much fun and so easy, you will find yourself with a stash of them in no time. I used leftover fabric scraps to create some gorgeous bags that honestly look better than those pictured. Get creative with your fabric choices on these, bold patterns and prints look super on these small carryalls that are perfect for your purse, car, suitcase and even storing sewing supplies. These sell well on Etsy and are quick to make, so get busy sewing some for your online shop. Don't forget DIY Christmas presents and birthday gifts, either. I am keeping a small stash of these on hand for last minute gifts.
3. Sew a Zipper Crossbody Purse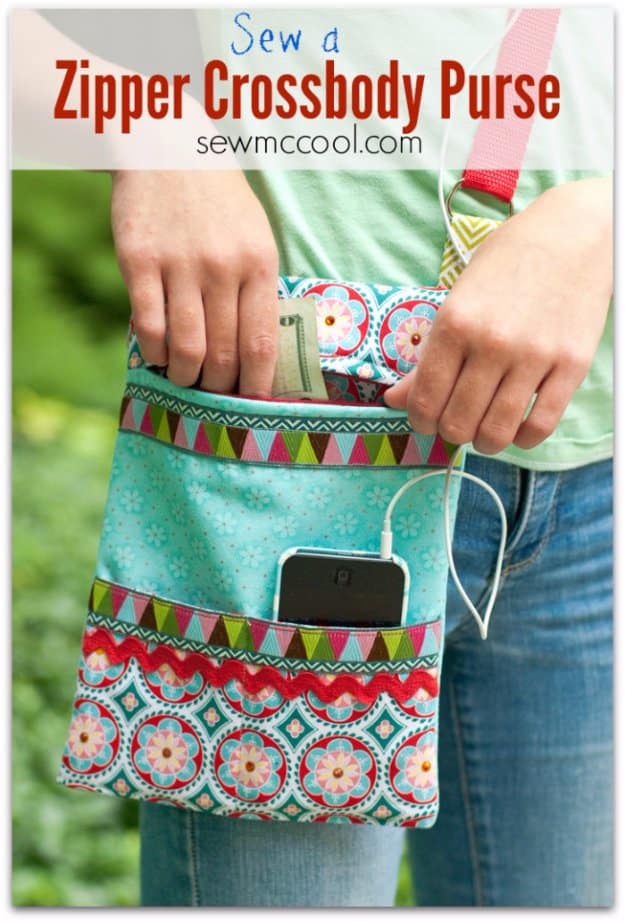 My teenage daughter found this cool sewing project and asked that I make one for her. I used leftover fabric pieces and crafted the cutest bag I've ever made. Easy and quick to make, this DIY zippered crossbody bag is one of my favorite sewing projects ever.
4. DIY Remote Organizer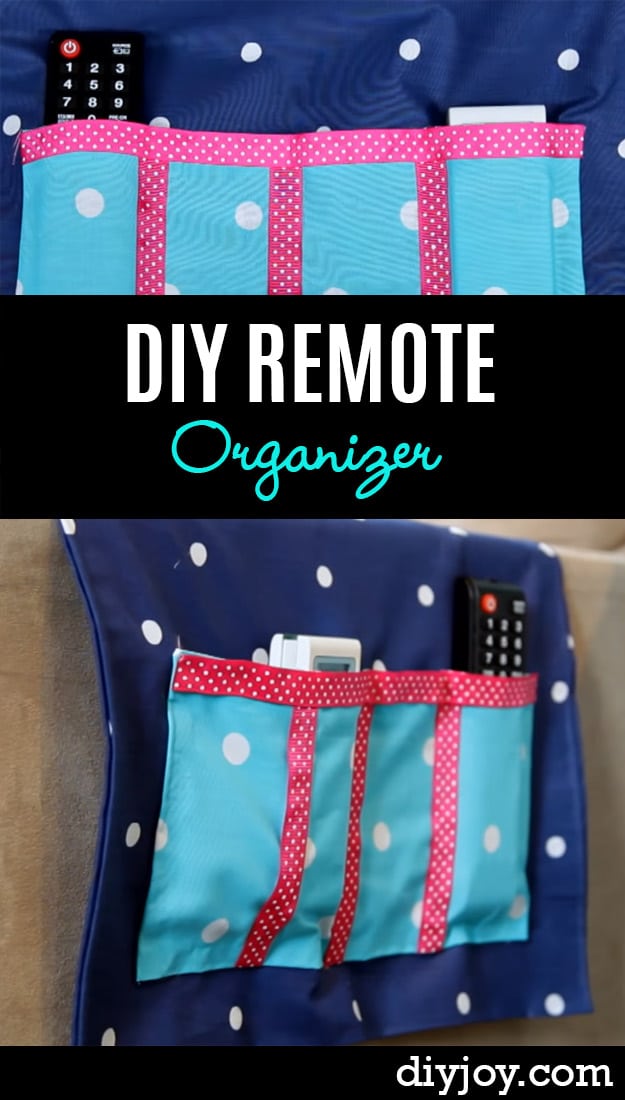 Does everyone in your house lose the remote? This DIY remote caddy is the cutest most sensible, cheap sewing idea I've ever seen. It requires only minimal sewing skills and makes an excellent item for your Etsy shop or as perfect DIY Christmas presents. The video in the link has step by step instructions that are simple to follow. This DIY remote caddy will not disappoint!
5. How To Sew An Oversized Sleep Mask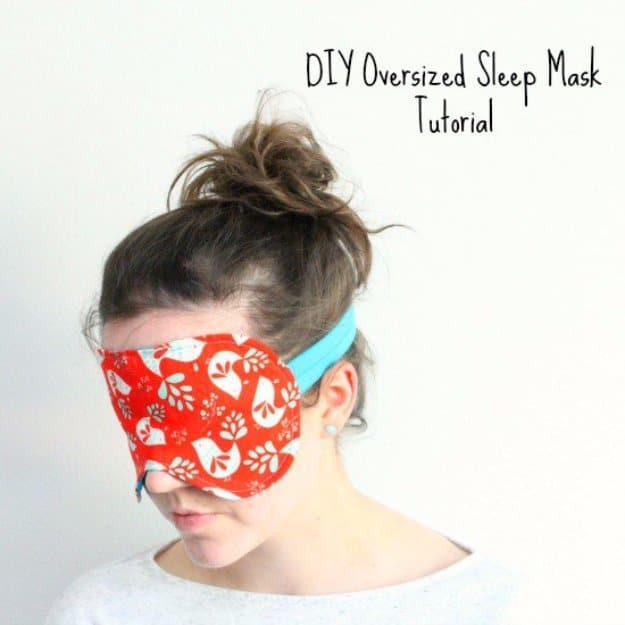 This DIY oversized sleep mask is a must for seasoned travelers or busy Moms. Most sleep masks are too small and let light in around the edges, defeating the purpose entirely. I found this simple pattern for an over-sized sleep mask – perfect to block the world out for a quick nap or while traveling! Its perfect to sell online in your Etsy shop or at a neighborhood craft fair as well.
6. DIY Quilted Coasters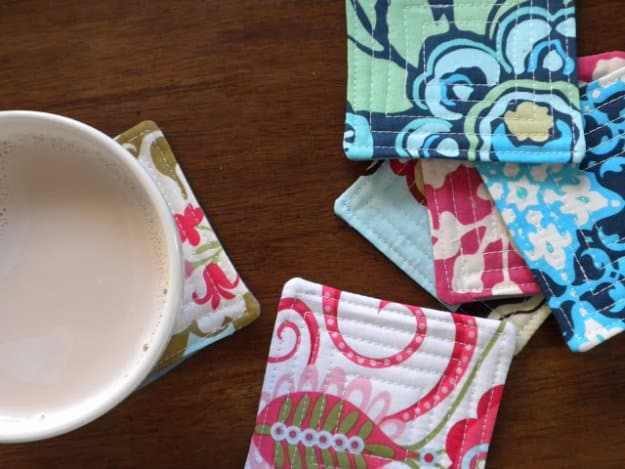 7. Twenty Minute Tote Bag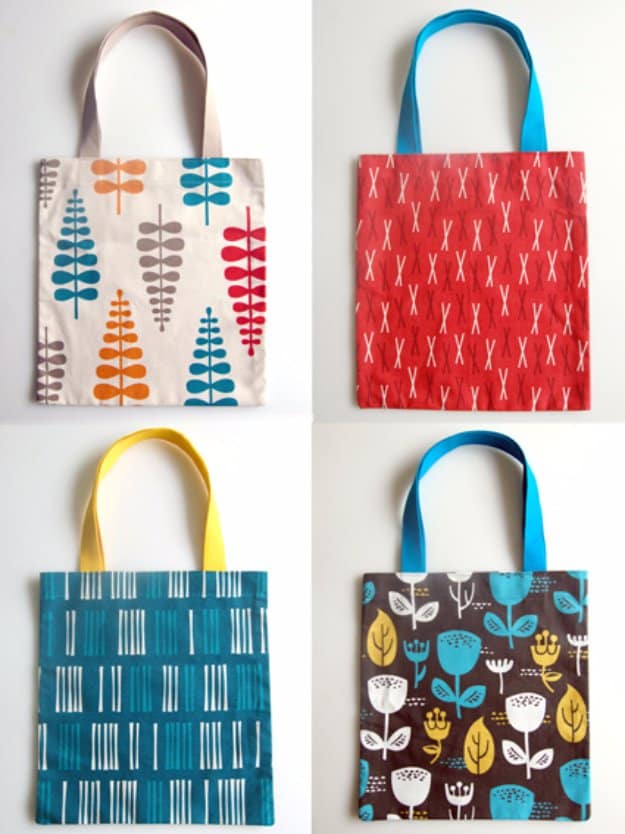 My daughter went off to college this semester and needed a new tote bag for basic classroom supplies. A hand sewn tote bag is a great DIY gift idea for the student in your family. I used an 80s retro printed cotton and some leftover polka dot fabric I had from making a tablecloth last Summer. I followed this very simple tutorial and it only took about an hour to complete.
8. DIY Easy Oven Mitt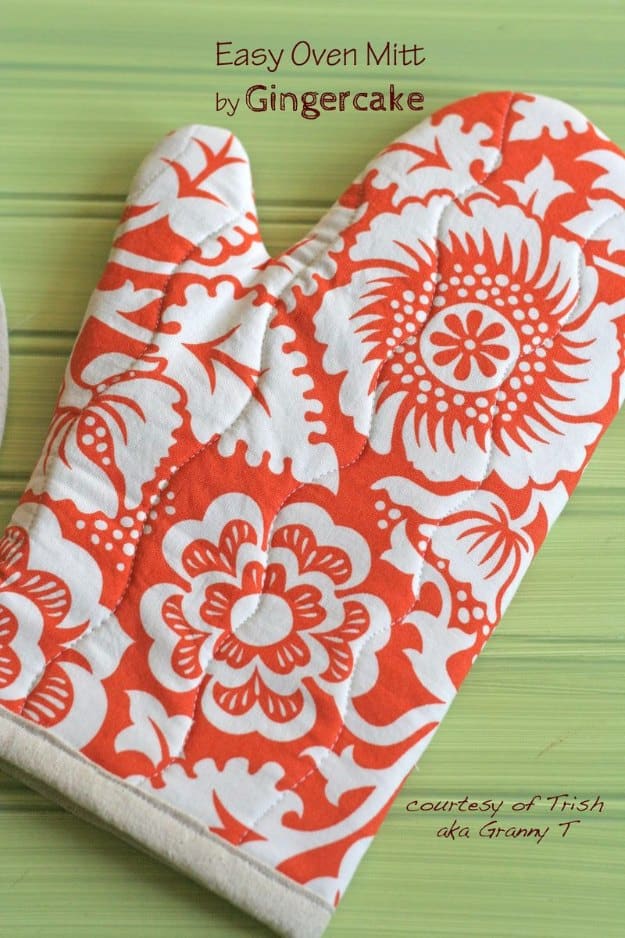 I had always wanted to make a DIY oven mitt and about a year ago my mother in law gave me a box of fabrics and other sewing odds and ends.  Among the goodies was this hand drawn paper oven mitt pattern.  It looked so easy!  I was excited to share it here on the blog and this week I finally sat down to make it.  It literally takes about 1/2 an hour. I suppose you could fancy it up with patchwork and more elaborate quilting and let it take you a whole hour if you would like! Begin by printing out the pattern pieces, cutting them out and taping the 2 halves together. Follow instructions on the pattern piece to cut out your fabric and batting pieces on the fold.  Make sure you cut the interior fabric 1″ longer than the others to make the hem in the last step.
9. Double Sided Tissue Pouch Tutorial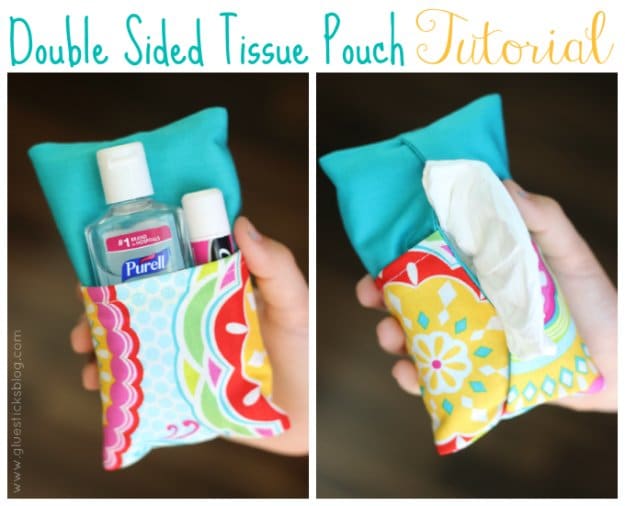 A two-sided tissue holder pouch is perfect for cold and flu season. One side can hold a pack of tissues, the other side can hold a mini bottle of sanitizer and a lip gloss! I decided to make some little tissue pouches to put in the kid's backpacks and one for my purse. They all like the single sized tissue packages, but they don't always hold up well being tossed around in a bag with books and binders. These tissue pouches are super easy to make (under 15 minutes) and my version is double sided! The extra pocket is just the right size to hold a mini bottle of hand sanitizer and a lip gloss. Perfect to battle those germs at school or on the
10. Circle Zip Earbud Pouch Tutorial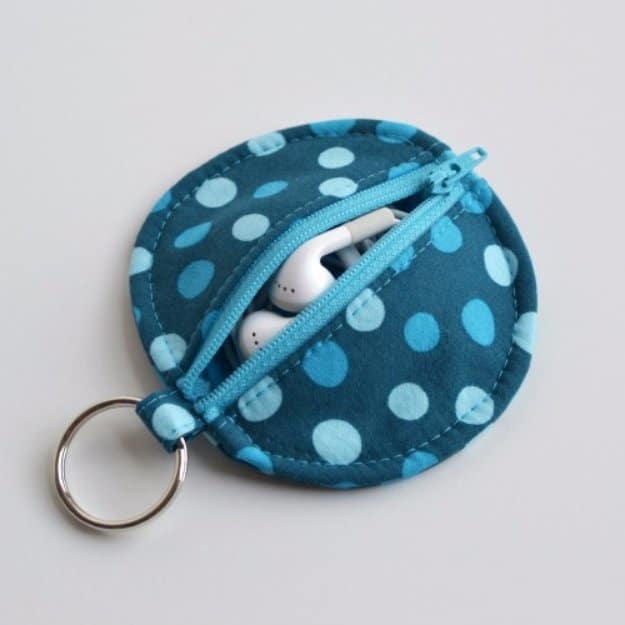 I use a little zippered pouch to carry around my earbuds since they are the fancy microphone ones and I don't want them to break or get tangled. If you are looking for some small, simple gift ideas, this is definitely simple to make and it's a little more fun than the typical rectangular zippered pouch! I can see these as the perfect gift for teenage cousins or nieces or girlfriends or even teacher gifts. Fun, quick, and cute! It doesn't take very much fabric so you could even use scraps! Sometimes I have the perfect fabric for something but I only have a fat quarter, or I want to make something extra with the leftovers from another project. This is perfect for that. You could even use 5″ charm squares! This is a very basic zippered pouch, so hopefully, some of you beginners will try making one!
11. DIY Girl's Purse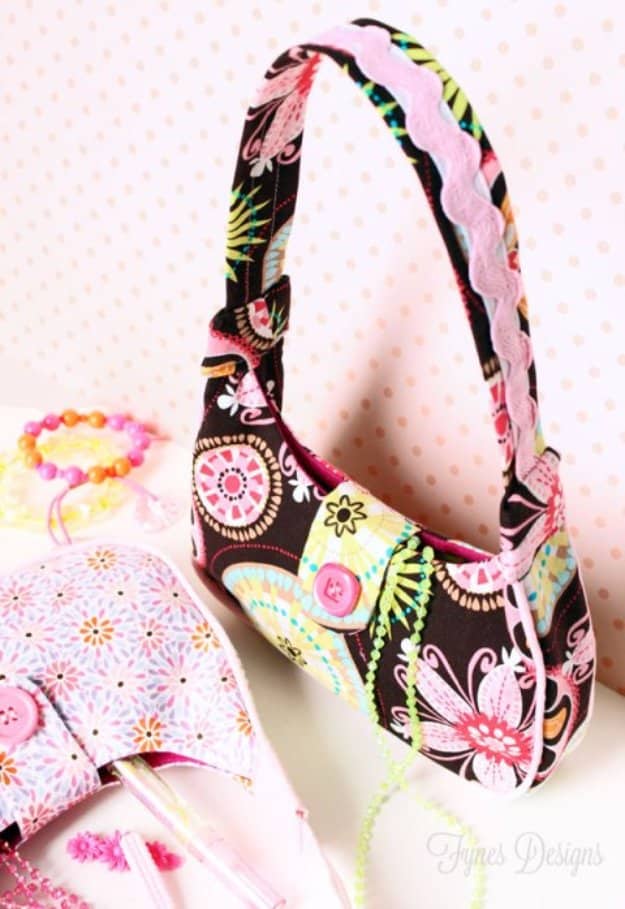 12. Pot Holder Notepad Pocket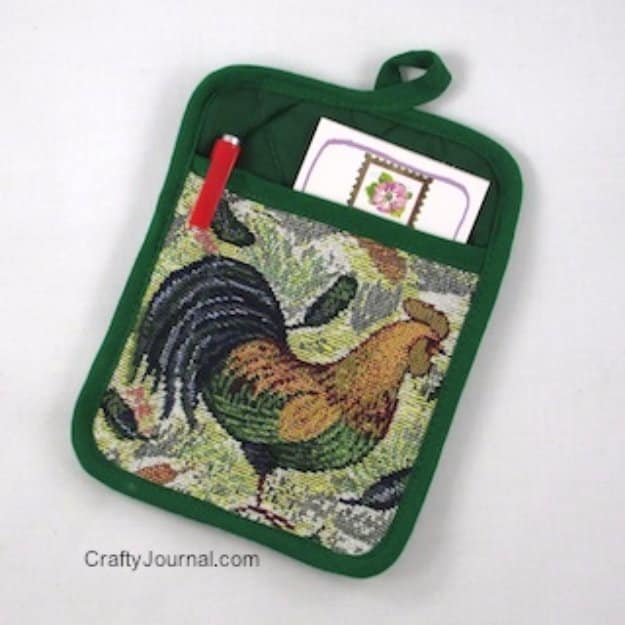 //
13. Casserole Pot Holder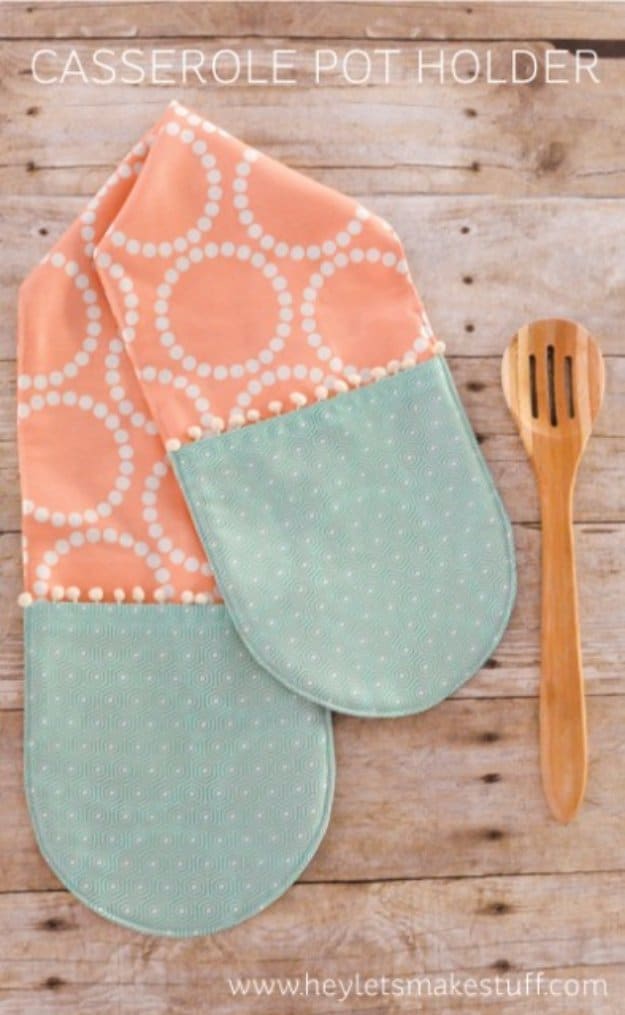 14. Reversible and Reusable Gift Bag Tutorial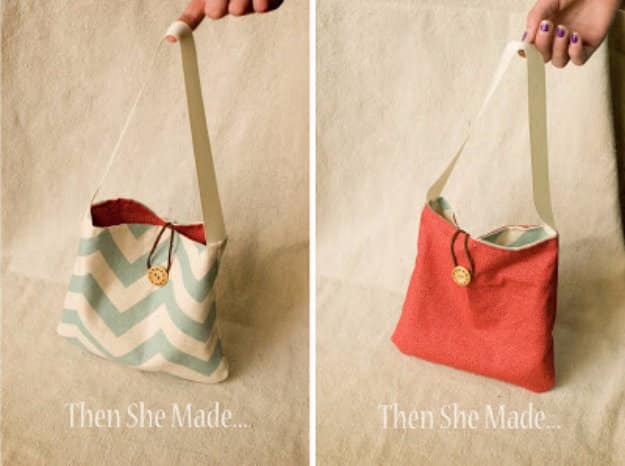 15. Neutral Denim, Linens and Chambrays Table Runner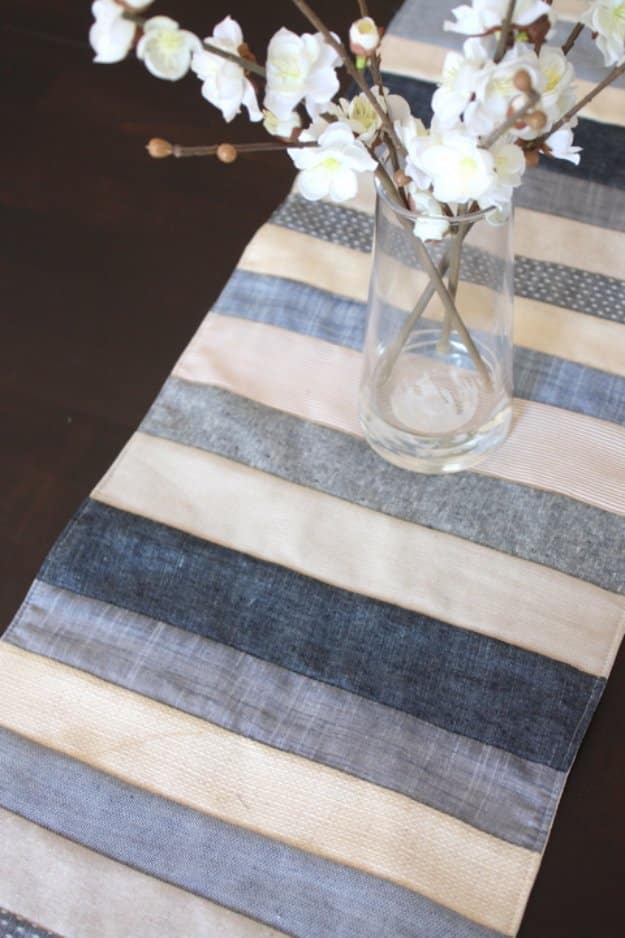 Please follow and like us: