Save time and money with these Christmas decor hacks. There are plenty of creative tips and tricks for decorating your home for Christmas on a budget. From cheap Christmas decor storage ideas to creative ways to repurpose common household items into DIY Christmas decorations, these easy ideas will make your yard and home look as festive as possible without breaking the bank.
Outdoor Christmas Decor Hacks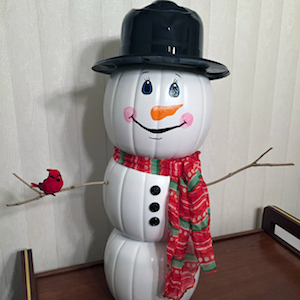 Save your leftover $1 pumpkin pails to make an outdoor snowman decoration
from Crafty Morning
Create giant Christmas candies using paper plates and wooden dowels
from Smart School House
Make a Christmas Tree from a tomato cage and decorate using garlands, lights, etc.
from Two Twenty One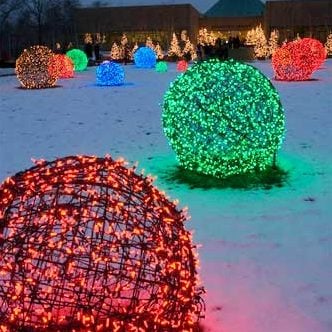 Create light balls out of chicken wire and Christmas lights
from Christmas Lights, Etc.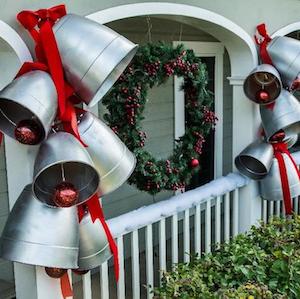 Spray paint $1 flower pots to make these giant bells
from Kenneth Wingard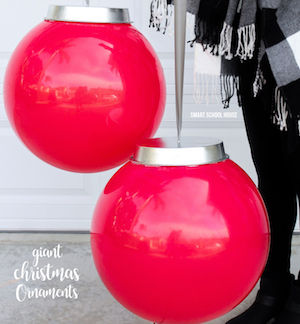 Make giant ornaments using balls and $1 cake pans
from Smart School House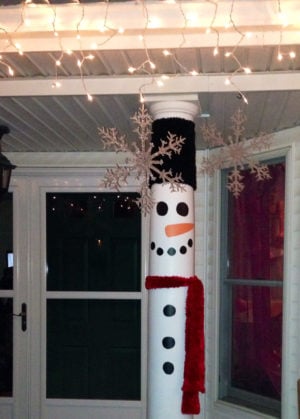 Make a Snowman on your porch with this easy DIY idea. (source unknown)
All you need is black and orange felt, double sided tape & fabric for the hat and scarf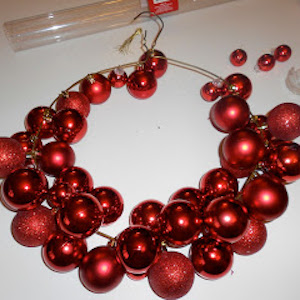 Make a Christmas ornament wreath out of a wire coat hanger
from Six Sisters' Stuff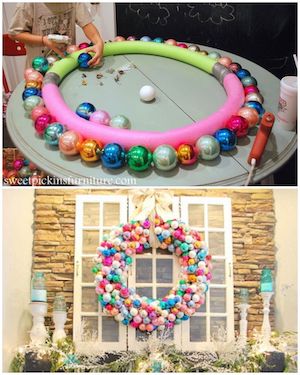 Make a giant Christmas wreath using two $1 pool noodles
from Sweet Pickins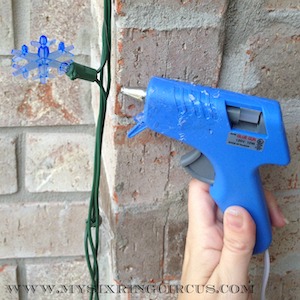 Hang lights using a glue gun (warning: only do this on brick, and not painted surfaces)
from My Six Ring Circus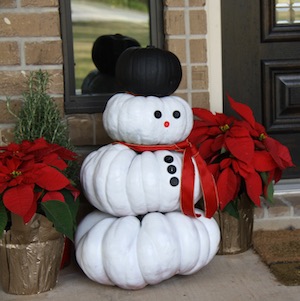 Use leftover pumpkins to make a snowman
from Nola Girl at Heart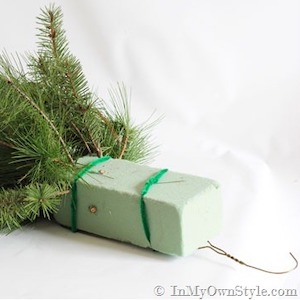 Use a foam block and wire coat hanger to make Christmas porch light swag
from In My Own Style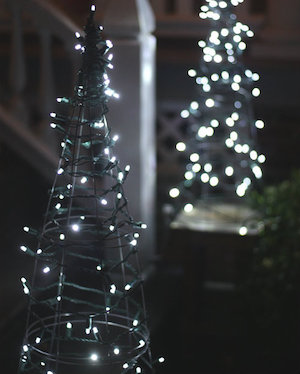 Create a Christmas tree light display using a tomato cage
from 17 Apart
Organization & Storage Christmas Decor Hacks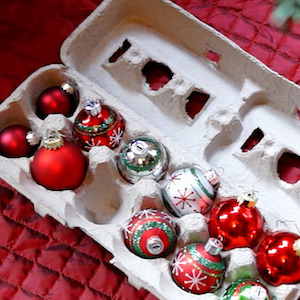 Use egg cartons to store your smaller ornaments to prevent them from breaking
from Hefty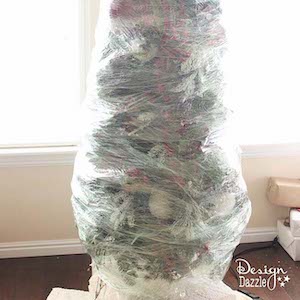 Shrink wrap your Christmas Tree with all the ornaments and lights on it so that you will save time putting it up next year
from Designs Dazzle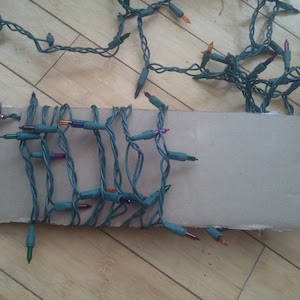 Never have to spend hours untangling Christmas lights with this easy organizer made from cardboard
from Apt Garden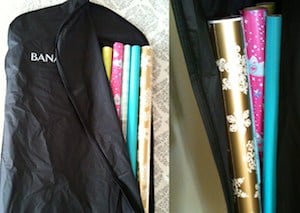 Use a $1 garment bag to organize your wrapping paper
from Practically Martha
Wrap your Christmas lights around a coat hanger
from Wiki How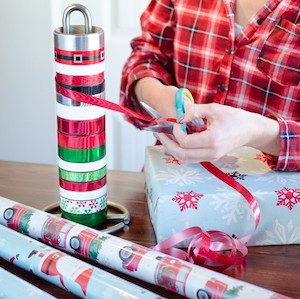 Store your ribbons on a $1 paper towel holder
from The Krazy Coupon Lady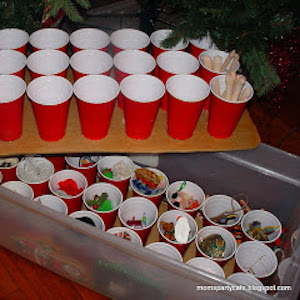 Store bigger ornaments in $1 plastic cups
from Mom's Party Cafe
Indoor Christmas Decor Hacks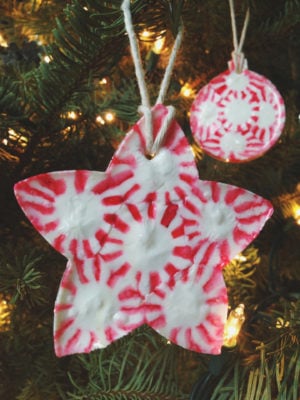 Turn peppermints into ornaments…
from Hello Homebody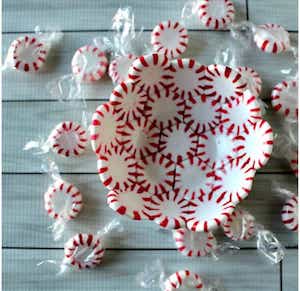 …and turn peppermints into decorative bowls
from Princess Pinky Girl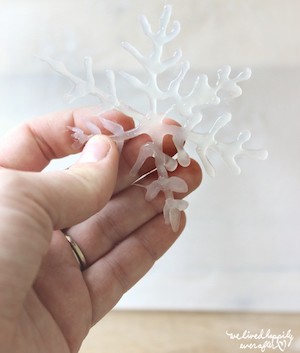 Make snowflake window clings using your hot glue gun
from We Lived Happily Ever After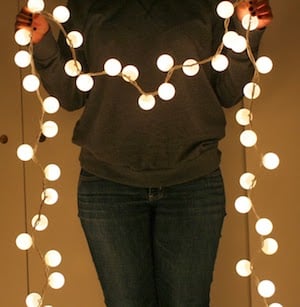 Get some ping pong balls from the dollar store and upgrade your LED Christmas lights.
You could even keep using them after Christmas to decorate your patio or dorm room.
from The Surznick Common Room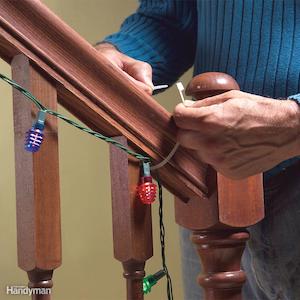 Zip tie your Christmas lights to railings
from Family Handyman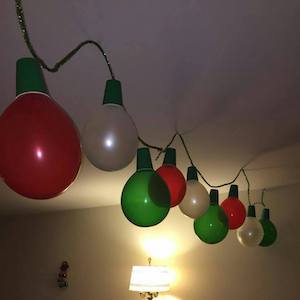 Make faux Christmas lights out of balloons, plastic cups, and a cheap garland for your next Christmas party (source unknown)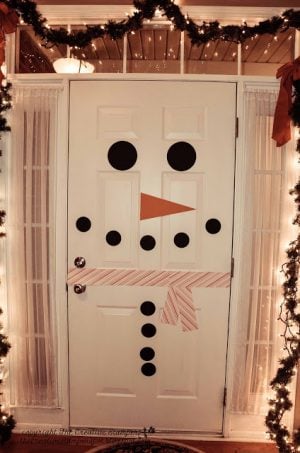 Make a giant snowman on your door or your fridge using colored paper or felt…
from The Creative Stamper Spot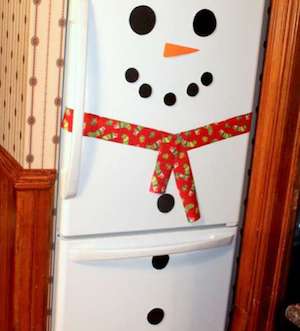 …and do the same with your fridge
from HOAWG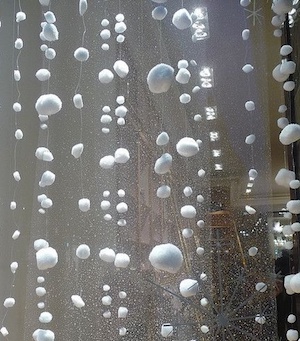 Make falling snow with cotton balls and fishing line (source unknown)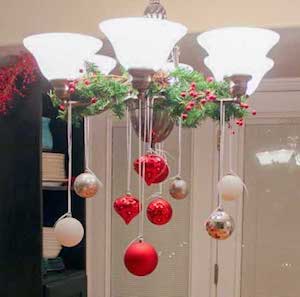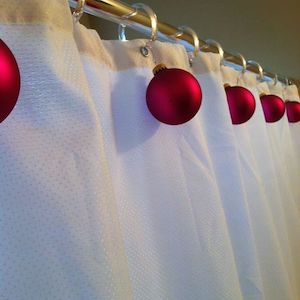 Hang dollar store ornaments from windows, chandeliers, shower curtains and more (sources unknown)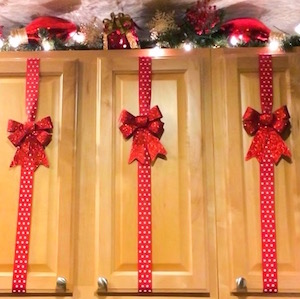 Decorate your cabinets with ribbon & bows  (source unknown)…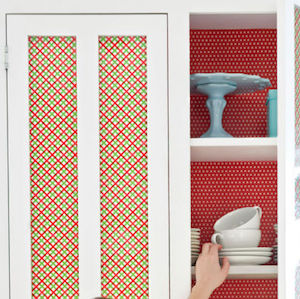 …Or wrap your kitchen cabinets with wrapping paper from the dollar store
from Country Living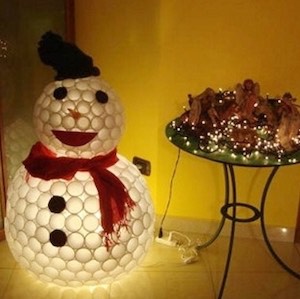 Use plastic cups from the dollar store to make a giant snowman
from Wonderful DIY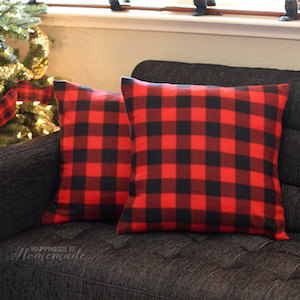 Transform a $3 blanket into a stylish pillow
from Happiness is Homemade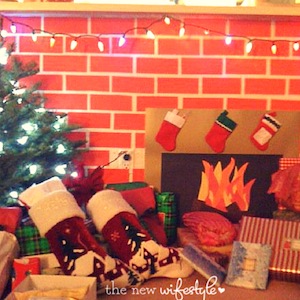 No fireplace? Just make a paper one on the wall
from The New Wife Style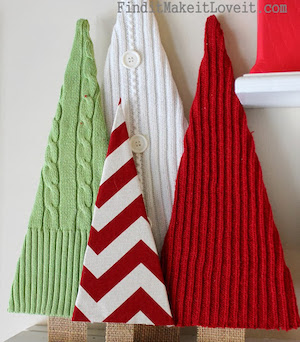 Make Christmas Trees from old sweaters
from Find It, Make It, Love It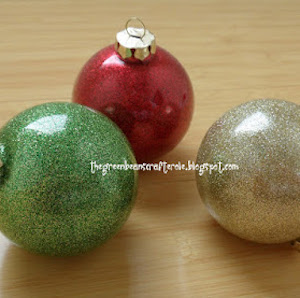 Use pledge to make glittery ornaments
from Green Bean's Crafterole
Hang wreaths from your kitchen cabinets without damaging the paint
from Home Stories A to Z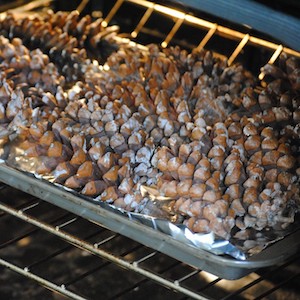 Bake pine cones in the oven to remove debris and bugs
from Making Lemonade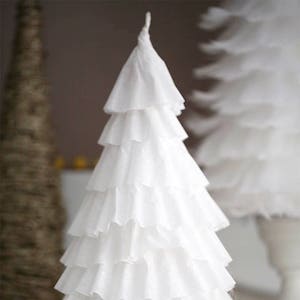 Make a $1 coffee filter Christmas tree
from I Heart Naptime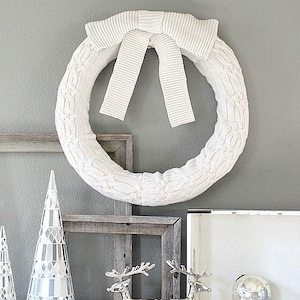 Use an old sweater to make an indoor wreath
from Taryn Whiteaker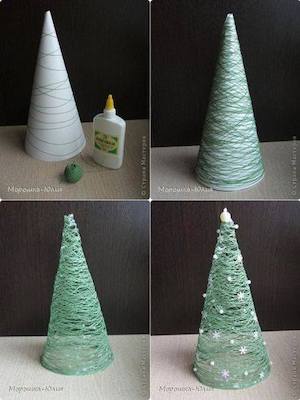 Make yarn or twine mini Christmas trees for a few dollars (source unknown)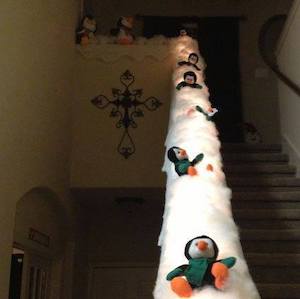 Decorate your stair railings with snow blankets and penguins (source unknown)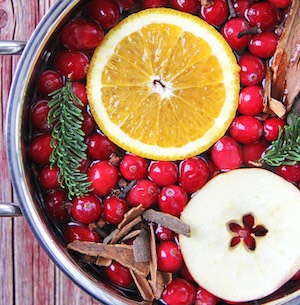 Make your home smell festive
from A Pretty Life in the Suburbs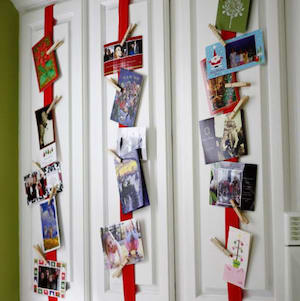 Use a ribbon and mini clothespins to make a Christmas card display for your cabinets
from Greener Grass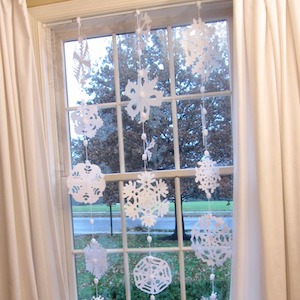 Create a no-sew paper snowflake curtain for the windows or glass doors
from In My Own Style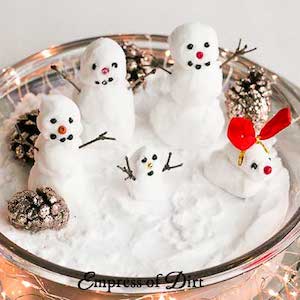 Make your own fake snow for decorating and crafts
from Empress of Dirt
Centerpieces & Table Christmas Decor Hacks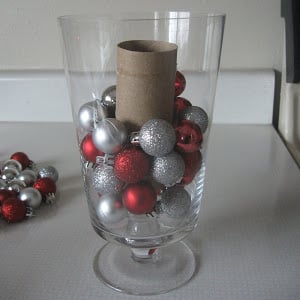 Create a cheap and easy Christmas centerpiece using a paper towel roll and some $1 ornaments
from Dandelions and Dust Bunnies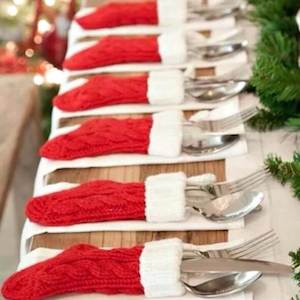 Put your silverware in a mini stocking for a festive look at the Christmas dinner table (source unknown)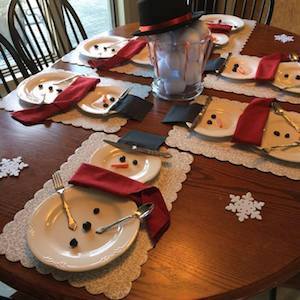 Use some plain dollar store plates to make a snowman place setting
from Stager Linda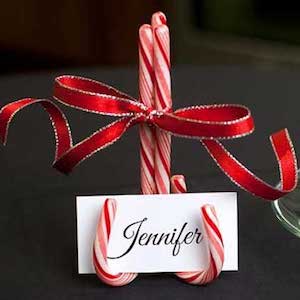 Glue three candy canes together and decorate with a bow to make a festive place card holder (source unknown)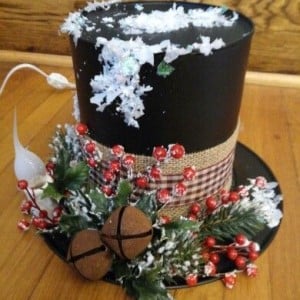 Turn an old coffee can and plastic plate into a Christmas hat centerpiece (source unknown)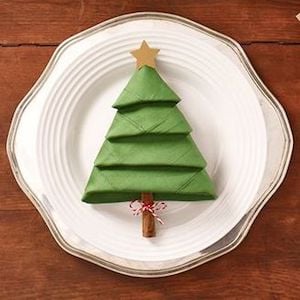 Easily fold your napkins into a Christmas Tree
from Publix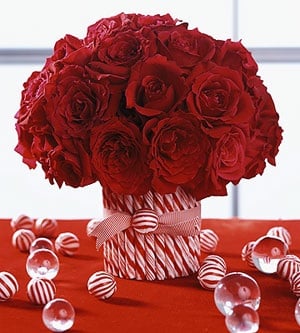 Use candy canes to make a beautiful Christmas centerpiece by gluing them to a can
from Living Well Spending Less
Christmas Tree & Gift Decor Hacks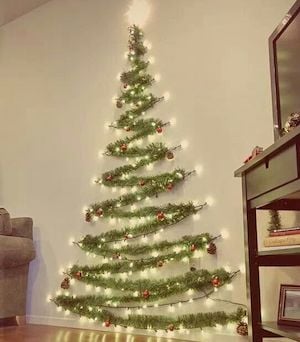 No room for a Christmas tree? No problem.
Make a Christmas tree on your wall. All you need is garlands, lights, ornaments and something to hang them with.
Not only does this hack save time, but it also saves money. (source unknown)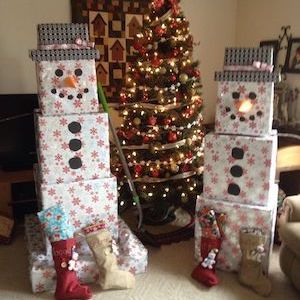 Stack some boxes wrapped in white paper and decorate them like a snowman! (source unknown)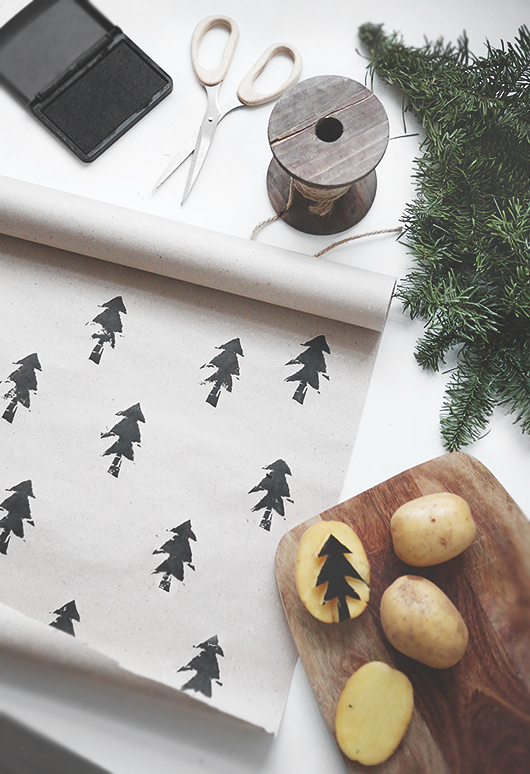 Use a potato to decorate boring christmas wrapping paper
from A Piece of Rainbow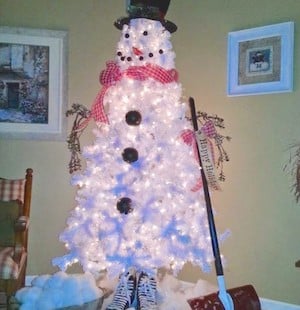 Turn your Christmas tree into a Snowman (source unknown)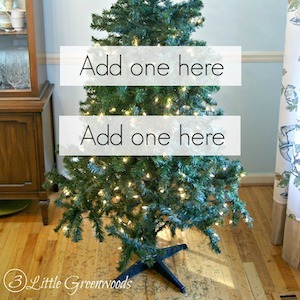 Make your artificial tree look fuller for under $10
from 3 Little Greenwoods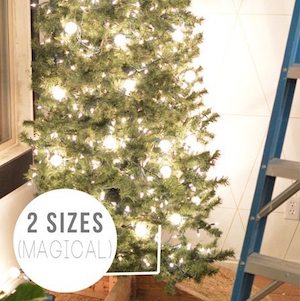 Use two different sized Christmas lights for a magical look
from Vintage Revivals
Make gift card holders out of toilet paper rolls
from Create Craft Love