Looking for some cool DIY ideas for teens and teen crafts that are actually something you want in your room? Especially in the summertime, teenagers are always looking for fun things to make when they are bored or want to make some extra money. We put together these fun crafts that are easy and expensive, but still super cool and creative. Follow the step by step tutorials and learn how to make fun room decor, DIY gifts and clever accessories. Teens and adults alike will want to spend hours crafting these awesome projects! There are so many cute gift ideas for girls? Why not DIY your way into some of the best, most thoughtful creative presents you could possibly think of? Girls love crafty things, and something you made just for them is sure to please. If your daughter, granddaughter or other special girl has a birthday coming up, or you need some cheap, quick and easy ideas for Christmas presents. you should definitely check out this list of awesome ideas. From room decor to fun accessories to cute DIY fashion ideas, all of these cool crafts come with step by step tutorials with instructions for making. Be her hero with these cool DIY gifts you can make yourself. Teens and tweens are sure to enjoy making these creative, crafty ideas for their bedroom or gifts to give to friends at school.
DIY for Teens – Cool Teen Project Ideas
1. DIY Clothespin Lamp
My teenage daughter was so bored last week she wanted to go shopping and buy a lamp for her bedroom. The weather was terrible and there wasn't any way I was getting out on those roads. So we started looking online for projects we actually had the materials for. Then we found it! A DIY clothespin lamp, it turned out so cute! She said I didn't need those clothespins anyway, shes such a character!
2. Pretty Earrings Holder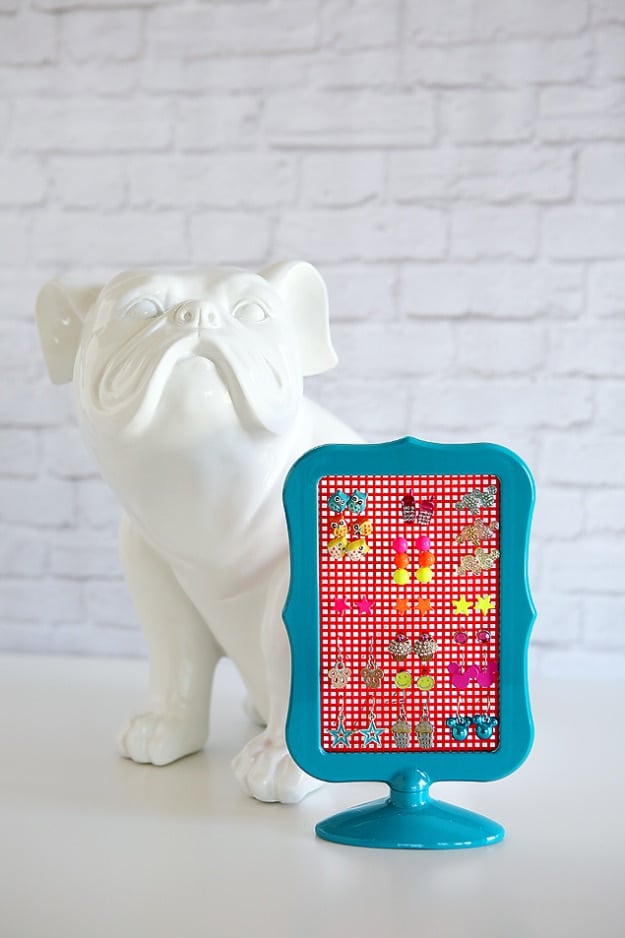 I am so excited to show you this simple DIY earring holder today for three reasons.  It's simple, it's inexpensive (under $3 to make) and it's useful!  Earring holders are not that easy to find.  And when you do….they can be pricey!  So, we thought it would be fun to come up with something an adult or child could use that was practical and not breakable. I found a plastic frame and a plastic canvas I found mine at Michaels. You can spray paint them different colors as well! DIY for teens does not get any cuter than this project idea.
3. Pom Pom Mouse Pad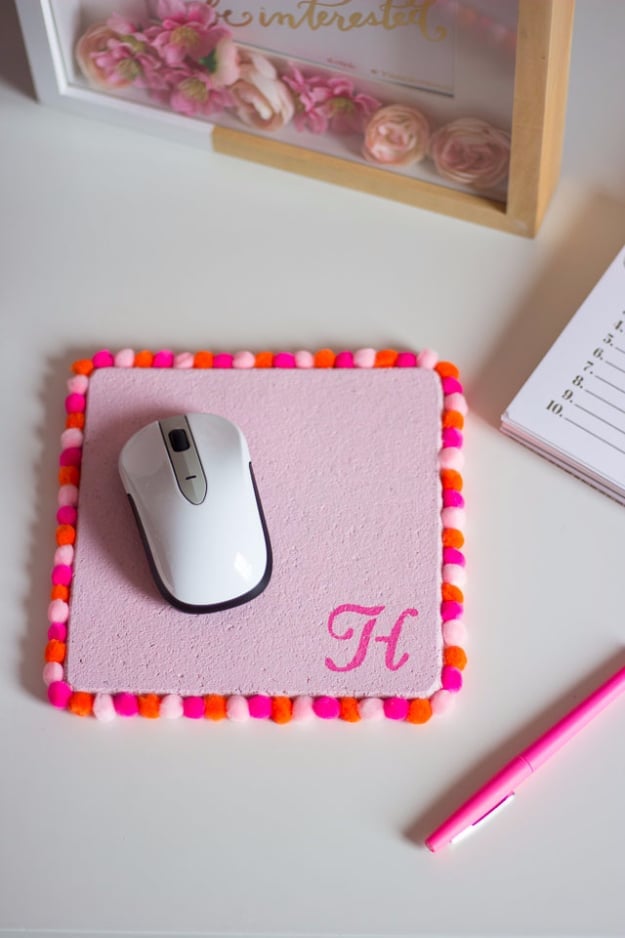 I'm always on the hunt for more ways to use one of my favorite crafting supplies, and I ran across these DIY colorful mouse pads to make as gifts. I made several for friends over the holidays, and of course had to make one for my desk too!  Because everyone needs their own pom pom mouse pad, right?! A cute DIY for tweens or teens to make and decorate their desk now that school is back in full force.
DIY Phone Case With Nail Polish
Turn your phone into a work of art instantly with this easy and quick DIY idea. You will be amazed with the way these turn out! No artistic talent required, either. For teen DIY projects that are fun and easy to make, look no further than this when it comes to teen crafts.
4. Super Cool 3D Hand Art

Looking for a cool arts and crafts idea and something cool to do? This DIY project will surprise you with the incredible results. Follow the step by step instructions in the tutorial to learn exactly how to draw a 3-D hand. This will be display worthy, we promise. The optical illusion is so cool and you can use whatever colors you like when drawing your hand. Watch the Youtube video tutorial for a complete walkthrough and then check out the step by step photos below for specific steps. An easy project for teen girls or boys to try out when bored, this one is super fun to draw.
5. DIY Mini Spring Succulent Planter

What do you do with a bunch of leftover plastic Easter eggs? This DIY mini succulent planter idea is your perfect answer. If you need some gifts for a group of teachers or girls at work this will work brilliantly and is cheap and easy to assemble. I used some old Krylon spray paint I had in the garage to paint the egg halves and glued them to little stands, then used succulent clippings I got from my garden. The whole project cost no money at all and looked like a really expensive, well thought out elegant gift. You can't go wrong with this DIY mini planter idea.
DIY for Teens to Decorate the Bedroom
6. Anthropologie Inspired DIY Turban Headband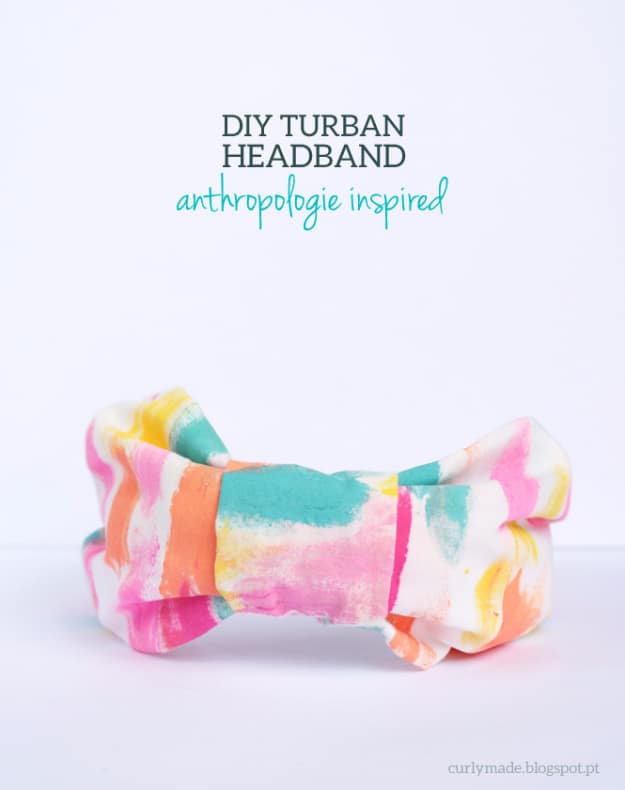 I've been seeing so many types of these headband turbans on Anthropologie. I just had to try and DIY one myself, it seemed easy enough, the only problem was that I didn't have any nice fabric to use. So I just grabbed my plain white fabric, and tried some patterns and textures to see which one worked best. As you can see I went for a colorful brushed look, and I'm pretty happy with the result.
7. DIY Neon Triangle Photo Frames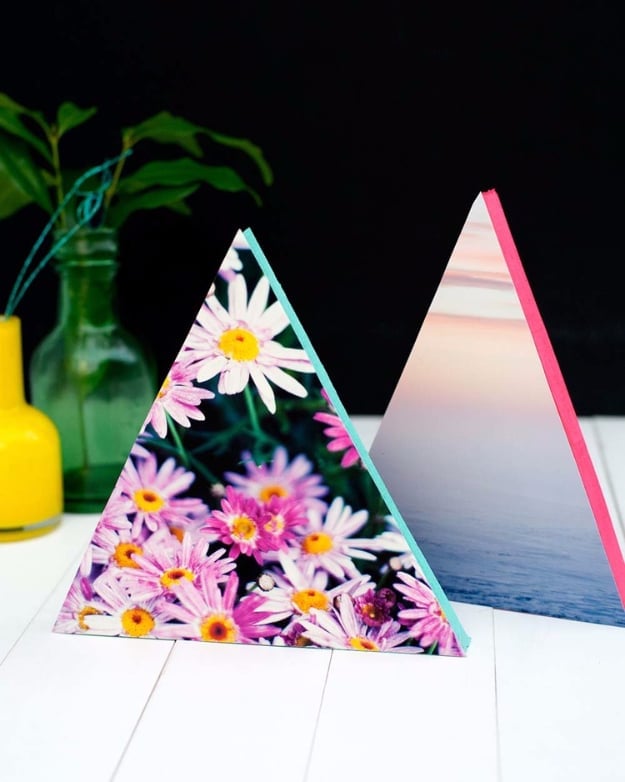 This is an awesome DIY, like the Great Pyramids Of Egypt, except with photographs. They look so geometric and modern! If you want simple table art that really makes a grand statement, this is your DIY!
8. DIY Modern Navy White Cross Pattern Wall Art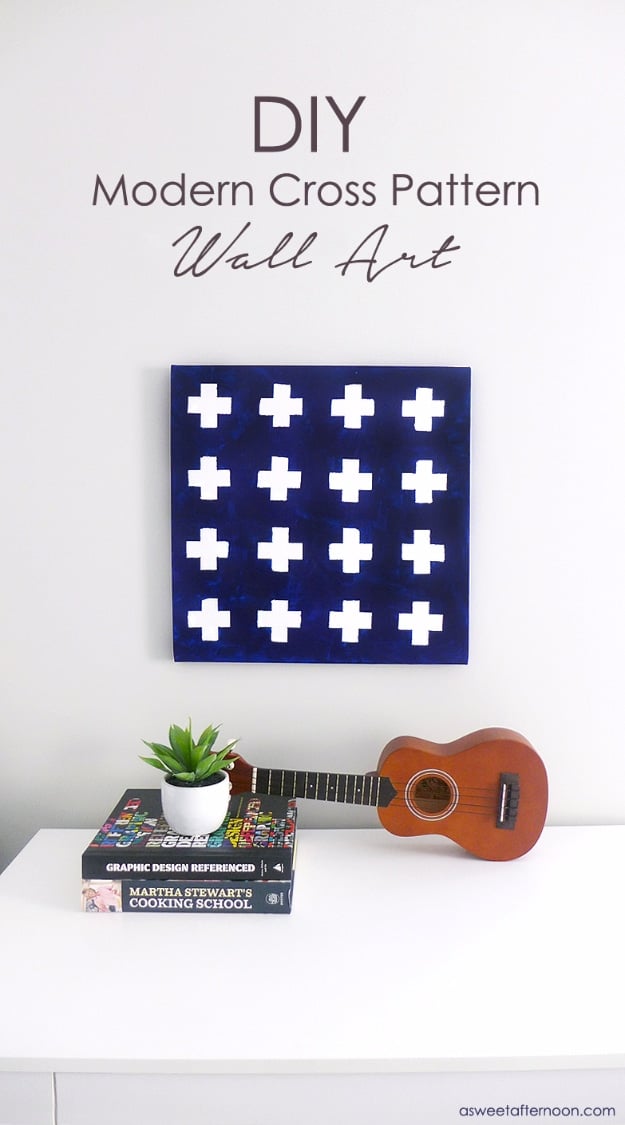 Since the holidays are just right around the corner, I find myself wanting to buy a ton of seasonal stuff like things to make holiday wreaths, wrapping paper, and I even almost bought a whole basket full of mini pumpkins I saw at the market today. But no! I was able to resist and only got a few. But anyway, I told myself I won't buy any more craft supplies, even from the dollar store, until I've exhausted some of the stash of crafty stuff I already have. So this project uses up some of the same exact materials I've used for my recent DIY art project, but in a different way. I was inspired by the Swiss cross pattern that you might typically see in black and white, or maybe in red in white. To mix it up I chose the color navy, which to me kind of gives it a more masculine feel, don't you think? You could also do this project in black and white, or even a bright or pastel pink or yellow would be awesome I bet!
9. Cute Floral Brooch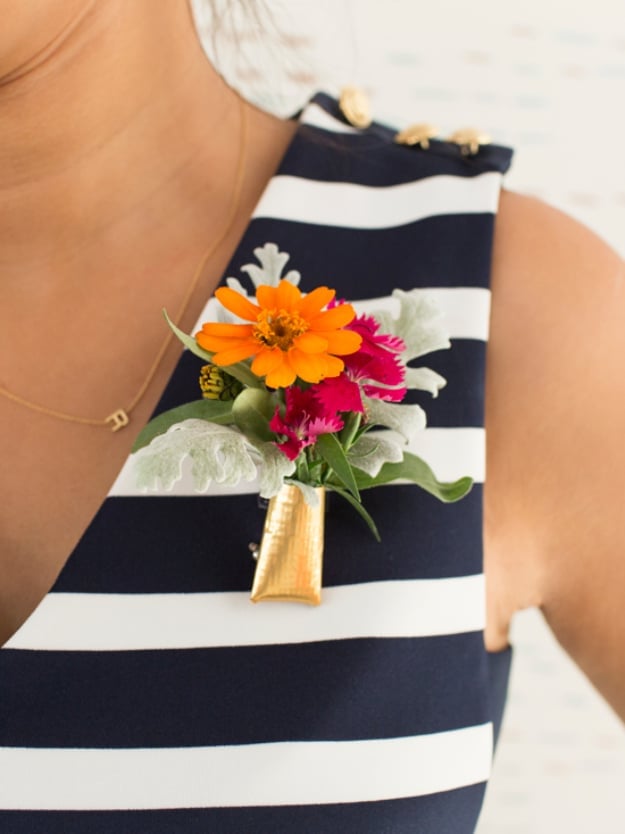 In the old vintage style dapper gentlemen would wear a flower on their lapel on any given day. Brooches are always a fun fashion accessory for me, so why not combine two of my favorite things together into a floral brooch? With a small vessel for water, it can be worn for both a special occasion or really for any day you just feel like bringing a little sprig of sunshine wherever you go. It's extra fun when you can pull the flowers from your own garden too!
10. Colorfully Painted Lazy Susan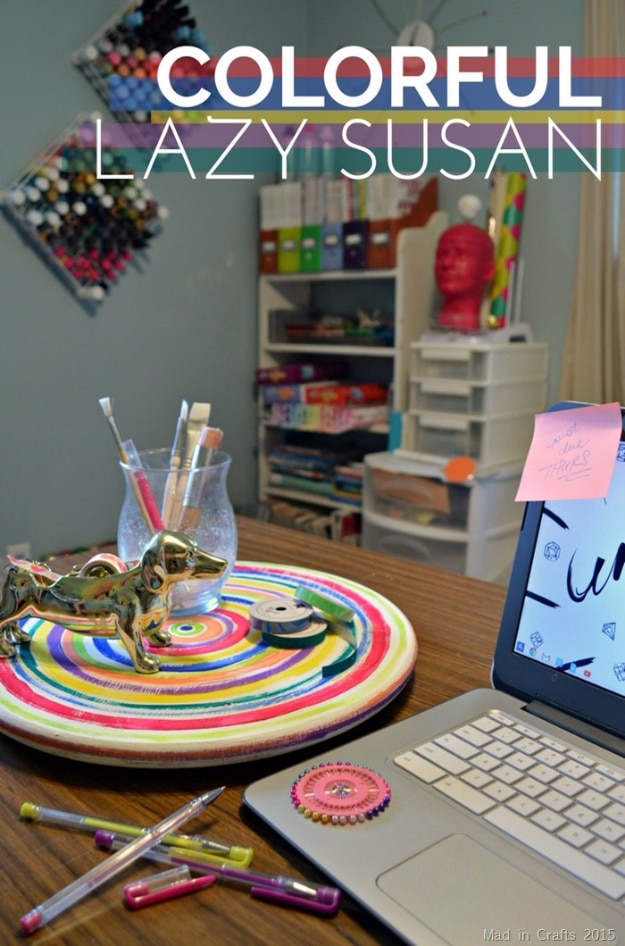 Almost everything in my craft room is colorful as all get out. I've had a hand-me-down raw wood lazy susan on my craft room desk for years, and just now got to Mad in Craft-ing it up.  I love my craft room decorating projects because I tend to take more risks on projects that will be confined to my workspace.  These projects can be as garish and crazy as I feel like because I'm the only person who has to look at them.  Hence this colorfully painted Lazy Susan project was born!
10. Giant Bow Necklace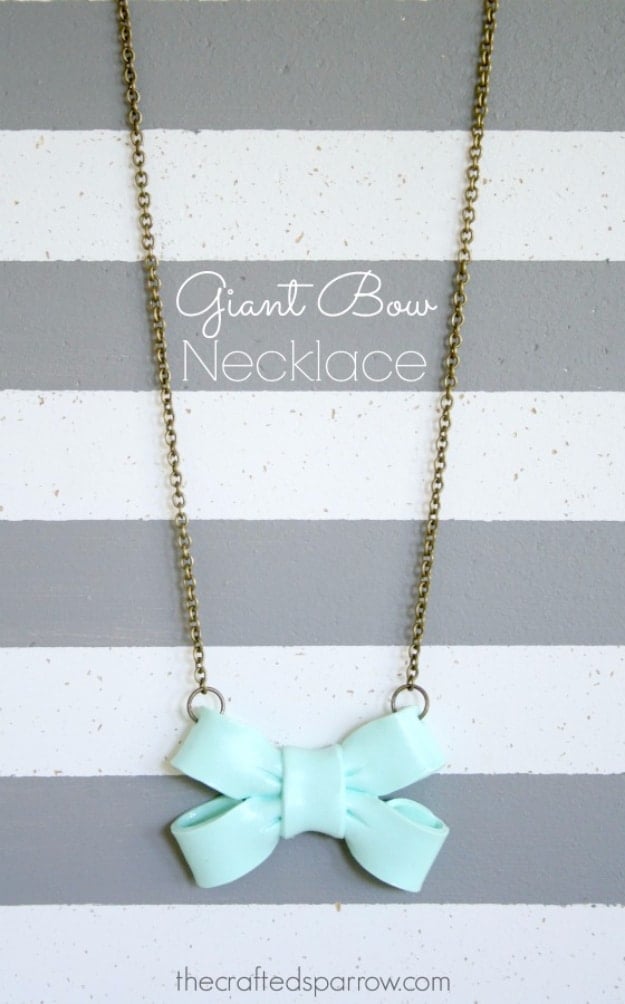 Today I am sharing this super fun Giant Bow Necklace with you.  I wanted something fun and festive to wear for my birthday and what better than a giant girly bow, and since I don't do a ton of hair accessories I figured a necklace would be perfect!  I love how this piece turned out, I can't wait to wear it!  So check this DIY giant bow necklace out, it's sunning!