Do we ever have some cool new ideas for your backyard, creative ones that are sure to impress all of the neighbors, but mostly make you happy when you get to see them in your yard.  If you live in Texas, South Carolina or anywhere in between, you may already know that bottle trees are the ultimate yard and garden decor in the Southern United States. The funky trees are believed to ward off evil spirits, but they look great as yard art even if they don't. Personally, we think they should be proudly displayed all over the US, if not the world, though, so we wanted to make sure everyone knew how easy it was to get one of these awesome lawn trees, whether you want to make one or buy one premade. Either way, you get to add all of your leftover bottles to your growing tree, the more colorful the bottle, the better.
If you've not seen a bottle tree before or you've seen them but not known you could easily have one of your own, then you're in for a treat. Recently, we went on the hunt for the ultimate bottle trees, both the DIY and the premade varieties we found for sale on Etsy. Turns out, bottle trees come in all shapes and sizes, and all of them just might belong in a special spot in your yard. With the Texas heat about to show up again in full force for several months, I am seriously considering replacing my real trees with some of these beauties. They sure would require less water! Not much in the shade offering variety, but they are so spectacular, I am not sure I really care.
Interested? Let's proceed and start looking at your options, then. Whether you are in the mood to build something or you want a simple project you can buy pre-made to start out with, we have some awesome bottle tree and bush ideas to get you set up.
We'll start first with the entry-level bottle tree. Here's the bottle blossom, perfect for the beer drinker and those who may not be sure they are ready for a full-fledged tree made of bottles. This cute beauty of a tree is really more of a shrub, so you could start with one and certainly add a few more for backyard decor your guests can't help but notice! Creative yard art does not get much better than this, we promise.
Beer Bottle Blossom "The Daisy"
Perfect for the lightweight drinker or bottle tree enthusiast who is just starting out. This bottle tree baby holds 12 bottles and comes ready to go as pictured. If you find yourself with too many empty bottles, you can just keep adding more and create quite the garden with a few of these gorgeous works of yard art.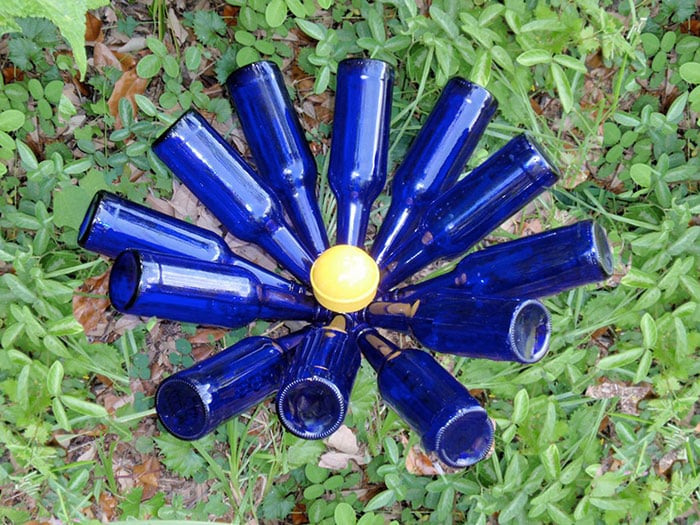 If you want one of these pretty "plants," we found this on Etsy, where for $18 you can have one shipped and ready to decorate. Check out this Etsy shop for more info and to order one for yourself: The Daisy by Gnaked Gnomery on Etsy.
Southern Style Bottle Shrub "The Awesome Blossom"
For the more experienced drinker or bottle tree afficianado, we present you with the Southern style "Awesome Blossom" a ready to go metal tree that holds 49 bottles.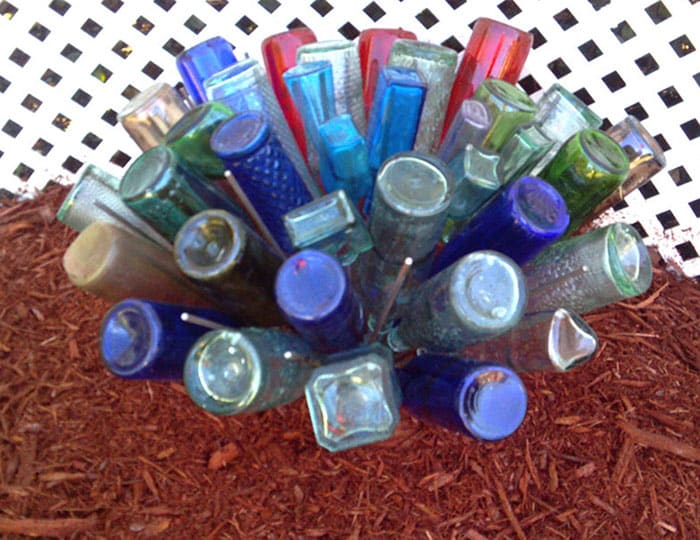 Get one of these collapsible strong wire bottle tree frames already made and ready to decorate from HopFrogs on Etsy for $60.
The King Size DIY Bottle Tree
For the drinker who regularly collects empty liquor bottles and lots of wine, too, this king-sized DIY tree is the only way to go.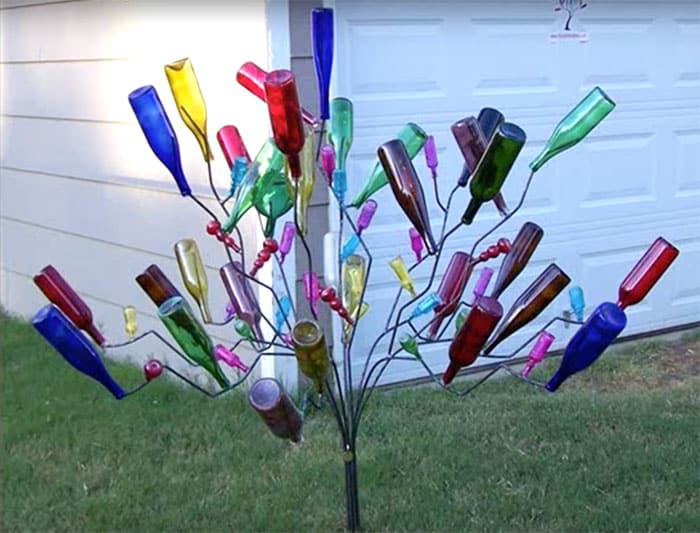 You're going to need to find a friend who welds or learn how to work with rebar yourself, which is not actually so tough. The end result is certainly worth it, as you get a bottle tree that is sure to last a lifetime and possibly even be passed down for generations. When you see how gorgeous these trees in the wild, you are definitely going to need one for yourself. Start by checking out this video with creative bottle tree designs and see that you are only limited by your imagination.
More Creative DIY Bottle Tree Designs
Now that you are certainly ready to go all out and build a bottle tree for yourself, get to watching how to make the real deal with rebar. One of our favorite new channels to discover on Youtube, 1rustytree  shows you how to make a bottle tree from scratch. He also has some other bottle tree videos and some nifty home improvement tutorials, too, so be sure to check out his stuff. The bottle tree design video is good and then he has a rebar chandelier bottle tree, too!  You'll find a photo of this beyond over the top "tree" for your bottles after the working with rebar video tutorial.
Check out the how-to for making your own DIY Bottle Tree in this Youtube video:
Please follow and like us: