Chili and cornbread go together like a hand in a glove and I always serve the two together, but it had never occurred to me to make the two dishes in one, so when I saw this wonderful recipe by @SmokinAndGrillinWitAB on Youtube, I knew I had to try it and I'm so glad I did. The instructions were so easy to follow and the ingredients were basic staples I already had in the house. This recipe is so easy, quick, and budget-friendly, you are going to love it!
Ingredients:
1.5 pounds Ground Beef
2 (8 oz.) cans Tomato Sauce
1 (10 oz.) can Diced Tomatoes with Green Chilis
1 (14 oz.) can of Kidney Beans, drained
1 (14 oz.) can of Black Beans, drained
1 Yellow Onion, Large and Diced
4 Cloves of Garlic, Minced
2 Teaspoons Chili Powder
2 Teaspoons Cumin
1 Teaspoon Oregano
2 Tablespoons Extra Virgin Olive Oil
Salt and pepper to taste
1 cup Cheddar Cheese, grated, can be added to your cornbread (optional)
1 (8 oz.) can Creamed Corn or Whole Sweet Corn
Preheat Oven to 375 degrees
You get started by browning your meat and onions in the skillet and adding all your chili ingredients.
Then you just mix up your cornbread and pour it on top of the chili right in the skillet and bake on 375 till done, use a toothpick to check it.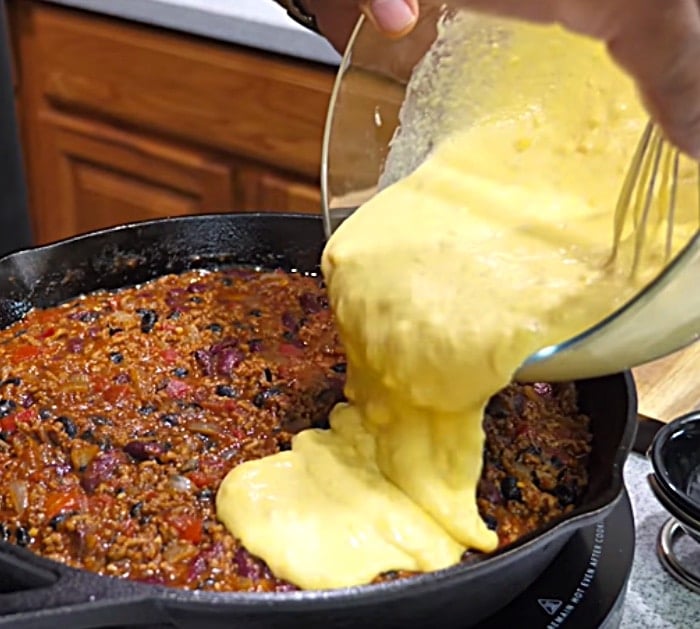 Then you just remove and serve! Wow, doesn't this look delicious?!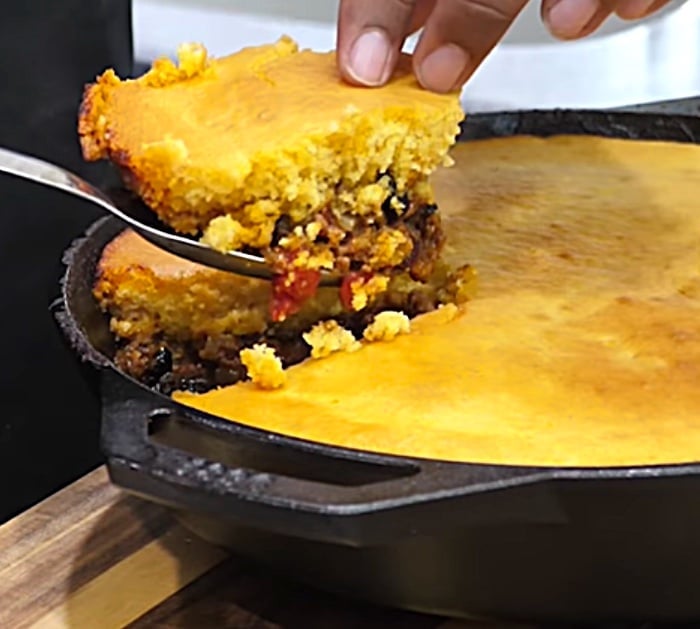 I served this to my family last night and it was a huge success, they always love my chili, but the cornbread cooked on top of the chilli really gave it the wow factor by cooking in the chili juices into the cornbread. So delicious!
Chili Cornbread Skillet Casserole Recipe
Please follow and like us: