I love anything Cracker Barrel and I also love fried apples, so when I found this recipe on Youtube describing exactly how to make a Copycat Cracker Barrel Fried Apples, I went wild and couldn't wait to make it.  I started by getting out my trusty cast-iron skillet, then I gathered all the ingredients for the delicious dish together.
Ingredients:
5 Apples (3 Granny Smith and 2 Fuji Apples, any will work)
6 Tablespoons Of Butter
Juice Of 1 Lemon (1 to 2 tablespoons)
1/2 cup Brown Sugar
2 Teaspoons Cinamon
Directions:
Melt butter in a skillet and add your Lemon Juice
Add Brown Sugar and Cinnamon then cook down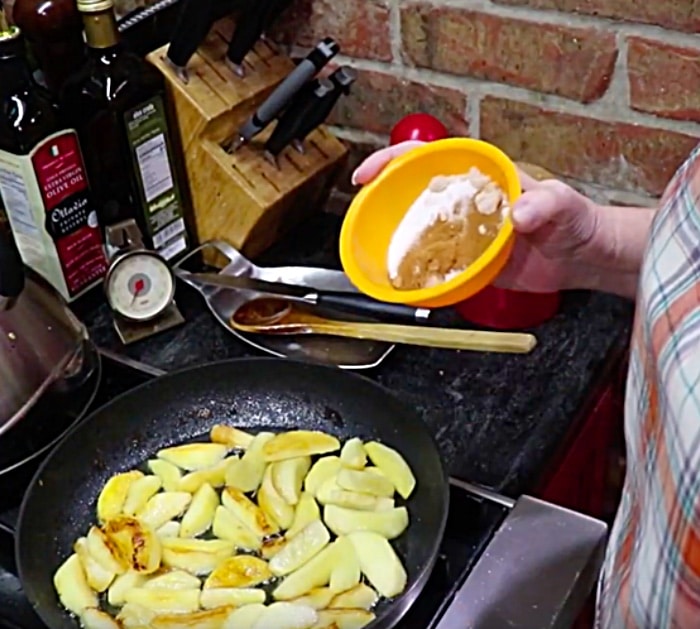 You then just keep stirring them until they are soft, be careful not let them get mushy, you want the apples to be soft but still have shape. You can just plate them up or serve them over ice cream like a hot topping. Whatever you do with these apples they are sure to be delicious! These Southern-fried Cracker Barrel Copycat Apples are so delicious, I have eaten these since I was a child and they are still my favorite. My Grandma used to cook them for us at her farm outside San Antonio where she had a few apple trees and that is where my love of fried apples was born. Grandma had a root cellar and would make many jars of this during harvest time and we could just go into the root cellar and get a jar, throw the contents into one of her big cast iron skillets and have these delicious apples already made by her loving hands all year long. Wow, the memories that these Southern-Fried Apples bring make me cry tears of joy.
Cracker Barrel Copycat Fried Apples