Add a touch of rustic charm to your home with this Rustic Fall Lantern without breaking the bank. This easy fall DIY idea only takes 15 minutes to make and costs under $10! All of the supplies for this project can be found at Dollar Tree
Supplies for Rustic Fall Lantern:
foam board
wood design contact paper
hot glue gun & 1 glue stick
scissors
pencil
Total Cost: $6
Difficulty Level: Easy
Time: 10 minutes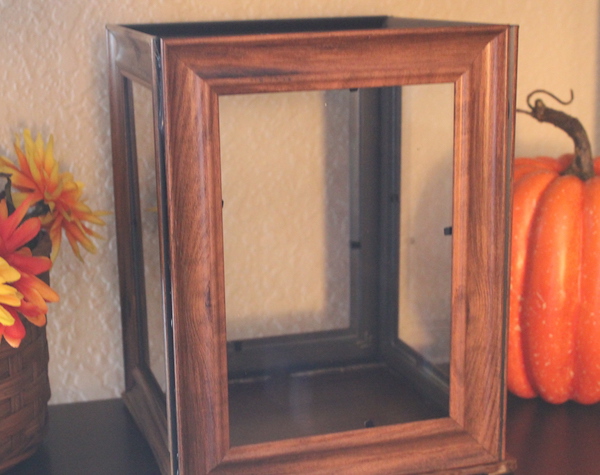 Instructions for Rustic Fall Lantern:
Remove the plastic, frame back and picture inserts from the picture frames.
Put the tabs back down to hold the glass in place.
Glue the corners of the picture frames together. Be sure to align it evenly. Hold together firmly until each frame dries (about a minute). Be generous with the glue because you want it to hold up well. Also, I glue the inside of the corners to make sure it holds.
Using a pencil, trace the outline of the lantern onto the foam board.
Cut out the outlined section of the foam board
Trace the outline of the foam board onto the back of the contact paper with the pencil. Add an extra 1/2 inch to the top and side to cover the sides of the foam board.
Make two cut outs of the contact paper using the first one as a guide for the second one.
Cover the front and back of the foam board with the contact paper. Be sure to cover the sides as well.
Glue the foam board base to the bottom of the lantern.
---
Now you are ready to decorate the inside of your rustic fall lantern. This is the fun part where you can get creative with it.  I decorated the inside of the lantern a few different ways to give you some inspiration.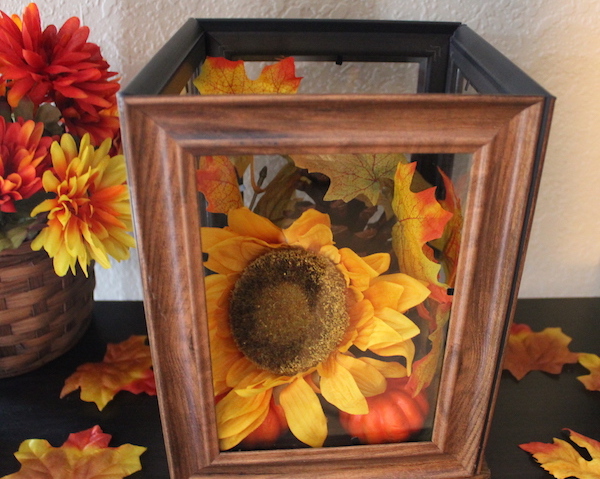 Sunflower Rustic Fall Lantern
Supplies:
large sunflower
mini pumpkins
fall leaf branches
large pinecone
Cost: $3
You can get all these items at Dollar Tree except the pinecone. Layer the lantern with the big things on the bottom and the lighter things above and place a few branches of fall leaves around everything. You could use mini faux gourds, fall berry garlands, acorns or LED pillar candles too.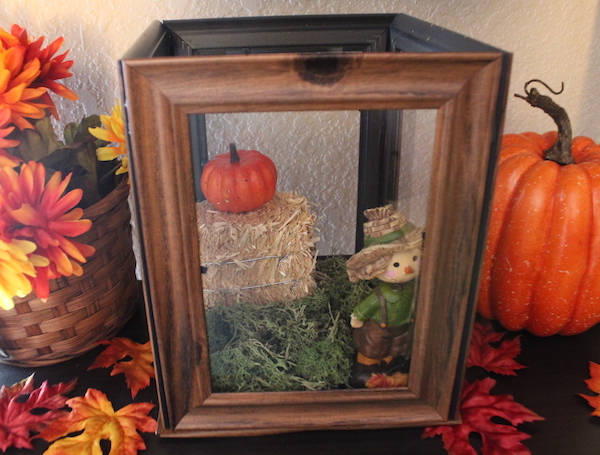 Rustic Fall Scene Lantern
Supplies:
reindeer moss
mini straw hay bale
mini foam pumpkin
fall figurine
Cost: $4
Related Posts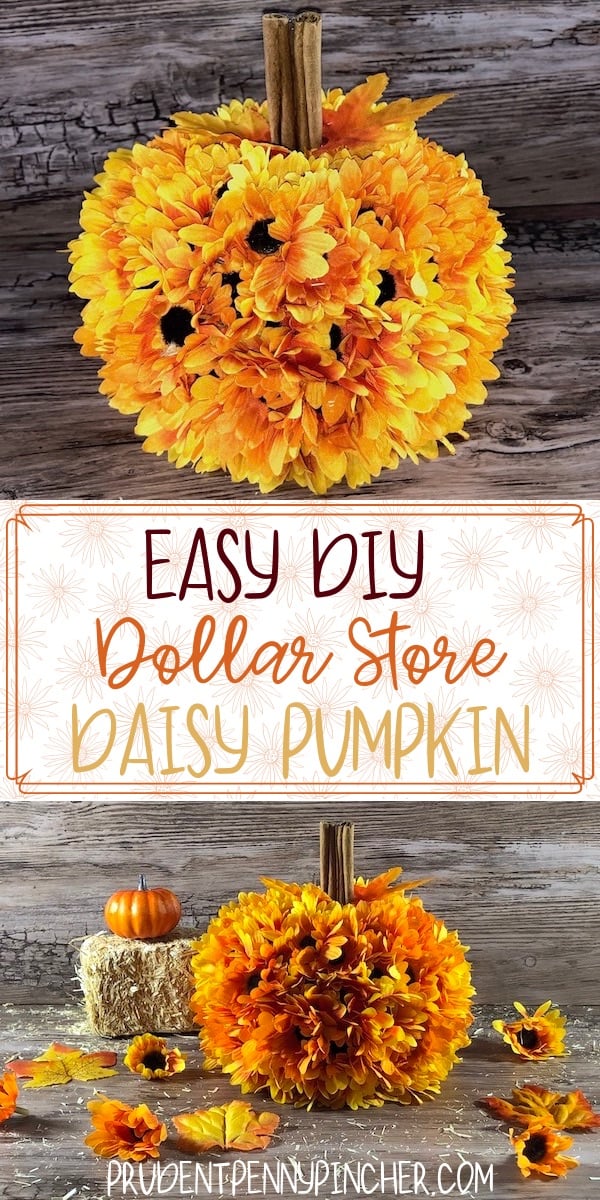 Easy DIY Dollar Store Daisy Pumpkin