Looking for some amazing new recipe ideas? Two of my all-time favorite recipes are fried chicken or garlic bread, so I kept wondering if there might not be a cool way to combine them.  I created this amazing concoction that also includes some of my other all-time favorite foods, namely cheese and lots of bread! We call it chicken parmesan stuffed garlic bread, and even that name does not do this dish justice.
Whether you are looking for a creative appetizer to take to that dinner party you are invited to or simply want to try something new and exciting at home, this cheese stuffed French bread creation is a must try for anyone. In fact, it is so good, you may just want to whip up a batch at home by yourself so you don't have to share a single bite with anyone.
Easy to make, and this recipe does not require a major shopping trip for ingredients. You may even already have all of the ingredients on hand at home. Inexpensive, too, this dish is now officially my favorite item to make and take to casual parties and get-togethers with friends. I took two batches of this to a Super Bowl party this year, and every single slice was gone before halftime.
Never fear, the difficulty level really is low. Even beginners in the kitchen should be able to whip this one up with ease and get impressive results. Complete with step by step photos and a nifty recipe video tutorial, how could you possibly go wrong? Watch and learn how easy it is to make stuffed French bread with chicken parmesan inside. Almost instant Italian food with a twist. I am already drooling just thinking about this one, aren't you?
Chicken Parmesan Stuffed Garlic Bread Recipe
Chicken Parmesan Bread Ingredients:
1 loaf French bread
1 chicken breast, sliced
2 cups flour
2 cups bread crumbs
4 eggs, beaten
olive oil, for frying
10 slices mozzarella
1/3 cup  butter, melted
3 cloves garlic
1 Tablespoon fresh parsley
1 Tablespoon parmesan cheese
Marinara sauce
How to Make This Recipe:
Preheat oven to 350 degrees.
Step One
Slice the chicken breast into small strips to prepare them for frying. Slice across the long side of the chicken breast so that you end up with 10-12 thin strips of chicken.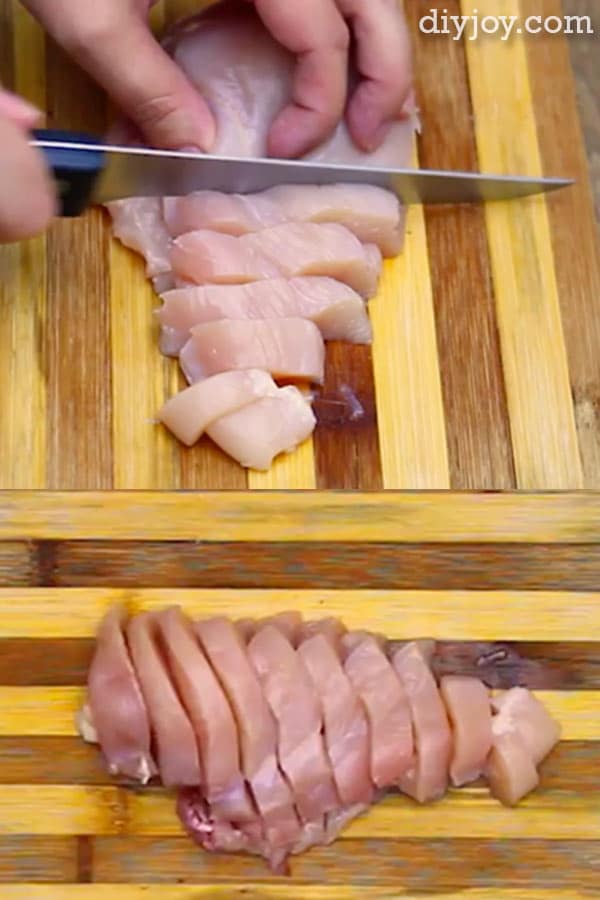 Step Two
Place your flour, beaten eggs and breadcrumbs in bowls. Dredge each chicken strip in these three items. Start with the flour, then the egg mixture, then dip in the breadcrumb mixture last. Repeat this step with each chicken strip until all are coated.
Step Three
In a large skillet on medium high, heat the oil for frying. Place half your chicken strips in the pan and fry until golden, then flip over, frying until both sides are golden brown. Repeat this step with the second batch of chicken. Set aside.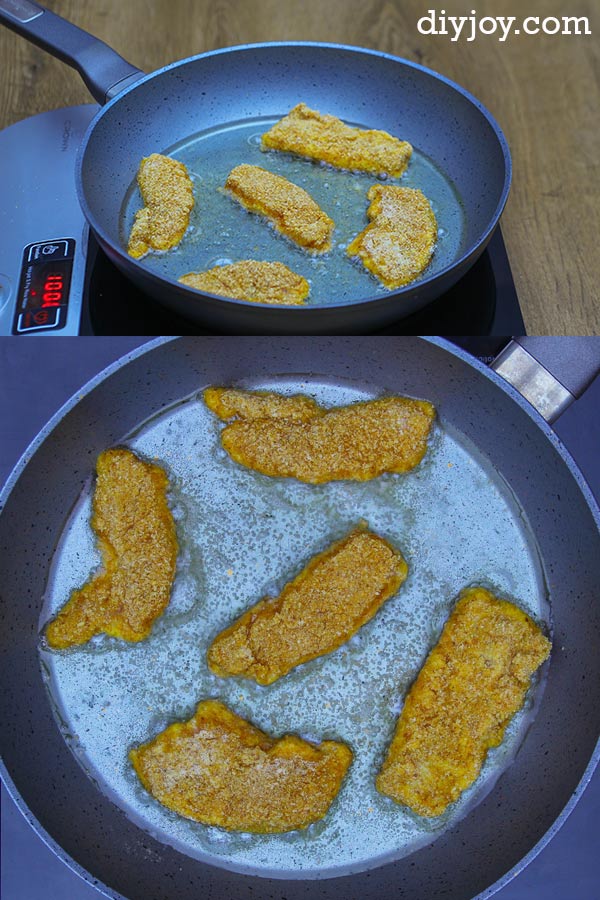 Step Four
Slice your French bread into 4-6 slices. This really depends on the size of your loaf of bread, you will be cutting smaller bite-sized pieces later. Each slice should be about 4 inches long, or a little longer than your chicken strips. Take each slice of bread and use a knife to cut just inside the edge, allowing you to hollow the center from the bread. Once cut, pull the bread from the inside to leave a hole as shown. Repeat until all bread slices are hollowed out. Set aside.
Step Five
Take your cheese slices and place on a cutting board. Place one of your fried chicken strips in the center of the cheese, then fold both sides in so that the cheese covers the chicken. Place each chicken cheese roll into a hollow slice of French bread.  Push until the chicken is completely covered by the bread. Repeat this step for each slice of bread and fried chicken piece.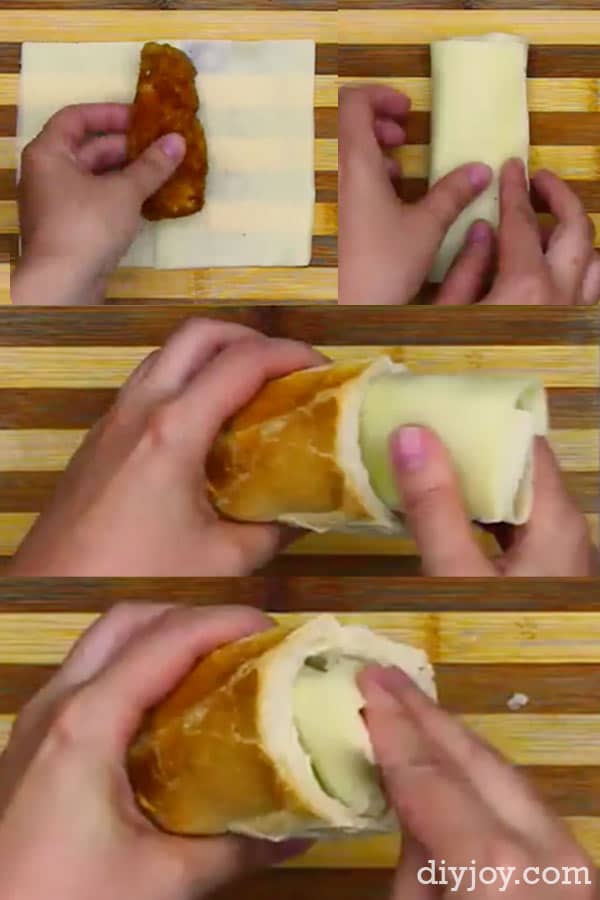 Step Six
Here is one of the secrets to the best Chicken Parmesan ever, garlic butter. This adds amazing flavor to both the fried chicken and the cheese stuffed bread. To make it, melt the butter, then add 3 cloves of chopped or pressed garlic, fresh parsley and grated Parmesan cheese. Stir all ingredients until mixed.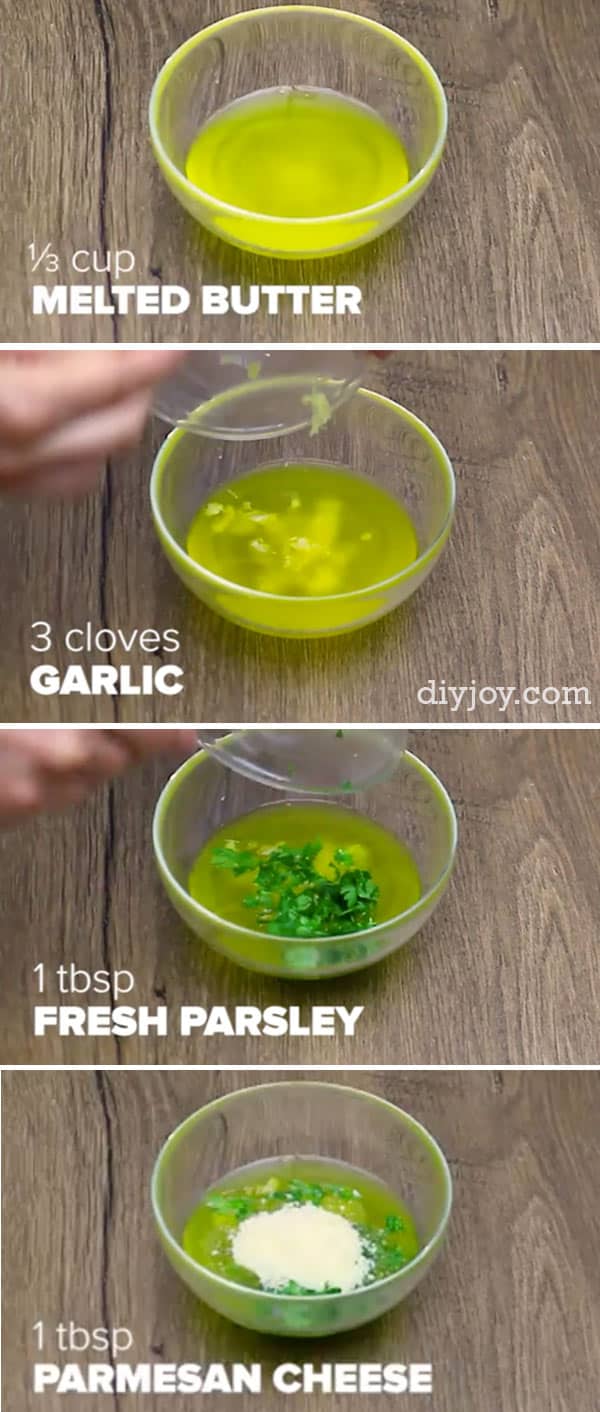 Step Seven
Place all the chicken stuffed french bread slices on a cutting board, and cut into small, bite-sized pieces. Then place these pieces on a baking pan lined with tin foil. Use a basting brush to coat the top of each of the bread slices with the butter, cheese, parsley and garlic mixture.
Step Eight
Heat in preheated oven for 5-7 minutes, or until cheese melts. Serve with a size of marinara sauce for dipping.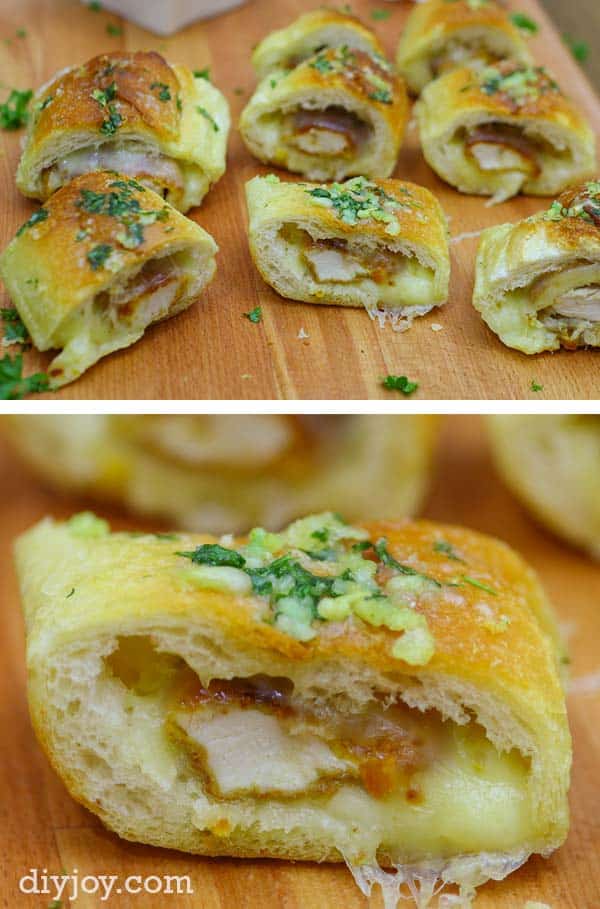 Love this Chicken Parmesan Recipe Idea?
Pin it to save and share on Pinterest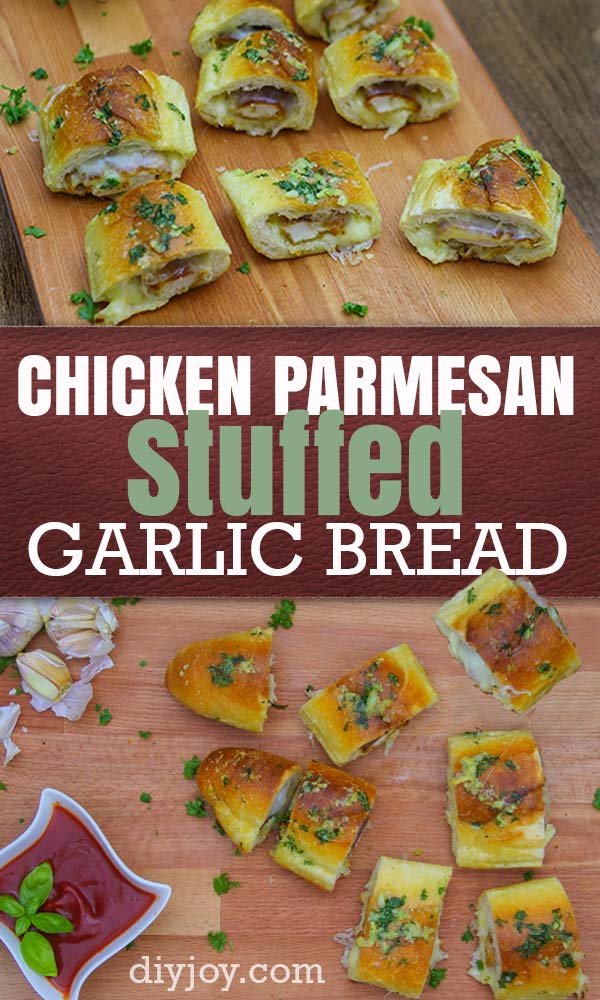 Please follow and like us: