Try this $10 easy DIY Dollar Store Daisy Pumpkin made from a carvable foam pumpkin! All you need is a handful of supplies from your local dollar store and 30 minutes to make it.
Fall is almost here! I just did a big trip to my local Dollar Tree for fall and halloween craft supplies last week, so there is going to be a lot of dollar store fall and halloween crafts in the coming weeks!
This was a fun and easy craft project. It took less than 30 minutes. You can listen to some music or watch some TV while you work and the time will fly by!
This Dollar Store Daisy Pumpkin is very versatile because you can use any color combination or any type of dollar store flowers that you want. For instance, you could do white flowers on the top, orange in the middle, and yellow on the bottom for a candy corn flower pumpkin or ombre effect by choosing flowers that are lighter for the top and darker for the bottom (or vise versa).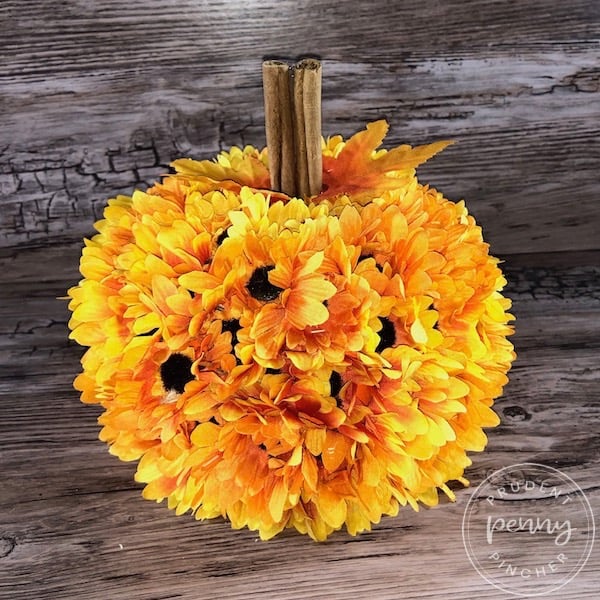 Supplies for Dollar Store Daisy Pumpkin:
10 daisy bushes in various colors. I did orange and yellow, but they also have red and purple.
You could get away with less bushes (maybe 8) because I spaced my flowers very close together.
2 cinnamon sticks
glue gun
Total Cost: $11-$14 (I already have the cinnamon sticks and maple leaves so it only cost me $11)
Difficulty Level: Easy
Time: 30 minutes
Instructions for Dollar Store Daisy Pumpkin:
Remove the green stem from the foam pumpkin.
Glue two cinnamon sticks together.
Push the cinnamon sticks into the spot where the green stem used to be and glue them into place.
Take the flowers off of all the bushes you bought.
Starting at the top, push the flowers into the foam pumpkin. When they are all the way in, you'll hear or feel a little pop and the stem won't show at all anymore.
NOTE: For me, the flowers stayed securely in place without the need of using a glue gun on the stems before you insert them, but you can do it that if you want to (it would just take longer).
Tip: I did alternating rows of orange and yellow flowers and put the smaller flowers on the top and the larger flowers on the bottom, but you can do it any way you want to!
Continue pushing the flowers around the pumpkin until the pumpkin is covered in flowers.
Then, glue two faux fall leaves to each side of the cinnamon stick stem. Alternatively, you can use two of the leaves from your daisy bushes instead.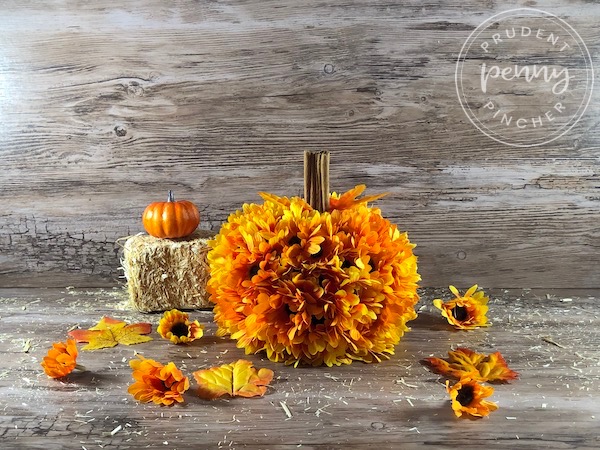 ---
Related Post