If you sew or have lots of ribbon for crafting, you probably have gone in search of a nice storage box for your pretty wares. I've certainly purchased a few items in the past designed to help me organize my sewing room, but none of them ever quite did what I needed them to, hold all of my spools, plus allow me to easily get to them and use them. If you are like me and the super creative type, once you have to get something out of the box, it does not always find its way back in as easily. My best friend just found this idea and shared it with me, and I was so pleasantly surprised to learn that I could craft the best sewing room organizer for free, simply by using leftover cardboard, my glue gun, leftover wrapping paper, and some cheap plastic straws. This may sound a little hokey to you, but I decided to go ahead and try it, after all, when it is quick and free, what do you really have to lose? Turns out, this DIY idea is pretty ingenious, at least in my opinion. Maybe they don't sell these in the craft stores because they secretly want me to lost track of my thread. Who knows, but I can tell you, this easy DIY is definitely a welcome addition to my craft room, and I am pretty sure you will feel the same way.
All you need to make this craft organizer is a glue gun, cardboard, and some wrapping paper.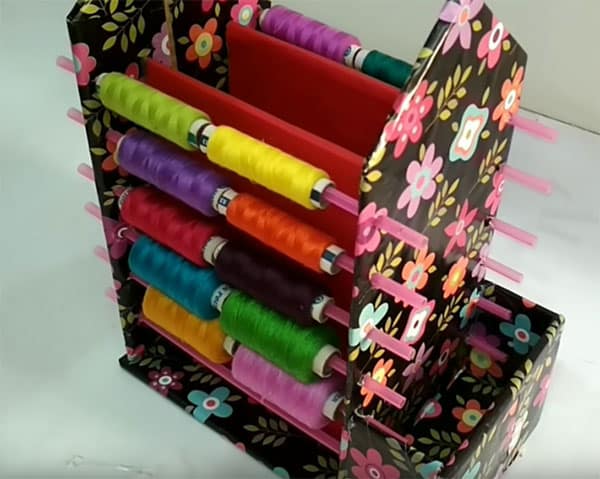 The tutorial shows you how to add plastic straws for spools of thread, ribbon or twine so you can both organize and use your things at the same time.
Cheap and Easy DIY Craft Room Organizer Tutorial