So I was at my friend's house over Easter break and she had several of her grandkids there when I started wondering where on earth she put them at night since she only has one twin bed in her guest room. Late in the day, the kids started climbing on these cool little beds she made for them, adorable ones she had crafted with just a few pillows sewn together. I can't tell you how cute they were, both the beds and the children using them, and what a super practical idea. This item folds up and stores away to save space when not in use, is washable and can, of course, be created using pretty much any fabric you can dream of. Personally, I think these could even be cute with a little trim added on, but everyone who knows me understands I love my ricrac
Follow this easy step step step tutorial on Youtube to learn how to make a pillow bed (or several) for yourself. Last weekend, I made my first one, and it was super easy, even more so than I had imagined. Now, I eagerly await the arrival of my granddaughters this summer. I have so many things I am ready to show them, but admittedly am most excited about giving them these and then pulling out my camera for some adorable pictures.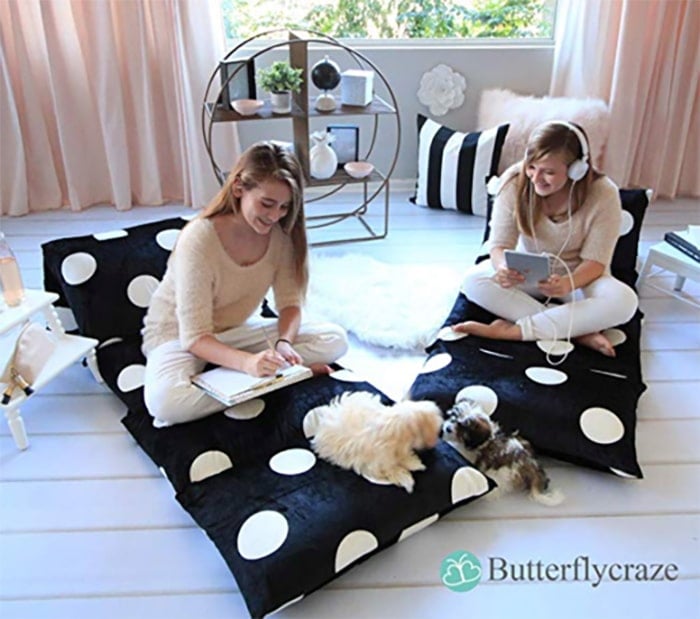 Watch the video below to learn how to make a pillow bed.
Don't have time to make one of these cool pillow beds? Get one premade with the cute polka dots in the picture here:
Get a pillow bed  here from Butterfly Craze
Check out the tutorial video to learn how to make your own pillow bed floor pillow. Hope yours turns out as cute as mine did!
Please follow and like us: