Love easy homemade meals you can make in minutes? How about ones that are virtually mess free? Sound impossible? No, not if you know the secret of baking in tin foil.  Whether you are camping, grilling or just looking for something quick to throw in the oven, these little cooking packages offer convenience and as promised, no dishes. Follow these step by step tutorials to learn how to make our 34 favorite tin foil camping recipes and no mess easy homemade recipes for breakfast, lunch, dinner, snack and even dessert. This recent obsession with tin foil dinners is really just a rediscovery. My mom made a very traditional tin foil dinner every few weeks for us growing up. She'd cook them in the oven year round and we as kids loved them. I've figured out why she liked them so much too — they are SO easy to assemble and the results are well worth the little effort of putting them together. Not to mention clean up because that is pretty much nonexistent. I mean, eat it out of foil and then chuck out the foil and…wash your fork?? That is the kind of kitchen clean up I'm all about!
Tin Foil Camping Recipes
1. Easy Tin Foil Sausage And Veggies
So many things make this tin foil recipe irresistible. The first: the easy seasoning mix. I've had some less than exciting (read: bland) tin foil dinners in the past where all the salt and pepper in the world doesn't make them all that much more exciting. These are not like that at all. They've got just the right level of seasonings without requiring a million different spices. In fact, there are only 6: dried oregano, dried parsley, paprika, garlic powder, pepper, and seasoned salt. Those spices + olive oil and you'll be amazed how the simple mixture transforms the veggies and sausage. And the second: the turkey sausage. For these foil packs, I use Butterball Hardwood Smoked Turkey Sausage and it is honestly out of this world delicious! It's got an amazing authentic smoked flavor which is only enhanced by being thrown on the grill. It's juicy, flavorful, and the perfect complement to the spices and veggies. My family is a huge fan of turkey — we love plain turkey, turkey burgers, turkey bacon, and turkey sausage so I'm super excited that I'll be sharing three more Butterball turkey recipes over the next few months. Turkey is definitely not just for the holiday season and I'm so excited to share the other recipes I have planned! This turkey sausage dinner is healthy, flavorful, protein-packed, and best of all so simple to make. It's the perfect BBQ summer recipe. ?
2. Grilled Pineapple Chicken Foil Packets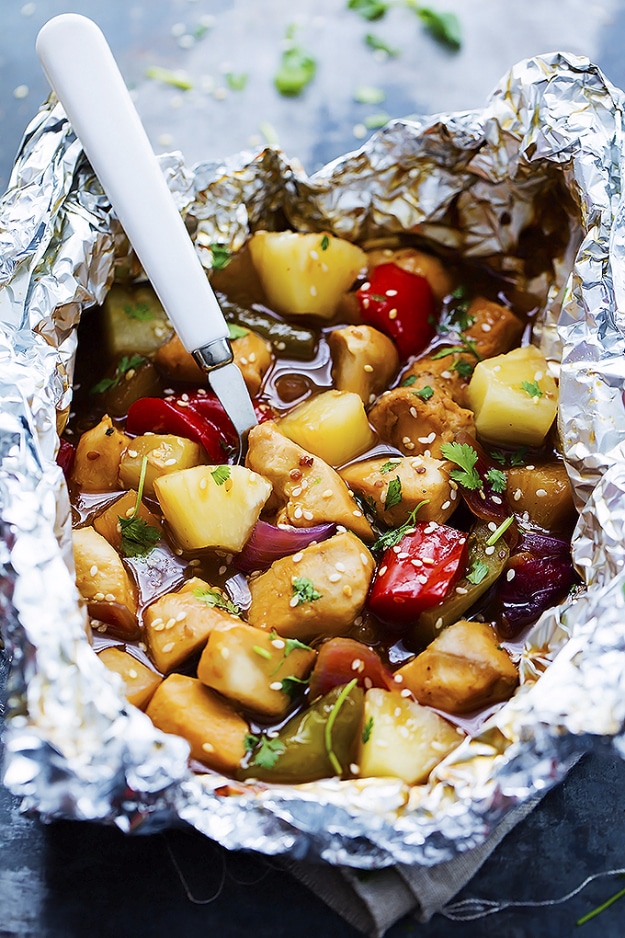 One of my favorite traditions growing up was tin foil dinners. That's what we called them anyway. My mom always made them the same way: handmade hamburger patties + quartered baby potatoes + baby carrots. We'd cook them on the grill or over an open fire and when they were done, smother the heck out of them with ketchup. Every now and then I still get cravings for my mom's tin foil dinners, like this week I was dying for one. So I made one… with a totally new twist. Okay, basically the only thing that was the same about it was the idea of food wrapped in foil and cooked on the grill. I swapped out hamburger meat for chicken and added 6 other simple yet totally irresistible ingredients… pineapple, chicken, red peppers, green peppers, onion, and the best and easiest two-ingredient sauce ever!
3. Bacon Ranch Grilled Potatoes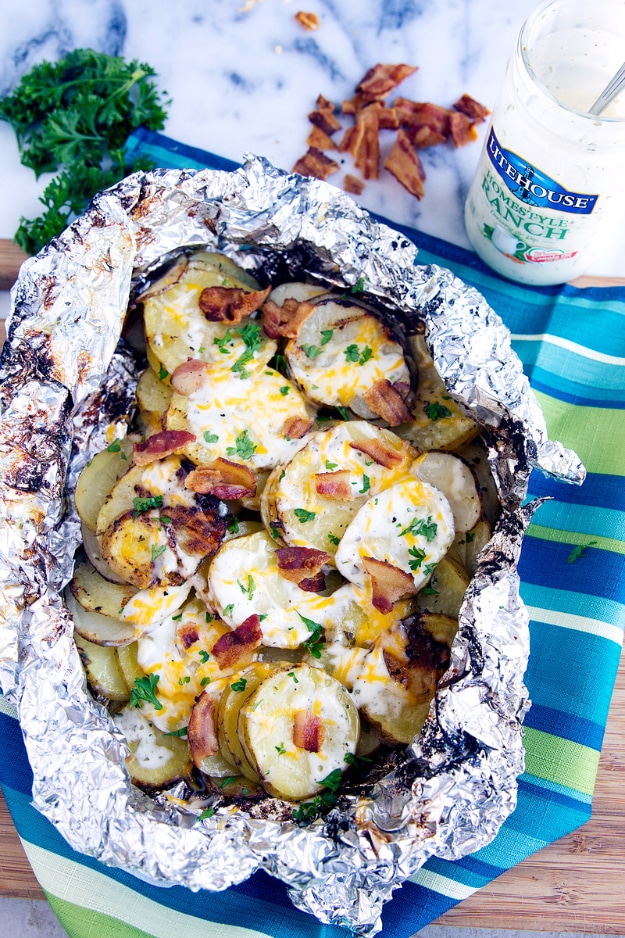 This idea of Bacon Ranch Grilled Potatoes came to me recently. I lit up that grill and my family is hooked with this amazing combo of cheddar cheese, ranch dressing, and bacon. These are are some of our favorite flavors and it's awesome that they're combined for a quick and easy side dish for summer. When I grill I dislike the pace of the in and out of the kitchen. So if I'm grilling up my meat, I try to grill my side dish and veggies too, if at all possible. It just simplifies life a little. Do you know what I mean? We love grilled potatoes in foil. They're perfect with seafood or chicken.  And geez, they're so good! Ranch dressing makes this recipe come together easily and quickly. Slice potatoes and add simple ingredients like bacon, ranch dressing, cheese and herbs for an excellent summer side dish. I love using fresh ingredients. Like most people I know, I certainly don't have time to make everything homemade. But choosing fresh ingredients for my family is very important to me. I love that Litehouse dressings are fresh, without a lot of preservatives. And when I reach for these refrigerated dressings I know I'm making a better choice.
4. Southwestern Chicken Packets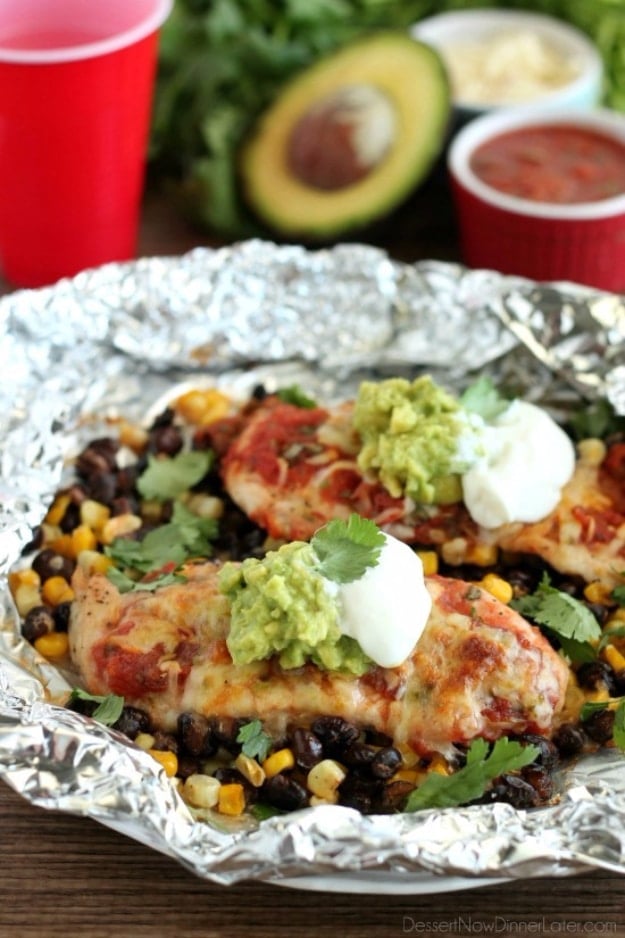 I was scrolling through Pinterest and there was one recipe that I just had to try right away. The Southwestern Chicken Packets had my name all over them, but I didn't have plans to go camping anytime soon. Lucky for me Pinterest shares ways to make all of the recipes in her book with coals (briquettes or campfire), a gas grill, or a conventional oven, so I made these southwestern chicken packets in the oven and they were perfection!
5. Sausage Pierogie Campfire Foil Packets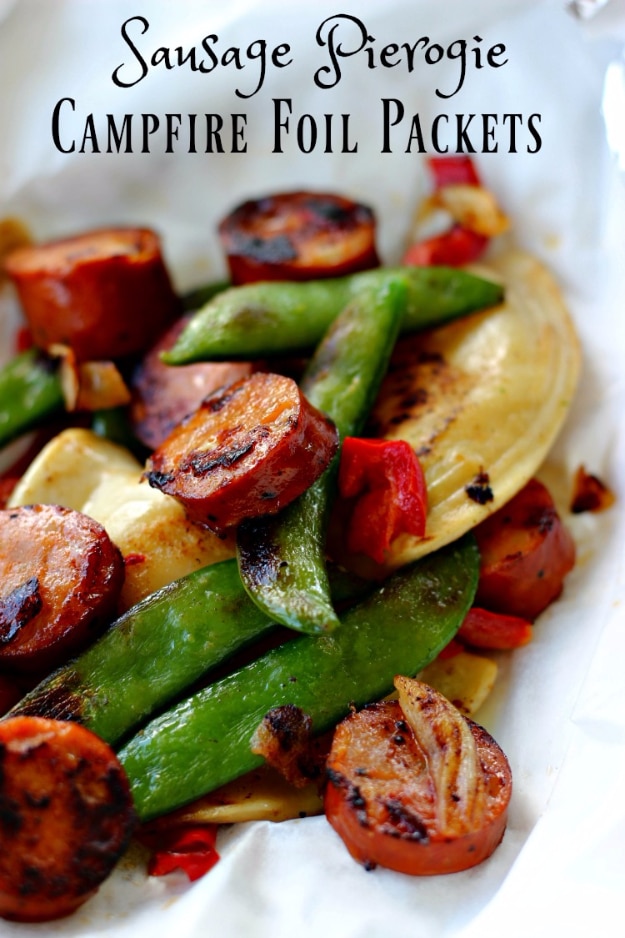 Camping is what my hubby and I do to relax. Even if we can sneak away to the woods for a day or two we are in our happy place. Since we are relaxing, we do our best to keep the "work" to a minimum. While we don't like to put out a lot of energy on tasks that remind of us home, we still have to eat. We are always looking for recipes that can be made over the campfire. One of our favorite ways to cook is campfire foil packets. It's nice to be able to cook your whole meal in one little package.
6. Garlic Lemon And Chive Grilled Shrimp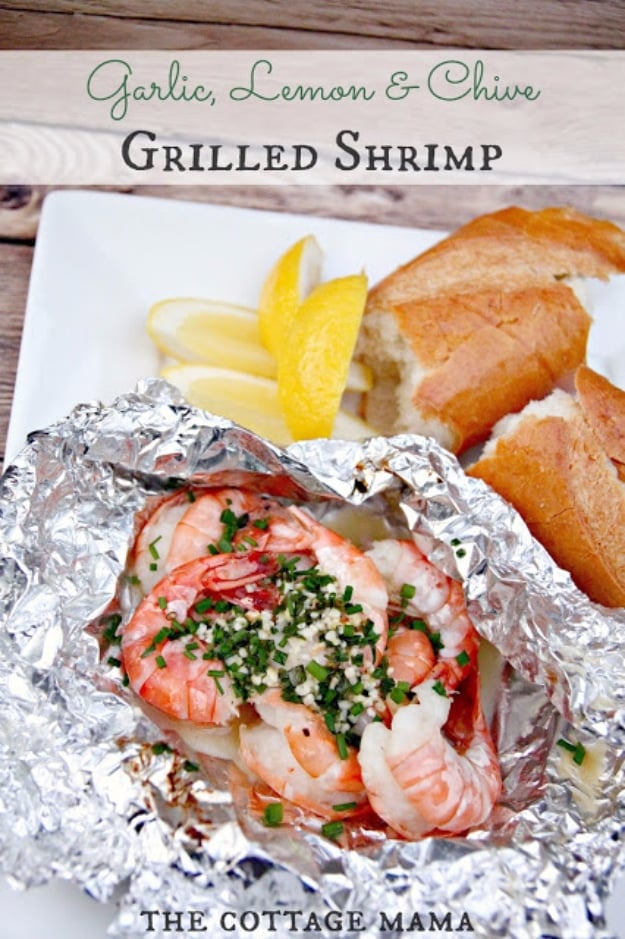 One of the best parts of summer to me is definitely grilling. Now I'm not the grill master around my house (my hubby helps out in that department), but I absolutely adore the smell of food cooking out on the grill and like to eat it even more. If you like shrimp, you are going to absolutely love this recipe! It's so super-simple and there is no worrying about your shrimp falling through your grill because the whole dish is cooked inside a foil pouch. SO easy!
7. Grilled Herbed Chicken Potato Foil Packs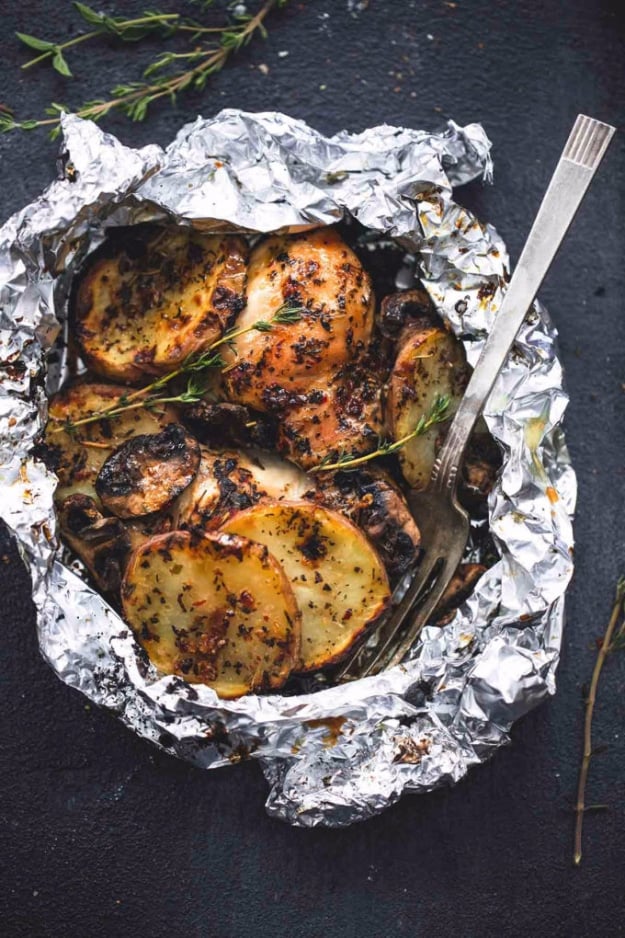 My husband and I went camping. And cabin-ing at my great uncle's log cabin. Year after year we camped and cabined and I looked forward to those trips all through winter and spring. I couldn't wait to go fishing and hiking and back-woods exploring, and you better believe I looked forward to my mama's tin foil dinners. Sometimes on a camping stove, sometimes in the cabin oven, and many-a-time over the open flames of a legitimate rock-ring, wood-crackling fire.
8. Orange Thyme Grilled Shrimp In Foil Packets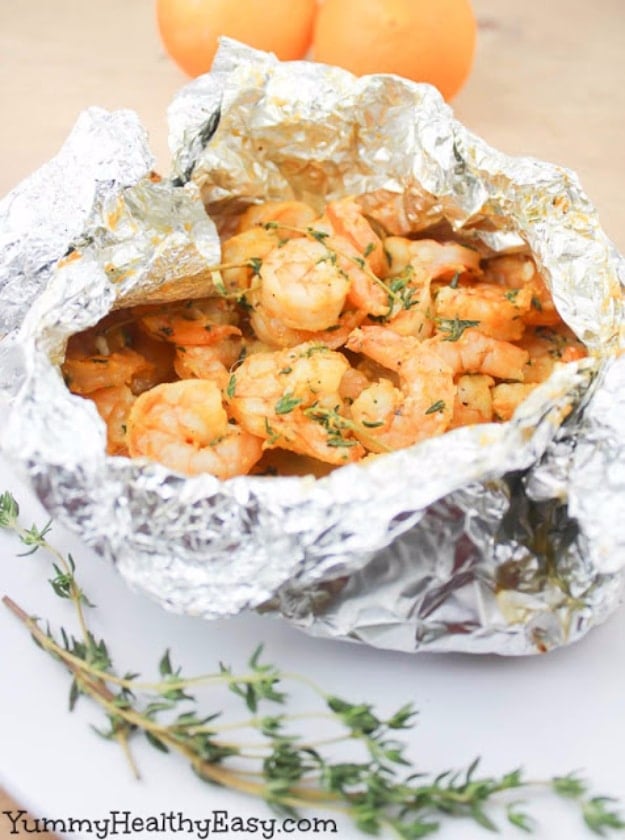 Our grill has been getting used like crazy this summer! I can't stand the thought of turning on my oven every night for dinner. Cooking on the grill is just so darn easy. One of my favorite things to grill are foil packet dinners. They're so low maintenance and easy. You can grill just about anything in a foil packet. The flavors are intensified when cooking in foil because the liquid that's inside is steaming and infusing the meat with flavor. Plus clean-up is so easy, just crumple up the foil and throw away! I discovered this orange thyme chicken on Pinterest and it is the bomb!
9. Foil Packet Kielbasa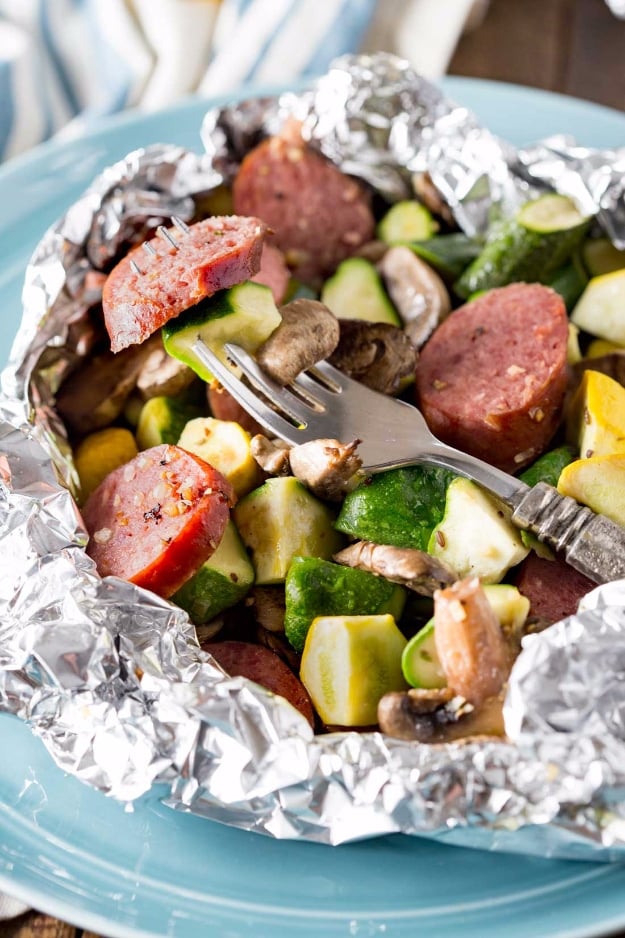 If there is one thing in life we need more of it is easy dinners. Dinners with minimal prep time, and even less clean up time. And this my friends is that kind of recipe. This foil packet kielbasa recipe is seriously easy to make, has great fresh flavors, and the clean up is as easy as it gets. Plus you can cook it several different ways, in the oven, on a grill, or even as a hobo dinner in the campfire, making it a versatile and family-pleasing meal! I bought pre-sliced mushrooms, and so I only had to slice the squash and the kielbasa. Then, I toss it all together in a bowl with some seasoning and olive oil. Next, I divide it onto the foil and cook. However, skip one step, and save even more dishes, by simply layering ingredients directly onto the foil and drizzling olive oil and seasoning over the top!  I tried it both ways and the flavor was great regardless. If you want to dirty the extra dish, then don't.
10. Lemon Chicken And Potatoes In Foil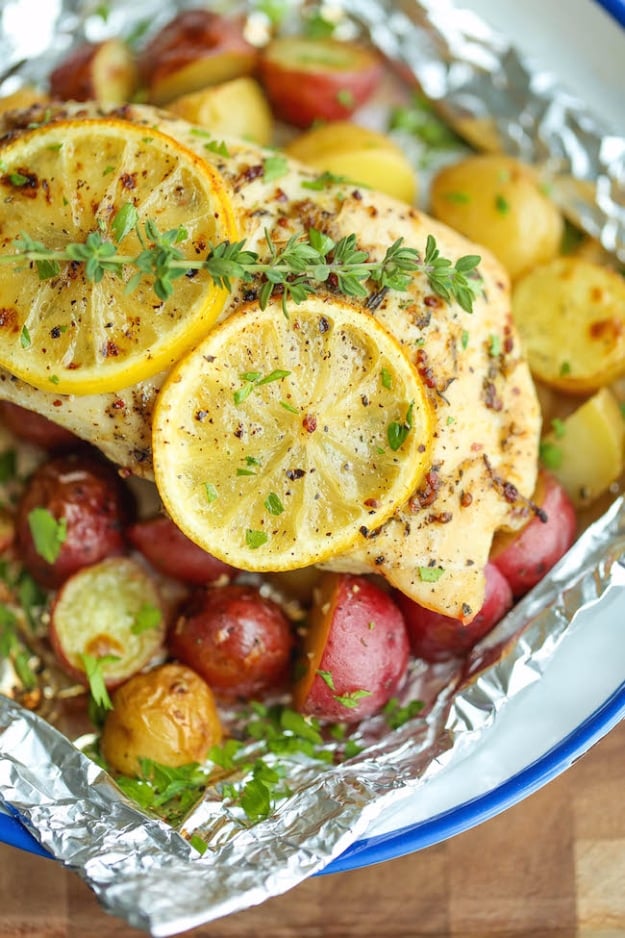 Foil pack dinners are the best. There's minimum effort involved, and clean up is an absolute breeze. And you don't even need serving plates here. With individual foil packets, each chicken breast is cooked on a bed of baby red potatoes, seasoned with a flavor-packed mixture of Dijon mustard, lemon, and herbs. When ready to serve, each person has their own little packet of lemon goodness. Now how easy was that?
11. Camp Out Meal

12. BBQ Chicken Foil Packs

13. Coconut Lime Shrimp Packets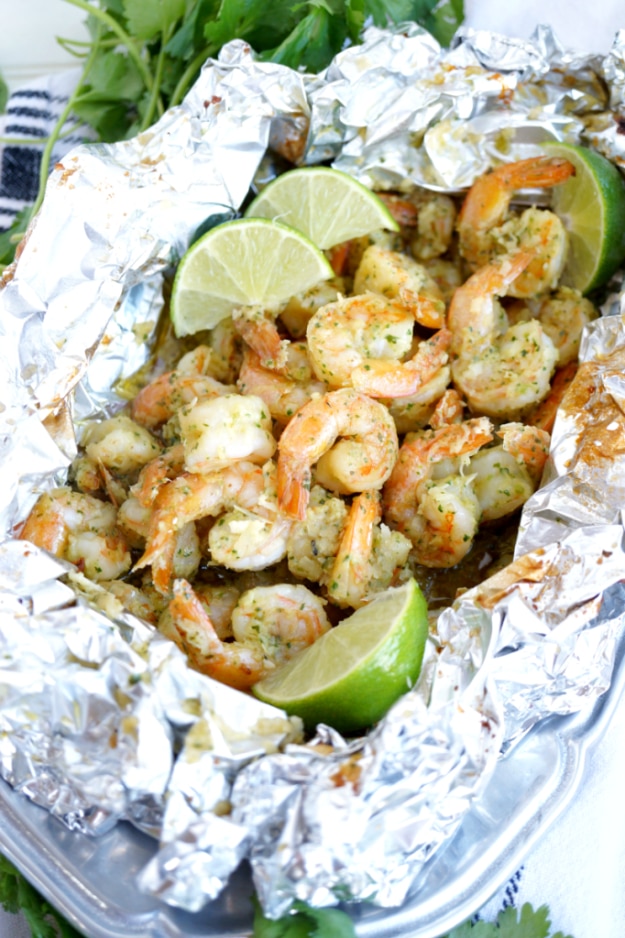 14. Easy Salmon And Potato Foil Packets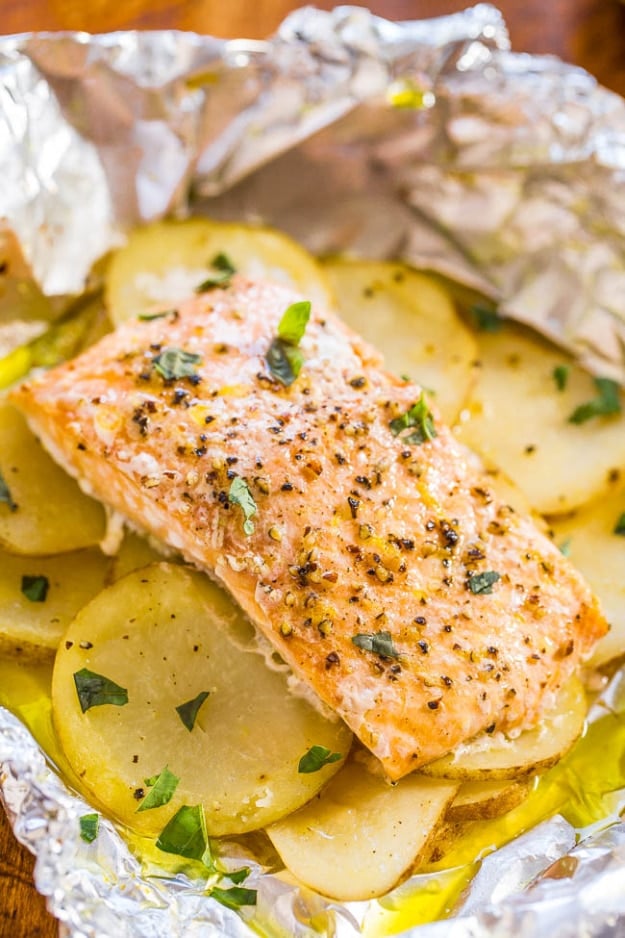 15. Tin Foil Hobo Dinner