I fell in love with these amazing lights when a friend of mine was looking for ideas for her wedding but had no idea you could actually make them yourself. Bottle cutting seemed way too tricky for me, as did figuring out how to get string or chain to hang the candles and bottles with, but thanks to this tutorial I found on Youtube, I now am the proud owner of 6 of these beauties, and I hang them on the patio where I love to sit and drink wine! Convenient, right? By next month, I should have some more extra bottles to make another set for a friend. You could really make a set with as many bottles as you like and I think it would be awesome. Once you see how easy it is to make these, you just may be the proud owner of the coolest and biggest hanging lighting set ever. Go big with them, I say, or go home!
Make A Hanging  Set Of Them With Yout Empties!
Get some of your empties and make a group of them with chains tea lights. (or just buy them premade from this awesome shop on Etsy) So pretty over a dining table or along an accent wall that needs some cool ambient lighting. For big tea lights like this, try Amazon or IKEA, both have them for sale. If you are afraid to use real candles, the LED kind look great in these, too since the bottles are not clear, but a dark color.
https://www.etsy.com/listing/621685768
Try Hanging These Cool Bottle Lights Outside!
Another idea you can use as inspiration for making or just buy them premade from this awesome shop on Etsy. Aren't they pretty? I love this idea for an outdoor wedding, and if you are the lucky bride who gets to make or buy these, you get to keep them to use at home later!
https://www.etsy.com/listing/289993053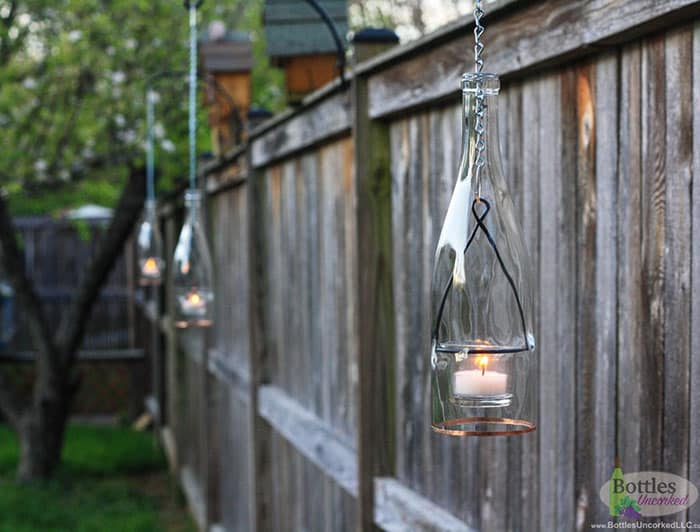 Check out this Youtube video for the step by step tutorial and learn how to make some easy hurricane lights from extra empty wine bottles. Get busy before summer arrives, too!