Can I just tell you how much I LOVE this cool wall art idea? Last weekend, after spending far too much time looking at my blank walls in an apartment I moved into over a year ago, I decided to get motivated to create some cool things to hang up. I am not a fan of IKEA predone wall art and I wanted something unique but not too difficult or time consuming. Sounds like this might not be possible, right, as painting a cool work of art will take days. Wrong! This clever tutorial shows you exactly how to make this masterpiece of a painting with only painters tape and a couple of colors of paint. No serious artistic skills required, either! Check out this step by step tutorial to see what I mean. Seeing is believing, and this is definitely one you will want to try out if you share the same problem as me – blank walls, no budget for art, not a ton of time.
How To Make A Painters Tape Canvas
Supplies you will need:
Painters Tape
Canvas
Acrylic Paints (but oil could also work, just will take longer to dry)
Clear gloss
Paintbrushes
Step One
So you will need to choose some colors that compliment your decor, or perhaps a few shades you just love. Pick some that complement one another. I like how she uses a couple of shades of purple, but the canvas I painted was done with a few shades of dark blue gray, which also look nice. This part is pretty abstract and you don't want to paint shapes, just big blocks of color that are adjoined. You can use your brush to mix in the edges of your color blocks to blend them.
Step Two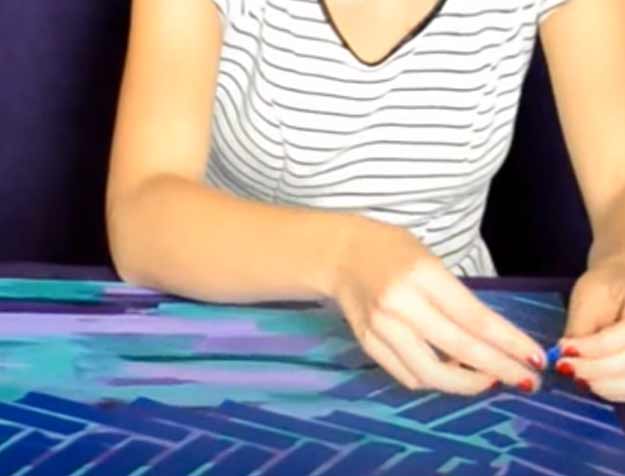 Then, in this step, you cover over your DIY painted canvas with painters tape, laid out in the pattern shown. You can tear the tape for rough edges, which or nice, or you can cut it for precise, even edges. Either will look awesome, I promise! Oh, you need to let the paint dry before you do this step
Step Three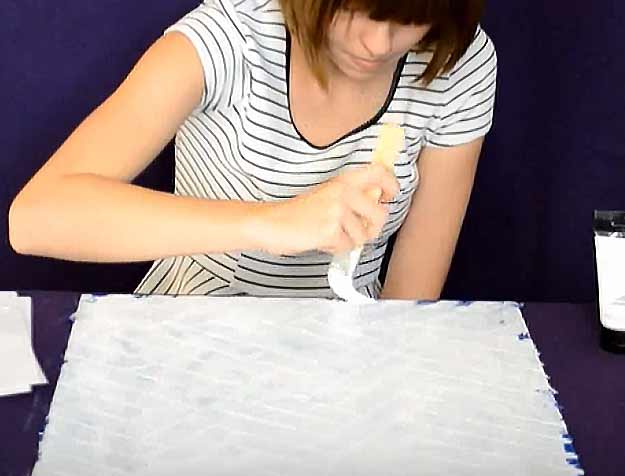 Now, you just paint over the whole thing with white paint. However, any color or paint will work as long as there is some contrast to your background painting. Once again, let this dry. I would wait at least a few hours, and overnight is best.
Step Four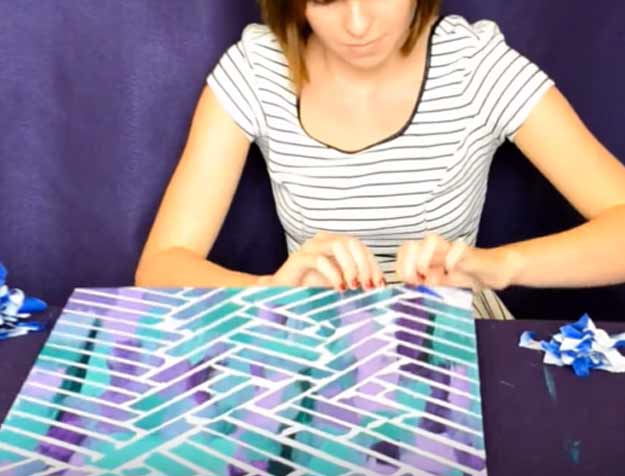 Now, the fun part! Peel off your tape to reveal your masterpiece.
I recommend you coat this final painting with a layer of clear gloss. You can use spray or the brush on variety of acrylic gloss.
Admire it and hang it up to awe your friends and family. Be proud of yourself that you made something amazing and your walls are no longer bare.
Need DIY gift ideas? This is is a super idea, and I plan to make these for my brothers and sister for Christmas presents. Who is not to love this fun wall art idea?
Like this DIY wall art idea?
Pin it to save and share on Pinterest